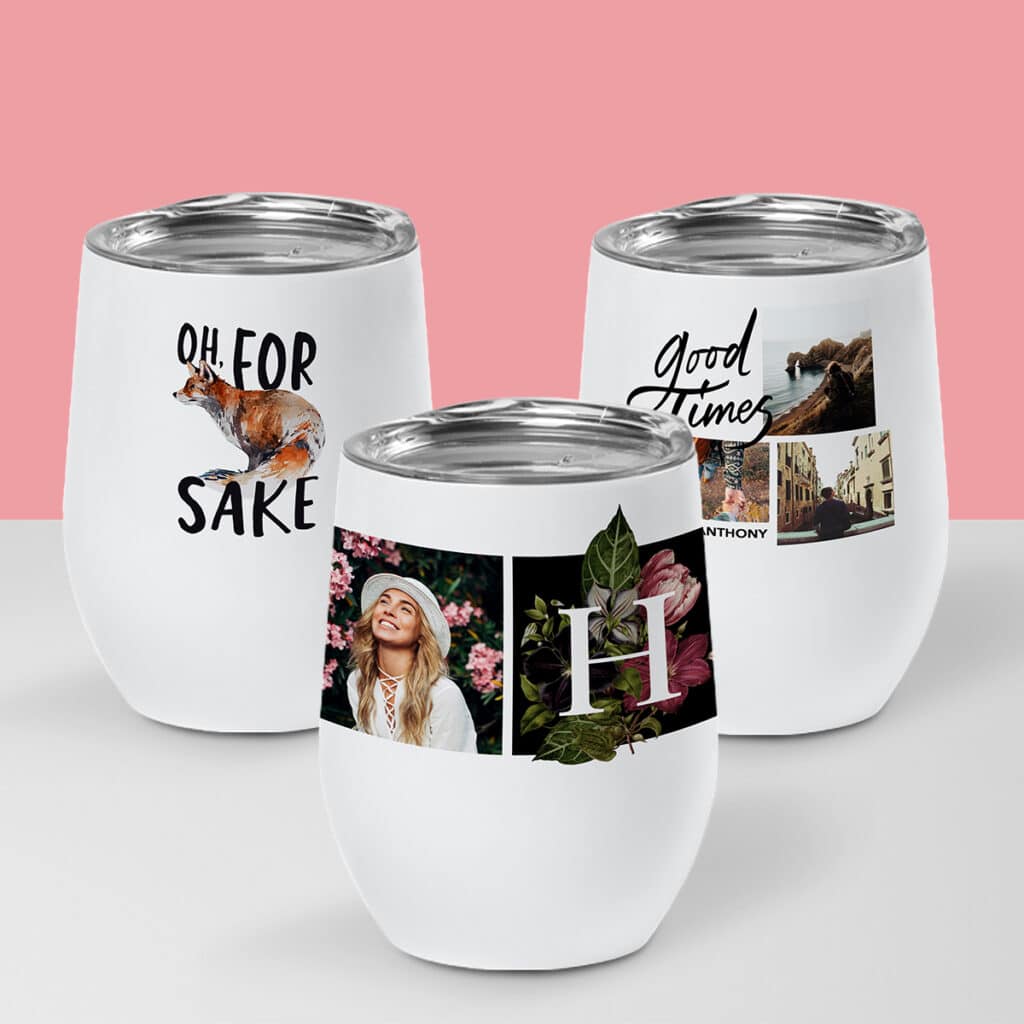 When it comes to custom drinkware, we've got only one thought… Wine not?! Especially towards our perfectly-sized, perfectly personalized wine tumbler cups. In all seriousness, these little cuties would make great gifts for parents, grandparents, besties, and basically anyone else you can think of. Better yet, snag one (or a few!) for yourself — talk about a true "treat yourself" moment!
Not sure what to choose? That's where we come in! Check out some of our favorite designs — from stylish + modern to dreamy florals, you're bound to find the perfect wine cup here!
Purr-fect pet designs
Calling all pet parents! We've got some brand-new wine cup options that you're going to love.  Do you work hard so your dog or cat can have a better life? We so know the feeling… but when it's your turn to kick back + relax, you need our Better Life Pet wine cup! We love the playful font treatment, plus it give you a unique space to show off your furry friend's adorable face.
How cute is our new Ruff Life cup? Those teeny tiny paw-prints + the retro-style framed images are just too cute for words. We love the simplicity of this stemless wine cup design — it really lets your puppy's cuteness shine! Most pet parents love to show off photos of their fur babies, which makes Ruff Life a great one.
Gorgeous florals + greenery
Florals and leafy greens are as popular as ever in home décor, fashion, and beyond. Why not bring this super-cute trend to your drinkware, as well? We have a few popular options ranging from dark + moody to more cutesy that we think you're going to love.
If you're looking for something a bit brighter, our Floral Monogram design is a great pick. The shades of green in the wreath (plus some green olives!) is so vibrant and fun. Plus, you can customize the font and color for the monogram at the center. The automatically selected color is a vivid golden yellow which looks gorgeous, but could easily be swapped for your own favorite color for an added personal touch.
If you're into a more moody vibe, the Floral Bouquet design is the ultimate choice. Just check out those statement-making dark florals! You can choose from a variety of layouts, including options with multiple photos for further customization. Just select the "Design Variations" tab in the Builder tool to see all of the different layouts. We can't help but imagine how stunning a pair of Floral Bouquet wine tumblers would look in a dark, cozy kitchen, just like the one we wrote about in our 2021 décor trends blog post!
Our Blueberry Bush Monogram design is the newest of the bunch, but talk about a showstopper! The watercolor style is so striking + on trend, especially when paired with the simplicity of our white stemless wine cup. This cup style is just so dreamy! We love the idea of making matching wine tumblers for a BFF girl's night, and this one would be just perfect.
More chic + modern designs
Will all of our trendsetters please stand up? These adorable designs will make you the envy of all of your friends + family… Unless you gift them one too, of course! Our brand-new Family Love Joy is just perfect — bold typography, offset areas for photos, and great use of white space. This one is sure to be a hit with the mamas or grandmas in your life. Plus, it's totally Instagram-worthy!
The Modern Monogram is another beautiful addition to our stemless wine cup designs. We love the muted color palette and arch patterns, and both are so trendy right now. Again, we have lots of space for your favorite photo memories here, too! This one would make a great gift for a gal pal or significant other.
We hope you're loving some of our newest + coolest insulated wine cup designs. Did you end up snagging one for yourself or someone you love? Share it with us on social media… We can't wait to see! You can tag us on Instagram or Facebook or use the hashtag #snapfish. Don't forget to follow us on Twitter and Pinterest, too.