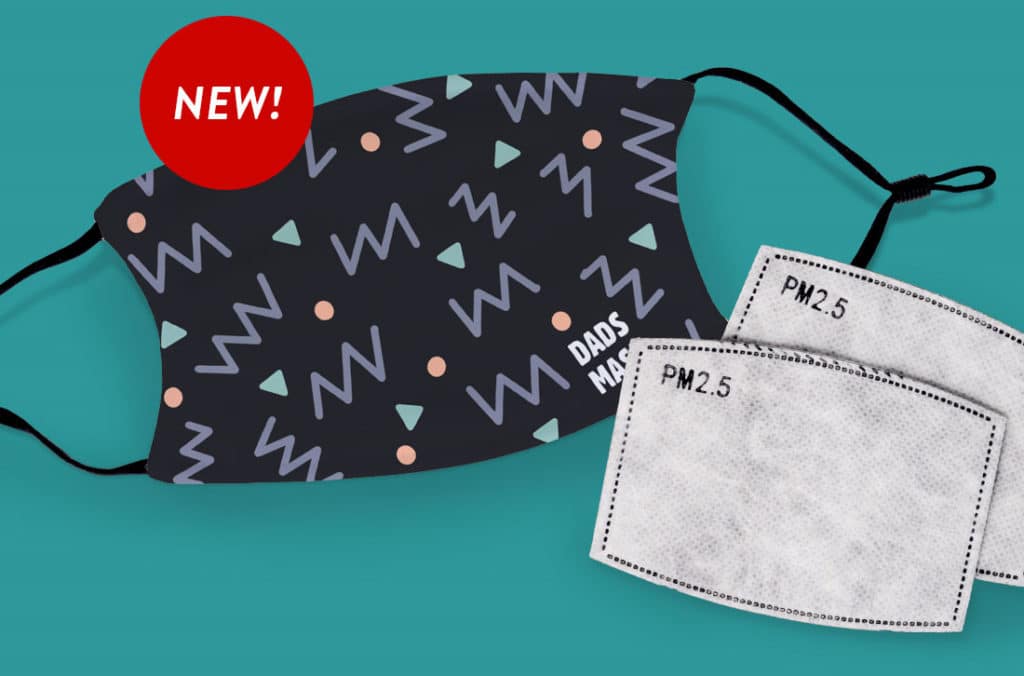 Face masks are an easy, essential way to keep yourself & others safe in the midst of coronavirus (COVID-19). They require minimal effort to create & fit correctly, but do make a huge difference in reducing the spread of this virus.
However, standard face masks can be pretty boring and perhaps even a little scary. Single use masks are usually just one solid color and aren't great for the environment. So, how about a custom face mask that represents your personality and interests, while also being safe, comfortable, and sustainable? We've got you covered! You can even create a mask showing your beautiful smile!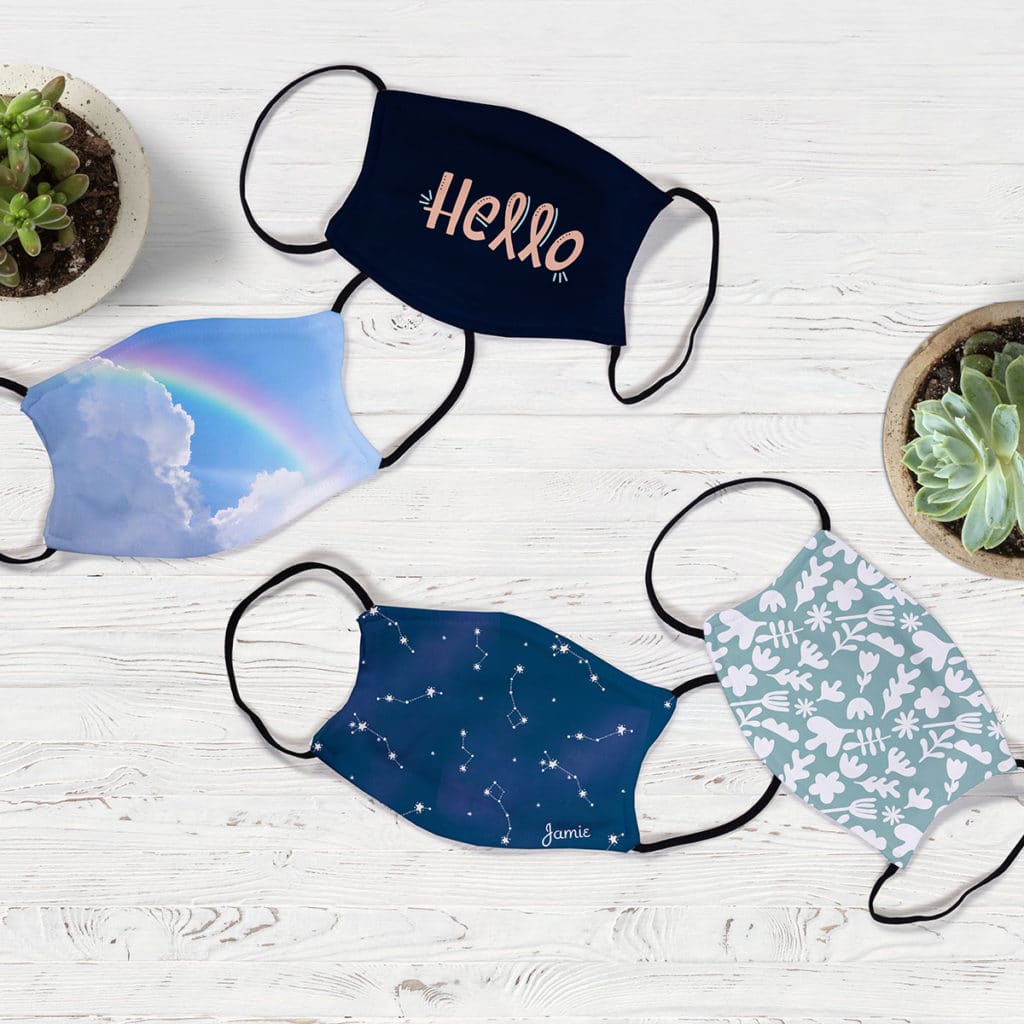 Share your style with a custom face mask with filter
Scope out the Snapfish site and you'll see loads of ready-to-wear face mask designs. From camo to cat faces, floral patterns to feather prints, sweet sentiments to silly messages — there's lots of unique, fun options to rock. Our double-layer personalized face masks are reusable, washable, and comfortable. The one-size-fits-all design features a pocket into which a carbon filter can be inserted.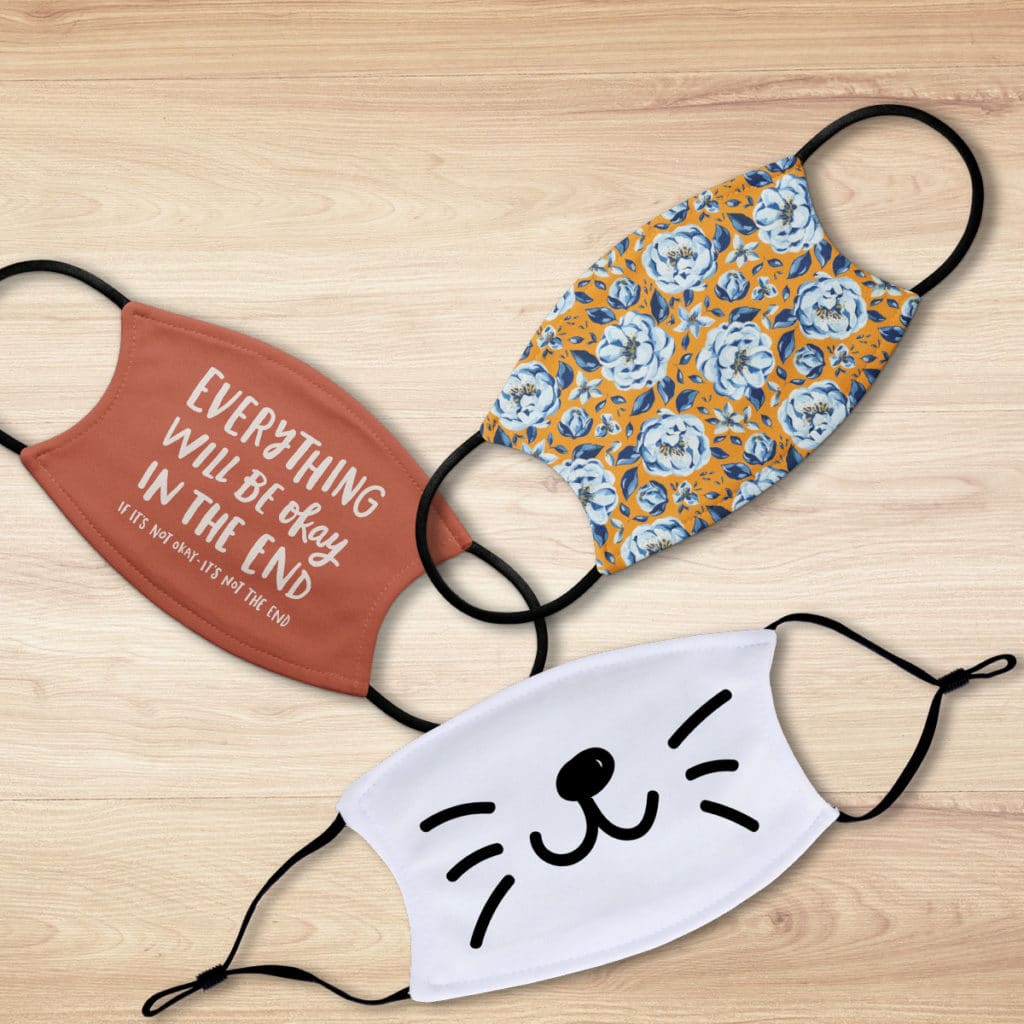 Plus, you can easily customize your chosen face mask design even further! Put your name on any of our pre-made designs by simply adding a text box in the builder tool. You can also choose from our huge selection of embellishments to further personalize your custom face mask. Just click the "Embellishments" tab on the left-hand side of our design builder tool and pick something awesome to add!
Design your own personalized face mask
Can't find something that speaks to you? It's easy to create something using your own photos! Just select the Full Photo or Multi Photo face mask option to upload your pictures and design something uniquely you!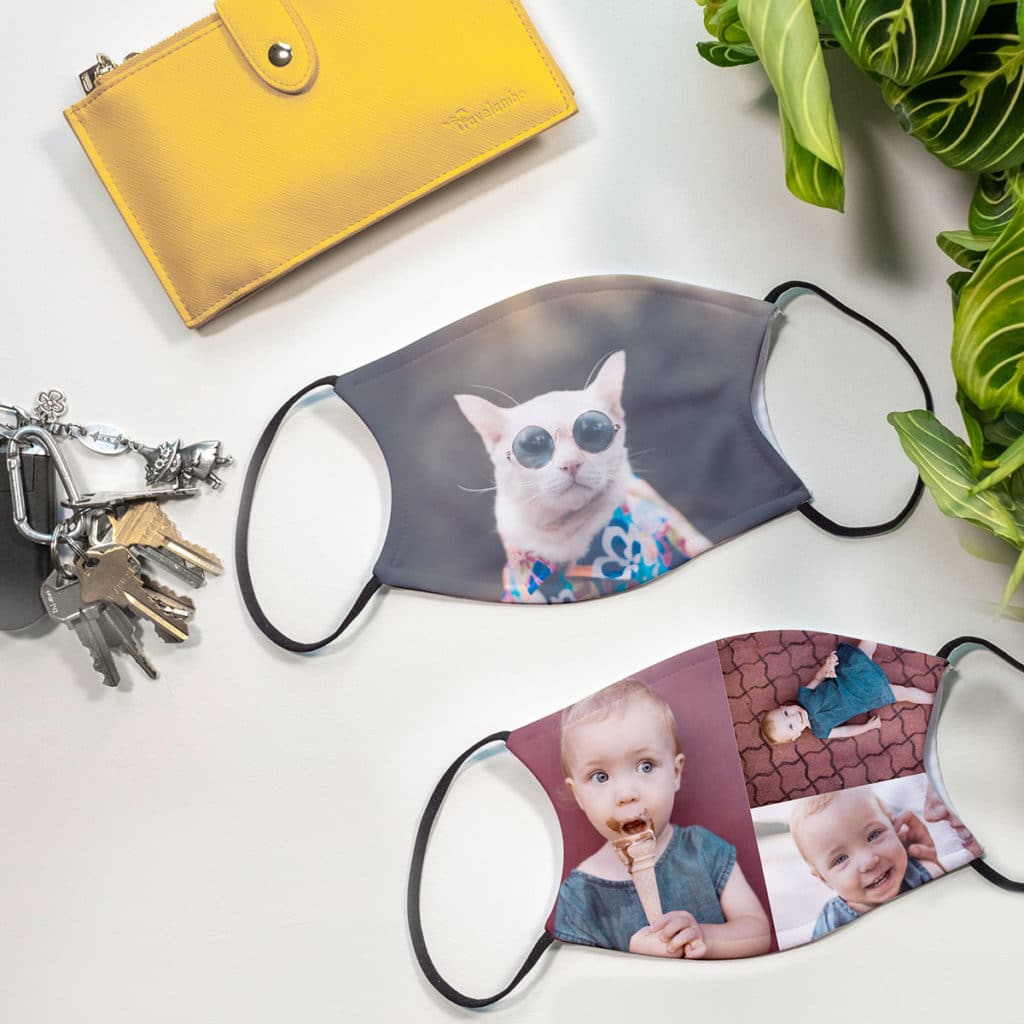 While making a photo design face mask is super simple, you can also create something completely custom using just our embellishments! On the left side of the builder tool, click the "Embellishments" tab and choose from our wide range of categories, including cute animals, funny food-related stickers, sports iconography, and more. Getting married this year? You can even make "his and hers" or "bride and groom" face masks that are sure to be a huge hit. Remember to use them in your wedding photo albums to ensure 2020 is a year to remember!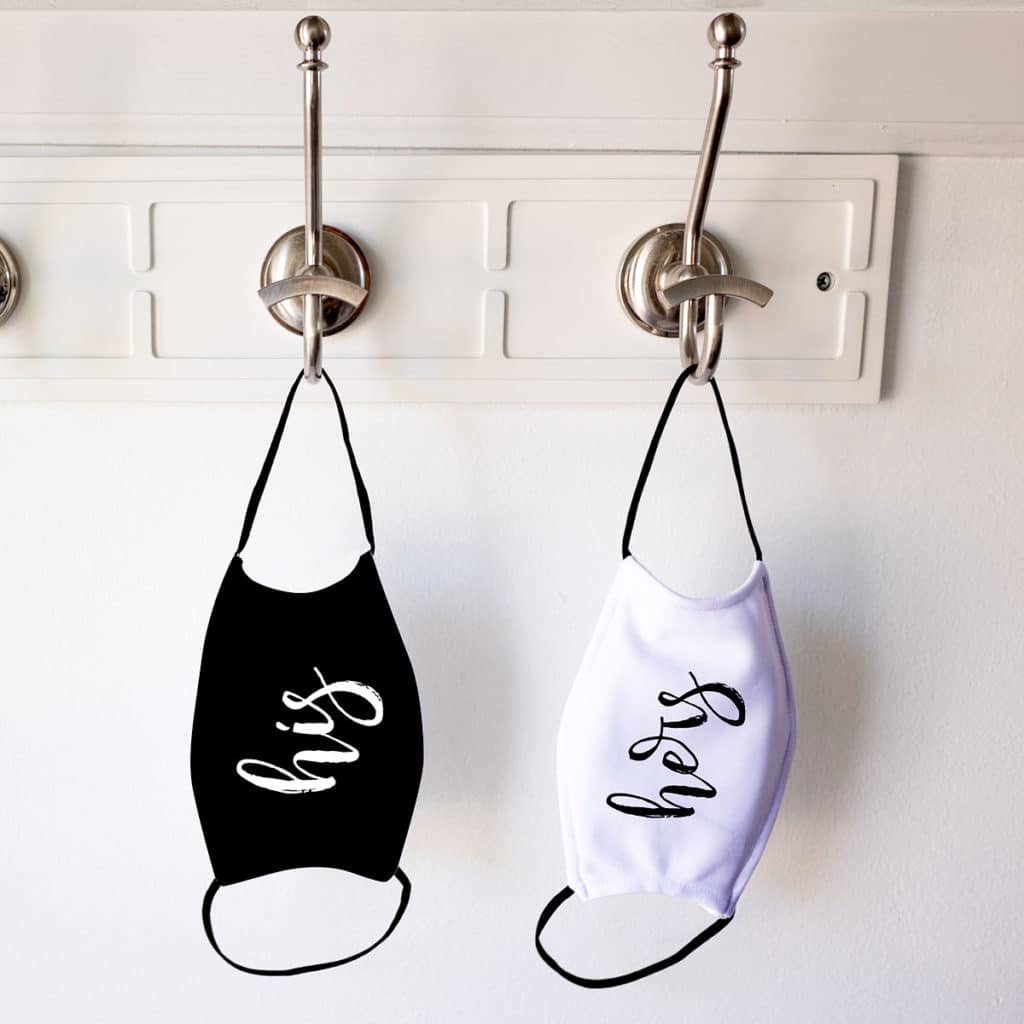 No matter what you make, it's easy to show off your personality and style while keeping yourself and others safe with our personalized face masks with replaceable filter.
Want a smiley face mask of your own? Follow these easy steps!
Looking for some mask design inspiration? Keep scrolling to see the unforgettable, one-of-a-kind face mask created by one of our Snapfish staff members using just our face mask builder tool!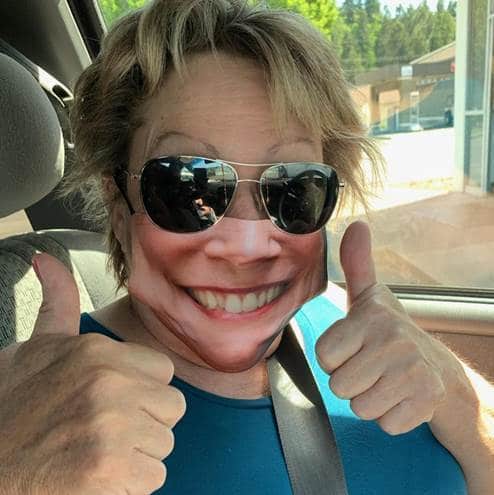 Step 1: Click on the "Design Your Own" face mask option.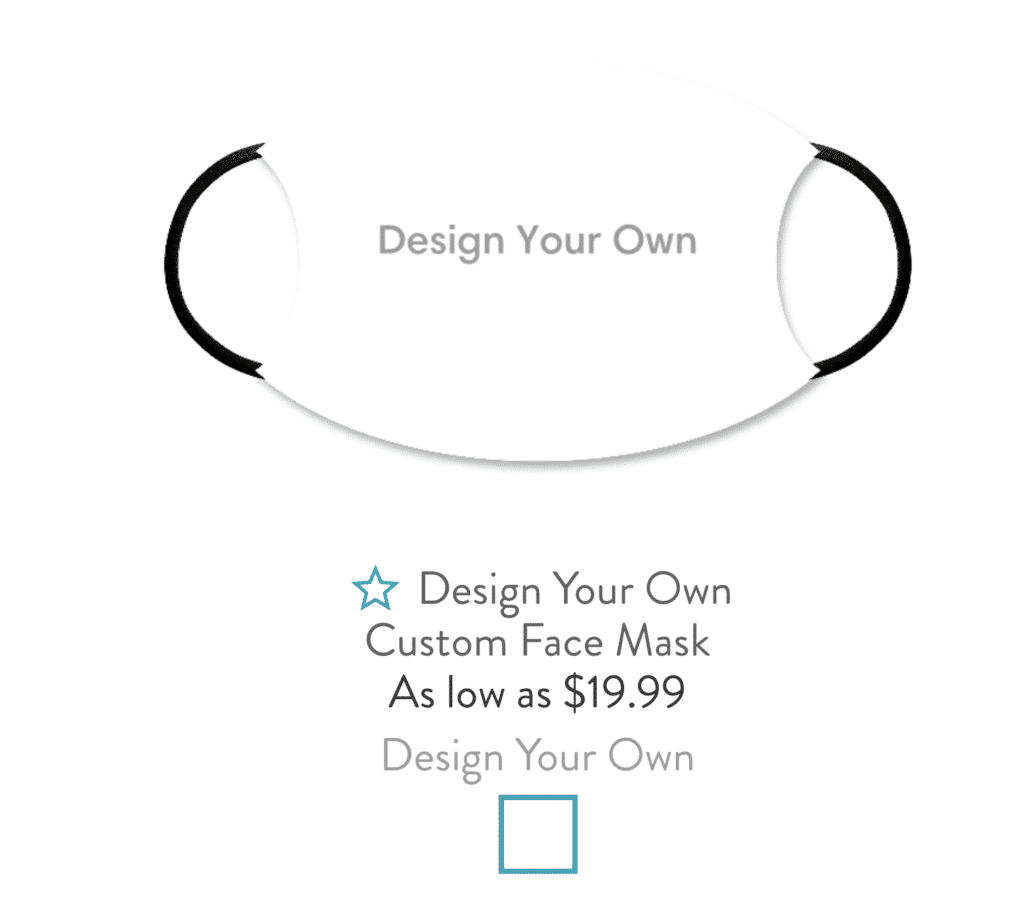 Step 2: On the left-hand side of the builder, select "Basic Layouts". Choose the option that has a full photo taking up the entire mask.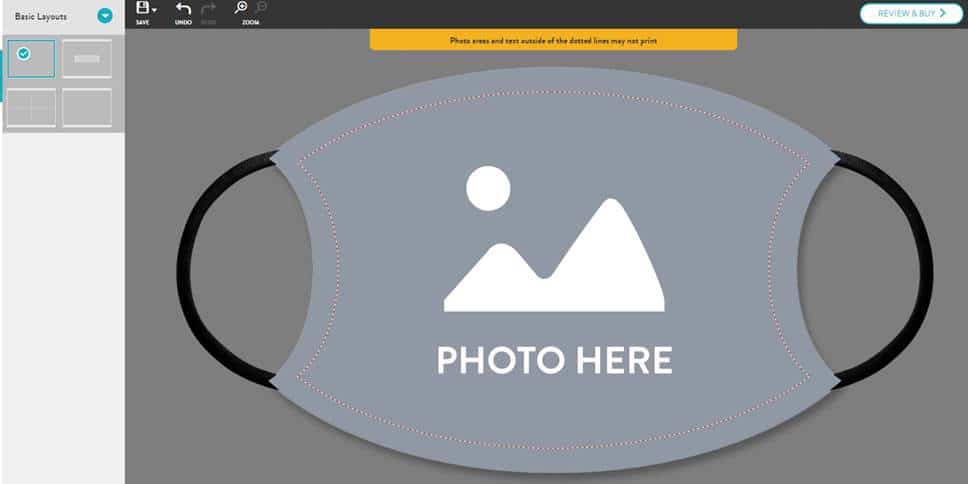 Step 3: Upload a high-quality photo of your choosing and add it to the design.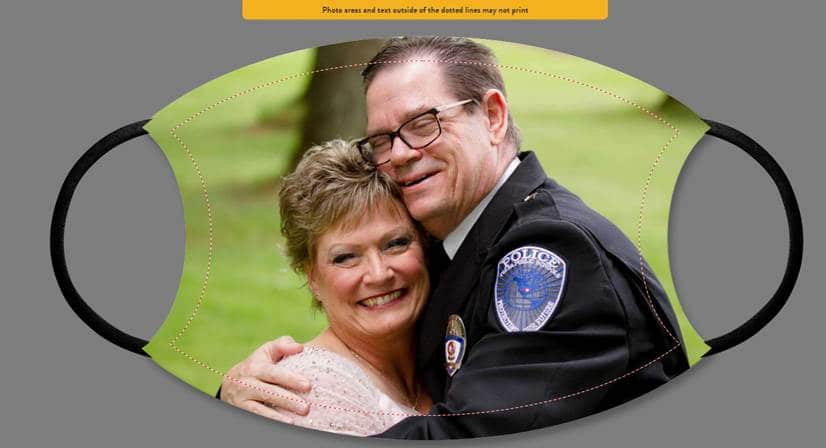 Step 4: Zoom in on the bottom half of the face you want to showcase. Rotate the photo so the face is level with the top of the mask. Align the photo so the top of the mask hits midway down the nose in the photo, and the bottom of the mask shows the bottom of the chin.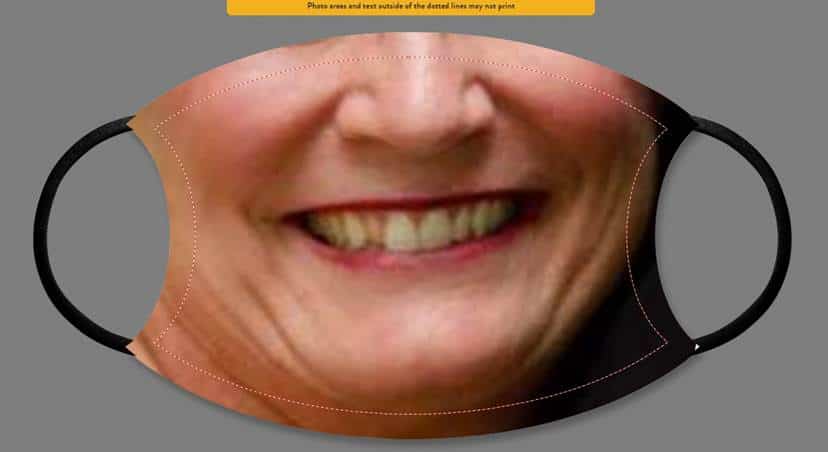 Step 5: Order and enjoy! This super smiley mask is sure to be a hit everywhere you go.
How to make sure your mask fits perfectly
While our masks are designed to fit a wide variety of faces, we know that everybody is different! This is why we've included silicone adjusters with every mask order. Check out the step-by-step instructions below on how to attach the silicone adjuster pieces and ensure your mask fits perfectly!
Insert the carbon filters. Simply open the pocket on the side of the face mask and just slide in one of the PM2.5 filters supplied.
Insert the elastic loop on one side of the mask into the larger sized hole through the center of the silicone adjuster.
Repeat for the loop on the other side.
Try on the mask to check for fit while holding the silicone adjusters in place.
If the mask still fits too loosely, slide the silicone adjuster closer to the mask to tighten.
If the mask fits too tightly, slide the silicone adjuster away from the mask to loosen.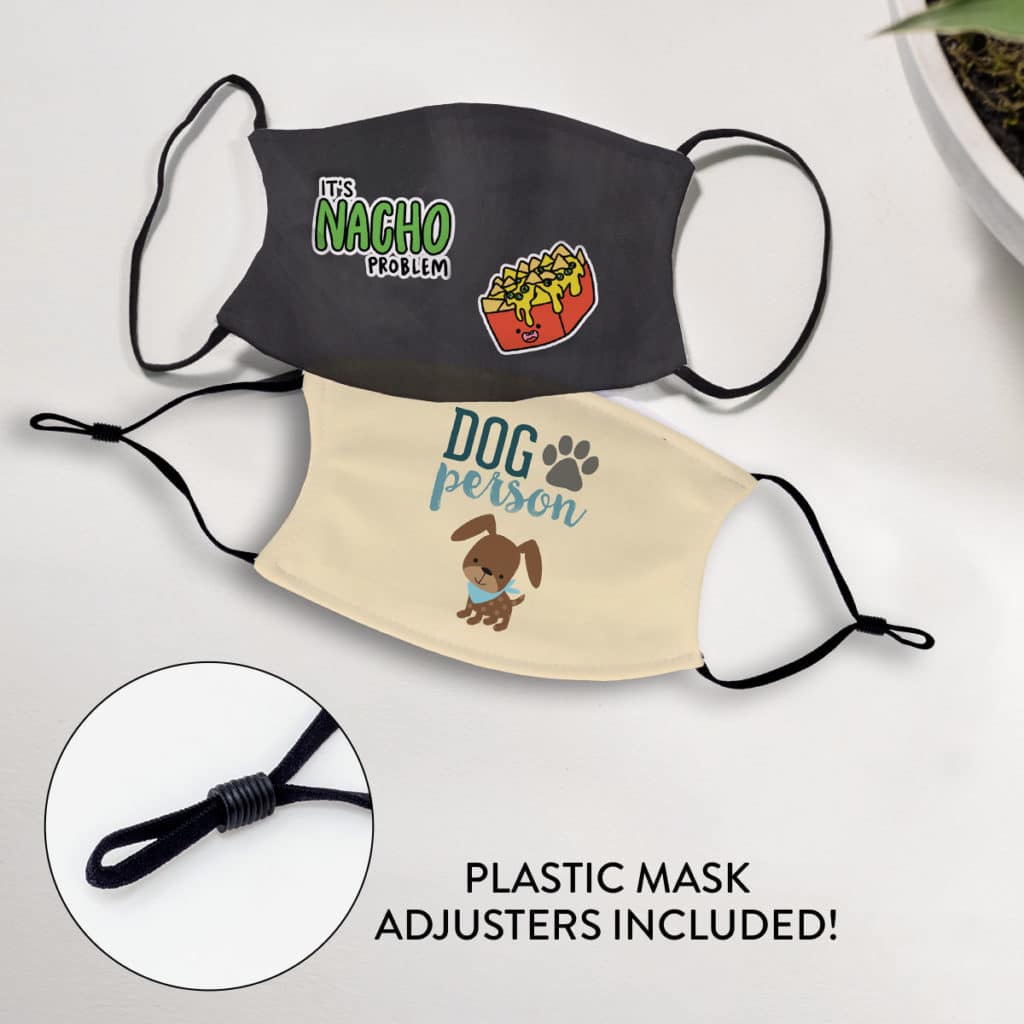 Your face mask can be machine washed and comes with a 2-pack of carbon filter inserts to get you started.
Stay safe and help prevent the spread of COVID-19! Remember to combine mask wearing with other protective measures such as maintaining at least 6 feet distance from others and washing hands frequently. Remember to wash or sanitize your hands before putting on or taking off your mask to minimize the risk of spreading the coronavirus.
Did you create a custom mask that you really love? We can't wait to see it, so be sure to share it with us on social media! You can tag us using @snapfishus in your photos on Pinterest, Instagram or Facebook or use the hashtag #snapfish. Don't forget to follow us on Twitter and YouTube, too!