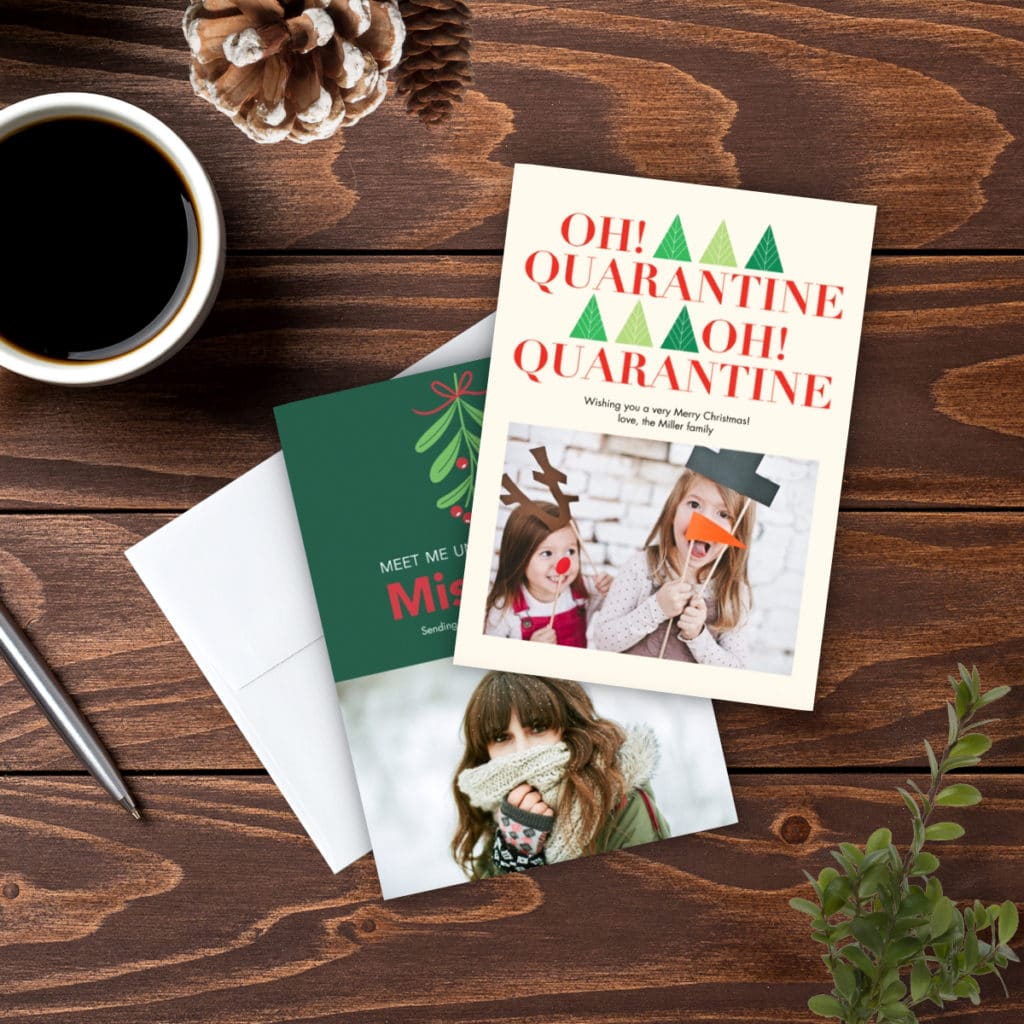 Remember early on in 2020 when we thought this whole pandemic thing would be over in just a few weeks? Unfortunately, coronavirus has overstayed its welcome and we've had to adjust to a new normal. This has meant changes in how we interact with one another, which is especially evident as we're heading into the holiday season.
While it looks like we won't be able to spend the holidays with all our loved ones, we can still celebrate the spirit of the season by sending Christmas and holiday greeting cards. These photo cards are a great way of staying connected with family and friends when you can't be there in person! That's why we've been hard at work creating new card designs that your loved ones are sure to enjoy. Since this year has been so unique, we decided to create a collection of social distancing holiday cards —heartfelt with a dash of humor!
Quarantine Christmas cards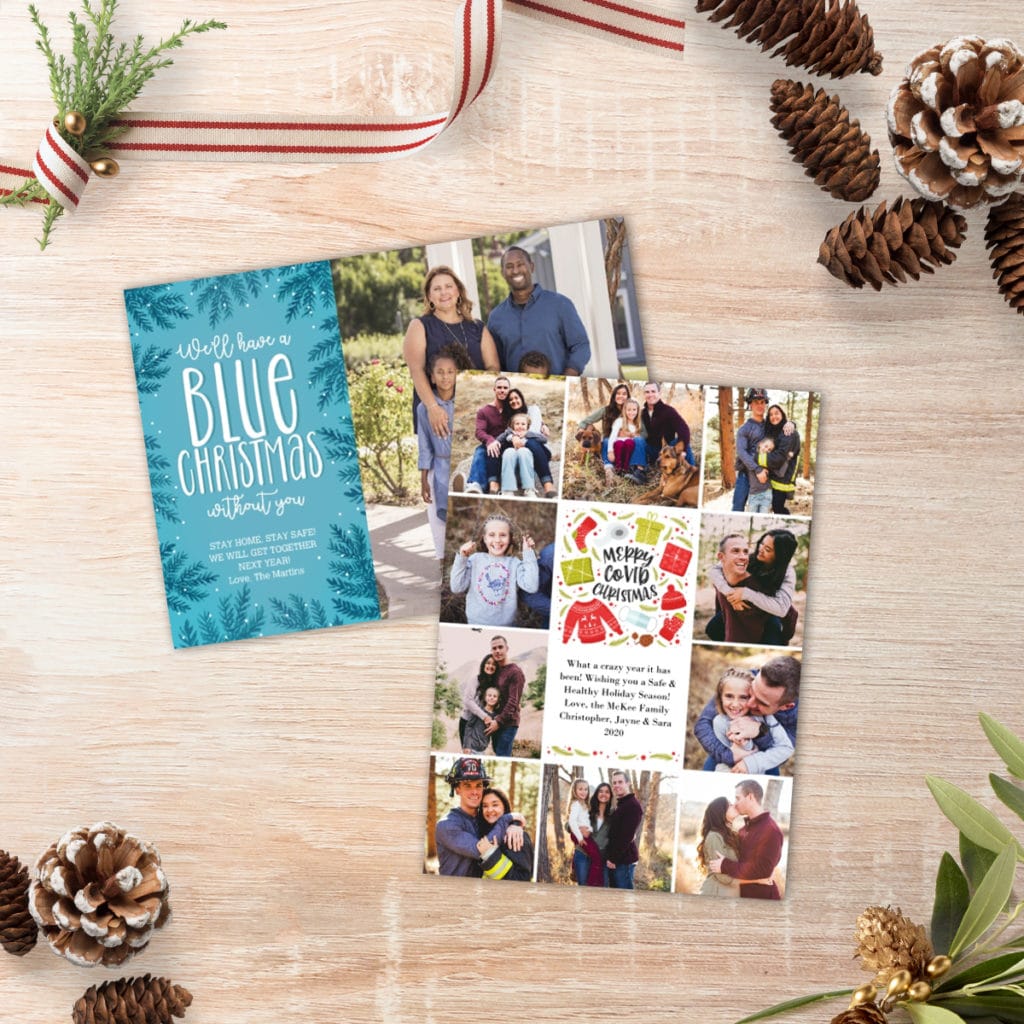 Nothing says Christmas like cozy sweaters, mittens, stockings, and beanies. Throw in a face mask and a roll of toilet paper and you've got yourself a COVID Christmas card. If you want to pay tribute to the king of rock n' roll, you'll love our Blue Without You design that features sentimental song lyrics we can all relate to this year. Keeping with the Christmas song theme, we have a design that riffs on the classic Oh Christmas Tree tune — Oh Quarantine! Since in-person hugs and kisses are out of the question this year, send a virtual kiss to loved ones with our Virtual Mistletoe card.
For designs that are a little more traditional, we also have some ideas! Spread Christmas Cheer Far and Near with this snowflake and woodgrain design. If you'd like to control the color of your card, you'll appreciate the Close At Heart design that's available in light blue, red, blue, or green. For a charming twist on this design, check out the Close At Heart Rustic design.
COVID-themed New Year's cards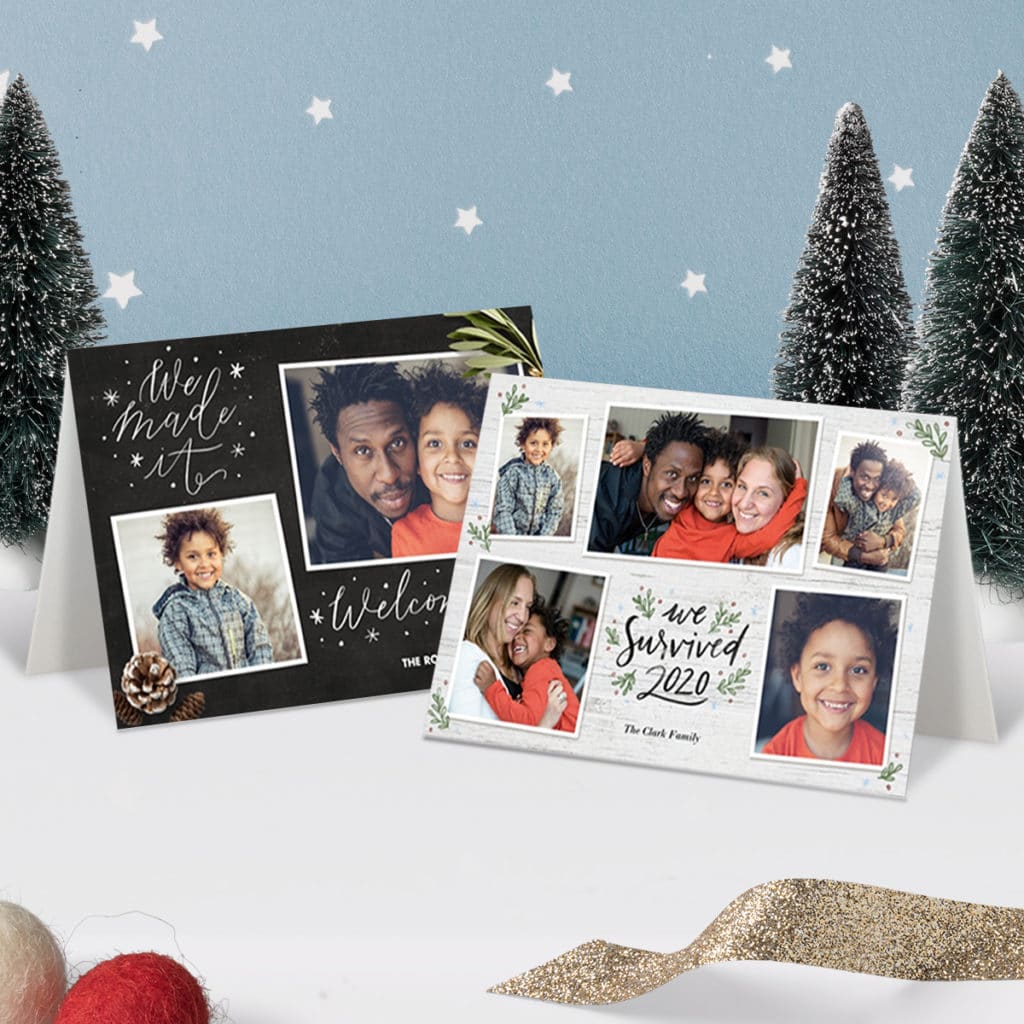 After the year we've all had, it's no surprise that most people are ready to say good riddance to 2020. With this in mind, we created a few lighthearted designs that celebrate our resiliency. We Survived 2020 and We Made It To 2021 are sure to be rallying cries we'll hear as we ring in the new year. For the exhausted among us, you'll appreciate both our Is 2020 Over Yet? and Over Yet designs. If you have lots of photos you'd like to highlight this year, you'll love the collage layout of our Hindsight 2020 card.
Feeling inspired?
Now that you've found a card design you like, it's time to customize! The cards mentioned above are flat photo cards sold in sets of 20 and available in sizes 4×8, 5×7, or 6×8. After you've decided on a size, your next choice is the paper type. You can choose from glossy or matte photo paper, and standard or premium cardstock. Don't forget, if you choose our premium cardstock style, you get FREE return address printing on the envelope along with FREE trim options! Depending on the design, the trim options are square, rounded, elegant, and scalloped. When you're ready to start your project, just click Create Now to be taken to our easy-to-use project builder. Don't worry if you change your mind on your initial selections, you'll have the ability to change designs, layouts, size, paper, envelope, and trim options in the builder.
If you need more help with your project, make sure you check out our photo cards blog post for detailed instructions on creating a card on the Snapfish website or in the Snapfish app!
Get ready to write!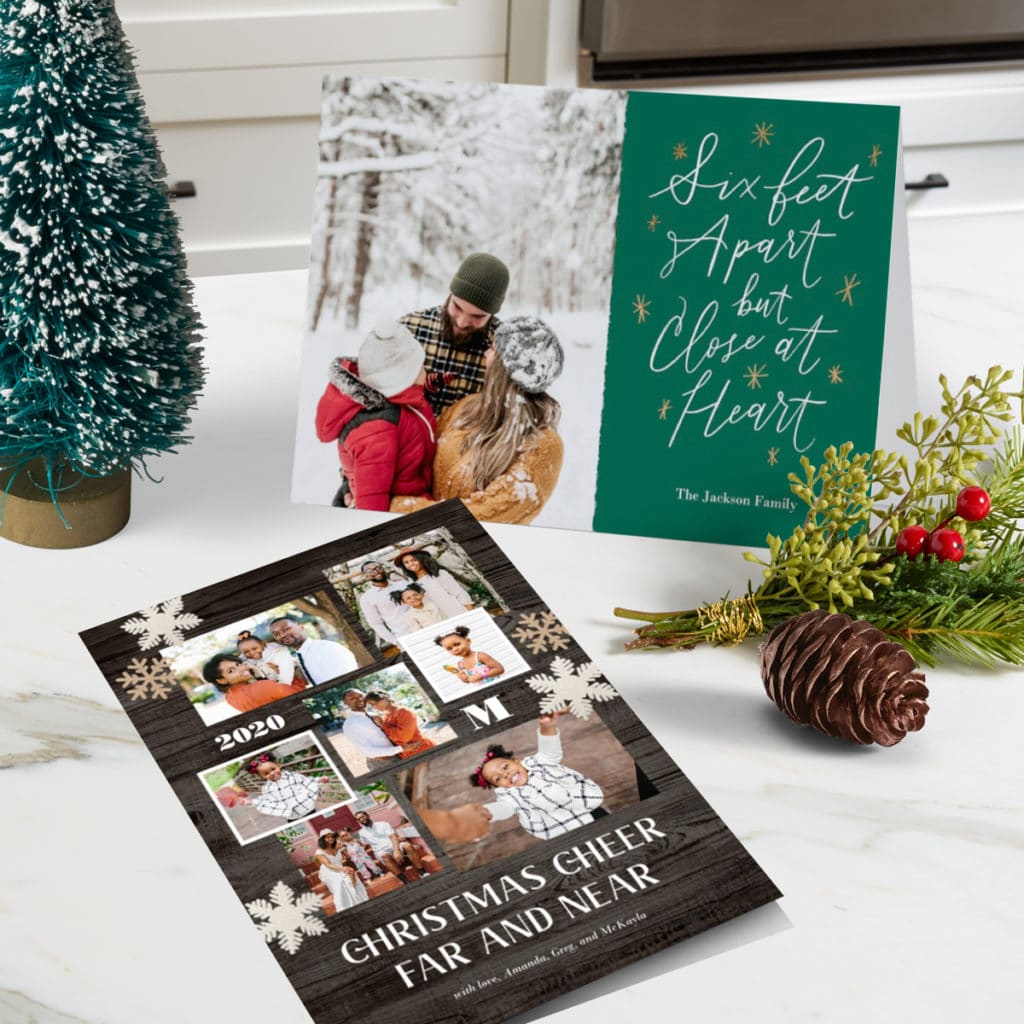 Once you've received your cards in the mail, now comes the fun part — signing, sealing, and sending! Before you start, make sure you have all the necessary tools on hand like pens, stamps, and your address book. If you have little ones in the house, they can help out by signing their own name or drawing a cute picture on the card or envelope. Don't worry about trying to write a novel in your card. Keeping things short and sweet is always in style. For ideas on what sentiment to sign off with, check out our recent season's greetings blog post. Check out our handy tips for signing off your Christmas greetings below.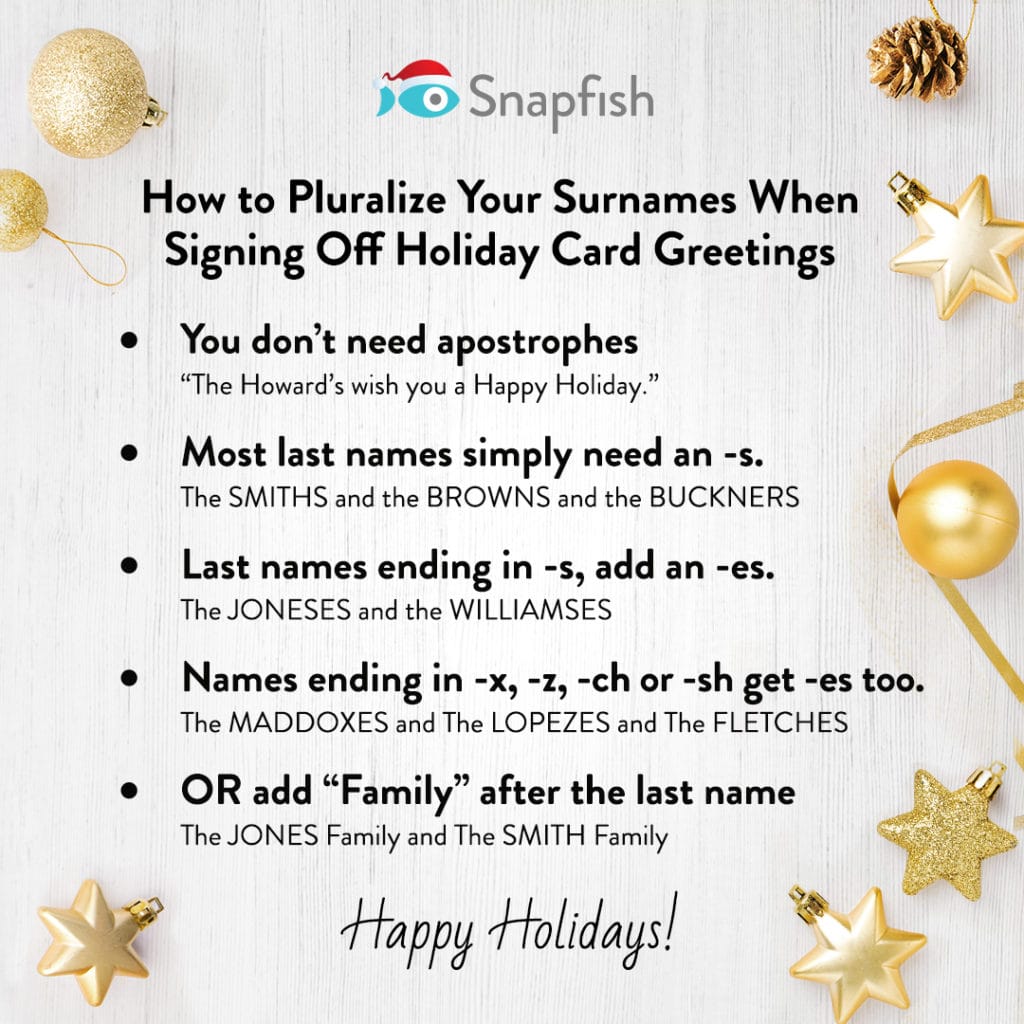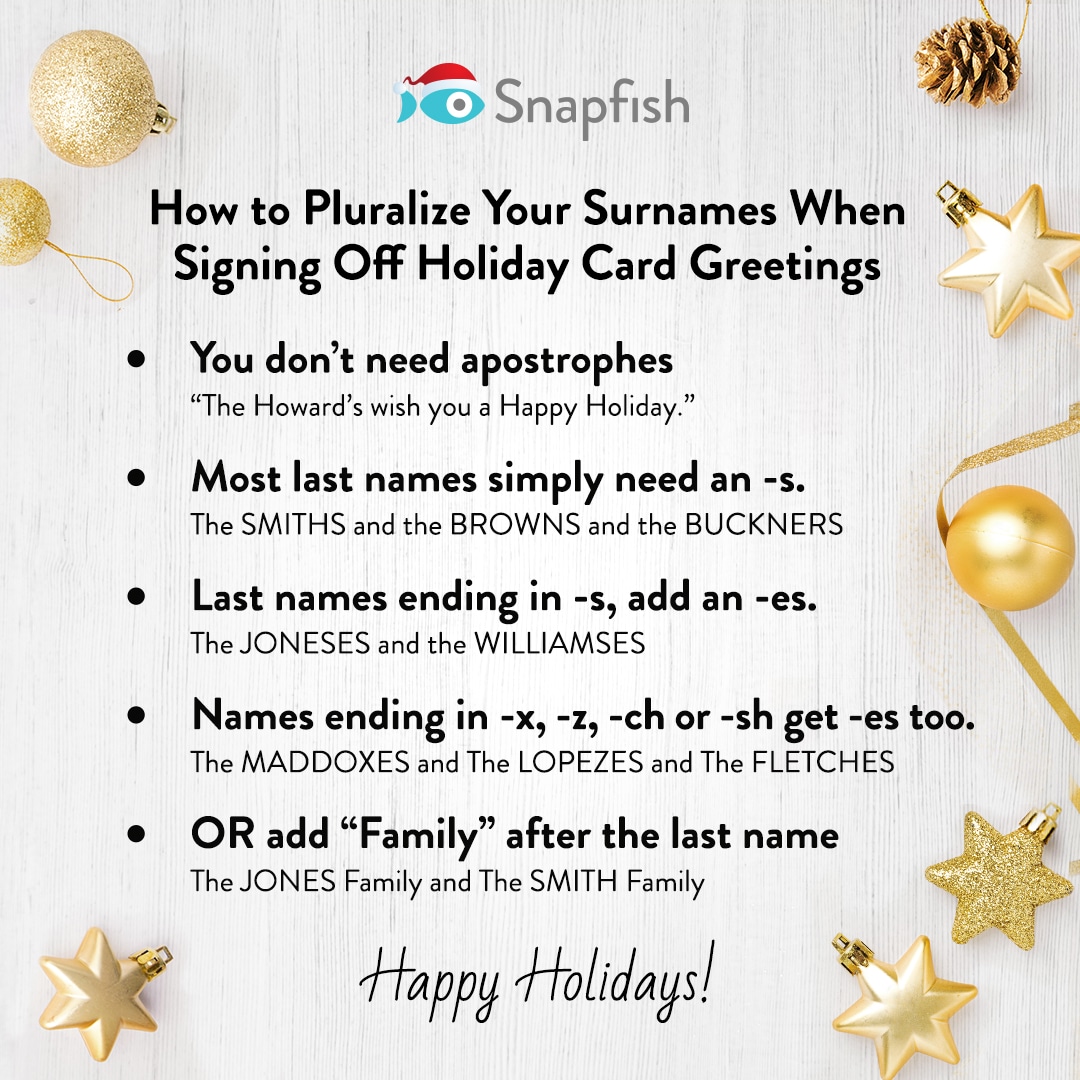 We'd love to see how you end up spreading holiday cheer to your loved ones this year! Make sure you tag us on Instagram or Facebook with your photos or use the hashtag #snapfish. You can also follow us on YouTube, Twitter and Pinterest, too!