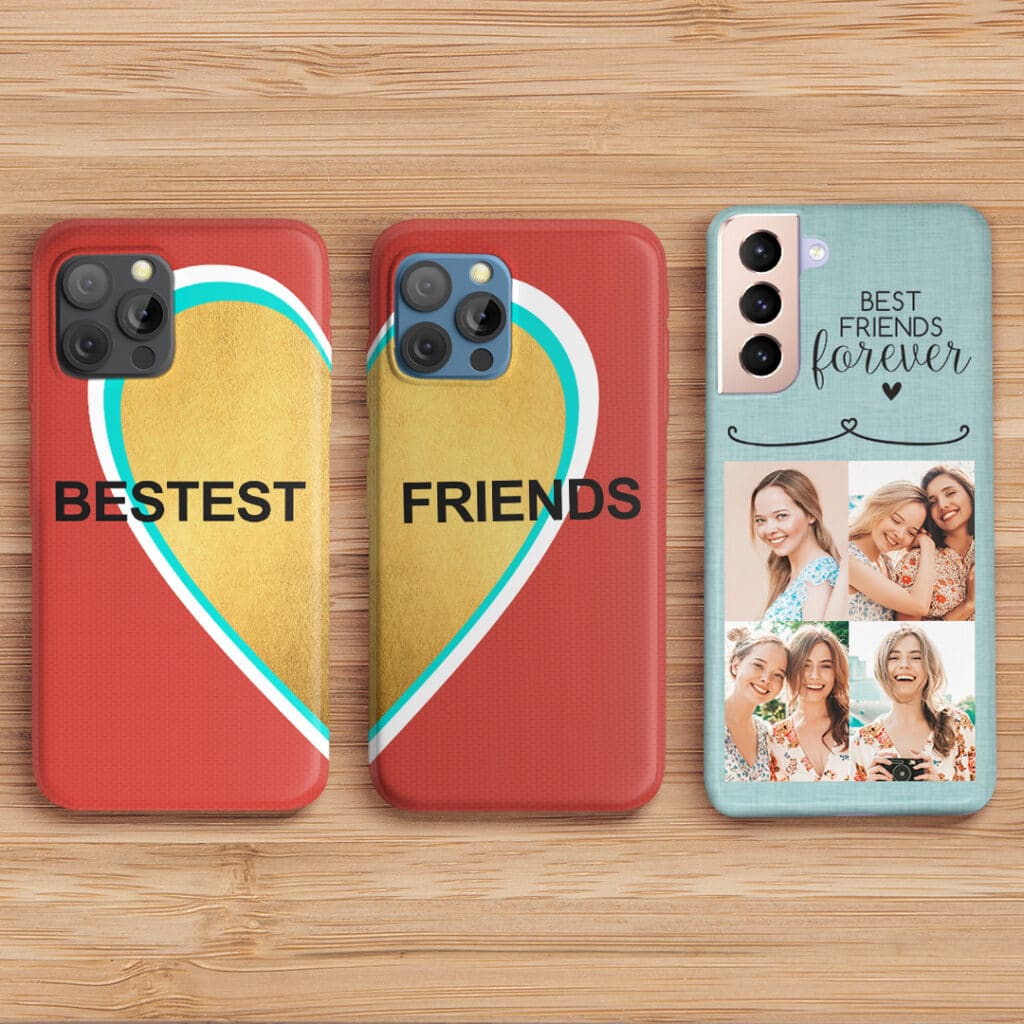 Personalized phone cases are all the rage. Whether they display adorable family photos, inspiring quotes, or fun emojis, these customized device holders for your tech gadgets reflect who we are. 
Did you know you can create a truly unique phone case for your iPhone or Samsung Galaxy devices with Snapfish? Using our easy to use online design tools, you can create a unique phone case design in a matter of minutes. You can even create custom tablet cases and personalize 15″ laptop cases using the Snapfish online case cover design tool.
How To Make A Custom Phone Case or Tablet Cover
It's simple to design custom phone cases with pictures. You can print family photos, holiday pictures, landscapes or even snapshots of your dog, cat, parrot or other furry friend. The first step is matching the correct case to your device. Once chosen, you are ready to start customizing. Our phone case maker has a range of layouts to add photos to, from single wraparound image designs to collage picture case layouts.
Your new Samsung Galaxy customized phone case or custom iPhone case is just five steps away.
1. Phone Model: Create a custom phone case by selecting the model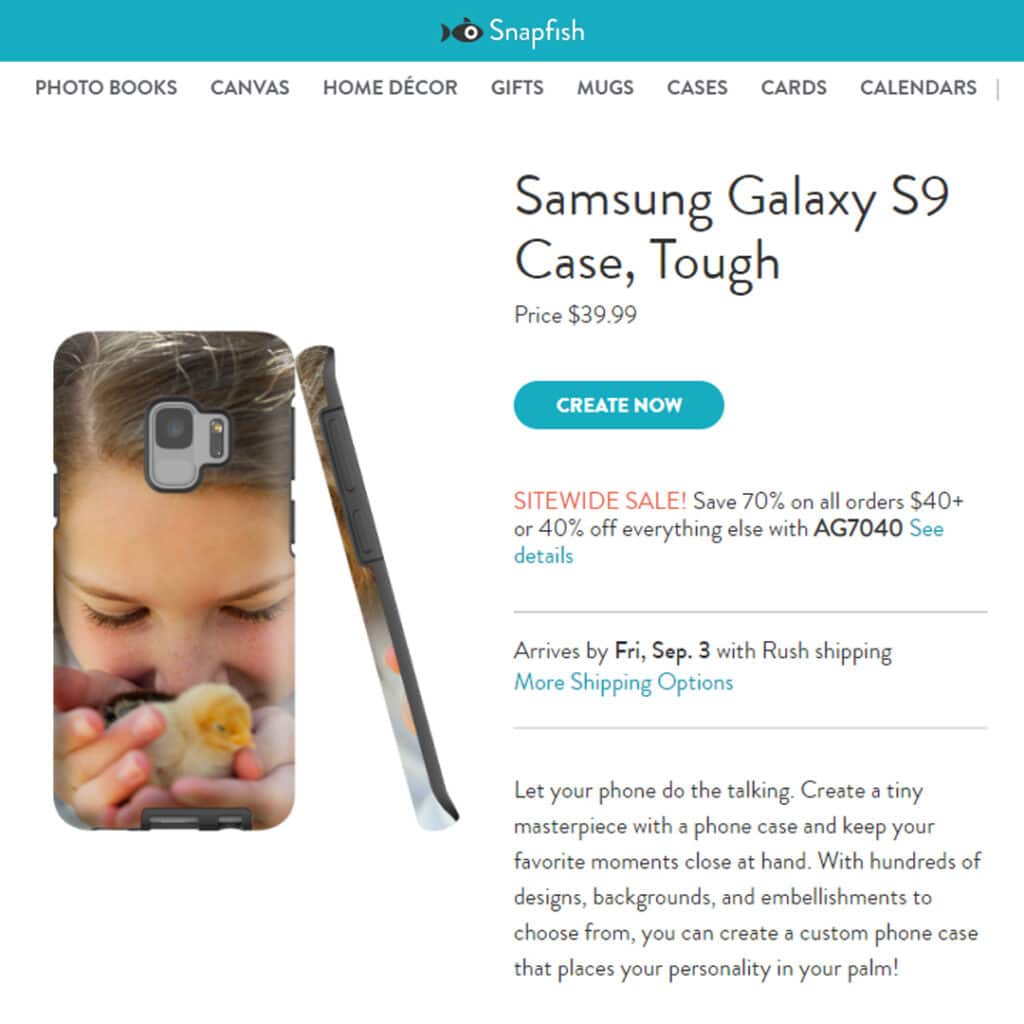 Choose your specific iPhone or Samsung Galaxy model to create a stunning phone case design unique to you. We offer standard and tough device cover options:
iPhone 12
iPhone 12 Pro
iPhone 12 Pro Max
iPhone 12 Mini
iPhone 11
iPhone 11 Pro
iPhone 11 Pro Max
iPhone XS
iPhone XS Max
iPhone XR
iPhone X
iPhone 8
iPhone 8 Plus
iPhone 7
iPhone 7 Plus
iPhone 6/6S
iPhone 6/ 6S Plus
iPhone 5/5C
iPhone 5C
Samsung S21 Ultra
Samsung S21 Plus
Samsung S21
Samsung S20 Ultra
Samsung S20 Plus
Samsung S20
Samsung Galaxy S10
Samsung Galaxy S10e
Samsung Galaxy S10 Plus
Samsung Galaxy S9
Samsung Galaxy S9 Plus
Samsung Galaxy S8
Samsung Galaxy S8 Plus
Samsung Galaxy S6
Samsung Galaxy S5
Custom Tablet Case
Custom 15″ Laptop Case
2. Layout: Choose between a one to six photo layout in the custom phone case maker.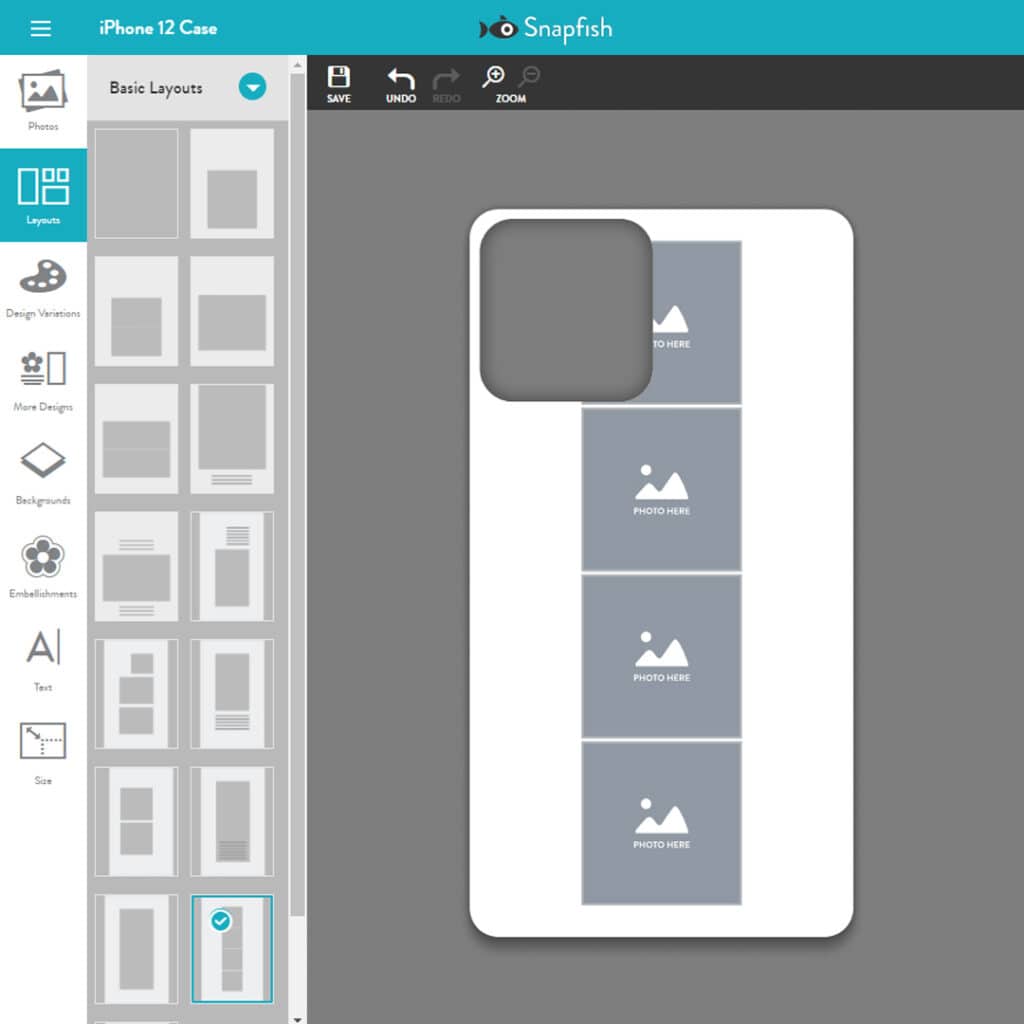 When making custom phone cases, it's important to decide how many images you want to include. Once you select your photo or photos, you can decide how you want the custom images to be displayed.
Alternatively, you can select one of our pre-built design templates for your phone case.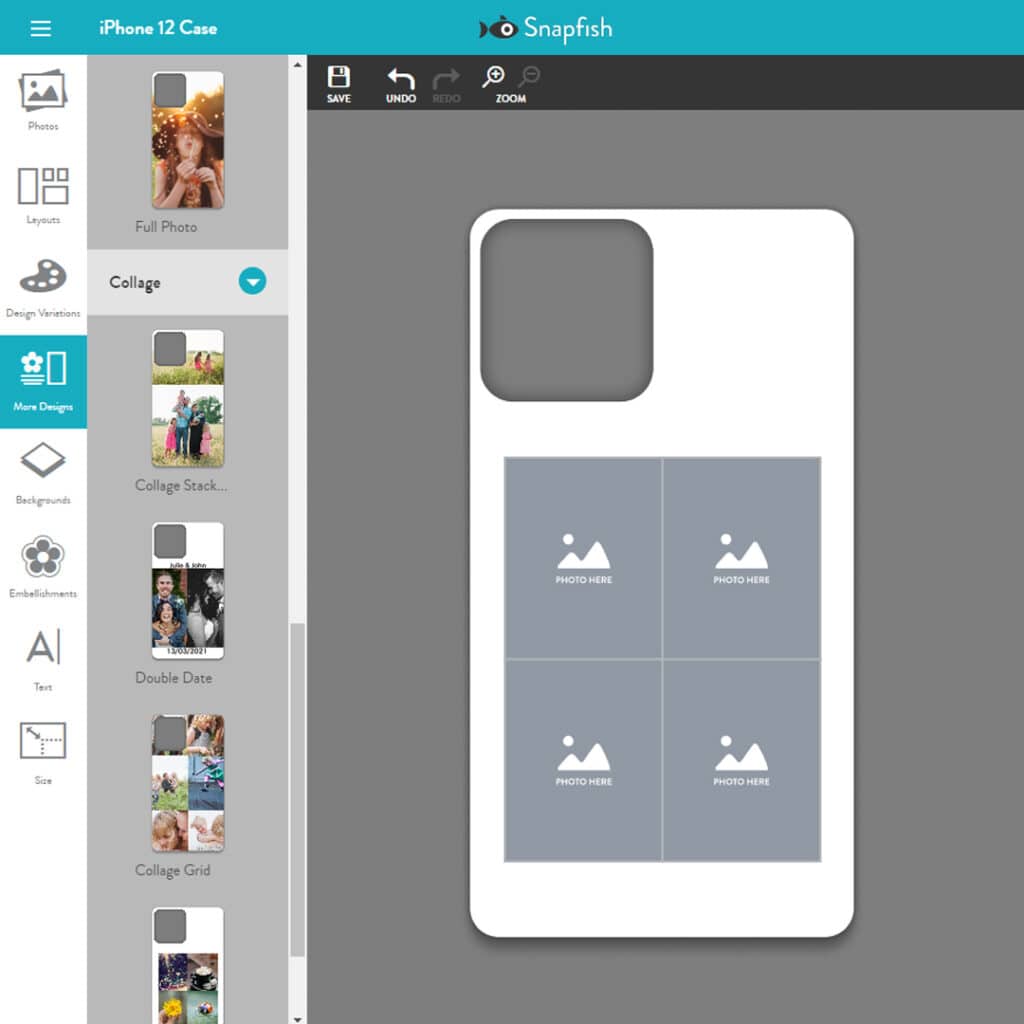 3. Background: Customize your own phone case by selecting a new background color or pattern.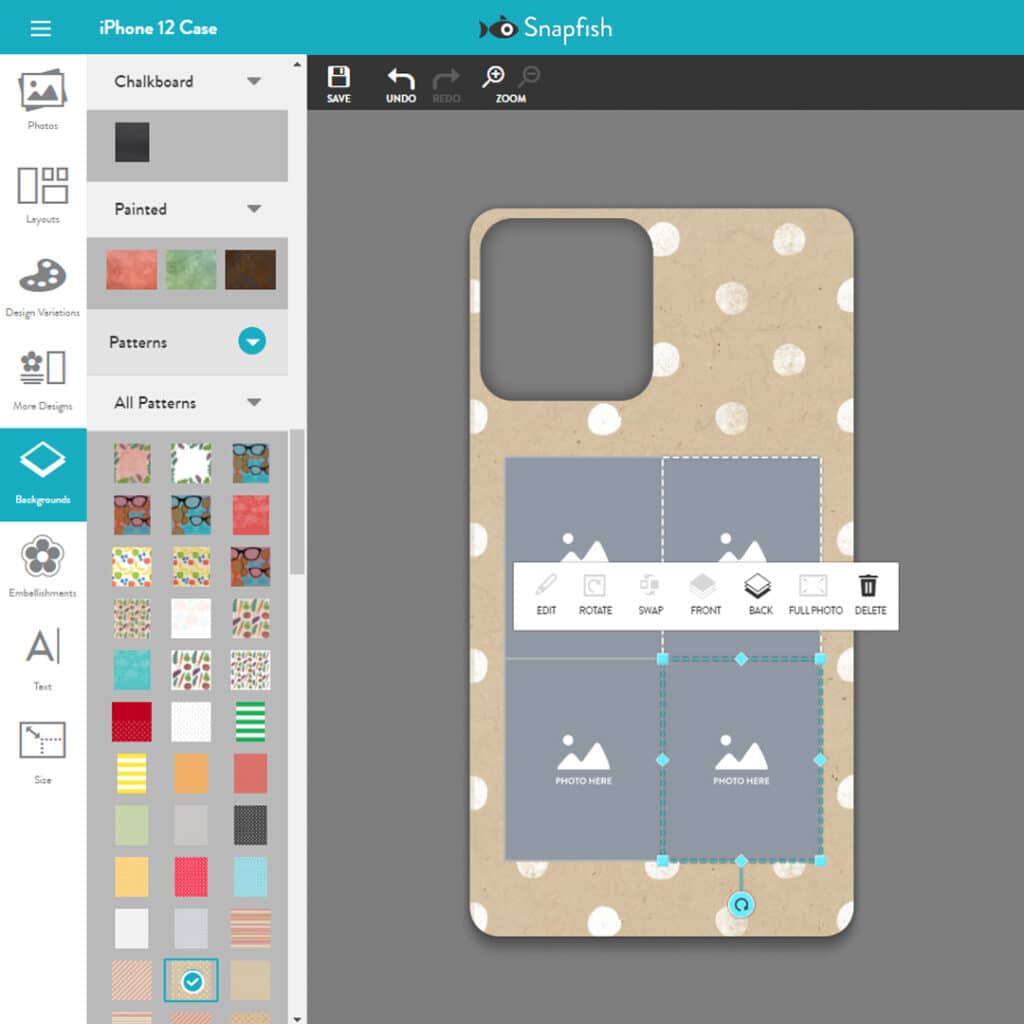 4. Add embellishments to your design to create that one-of-a-kind design for your phone case.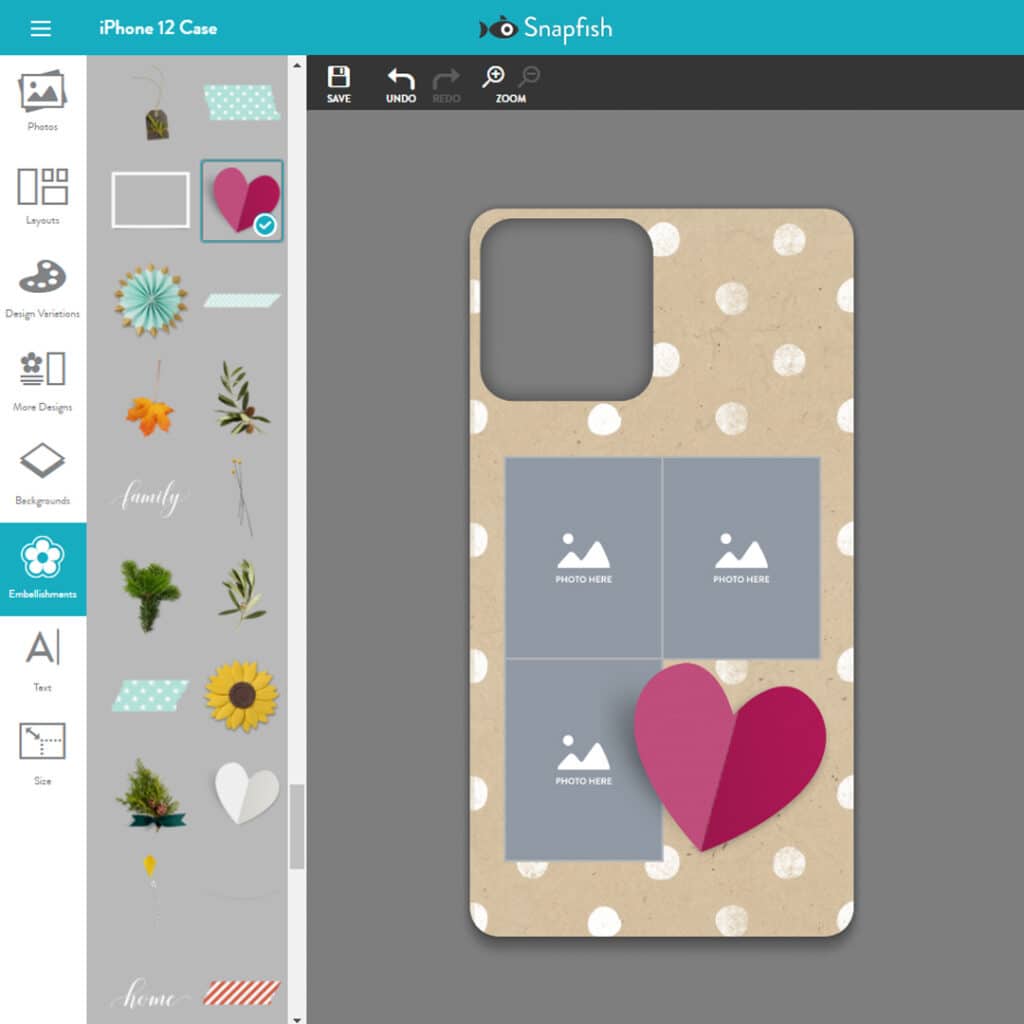 5. Add text to personalize your phone case design.
Design a Personalized Phone, Tablet or Laptop Case For All Your Loved Ones
A personalized phone case, or cover for your larger tech devices (laptop or tablet) is the perfect gift for anyone or any occasion. Using our extensive range of embellishments you can create a phone case to suit anyone's taste.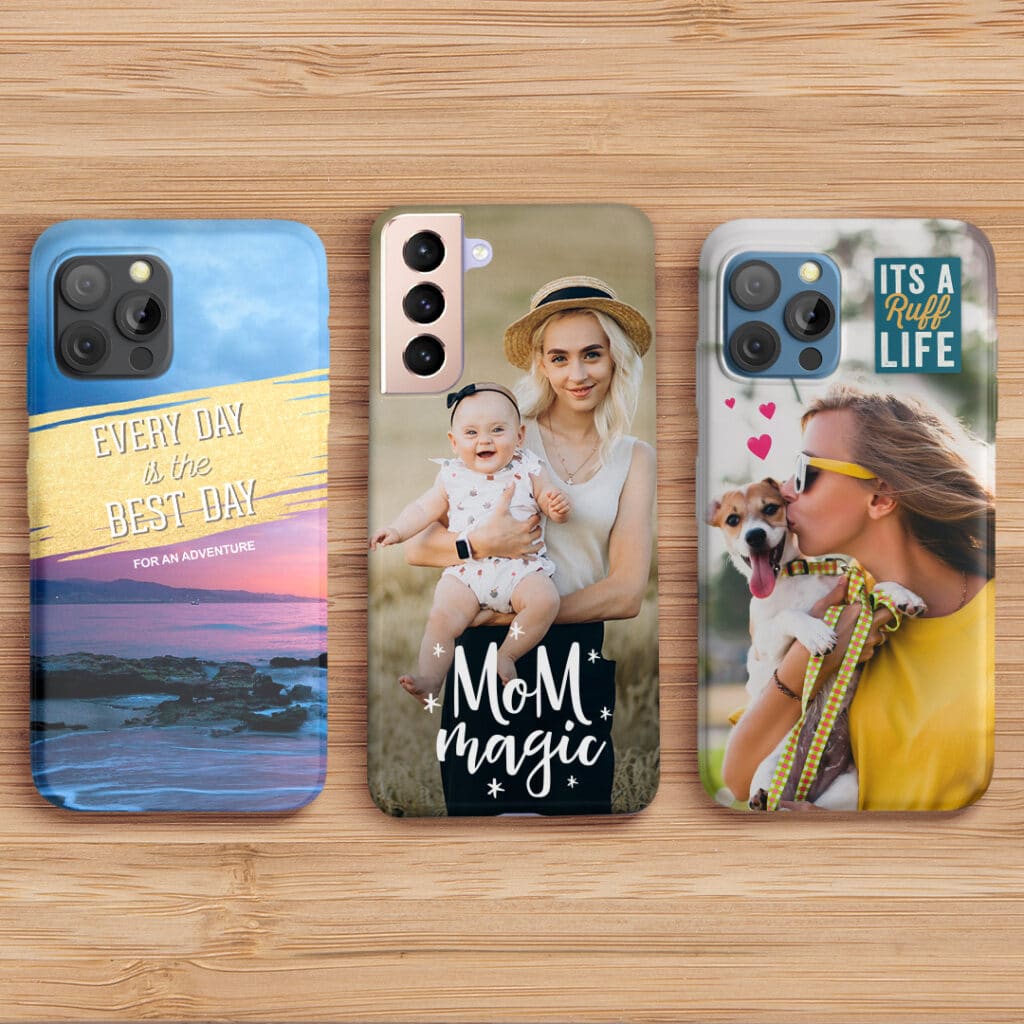 BFFL. A Best Friend phone case is new friendship bracelet.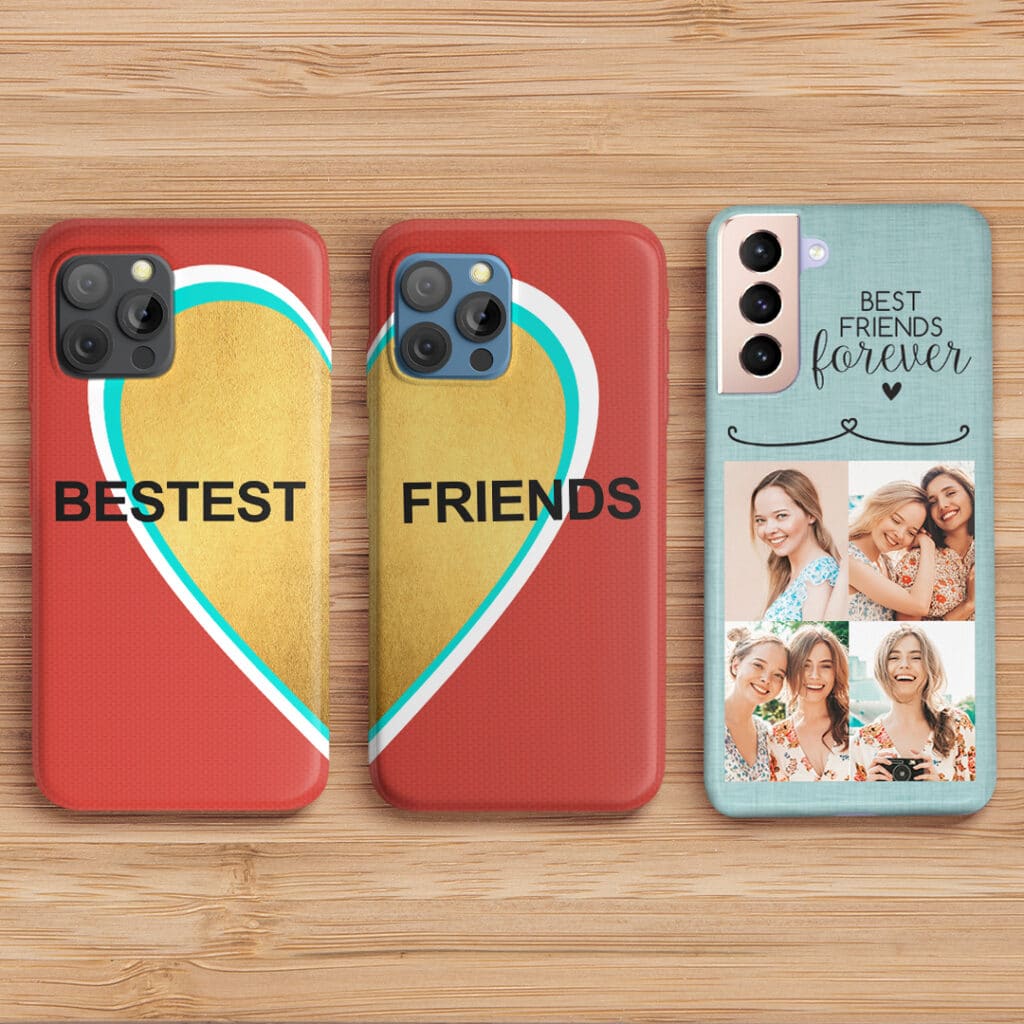 Family Favorites. Frame your favorite family photo on a phone case 💘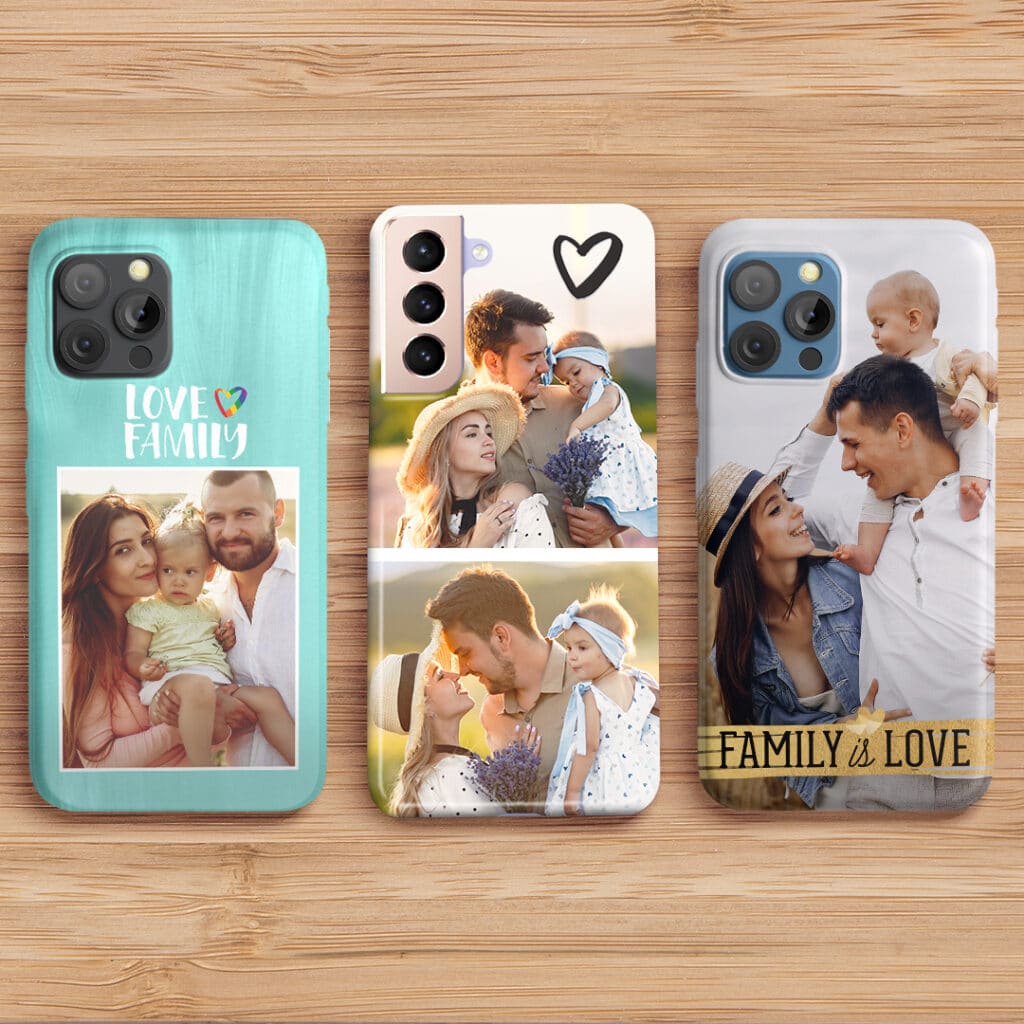 Animal Lover: Take your furry friend with you wherever you go 🐱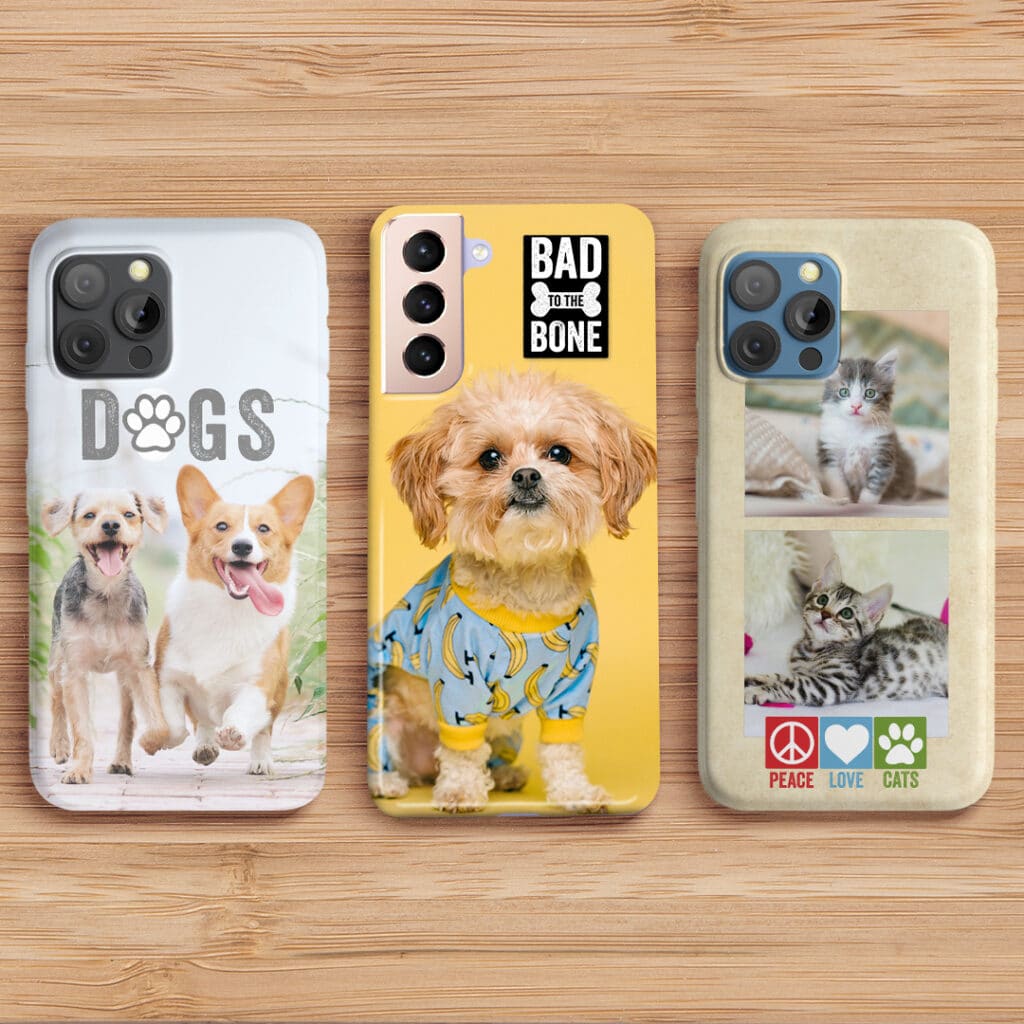 Positive Thinker: Start each day with a spring in your step by adding a motivational quote to your phone case.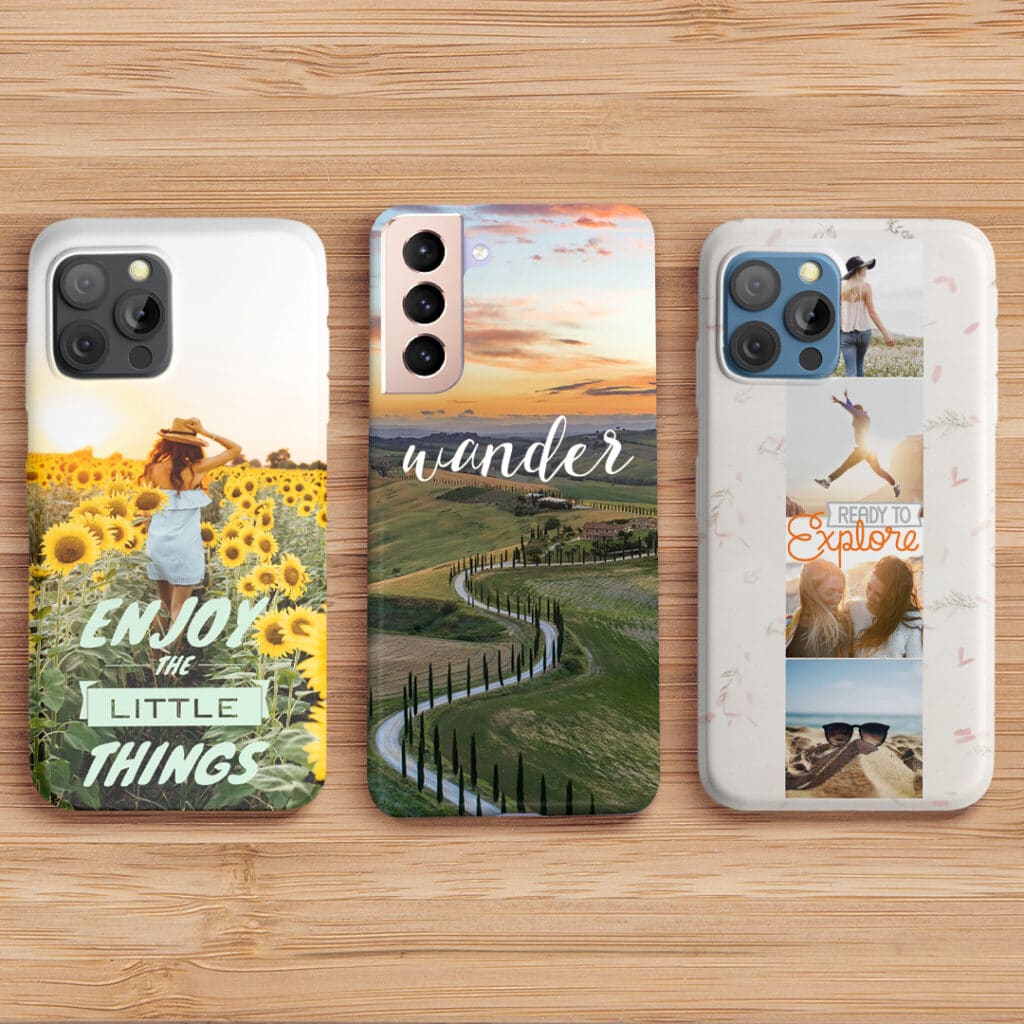 Perfect Partner. Wear your heart on your phone case
Have fun creating a personalized phone case for yourself, or a gift. We'd love to see how you customized your case! Feel free to tag us on Instagram or Facebook with your photos or use the hashtag #snapfish. You can also follow us on YouTube, Twitter and Pinterest, too!