Introducing our latest custom gifts that are suitable for kids of all ages. Our fun products can be customized with favorite pictures and text in minutes. These unique kids gifts will make any gift personal and bring a smile to their faces when they receive their gift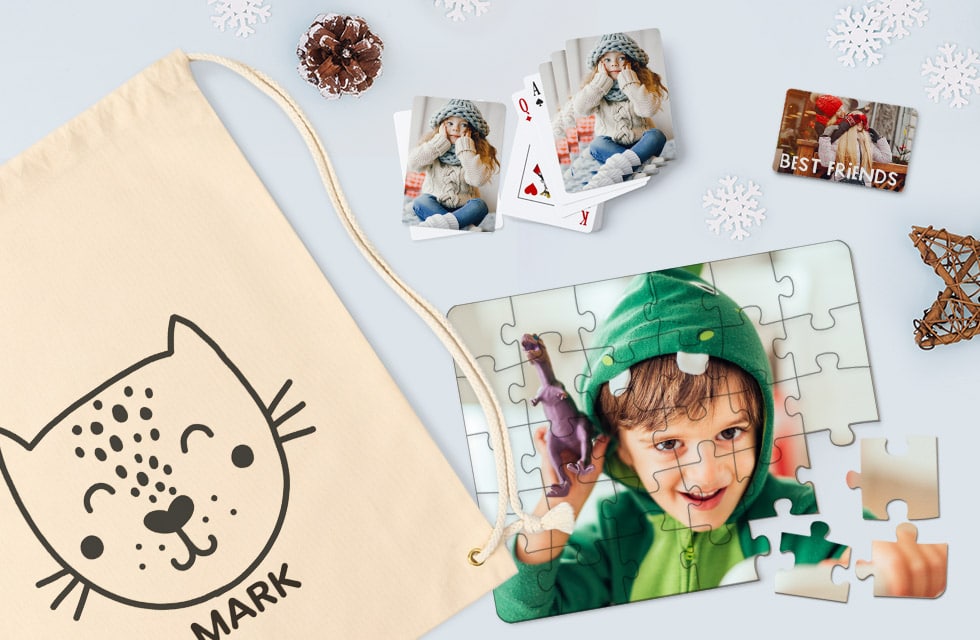 Puzzles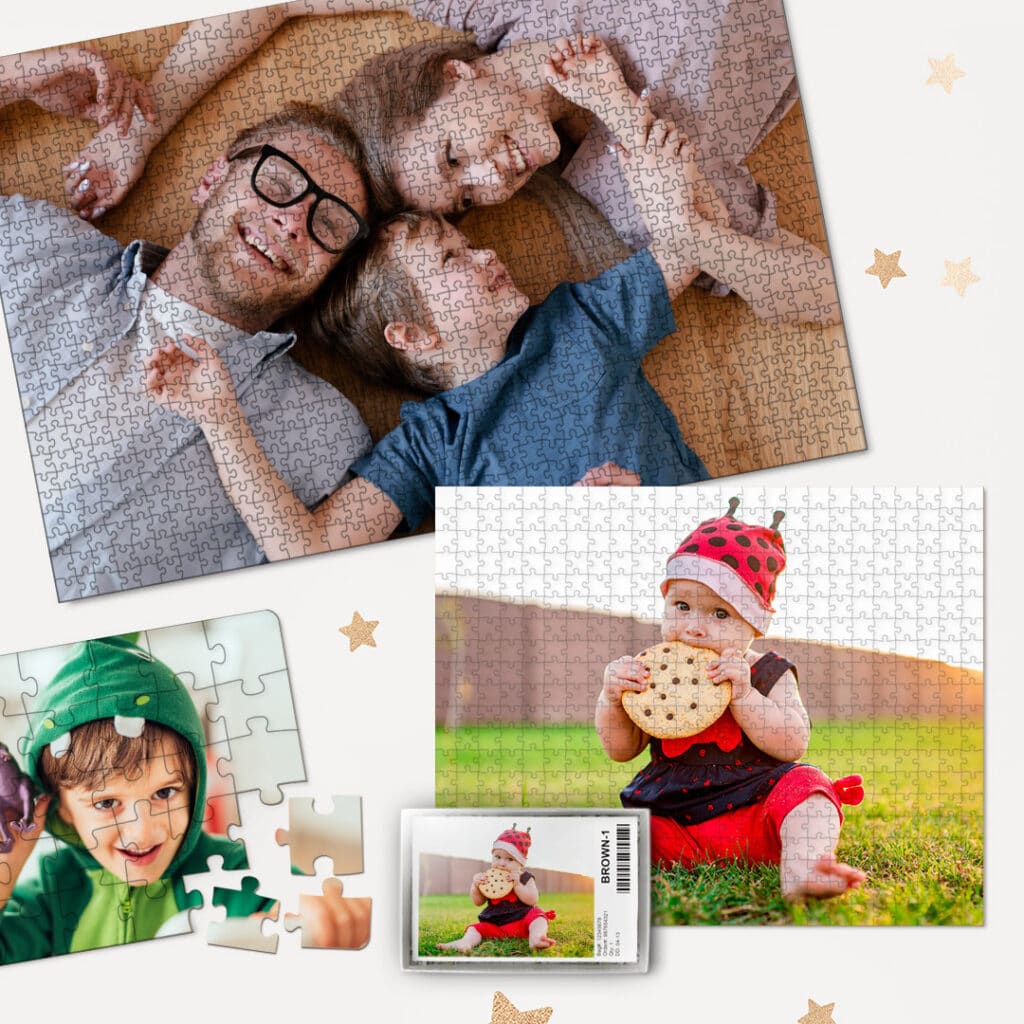 Our photo puzzles come in 5 sizes. The newest 30 piece puzzle  and 1,014 piece puzzles join the ever popular 110, 252 and 500 piece jigsaw puzzle range. Our custom photo puzzles are easily personalized with pictures from a family vacation, milestone moment, or other special memory and are guaranteed to provide hours of fun for the whole family! Our puzzles all include reference print for putting the puzzle together, so it should be child's play to solve your picture puzzle.
Playing Cards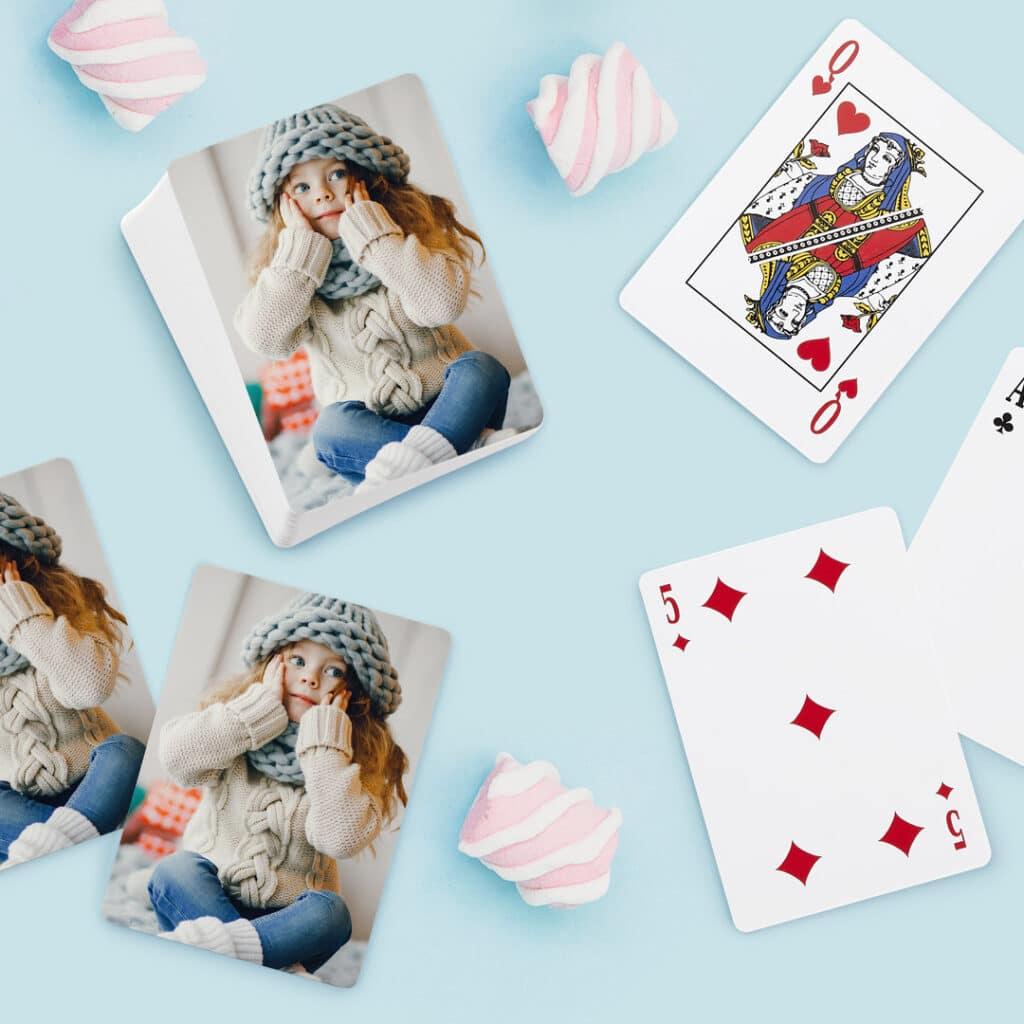 Anyone for Snap? Every game feels lucky with your own personalized playing cards. Whether you choose a family photo, a kids' drawing, or create your own design, it's easy to create one-of-a-kind cards for your family to play with. If you can't pick just one, create a custom deck for everyone in the house! Forgotten how to play kid's card games? Read our blog to get you re-acquainted with some of the more popular kids card game rules.
Magnetic Wine Magnet with Corkscrew + Bottle Opener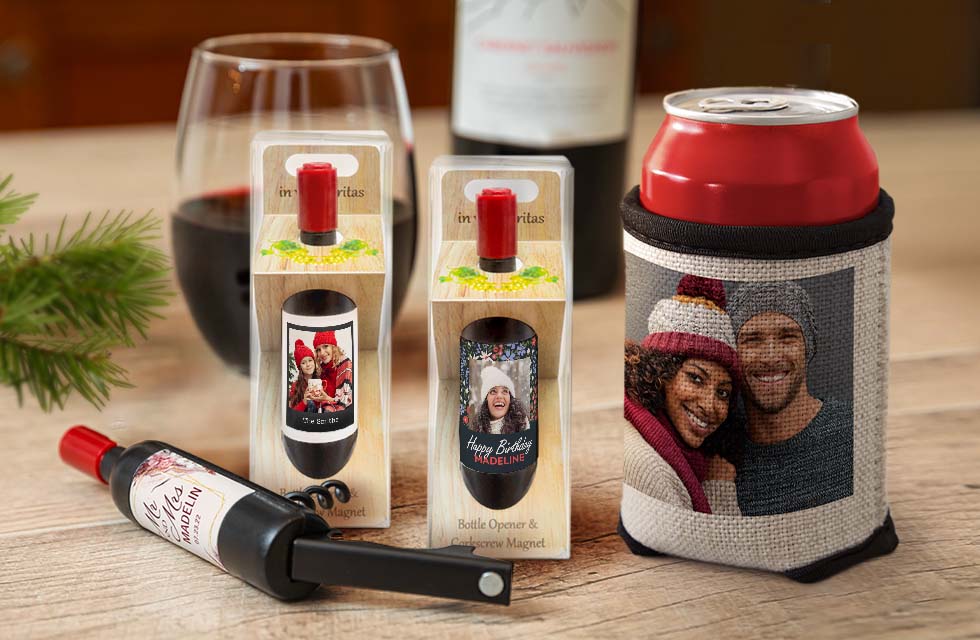 Magnetic bottle openers make perfect birthday gifts, wedding favors and even stocking fillers for you older kids! Your favorite pictures will be printed onto durable ABS polymer and stainless steel, and the magnetic corkscrew + bottle opener can stick to any steel surface, like a fridge, so it will be  easy to find this entertaining essential when you need it.
Pint Glass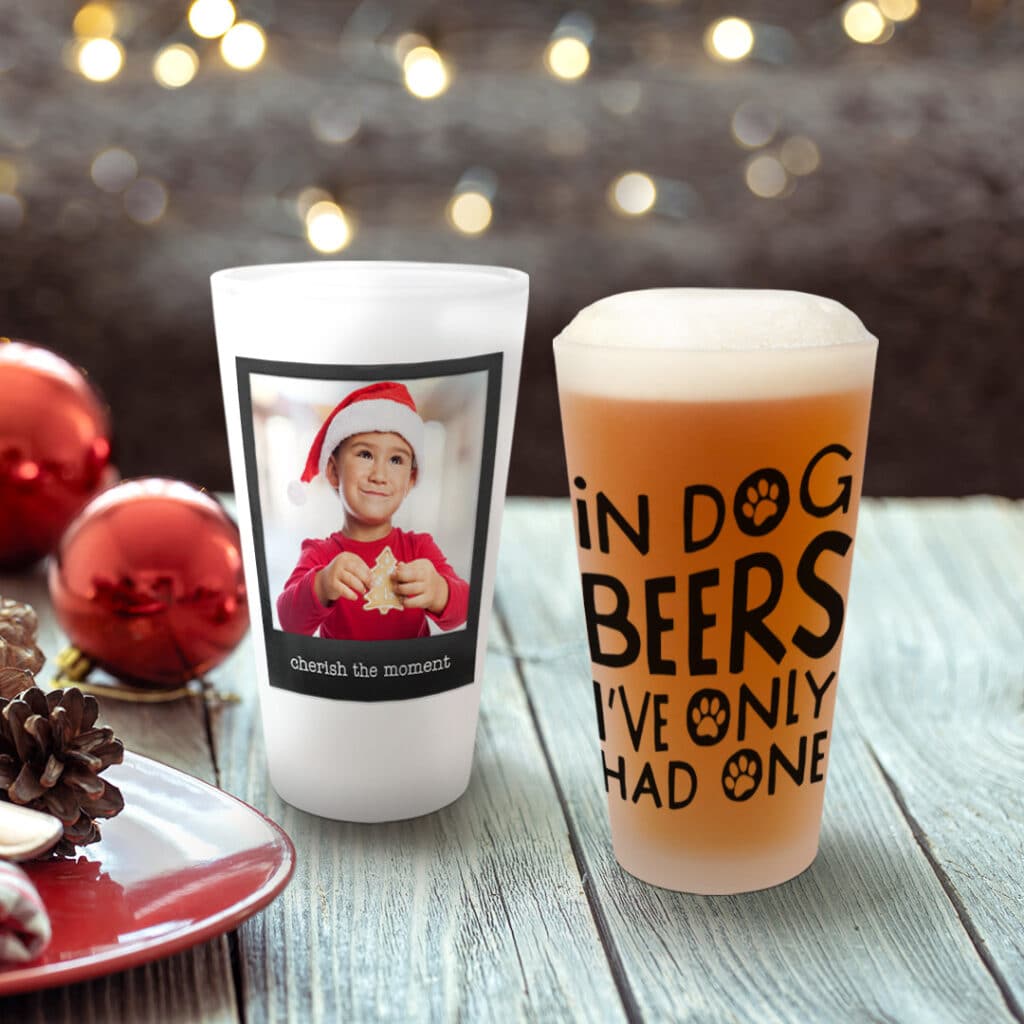 Custom pint glasses make the best vessel for sweet tea, ice cold lemonade, or your favorite brew! Create custom monogram designs for each guest, add first names, or add a silly photo memory of the child to the side of the glass
Can Cooler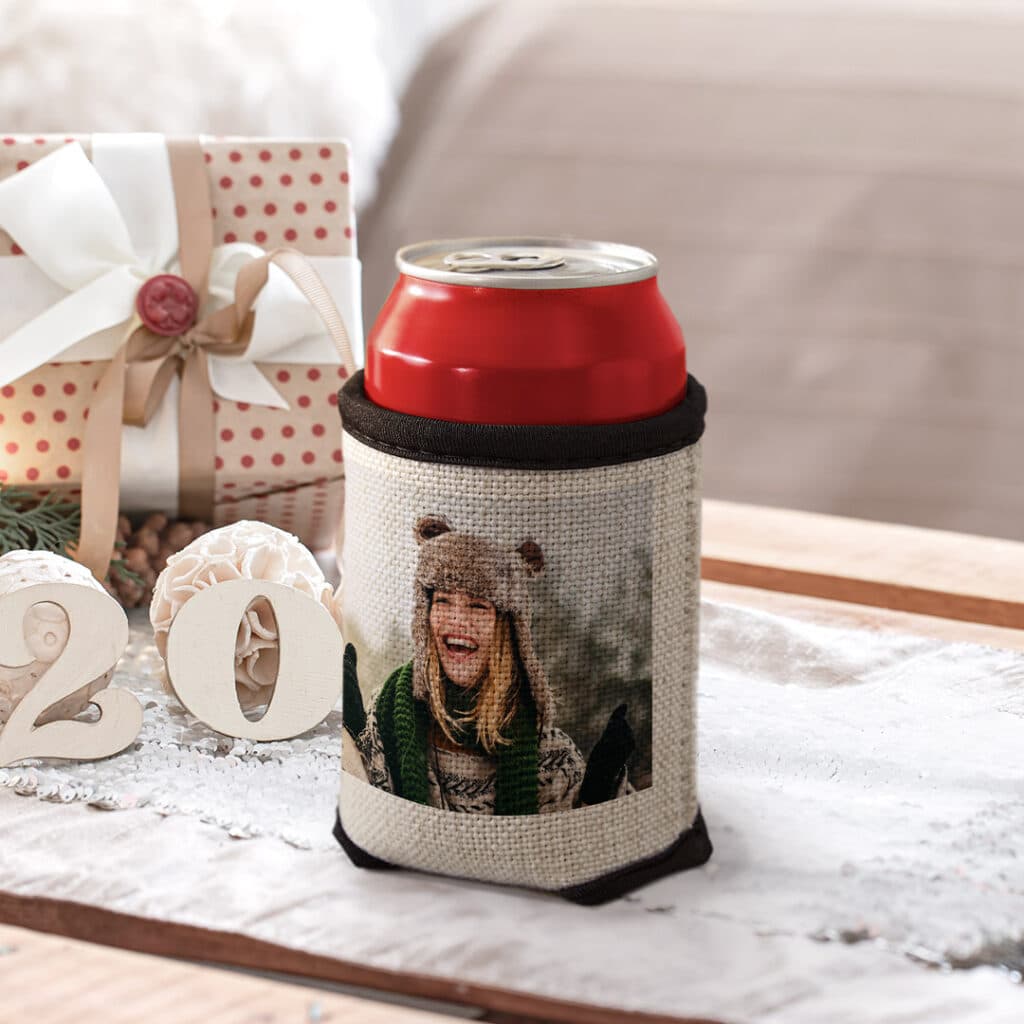 Our cloth can cozies can be customized with your favorite photos, text, embellishments, and beyond. So it's never been easier to create a fun can cooler to help keep soda, seltzer or even beer cans cold. Plus, we've got some sweet designs that are a perfect fit for all your young-at-heart gift recipients!
Tee Shirts + Bodysuits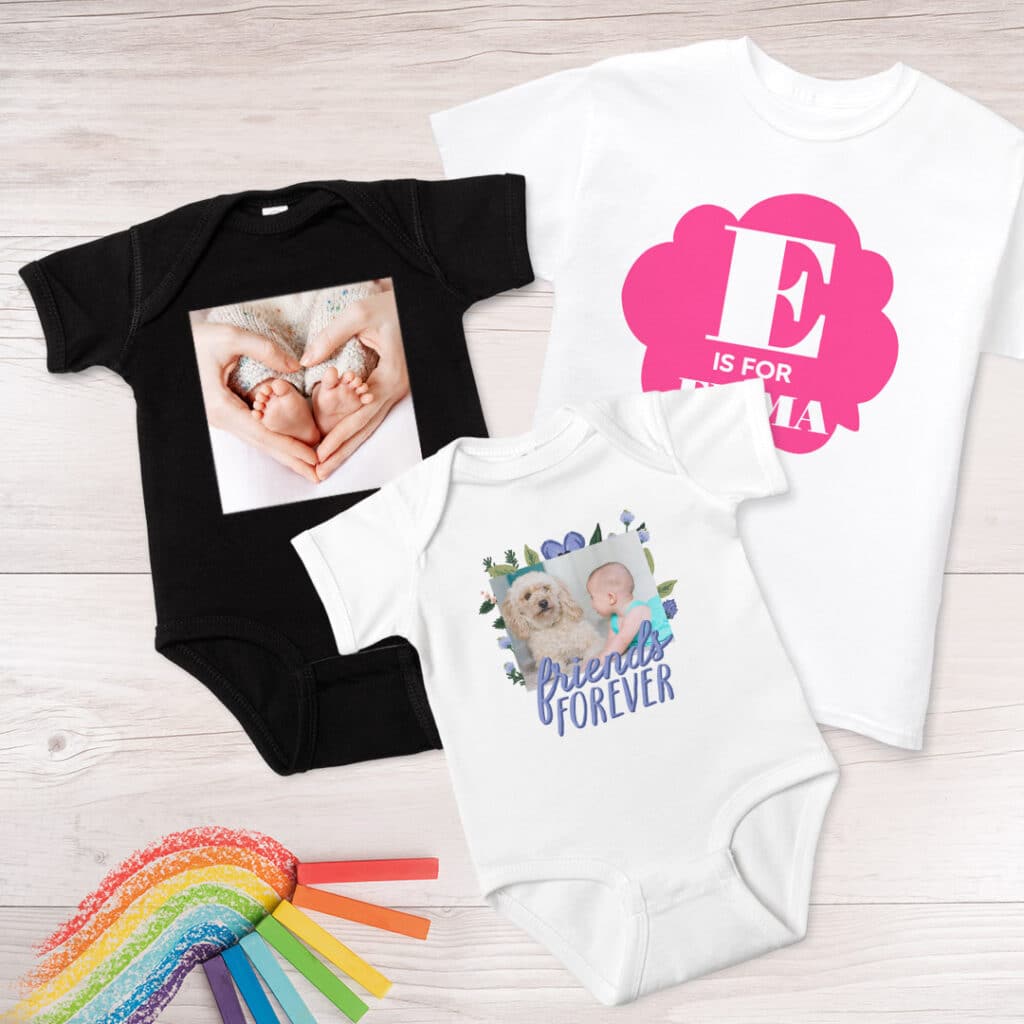 We have a variety of tshirts and romper suits you can customize with your own designs. Our baby bodysuits can be designed to coordinate with the big kid's tshirt designs and our custom toddler cotton t-shirts are available in 3 sizes, and it's never been easier to outfit the kiddos in your life with a stylish short sleeve, crewneck tee for every personality. Plus our wide range of toddler, teen and adult t-shirt sizes means the whole family can dress up for holiday photos, family birthdays, even vacations and party weekend!
We have a wide range of playful + colorful designs for kids of all sizes, and church groups, summer camps, schools and kindergartens can even create their own coordinated t-shirts for fieldtrips, sports teams, or fundraiser. Just don't forget to grab custom shirts for the chaperones, as well. Don't forget to check out our custom hooded sweatshirts for those colder nights ahead!
Drawstring Bag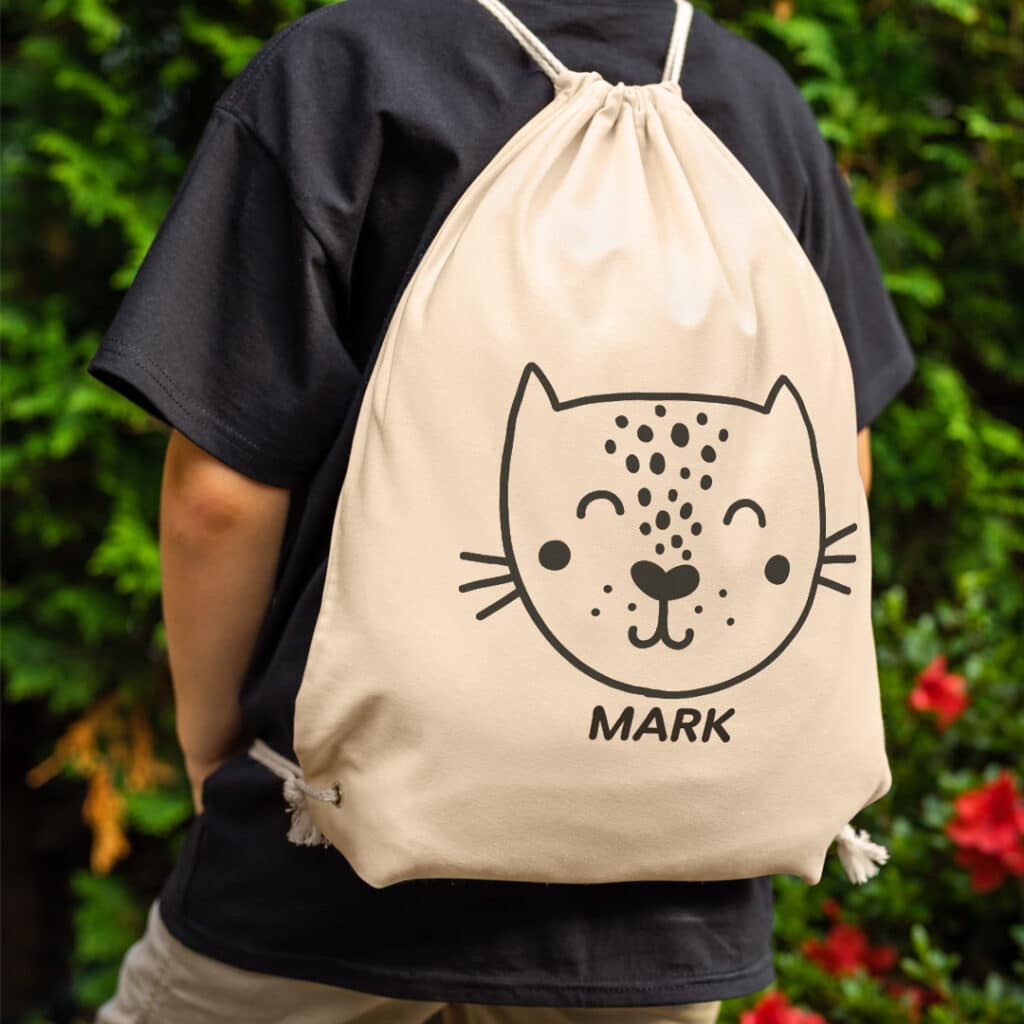 Doesn't every child love a "useful bag" for all those creating or sentimental things? Custom drawstring bags are perfect for carrying the gym kit, storing favorite toys or filling with essentials for that slumber party.
Lunch Bag
This photo lunchbox is the perfect lunchtime companion, small enough to fit into your kiddo's backpack and big enough to fit a full lunch! You can easily personalize a lunch bag with photos, text and embellishments of your choice to make your custom lunch bag instantly recognizable on the rack at lunchtime. They make perfect gifts for Teacher too!
Colored Pencil Set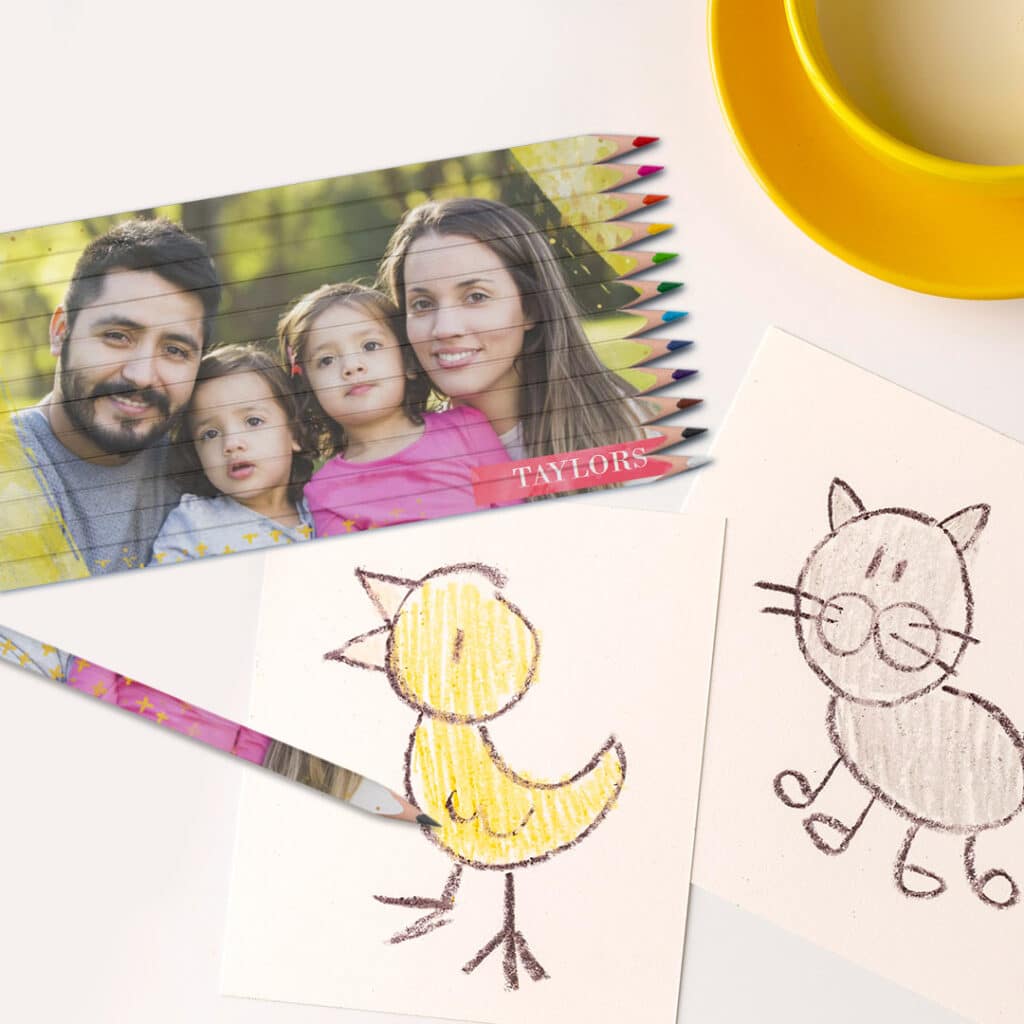 Create a custom set of 13 colored pencils that every budding artist will love! Just select one our fun designs or create your own by uploading favorite photos and adding custom text + embellishments. Your unique design is then printed across all coloring pencils as they lay flat in the set. Colors included are Crimson, Pink, Orange, Yellow, Green, Hunter Green, Blue, Indigo, Purple, Brown, Black, and White, plus an HB drawing pencil.
Canvas Pouch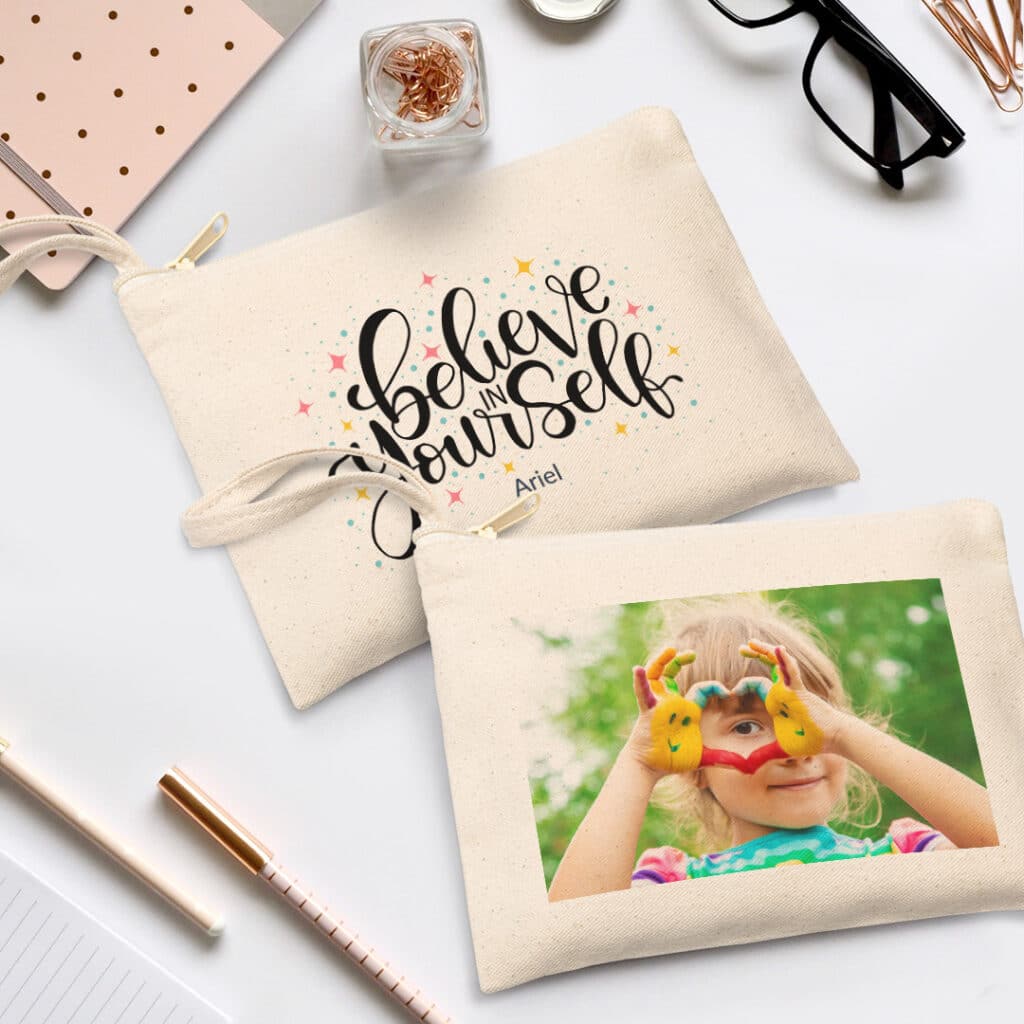 Why not combine your colored pencil set with this cute zippered canvas pouch. Our pouches make ideal goodie bags, party favors or even cool pencil cases for students and teachers when they return back to school. It's child's play to customize this carry-all pouch with photos + text or choose one of our exclusive designs, and the zippered main compartment means kids and adults alike can safely store their crayons, cosmetics, makeup, and more!
Car Magnets, Round Magnets, Magnetic Mini Prints + Photo Booth Strip Magnets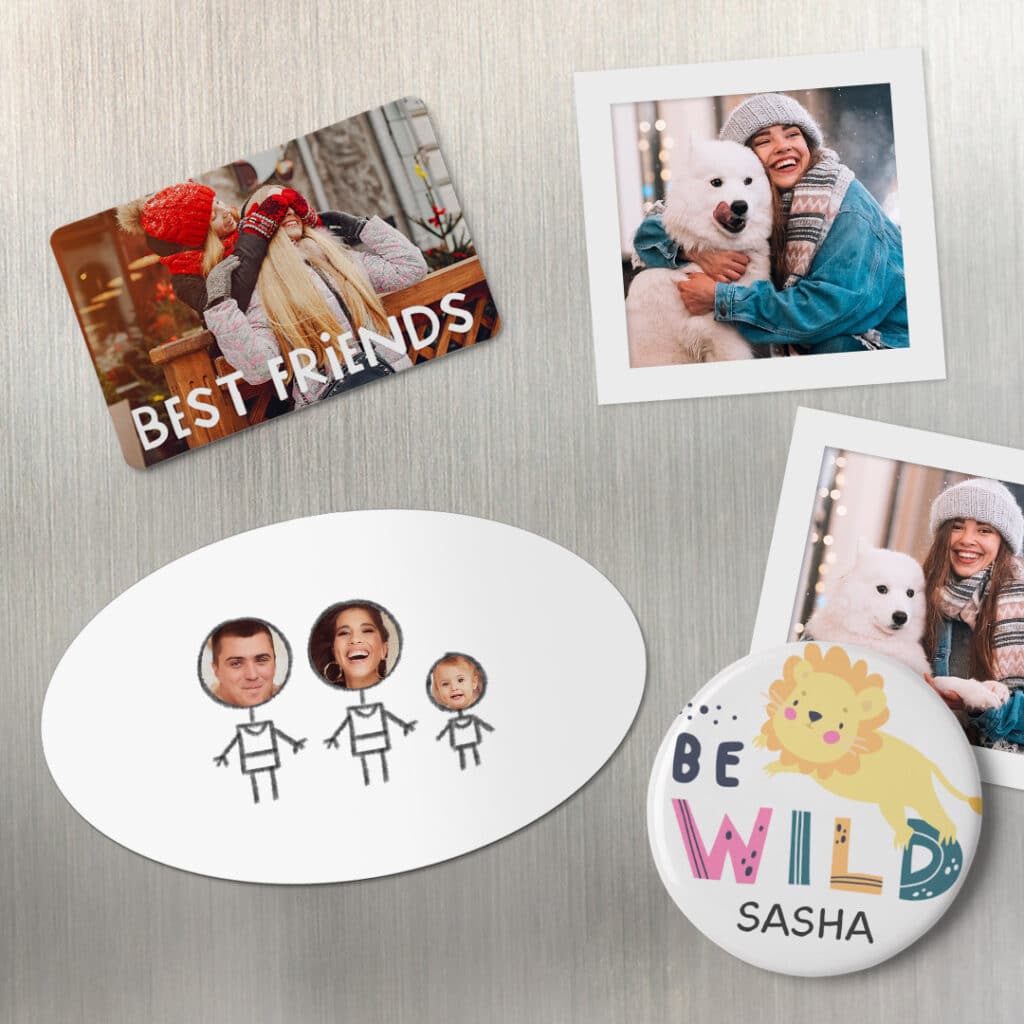 Show their creative side when you customize their ride with a personalized car magnet, or update their fridge or locker with  durable and scratch-resistant round photo magnet. Other funky and timeless magnetic options include our set of 10 mini square magnets and set of 4 Magnetic Photo Strips, featuring 4 pictures per strip.
The magnetic backing makes them great for showcasing fun pictures on the fridge, office filing cabinets, or a kiddo's school locker. And having square pictures printed on them means they are the perfect format for showcasing their social media feed favorites!
It's so easy to create fun and personal presents with Snapfish.
It's so easy to create professional looking gifts using our simple to use builder and design tools. Why not have a go today?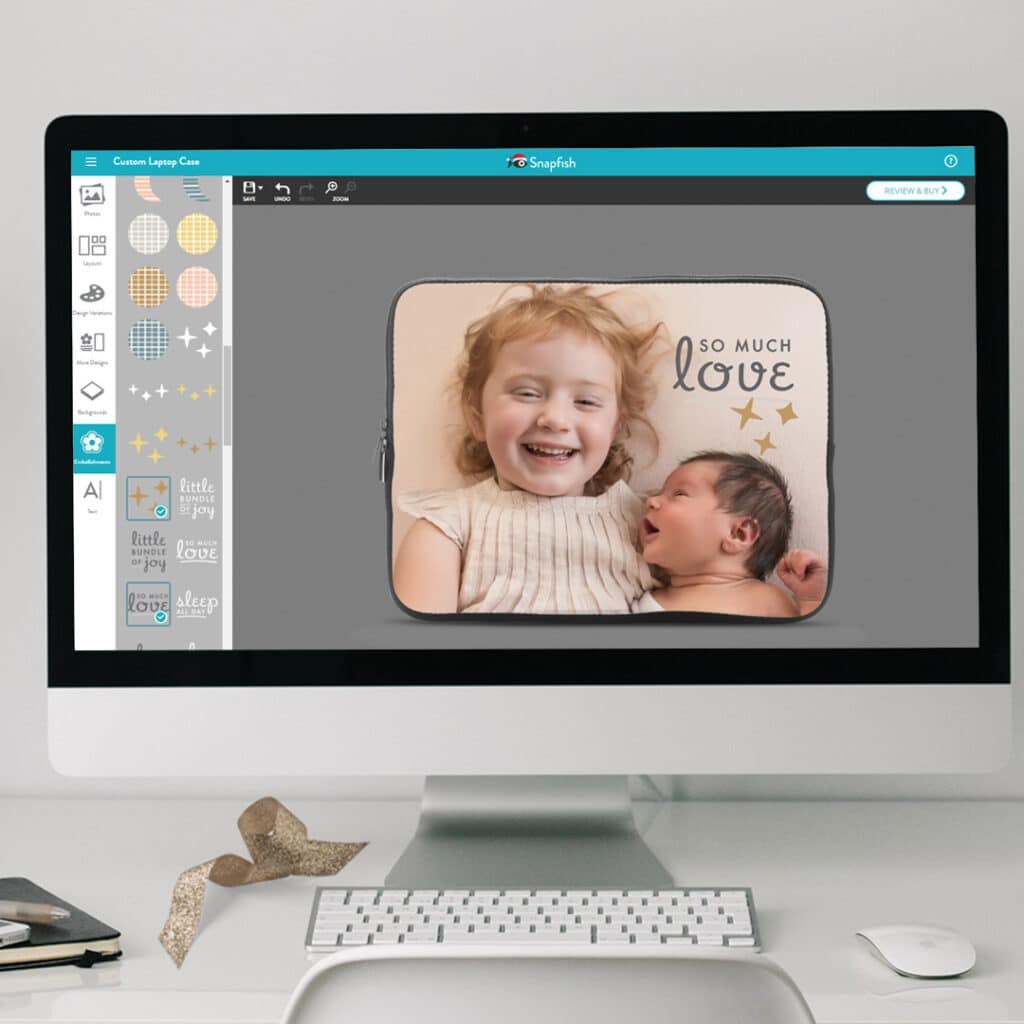 You can even add text & embellishments and change backgrounds to suit your style. Read our blog post for extra tips
We hope you got some great gift ideas for the whole crew! If you end up making a custom new personalized product, please share with us!  You can tag us with @snapfishus in your photos on Instagram or Facebook or use the hashtag #snapfish. Don't forget to follow us on YouTube, Twitter and Pinterest, too. Check out the Snapfish site for even more new custom products, they'll love.