Ideas for your Photo Tile display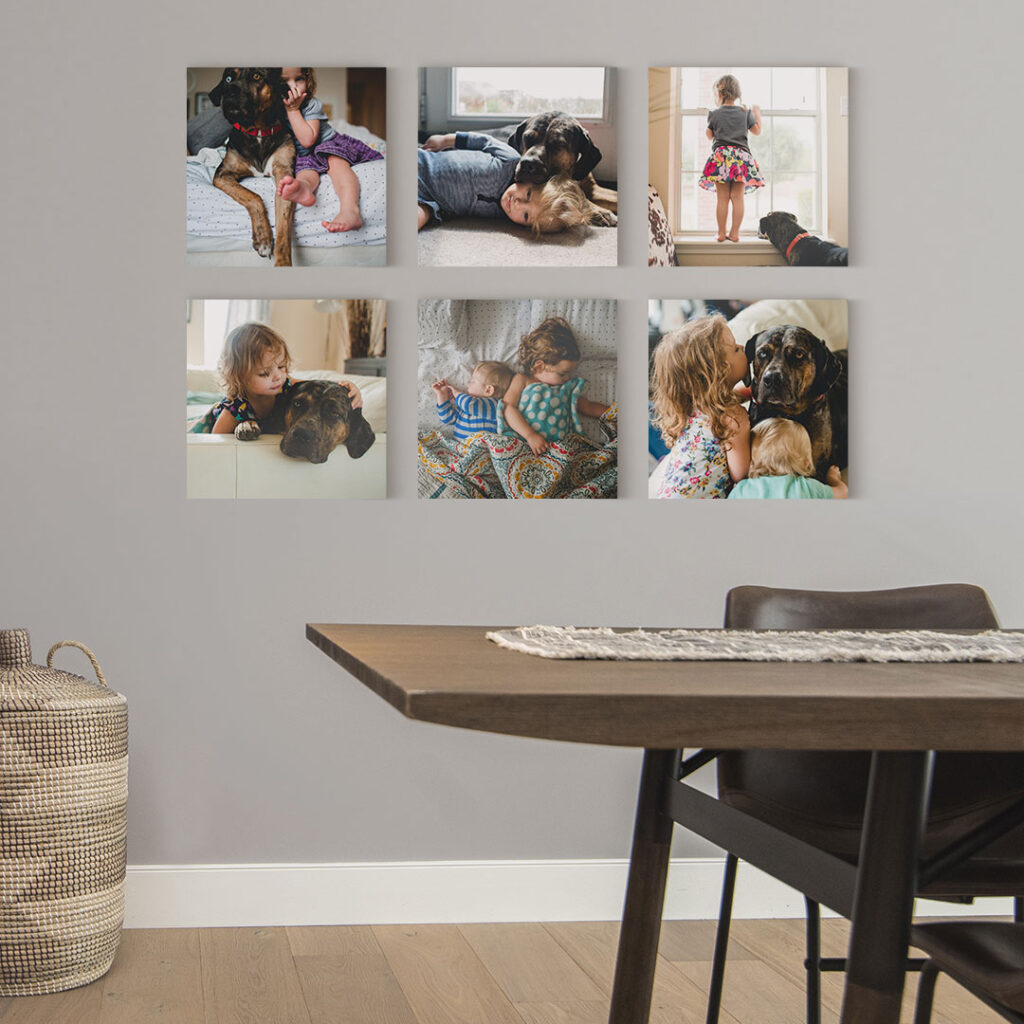 It's never been easier to show off your favorite photos around the house! Snapfish foam photo tiles are lightweight and their bevelled edges give your photos a modern, clean design, wherever you display them.
Our stickable photo tiles let you stick, rearrange, and re-stick your pictures without any fuss. It's so simple to create custom photo tiles of your favorite pictures, your little one's biggest milestones, or even their latest artwork (scanned in, of course) to create genuinely unique home decor.
You can order Photo Tiles as singles, or in groups of 2 or 4, and their simple design makes them an ideal solution for gallery wall arrangements on blank walls. Grid layouts result in a clean, crisp, formal look, and work beautifully in a dining room to replace a larger piece. However, if a relaxed, personal style is more to your speed, consider an eclectic arrangement. Because Photo Tiles are not permanently fixed to the walls, you have the flexibility to easily swap around your tiles whenever you feel like it!
Seasonal Wall Layout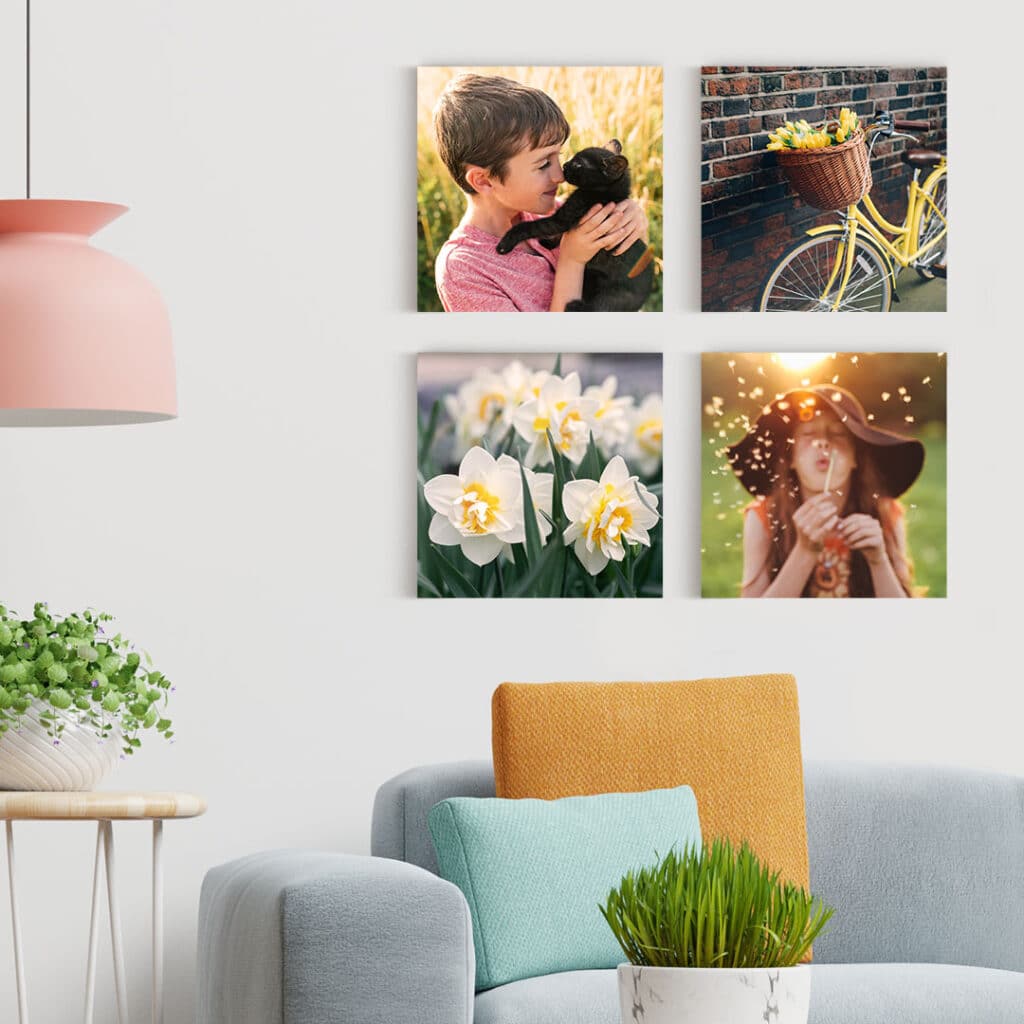 Switching up your gallery wall for the season doesn't have to be tricky or expensive! If you have an empty wall that is just screaming for a photo gallery, photo tiles make it easy to update your gallery wall every season. Whether you're decorating for spring, summer, fall, winter, or even Christmas, you can easily switch up your wall art as often as you'd like with themed photo tiles.
Story Board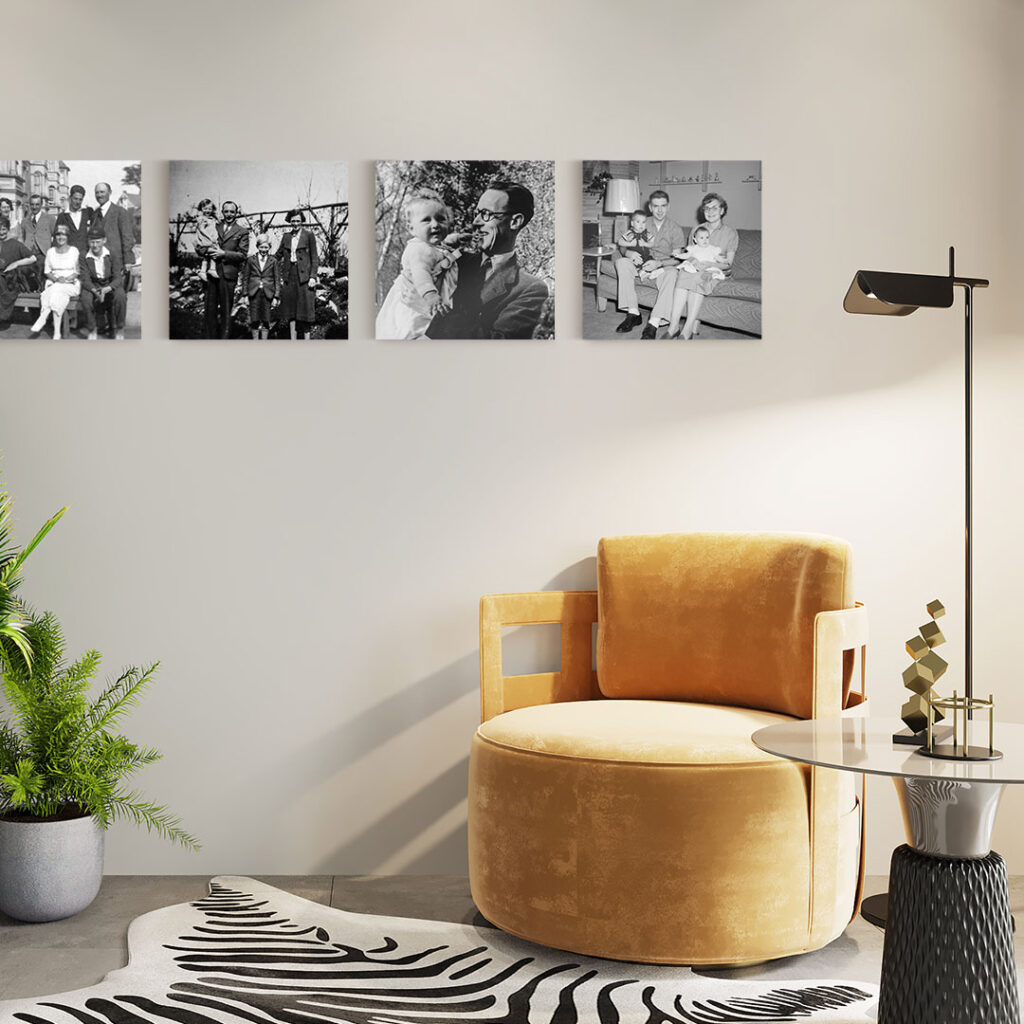 Sometimes the difference between the place we live and a place that feels like home is how we fill it. Pick photos from all stages of life for a gallery wall that grows with your family. It's in the little personalized details that we find comfort — beautiful nods to our own unique story that also serve as reminders of whom and what we love the most.
Mix-and-Match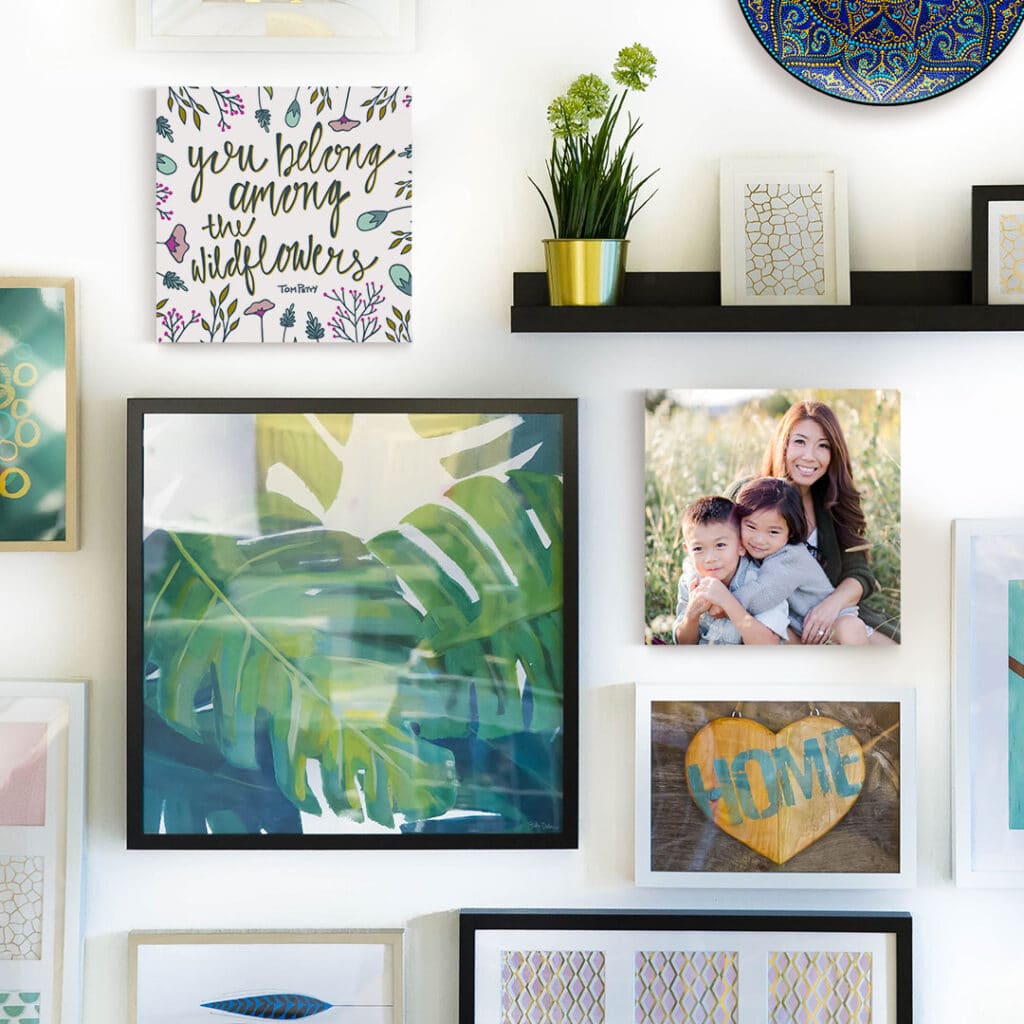 Give your photo gallery wall some heft by including more than just photo tiles. Adding a variety of textures and three-dimensional details such as an assortment of different sized frames, photo panels, and even decorative plates could provide a dynamic finish. If you're using different photo frames, spread them out to give a little breathing room between each piece.
Inspiring Home Offices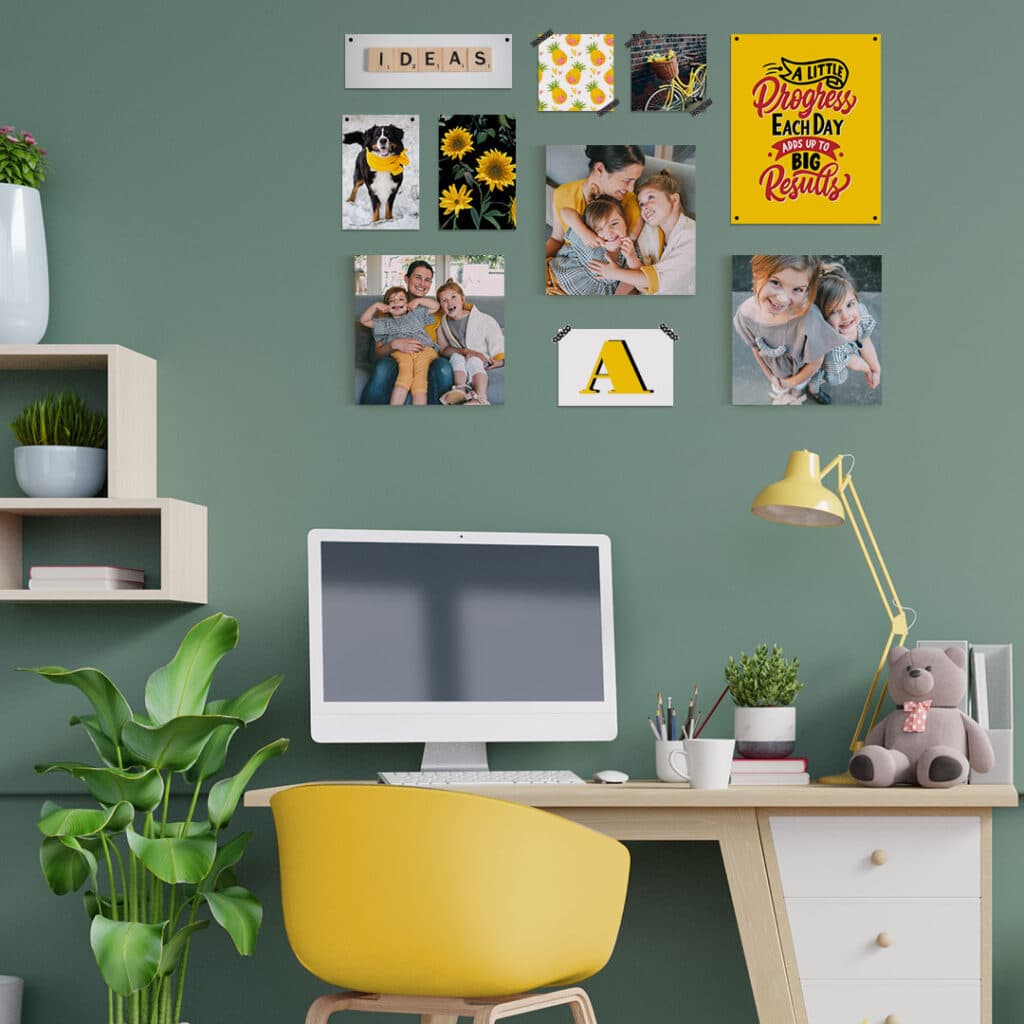 If you work from home and are looking to create a gallery wall that can also double as an inspirational space, then more is more! Line your work area with a series of photo tile prints, photographs, and wall art to create a surface sure to lift your spirits whenever you look at it.
Monochromatic Display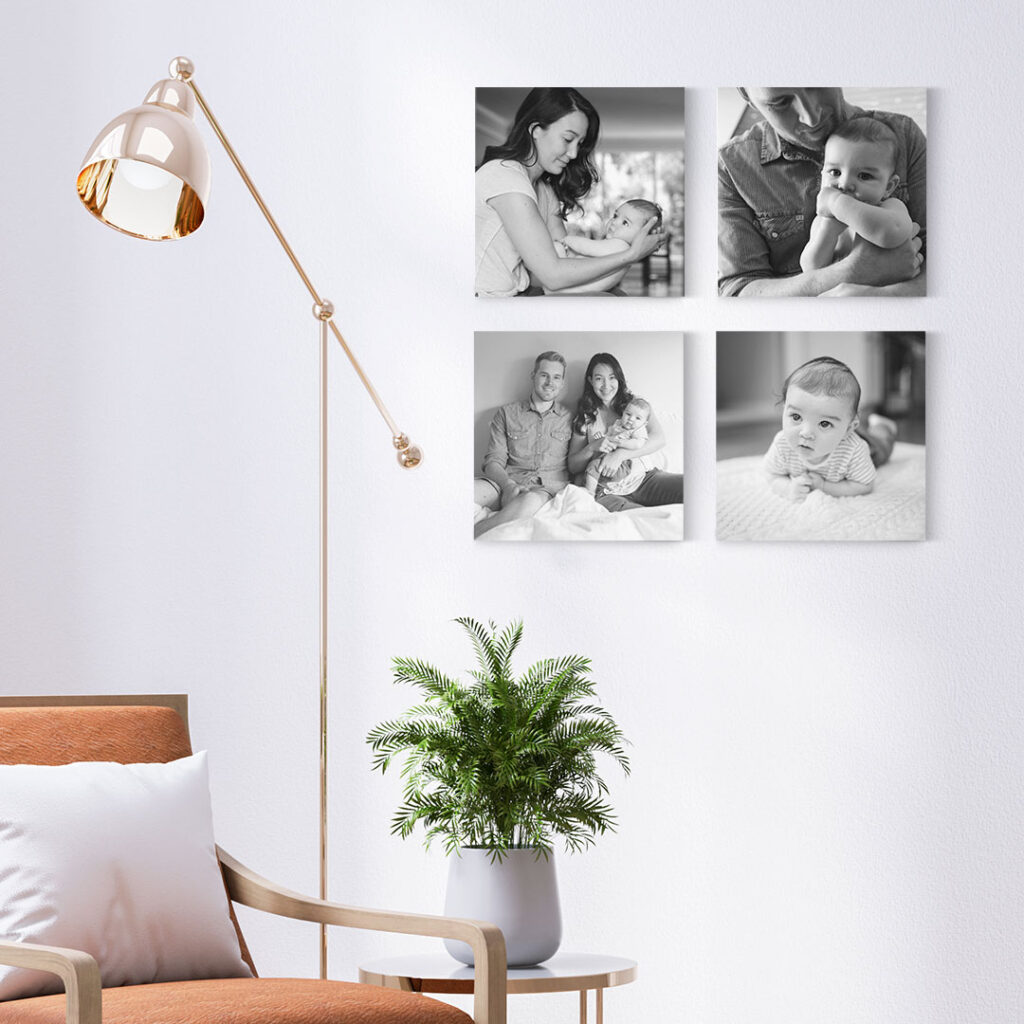 Easily create a cohesive art display by using photo tiles of the same color. A monochromatic display can capture hints of color (or just the classic black-and-white images) and will work in any setting.
Precious Metals
When you want to add a personal touch without detracting from your modern decor, look to our new metallic finish foam tiles. Choose from a variety of sizes to turn any wall into a storytelling showstopper!
Get dramatic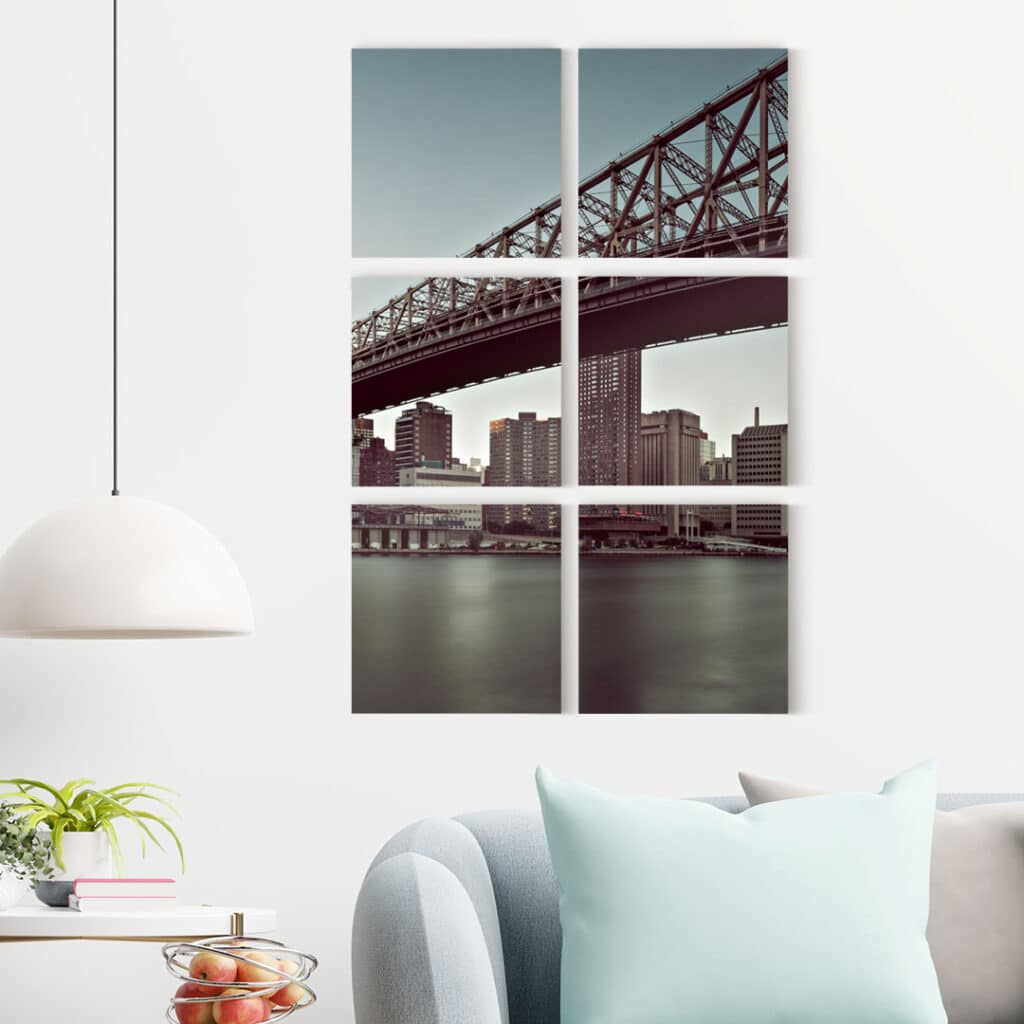 Looking for a unique way to showcase your best landscape photos? Try our split photo tile sets, available in four layouts. These sets allow one photo to span across multiple tiles and the effect is truly inspiring. Made of lightweight foam with beveled edges, this split photo tile set comes with self-adhesive magnets for easy hanging and repositioning.
Home is Where the Heart is
For a sweet way to display treasured moments and milestones, our heart-shaped foam tiles are perfect. They're lightweight, 8×8, quick to display and move around as you see fit. These also make for adorable gifts for loved ones!
Which photo tile layout will you opt for to give your walls a quick yet stunning style update? Be sure to share it with us on social media! You can tag us with @snapfishUS in your photos on Instagram or Facebook or use the hashtag #snapfishUS.
Don't forget to follow us on YouTube, Twitter and Pinterest, too. Check out the Snapfish site for even more ways to display your best!