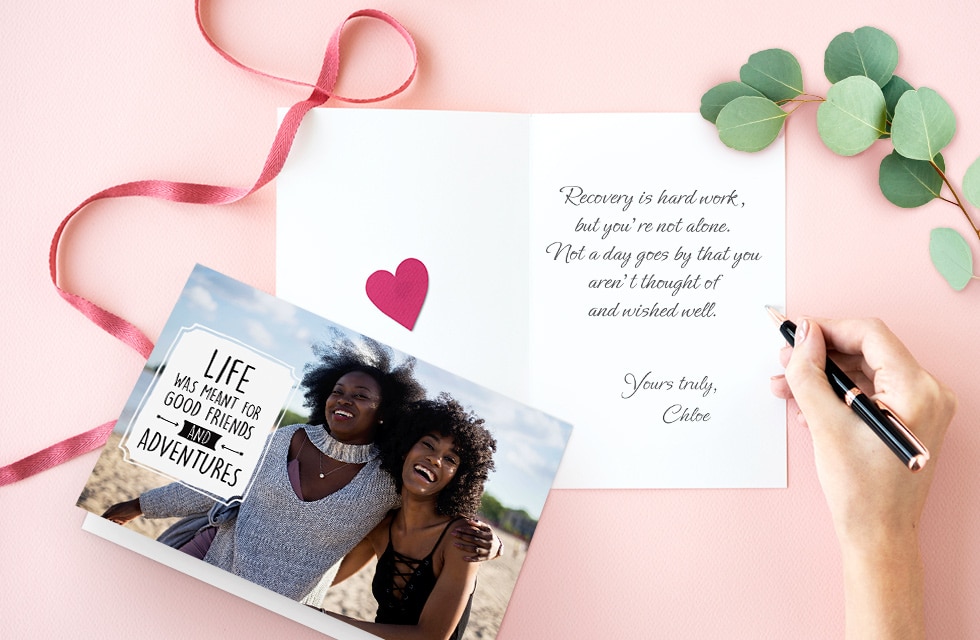 If a loved one, a friend, co-worker or boss is in hospital, recovering, or just not feeling their best, one simple way to check in is to send a custom 'get well' card. A thinking of you card and thoughtfully-written message will give them a much-needed boost during this challenging time. So what should you write in your 'get well soon' card? From short and sweet to inspiring and uplifting, we've put together this helpful list of suggestions to make it easy to send them a message that feels supportive, caring and heartfelt.
Short Get Well Soon Wishes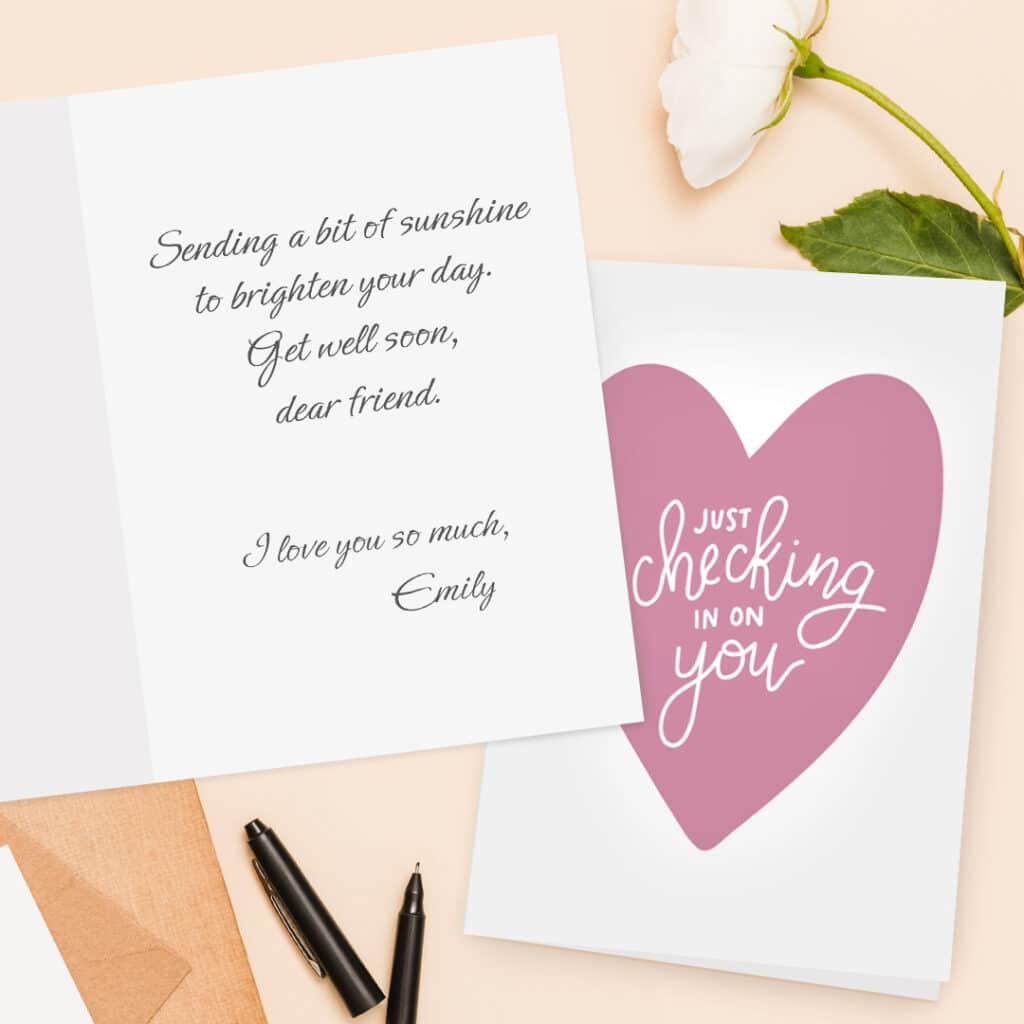 Feel better.
Take it easy and feel better soon!
Praying for a full, speedy recovery!
Thinking of you.
A good laugh and a good sleep are the best cure.
Anxiously waiting to see you again. Get well soon.
We're all sending our best wishes and hopes for a speedy recovery.
Get well soon! Everyone here misses your contagious smile and spirit.
May you be blessed with good health and a speedy recovery.
Sending good wishes for a fast recovery.
Know that this too shall pass. Looking forward to seeing you healthy and lively soon.
Sending a bit of sunshine to brighten your day. Get well soon, dear friend.
I hope you find fast healing with each and every day.
Remember to give yourself the gift of time during your recovery.
Miss seeing you around here. Get well soon!
Sending lots of love and prayers.
Inspiring Get Well Wishes
I admire your resilience during this difficult time. You've always been a source of inspiration and I wish you a speedy recovery.
Observing your positive attitude even in this challenging time has been an inspiration. You are simply awesome!
Someone as great as you can't be kept down long. Your cheerful attitude will speed your recovery and I feel confident you would be back up in no time.
Every time I have seen you in the last few weeks, you have shown signs of improvement each time over the last. I'm sure you are almost over this. So keep hanging in there.
Get well soon so you can resume bringing brightness and delight to our life!
You will do more than just get better; you will be better than you were before!
I wish you well a hundred times a day…. In my heart!
Look outside; the sun is shining and it's telling you to get well soon.
May the good wishes and warm thoughts of those who care about you send a little cheerfulness into your world and help you feel better.
Recovery is hard work – but you're not alone. Not a day goes by that you aren't thought of and wished well.
The most important thing in illness is never to lose heart. Our prayers are with you. Get Well Soon.
Funny Get Well Soon Messages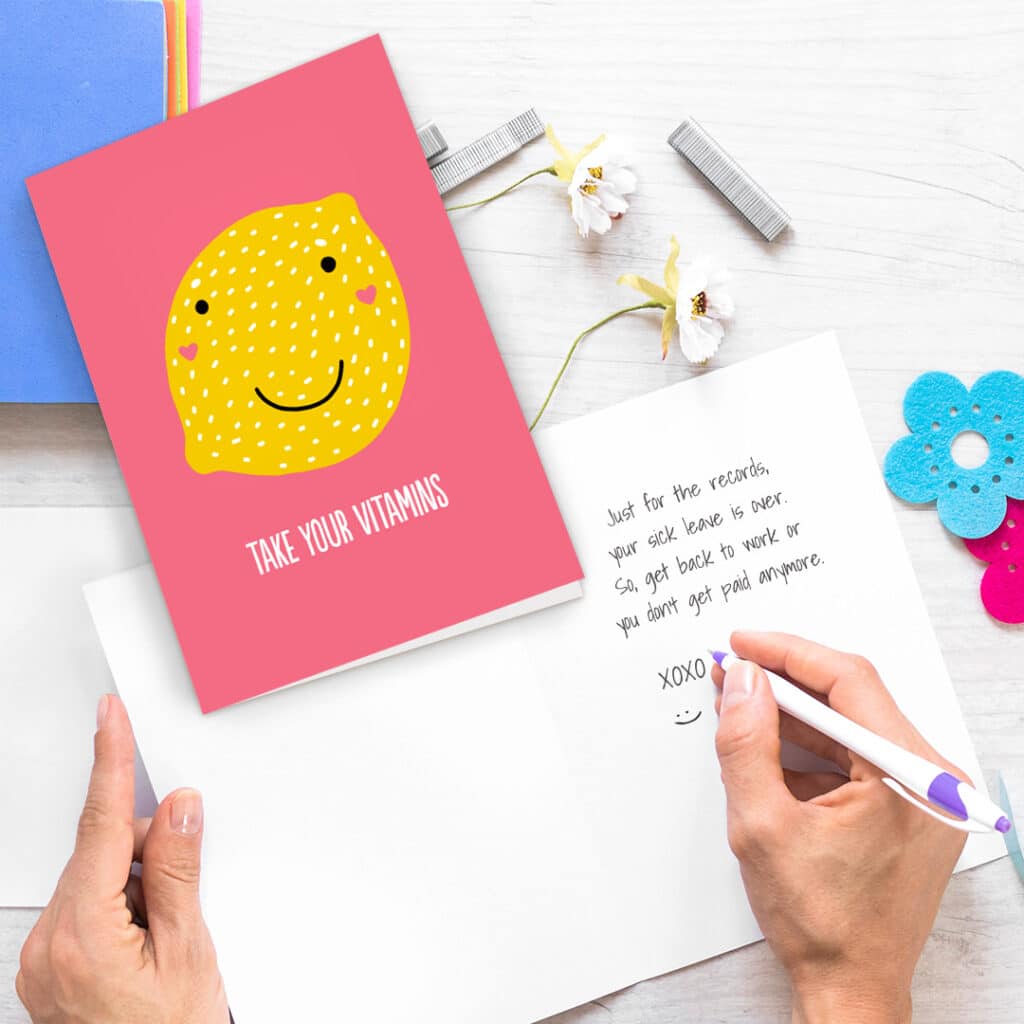 Just for the records, your sick leave is over. So, get back to work or you don't get paid anymore.
I hope you feel better soon so I don't have to visit the hospital.
You better get better. I'm sick of you being sick!
"A bad cold wouldn't be so annoying if it weren't for the advice of our friends." – Kin Hubbard
"Love you…hate that you're sick."
"Ugh. I hate it when my favourite people get hurt."
"No fair. You're way too nice to be this sick."
"The things you'll do for attention! Well, you've got mine for as long as this takes."
"I realise just how much I need you when you're out of commission."
"If you need me to come over and tell you that you don't look sick, call me."
"Go ahead and milk this as long as you can. I would."
Get Well Soon Sentiment for Co-workers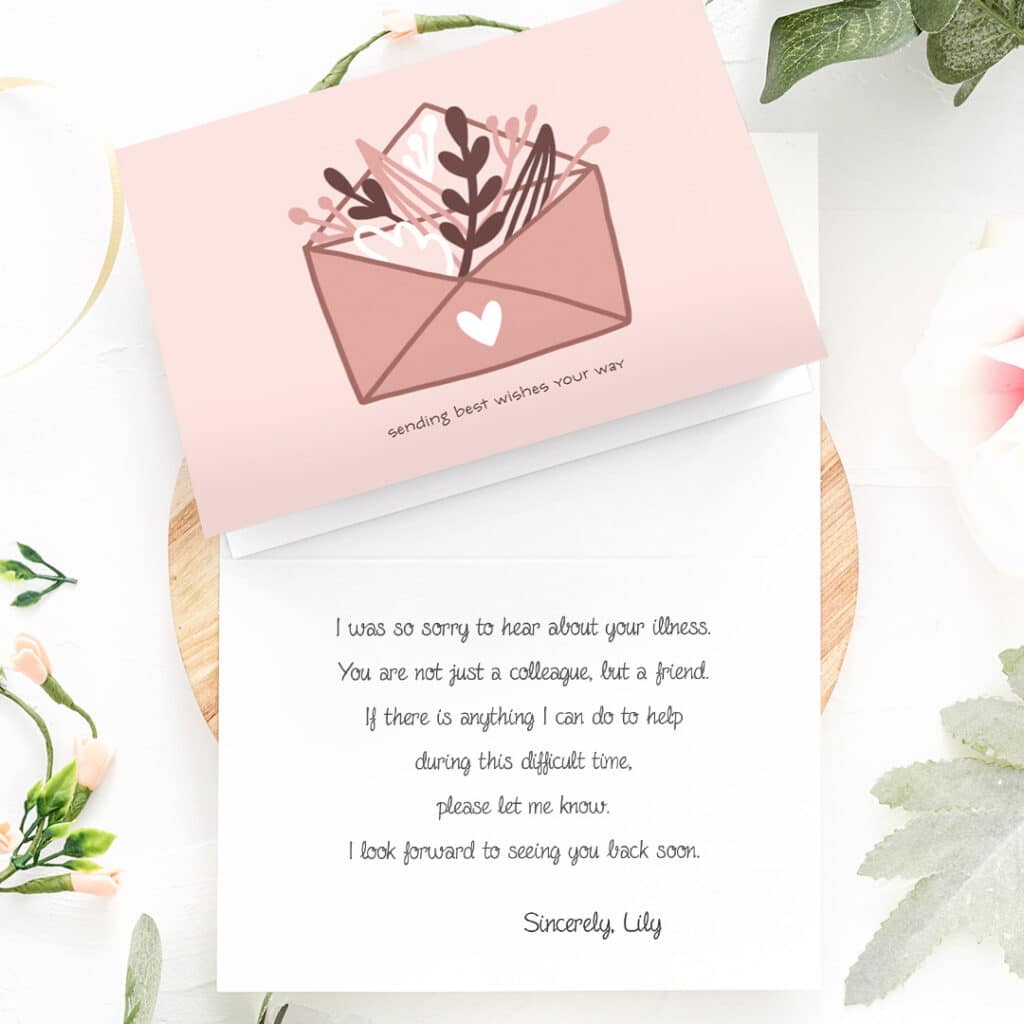 Hoping you find strength with each new day. You are in our thoughts.
Best wishes that you will soon be back to doing all the things you love.
Work isn't the same without you there. Once you feel better, we'll feel better too.
I was so sorry to hear about your illness. You are not just a colleague, but a friend. If there is anything I can do to help during this difficult time, please let me know. I look forward to seeing you back soon.
Looking forward to seeing you back at our 4th floor home-from-home.
I'm sure you'll be wow-ing our clients again when you recover.
Think of this as the universe telling you to watch more YouTube.
People are eyeing up your desk space… please get better soon so I don't have to sit next to anyone else. I can't wait to have you back.
The team, the cleaning crew, and the vending machine guy all send best wishes for a quick recovery. No one wishes it more than me—hope you get better soon.
Lunchtime ping-pong is not the same without you. Get better soon!
We're all thinking about you and wishing you a speedy recovery.
You're in all of our warmest thoughts as you recover from your accident.
If wishes could make you better, you'd be back at work tomorrow. But as they can't, I hope you find strength in knowing that all your colleagues are all rooting for you. Get well soon.
I was sorry to learn that you are unwell. Don't stress about missing work. And don't worry, we'll save some for you. Warmest wishes for a speedy recovery!
Looking forward to having you back in the office when you're ready!
Work isn't the same without seeing your face around here. Hope you recover soon.
You have a way of brightening my day and making work go by faster. Get well soon. You are missed.
Get Well Soon Wishes for Kids
It's gotten really quiet in [class] because you are sick. Please get well soon and make some noise.
The world needs its superhero, so recover quickly and save the world once more!
Your mum tells me you've got the best doctors and nurses working with you. I'm sure you would be back to normal in no time.
I heard that this sickness only comes to the best kids. Congrats on being one of the best kids. I hope you get well soon. Love you, Cameron!
I'm so sorry you are going through this pain. But you're so brave, I can see you beating this in no time.
Better you than me. Get well soon!
Get well soon. Missing you lots and we hope that your recovery is a speedy one.
I hope that you will get well very soon. The beautiful outdoors will be ready for your next playtime.
I know it is no fun to be sick. So take all your medicines on time and get well soon.
I wish that you get well soon, so that you can go out and play again.
It is so sad to have such a sweetheart fall so ill. Take care my little angel. Get lots of rest and get well soon.
Once you've decided what you would like to write in your card, browse our many 'Get Well Soon' and 'Thinking of You' card designs and find one that perfectly suits the situation and recipient.
If you'd like to go even further and make them feel even better, consider sending them a 'get well' gift along with the card. Browse great gift ideas here.
Which message did you choose for your card? Share it with us on social media! You can tag us with @snapfishus in your photos on Instagram or Facebook, or use the hashtag #snapfish. Don't forget to follow us on YouTube, Twitter and Pinterest, too.