"It's that time! Ready, everyone? Kids! Over here. No, here! Smile! I said, SMILE!"
Ah, the annual family holiday card photo. Sometimes gathering everyone together to get that one "perfect" picture is a bit more like herding cats. We've been there, we survived, and we're sharing our lessons learned. We looked to our Snapfish family—and all-time favorite celeb families—to spill the most on-point photo tips that make 'em click.
Tip 1: Keep it simple.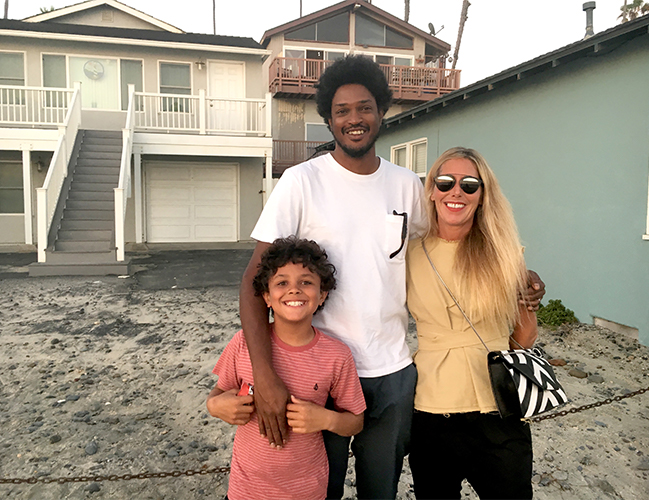 Keep your photo plan simple. Less is more and keeps the focus on the subjects – you!
"We had a great day at the beach and we were all in a great mood. We saw a nice sunset and decided to take advantage of the beautiful light —a family member snapped this photo of us. Great smiles make for easy pictures!"

– Dwayne, Designer
Tip 2: Get Fido in the picture.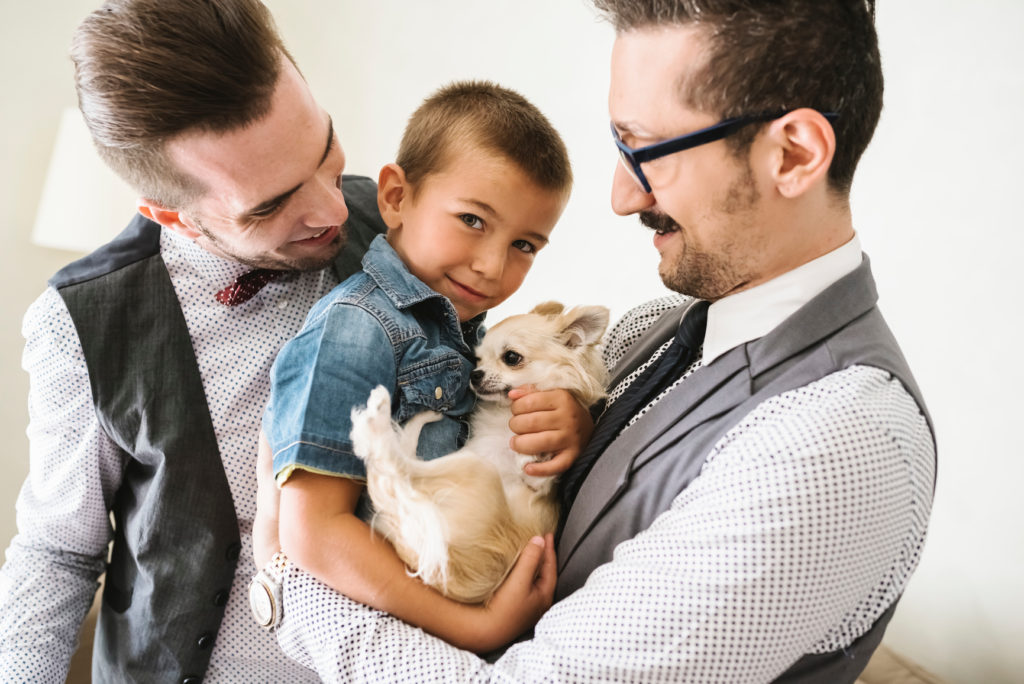 Get your furry counterparts in the photo, too. Sit them front and center in some of your shots. For a real treat, make sure they get in a good session of play beforehand, so that they'll be more cooperative and sit still for extended periods of time.
Tip 3: Scout your location.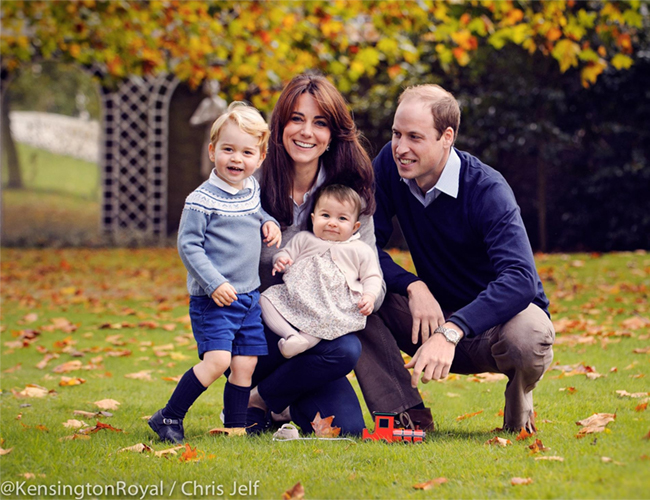 Planning ahead helps you keep the photoshoot simple and easy. If you already have a location in mind, take a short tour of the area. This will give you time to pinpoint important factors like crowd-free seating, great vantage points, good lighting, and if you'll need a tripod. We love this beautiful setting that the Royal Family chose for their 2015 Christmas card—proof that planning ahead for great lighting and good focus can make all the difference! / Photo: Kensington Royal / Chris Jelf
Tip 4: Wear coordinating outfits.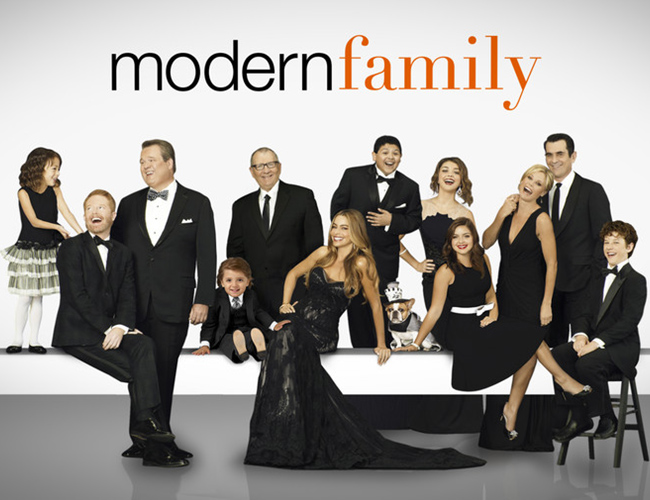 Take a cue from ABC's beloved "Modern Family." Follow suit and choose similar themes or tones to outfit the whole family (e.g. cool shades of blue, or everyone in plaid.) Best advice–keep it simple; avoid clothes that look too branded or display busy graphics. / Photo: ABC.go.com / Television Promos (YouTube)
Tip 5: Put yourself in the photos!
It's easy taking tons of photos while you're enjoying family time together—but getting yourself in some of them is another story! Don't forget to make some time for yourself on the other side of the lens, too.
"As the primary photographer for the family, I've found that I'm sometimes rarely in photos. So take this as a reminder to put yourself in the pictures! Don't be shy! Ask a friend, other family member, or even a stranger to snap a few shots with you in it."

– Tish, Site Producer
Tip 6: Show the love.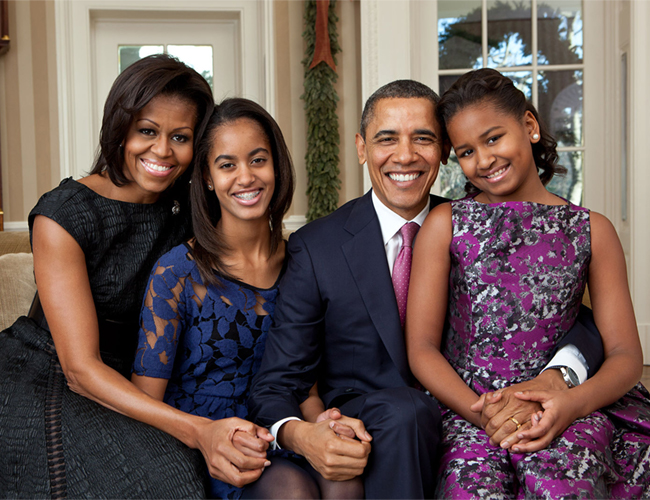 You're a family, show it! Huddle together and relax. Take this adorable photo of the First Family of the United States for example—all the feels! / Photo: whitehouse.gov
Tip 7: Match your card to the scenery.
Snapfish offers a variety of card designs to match your family photo ops! Once you've narrowed down which shots you want to feature, look for a card design that mimics any patterns or colors in your photos. Shop Cards.
"Every summer, my family visits Laguna Beach to get our sun, surf, and sand on. We all dress up on the last night and hit the town – but before we go, we make sure to squeeze in a photo sesh. When it's time to create our holiday cards, we like to choose a photo card design that complements the scenery in the photo. In this case, we're all about the florals!"

– Elysa, Digital Marketing Manager
Tip 8: Use your laugh reel (a.k.a. outtakes are the best.)
Gone are the days when everyone needs to be so stiff and posed that you can't see any of the fun happening on the other side of the lens. There's something to be said for candid moments. Catch a whole roll (er, memory card) of your family in between posed photos. Those silly moments can make the best photos.
"I take multiple photos of my kids. It's fun to see all of them together in a card design that features lots of images!"

– Elaina, Brand Art Director
Tip 9: Plan for anything (a.k.a. an emergency kit is your BFF.)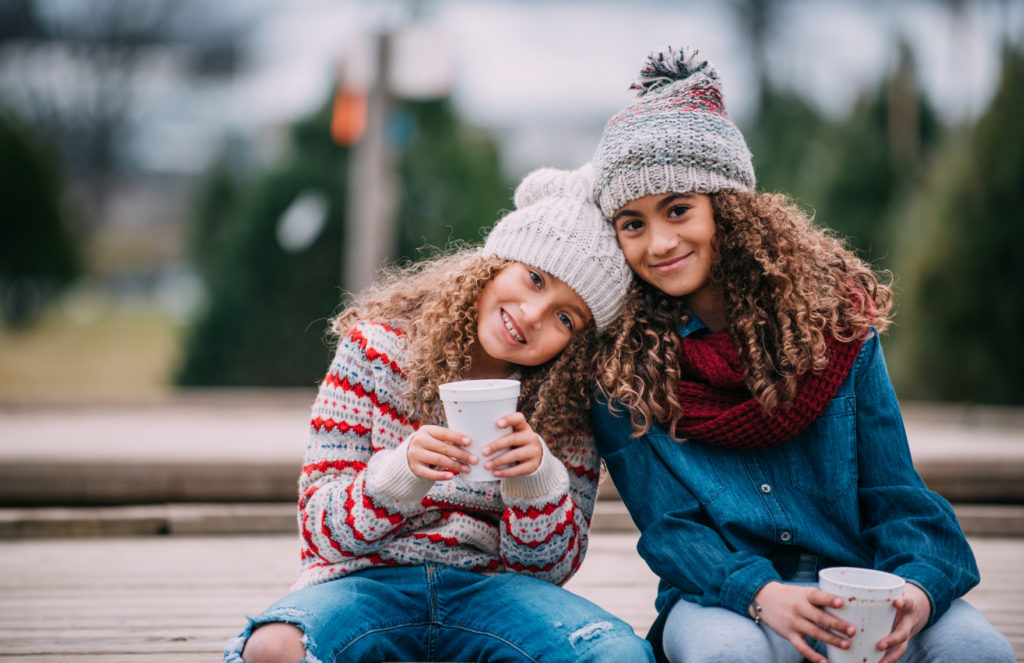 Every photoshoot can get tiring, especially for kids, pets, and hangry family members. It's a great idea to bring an "emergency kit" for anything that might come up. Pack snacks, water, and music or simple games to keep everyone satisfied. Don't forget to give kids breaks between sets (and that goes for pets, too!) Also important: batteries. Charge the camera's batteries. And bring extras!
Tip 10: Make it fun (and capture the magic!)
Photo taking goes fast when everyone's having fun. Take advantage of down time to play between serious shots, or make the giggles your focus! Whatever you do, have a good time.
"As a writer I always like to come up with a line and shoot it in a funny way. Last year we did "From our house to yours" and all jammed in the girls' tiny playhouse they had when they were toddlers. Any excuse to take a silly photo."

– Anne, Copy Director
We love seeing what you come up with! Please tag us @SnapfishUS and #snapfish on Facebook, Instagram & Pinterest. Check out the Snapfish site for even more custom gift ideas.