What is cuter than creating (or receiving) a fabulous Christmas greeting card of a family and their pets? For tips on how to capture the best of your cats and dogs for Christmas holiday greetings, and the perfect sentiment to accompany your pet photo, read on.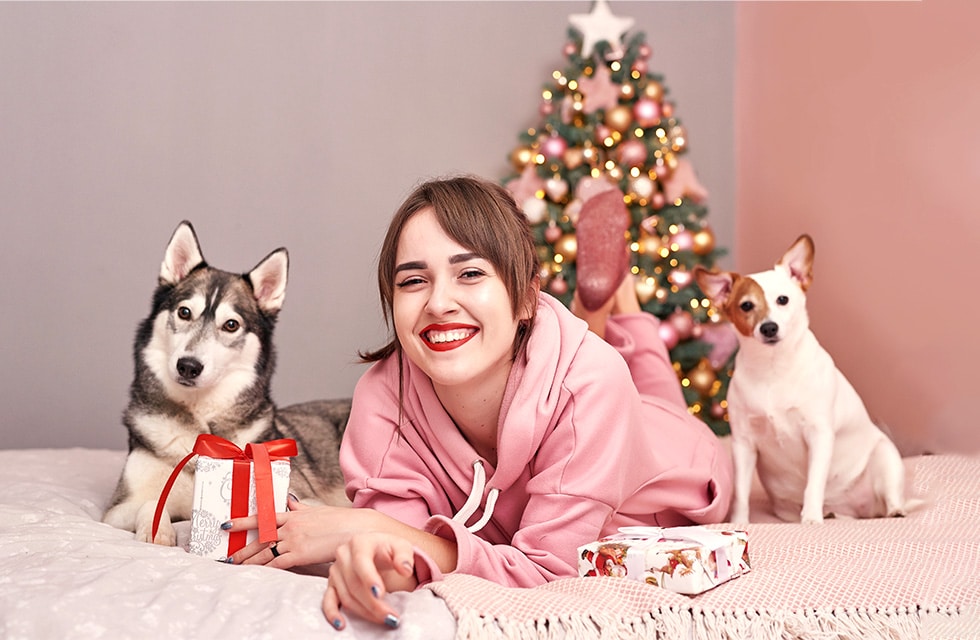 Cards with Cats
Taking photos of cats can be a little difficult. Getting your furry feline to sit still, look at the camera, or otherwise cooperate can sometimes take a lot of patience. Luckily, we've made a list of helpful tips, just for you (they can work with children too). The following advice will help you take the perfect Christmas holiday card photo with cats of all types:
– Pamper Them into Compliance. One of the easiest (and most fun) ways to get your cats attention is by playing with them. Consider using the photoshoot as an opportunity to give them some festive new toys and pet accessories. The new toys will help hold your cat's attention while the camera is rolling.
– Make Funny Noises. Making funny (not scary) noises will help keep your cat's attention when they'd rather be dozing or otherwise unengaged. 
– Find Fun Props. Invest in a few festive props such as cat antlers to make your photos come alive.
– Keep the Camera Rolling. Take as many photos as you think you'll need, and then take some more. More photos mean more options to choose from later, and you may get some fun outtakes in the process.
– Learn Your Camera's Settings. Flash photography has a way of turning your adorable furry friend into a less flattering, slightly ghostly creature. Avoid this by learning a few basic camera techniques to make use of natural light to make your photos come to life. 
Fun Cat Picture Ideas to Make the Perfect Christmas Card
Cat in a hat – no not Dr Seuss – try cat in a Santa hat. This is perfect for your smaller kitties and they will love so cute wrapped up in an adorable red Santa hat.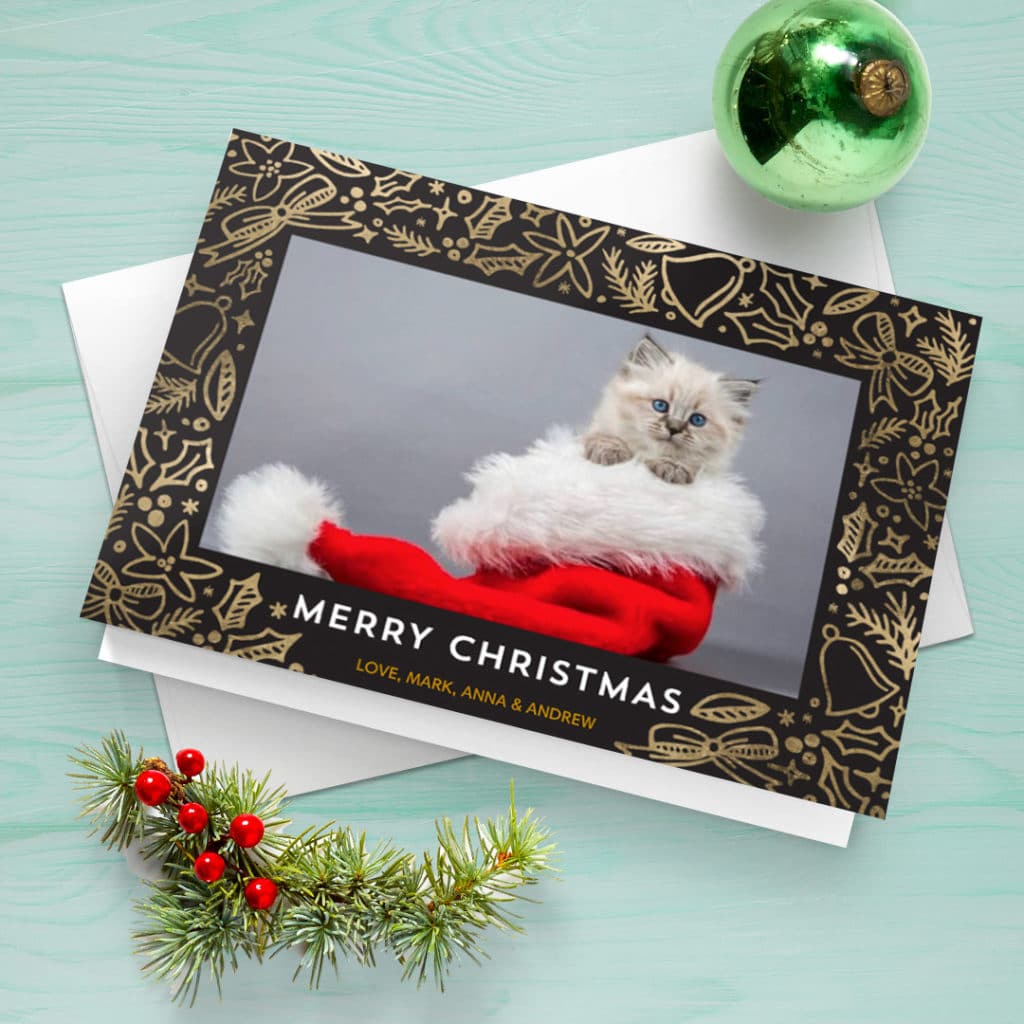 Cat in the tree – we have all seen those videos of cats climbing up the Christmas tree, so how about you exploit their curiosity and create a carefully staged Cat meets Tree Ornament shoot? Make it extra special and pre-order a tree ornament with their photo on it.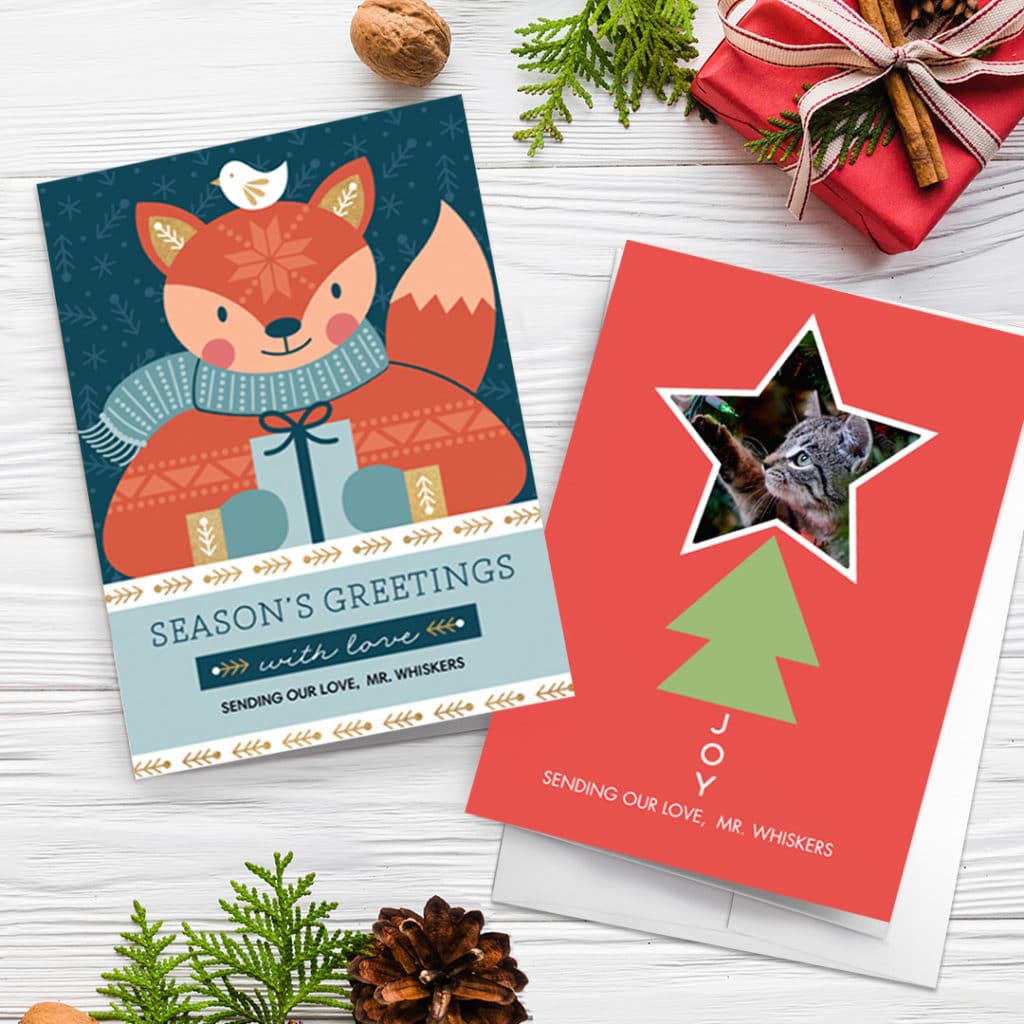 Santa's little helpers – bribe your pets with Christmas treats and stage the scene with seasonal sparkle. Your pets will be so tempted by the treats they won't notice the camera.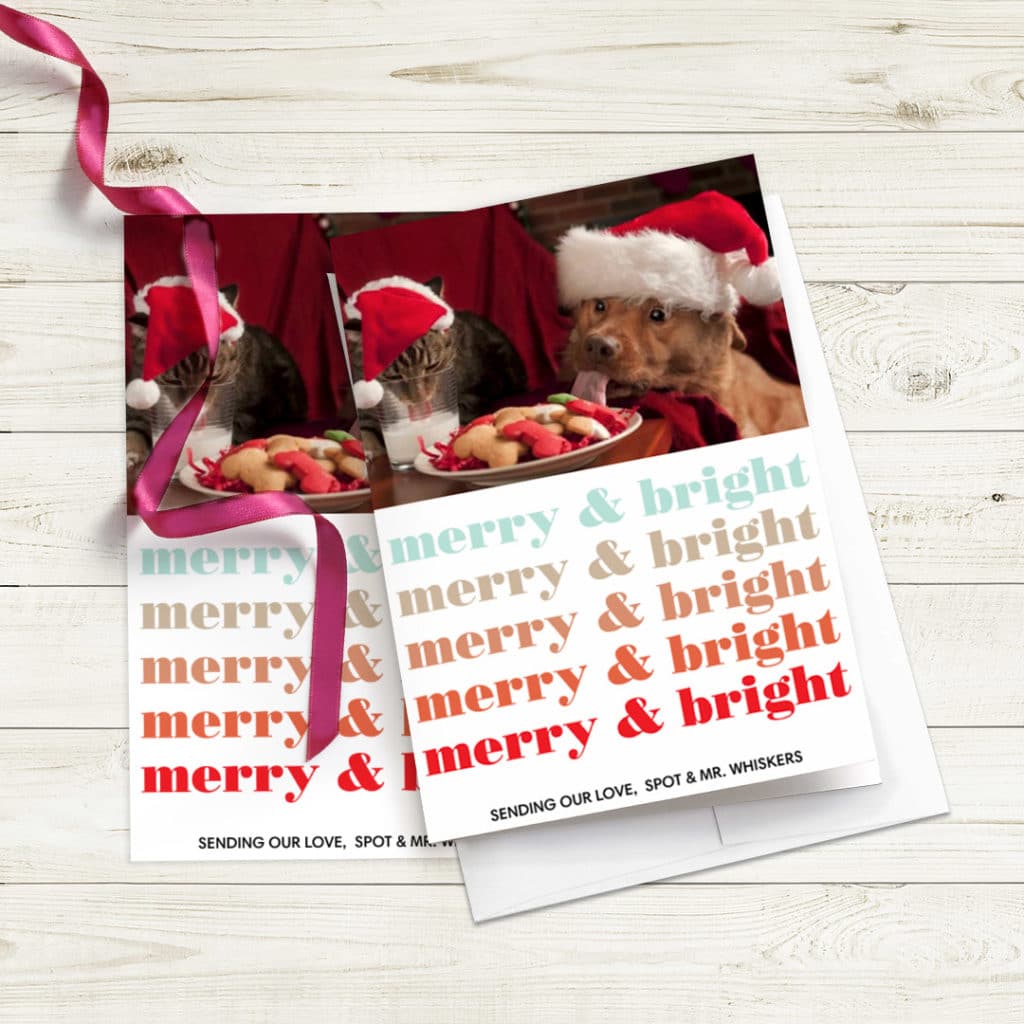 Showcase the cuddle – set your camera up on a tripod (or use a friend), encourage the cat onto your lap and take those photos.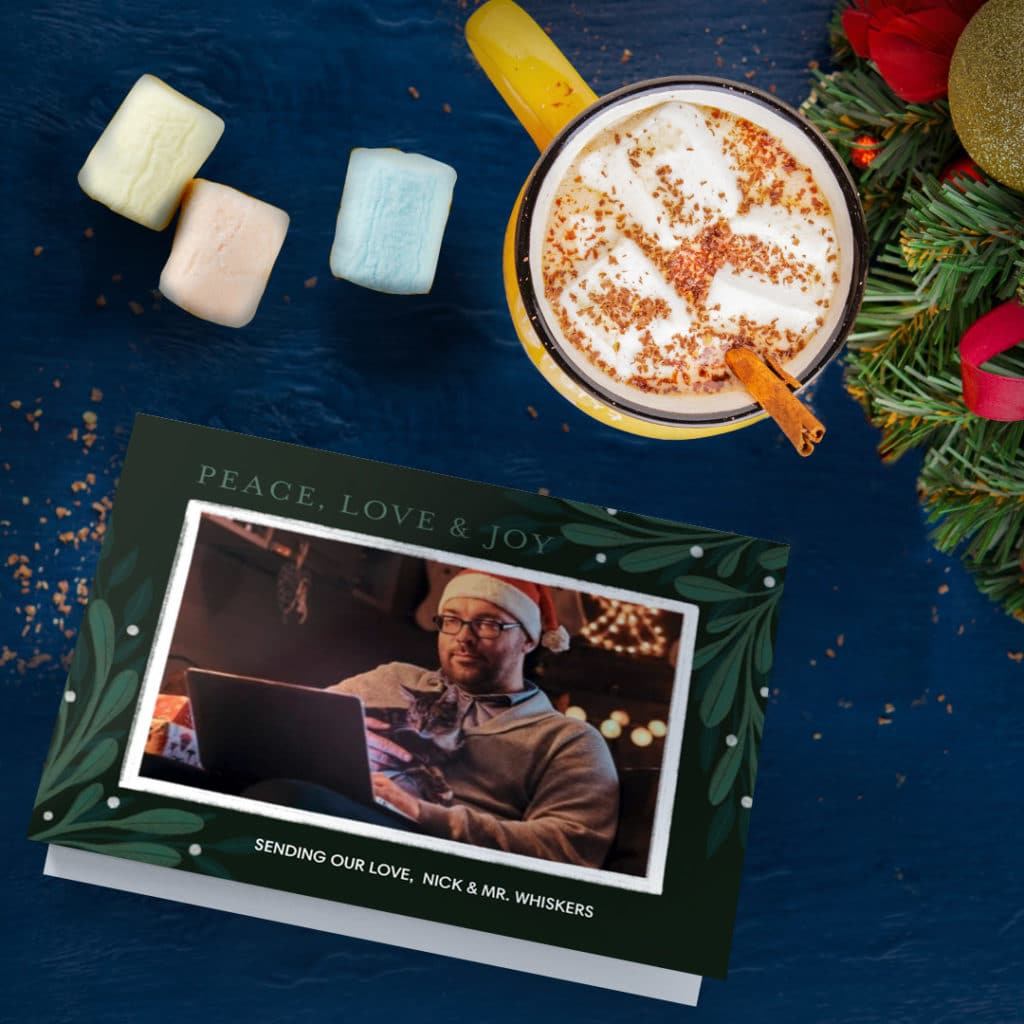 Dress-up photos – there are so many pet costumes out there, so if you have a compliant cat, how about dressing them up in antlers and cosy sweaters for the ultimate Christmas scene. Or gift them a seasonal toy and photograph them cuddling up to it. So cute.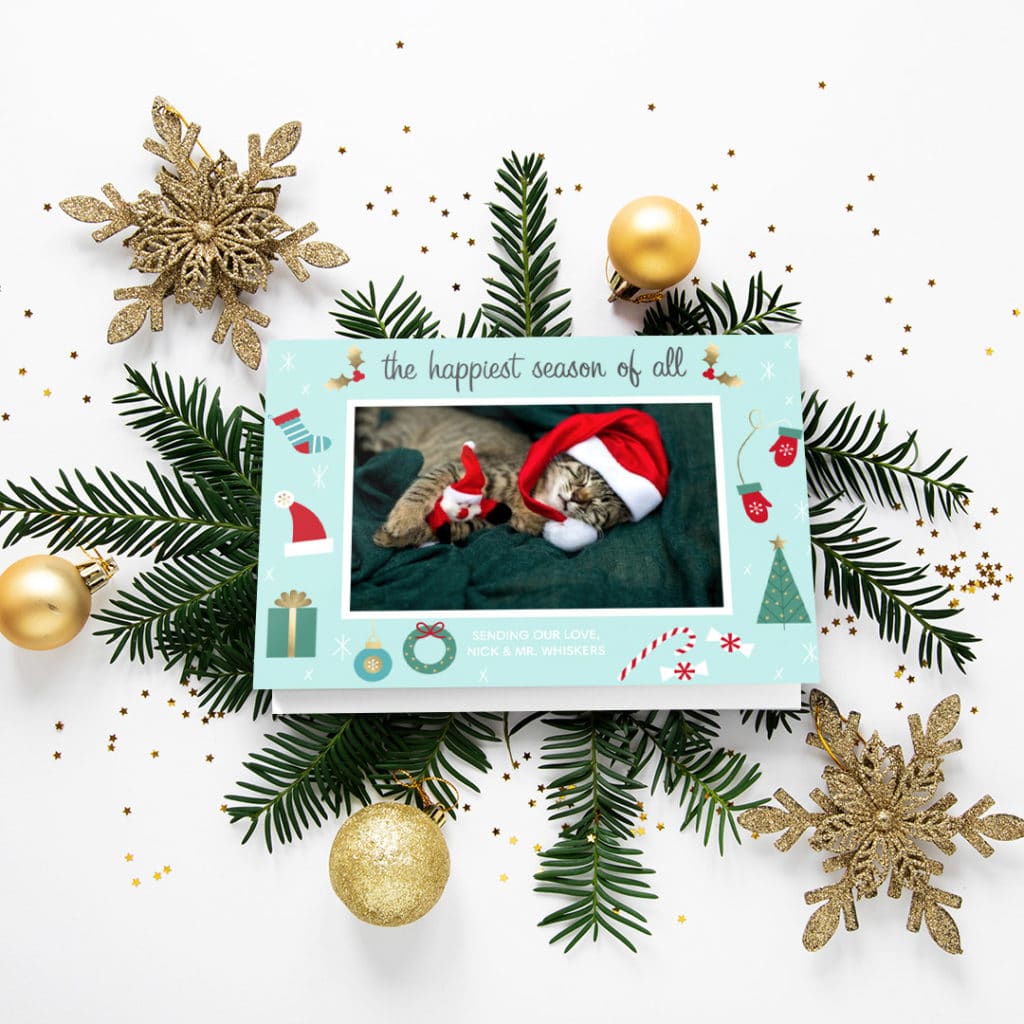 Taking photos of dogs for the family greeting card
Dogs are often easier to photograph then cats, but it still requires careful planning.
1. Wear sensible, coordinated, and pet-friendly clothes. We all want to look our best on the front of the card, but at the same time, we might end up play-fighting with our pooch to get the best shot. And we don't want our best designer clothes pawed all over. Think about the end result, there is something about colour coordinated clothing that says "this family plays together and stays together" – you don't want Alice's orange top clashing with your puce leggings! Don't forget the dog – how about a cute bandana or bow on his collar to say "I belong too"? If he is up for it, how about adding a festive santa hat onto your dog's head? To avoid any discomfort, play it safe with pet antlers or a Christmas jumper, and remember that if your pet feels uncomfortable you are unlikely to get the shot you want.
2. Stick to familiar surroundings. Setting up the photo shoot in your own home will make your pets feel at ease. They are less likely to be off exploring and will sit quietly in their favourite corner, or on their special bed. Try focusing on the animal and de-focus the festive background to make them the star of the show.
3. Pick a time when your pet is tired. Choosing the right time for the photo shoot is key. You want a compliant pet that sits where you need him too. Avoid mealtimes or walkies time. Try to minimise your family's excitement too, as dogs pick up on this. The last time you need is your dog thinking the photo shoot is playtime!
4. Get their attention! You want your dog looking at you and you might need to reward their good behaviour. Consider using their squeaky toy to get their attention and having treats to reward them for a job well done. Maybe even consider a trial run to make sure the actual photo shoot is a success!
5. Practice makes perfect. Be prepared to take lots of photos, and remember to take lots of breaks so your dog doesn't get bored. Don't expect your dogs attention full-time and allow him time to run around or move in-between takes. Remember to praise him and give him treats after every few frames.
Fun Dog Picture Ideas to Make the Perfect Christmas Card
Focus on the close up
Perhaps you have more than one pet, and they enjoy cuddling up together? Or if you have a small dog/ puppy, how about a photo of you getting all warm and snuggly with them?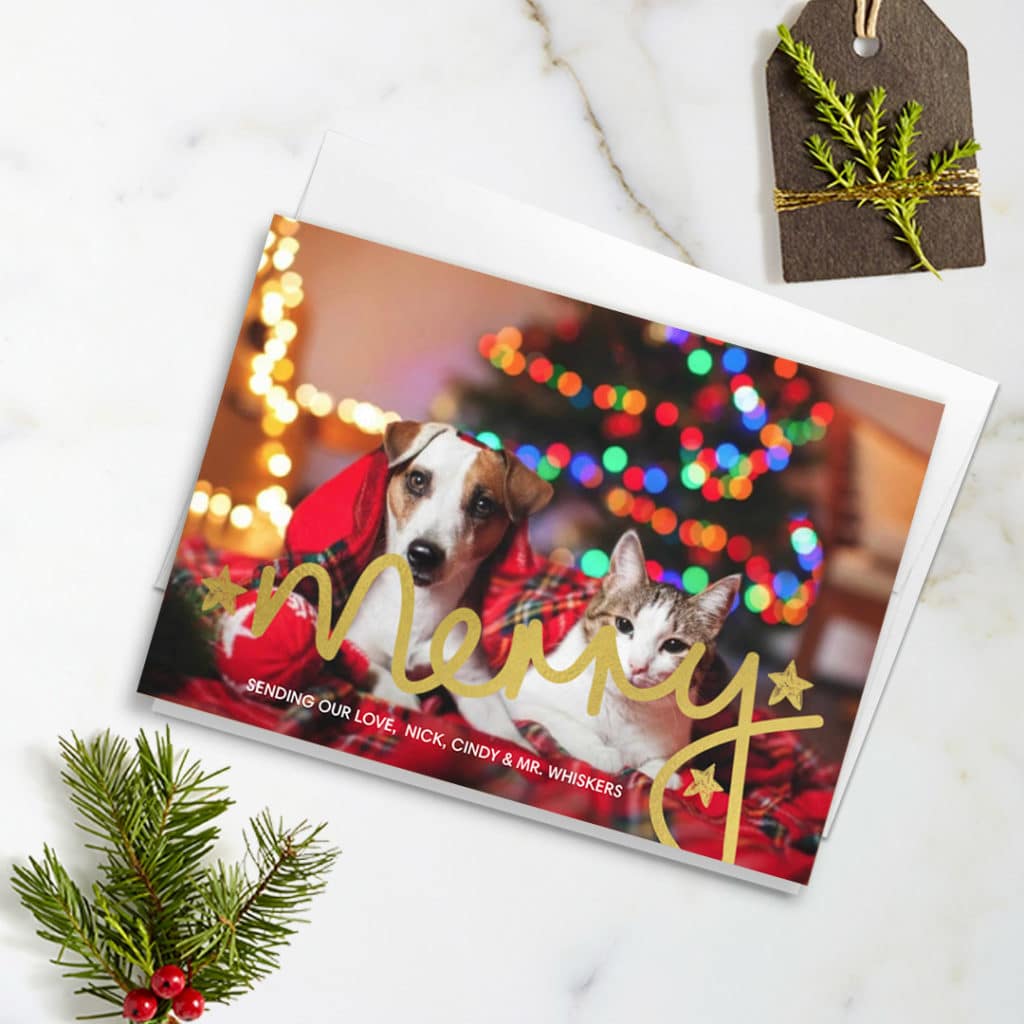 Consider the leash if you are outside
Perhaps your dog is excitable or you are planning a shoot where there are distractions? In which case, taking the leash might help ensure your pooch stays in one place.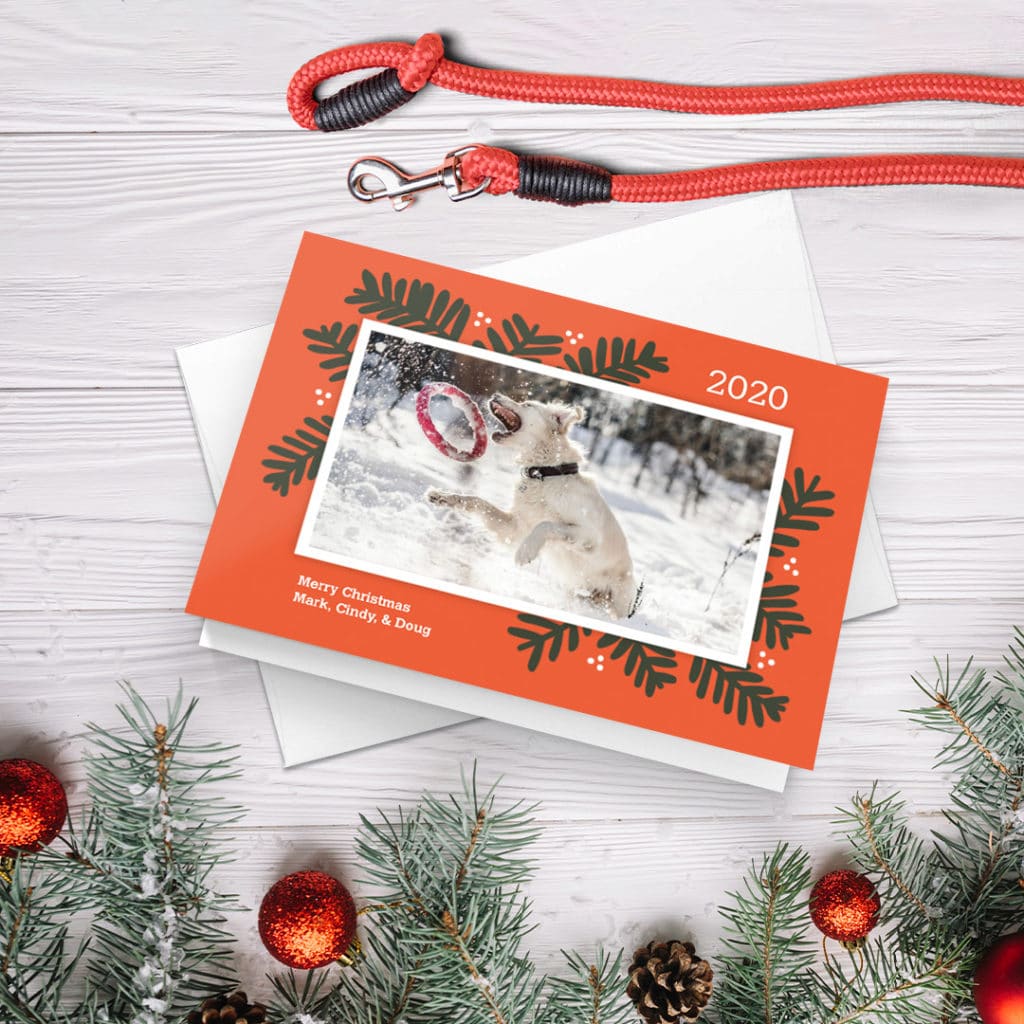 Take your photos in their natural habitat
There's no place like home, and taking photos with your dog in their natural surroundings makes them more likely to deliver those cute photo ops you want. Consider taking the photo shoot to the local park or your own back garden when they feel more at-home.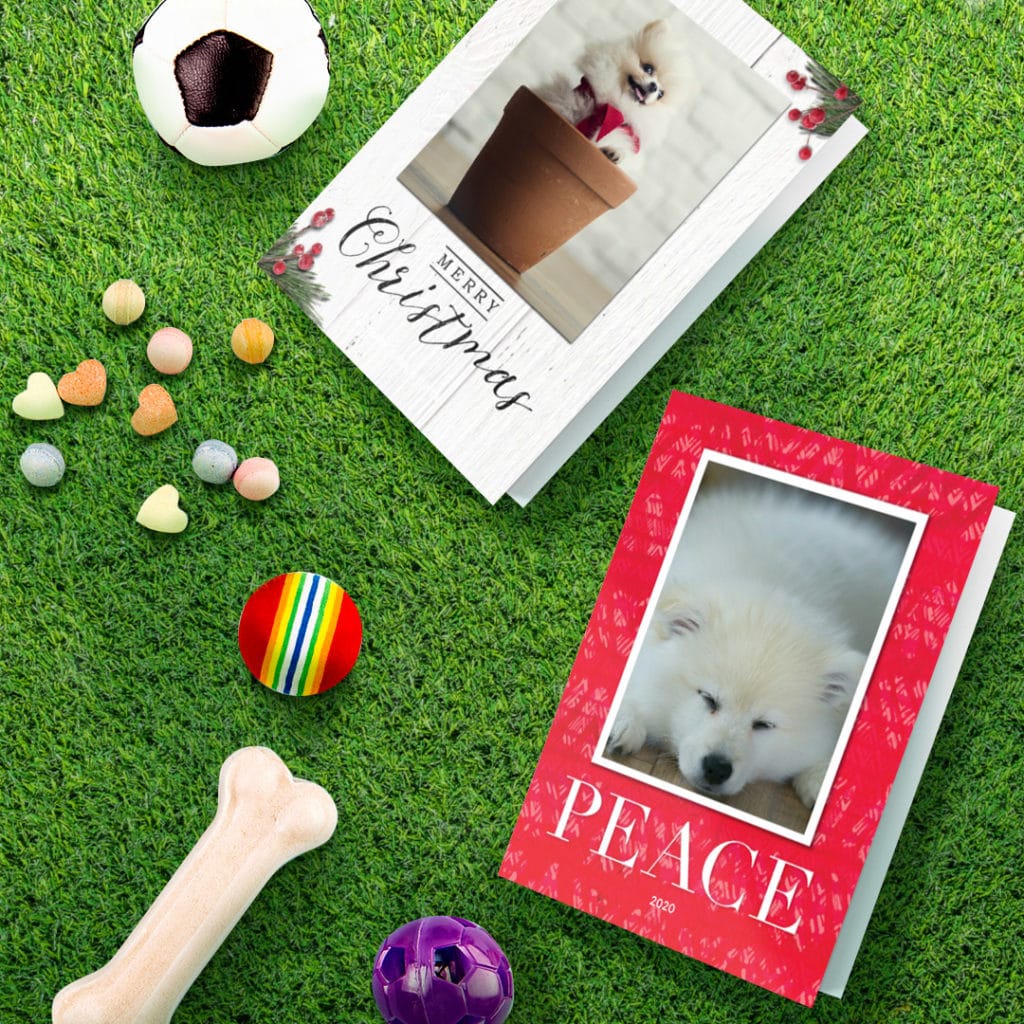 Dress-up
Take advantage of all those cute dog sweaters and antlers in the store and prep your pooch for the season. You can photograph them alone with a seasonal backdrop or create a cute combo when you dress-up and put yourself in the same frame!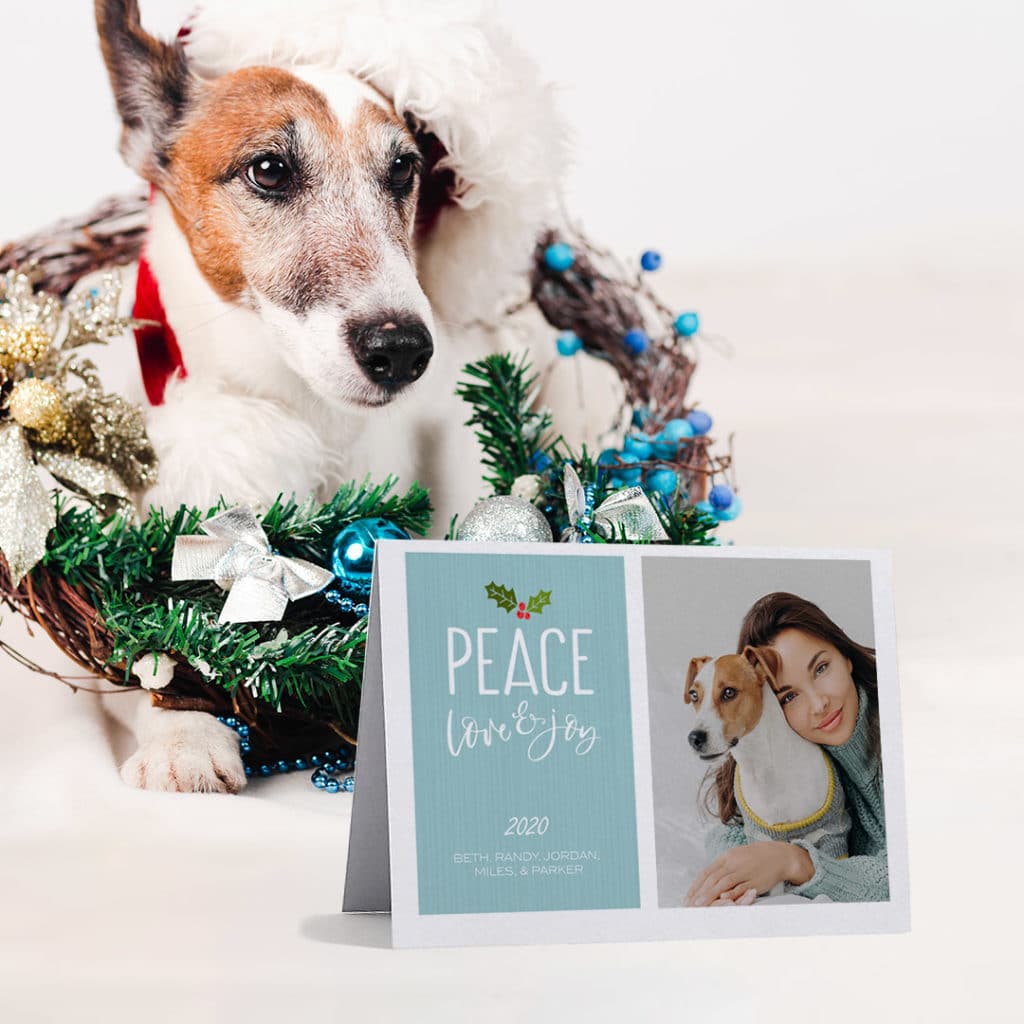 Sometimes more is less
You don't have to settle for one photo. Perhaps you can't get all the family together, or you have too many special moments to share. Collage card layouts mean you can add multiple photos to your card.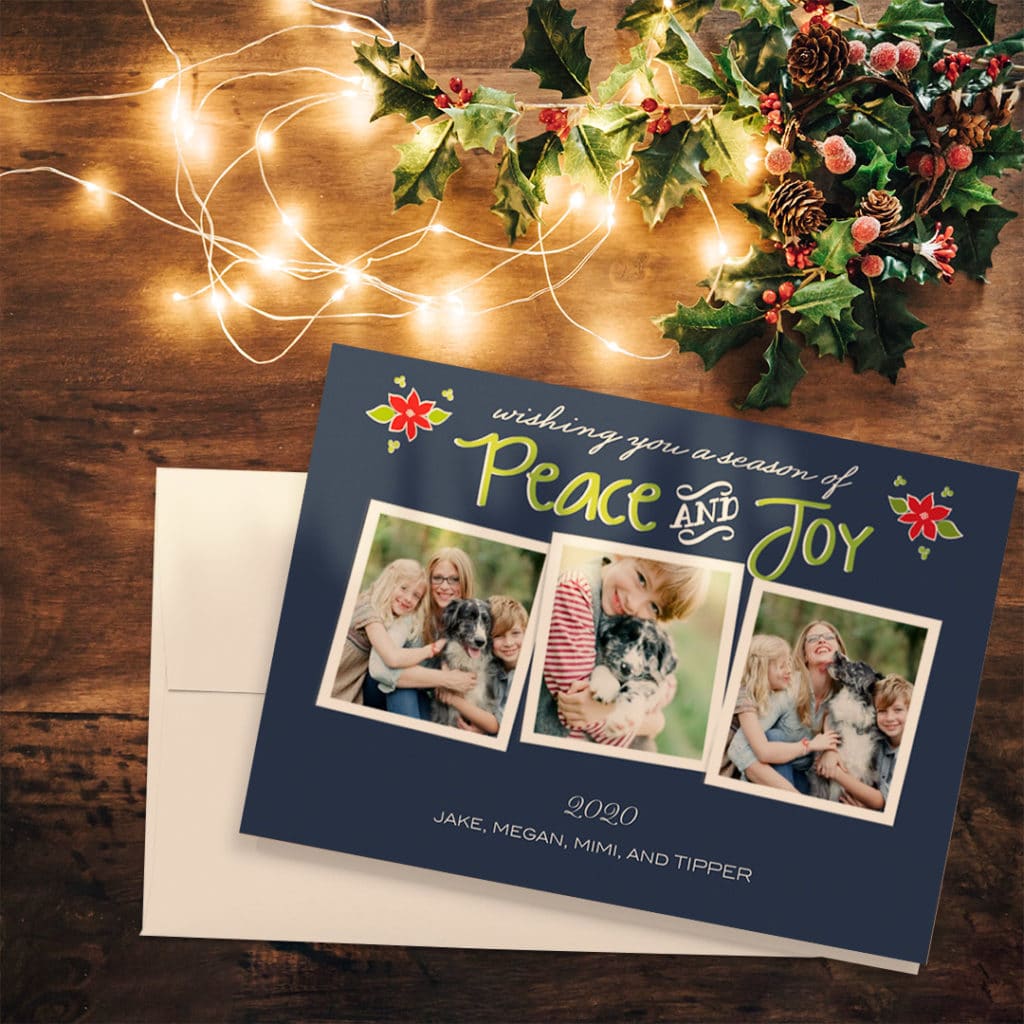 Action!
If you can't get your pooch to sit still for long enough – how about an action shot? Nothing says Seasons Greetings better than a photo of your pooch in the surf (or dashing through the snow, if you like the more traditional shot).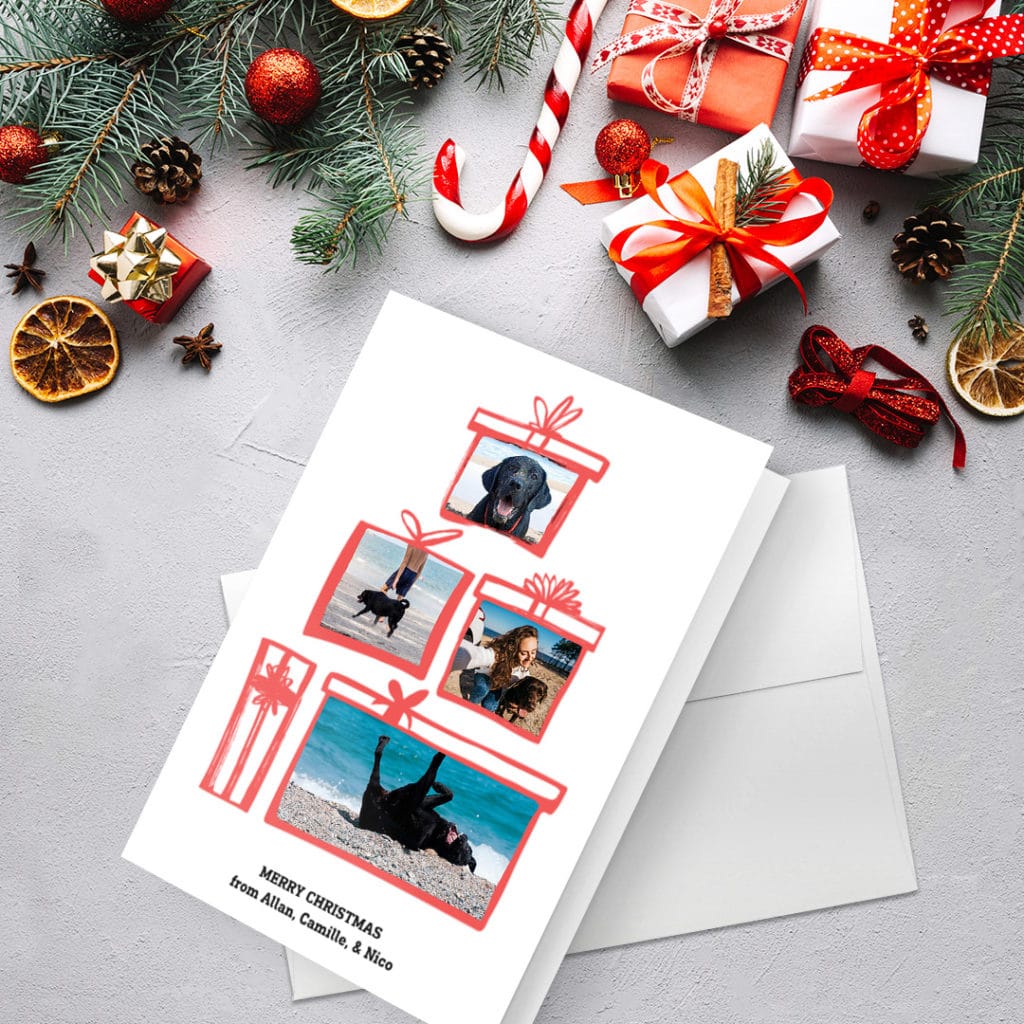 Props speak louder than words
How about placing a sign next to your pets to with everyone – Season's Greetings or Happy Holidays? If you can't find the perfect sign, or your pet won't play ball, leave enough blank space in the shot to allow you to edit in some of our cute card embellishment stickers when you upload your photo.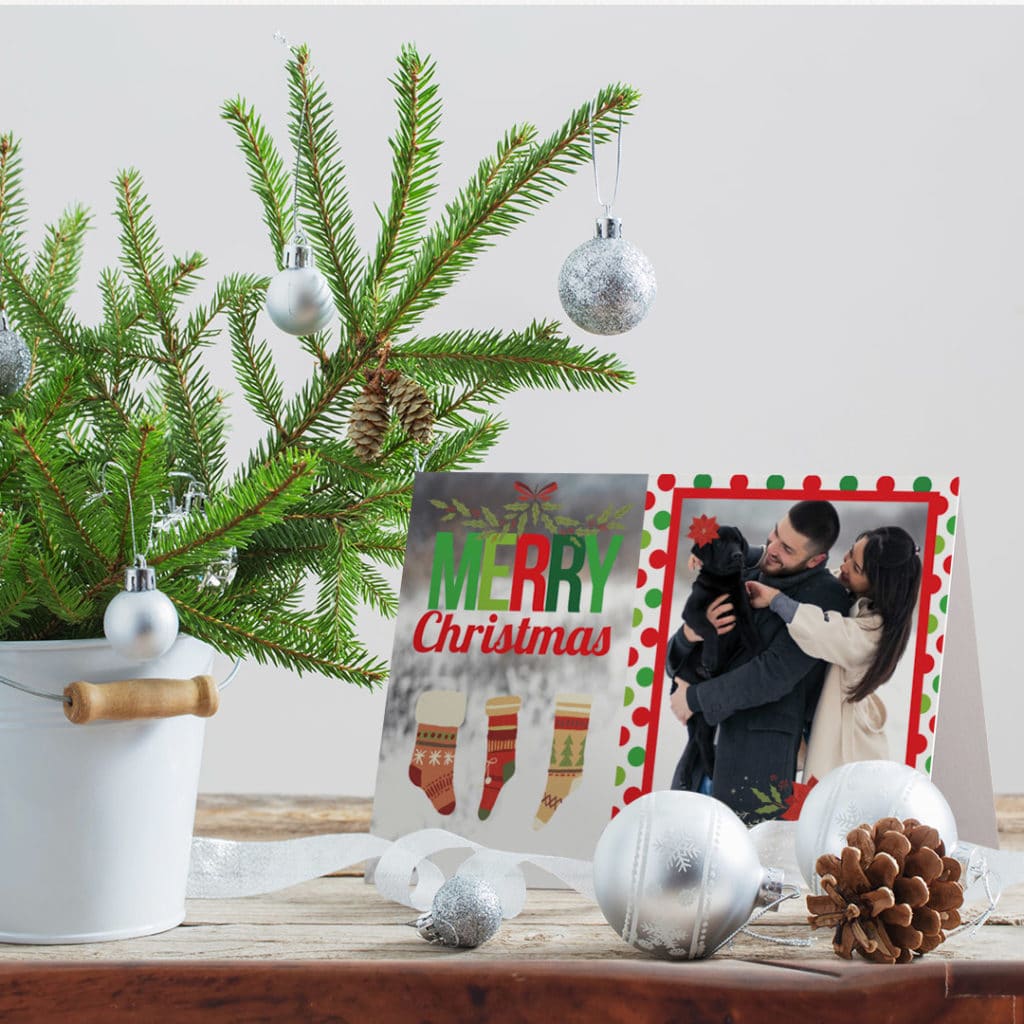 Once you have the perfect pet photo for your card, you need to think about the perfect sentiment to add to it. Read on for fun pet quotes to add to the front or inside of your card.
Punny or Paw-felt Pet Sayings for Christmas & Holiday Cards
If you love including your pet in your annual Christmas card, then you will love these ideas for paw-fect pet sayings to make your card recipients smile. We have collated a few of our favourite sayings below so you can mix & match them to create the cutest holiday card sentiments ever.
1) We Woof You a Hairy Christmas!
2) Merry Christmas from our Pack to your Pack.
3) Canine I just say…you're the best!
4) Paws a moment this Christmas to reflect on what the season is all about!
5) Happy howlidays! Hope Santa Paws brings you lots of treats.
6) Santa's little yelper wants to wish you a Merry Christmas.
7) It's never chew late to wish you a Happy Christmas
8) Have a paws-itively amazing Christmas.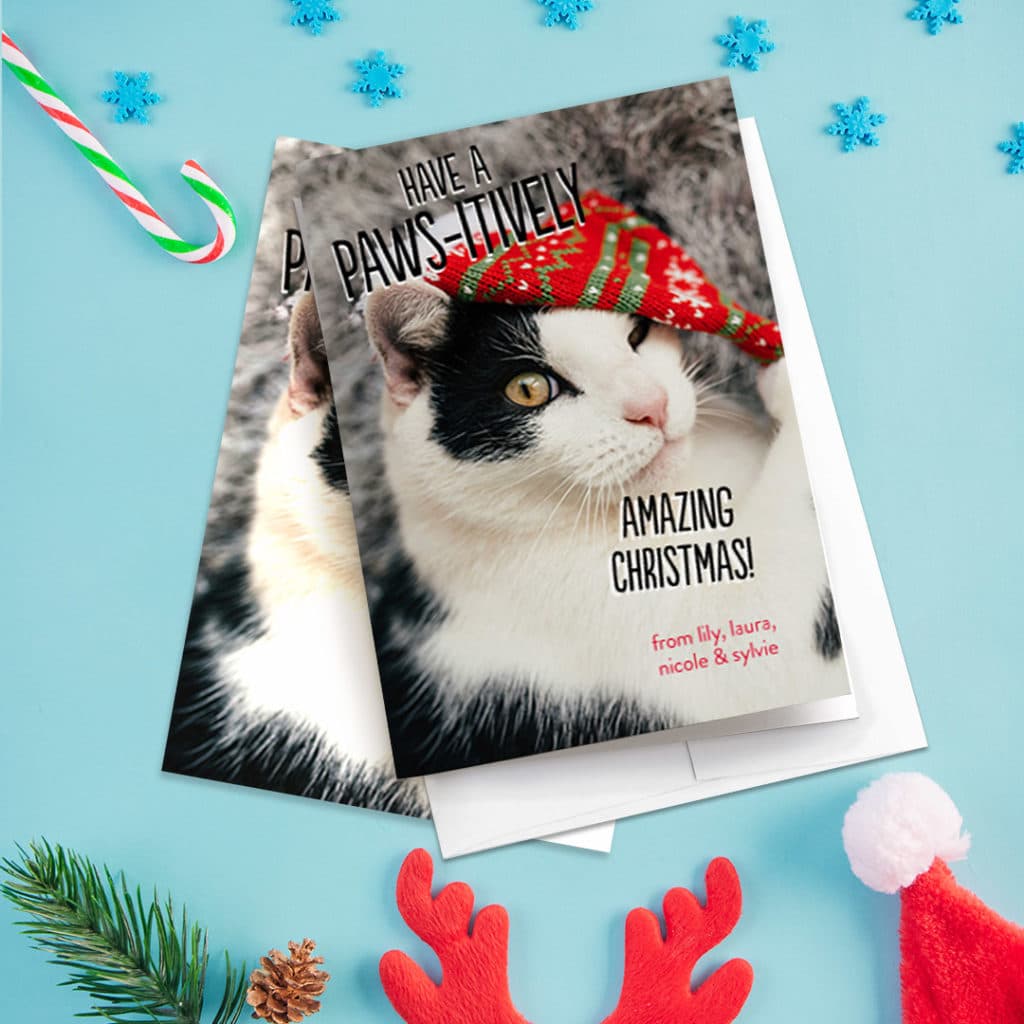 Feeling inspired to create Christmas cards featuring your pets?
Remember to visit our blog for more pet tips and inspiration and then please share your custom pet card ideas with us. We love seeing what you create. Remember to tag us with @snapfishUS or #snapfish when you share on Facebook, Instagram, YouTube, Twitter and Pinterest.