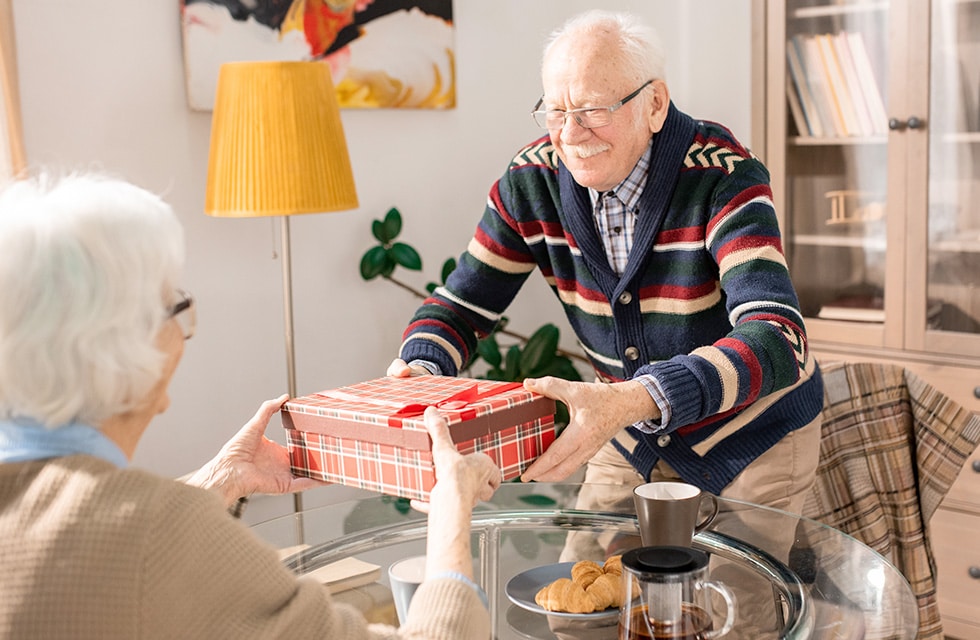 Congratulations! You've made it to another year of being married to the person of your dreams. If that's not something to celebrate, then what is? Why not go the extra mile, and create a truly custom anniversary gift for your better half?
The traditional wedding anniversary gift list goes as far back as the Middle Ages, but it's still very much in use today. There's just something special about sticking to tradition.
Want to know the real meaning behind each gift? Need some anniversary gift inspiration? Read on.
What anniversary gift for what anniversary year?
A wedding anniversary is a special day for couples to reflect on their years together and appreciate all they've experienced. Whether you're looking for a special gift to give your spouse on your anniversary this year or want to give a gift to a special couple to celebrate their anniversary, we have a great selection of personalized gifts for you to choose from.
When you give a personalized anniversary gift, you'll show your partner how much you love and cherish your relationship, whether you're celebrating your 1st, 10th or 50th year together. Personalized gifts are also a thoughtful way to celebrate the wedding anniversary of your parents or another couple in your life.
Whether it's your 1st or your 50th, here's a list of milestone wedding anniversary gifts by year with their meanings, so you can make sure you're getting your gift right.
The themes for these notable years include:
1st Wedding Anniversary: Paper (modern: clock)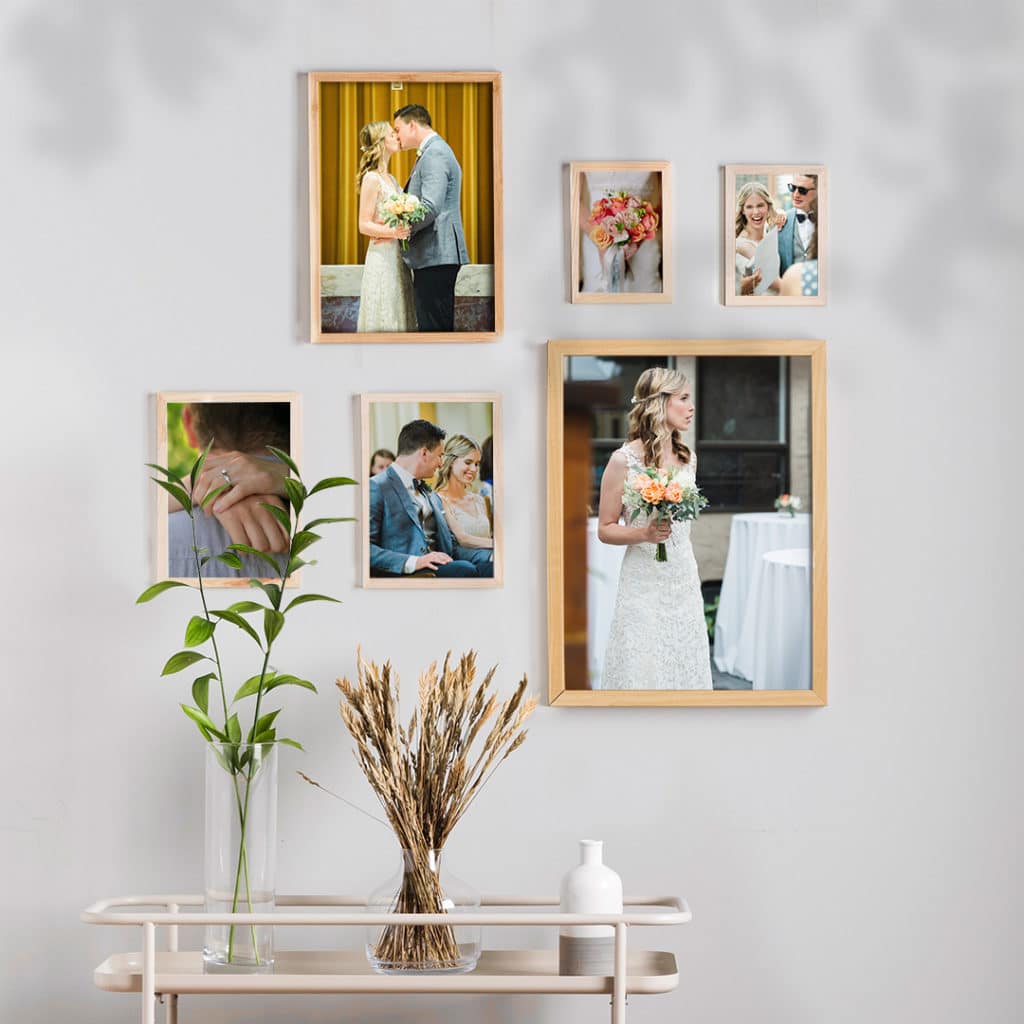 The traditional gift for your first marriage is paper. No that's not meant to represent 'divorce papers', but rather a 'clean sheet' for the two of you to write your own story. However, it also represents the ease at which your marriage can be torn. It has not yet stood the test of time.
While you may be thinking that paper is a pretty common, even boring material, there's one clever way of making your first wedding anniversary gift an unforgettable one; and that's with photo prints and enlargements of your favorite wedding or honeymoon memories.
Want something that will keep in time with your relationship? How about a customized clock? This elegant timepiece will truly stand the test of time – just like your relationship.
2nd Wedding Anniversary: Cotton or (modern: china)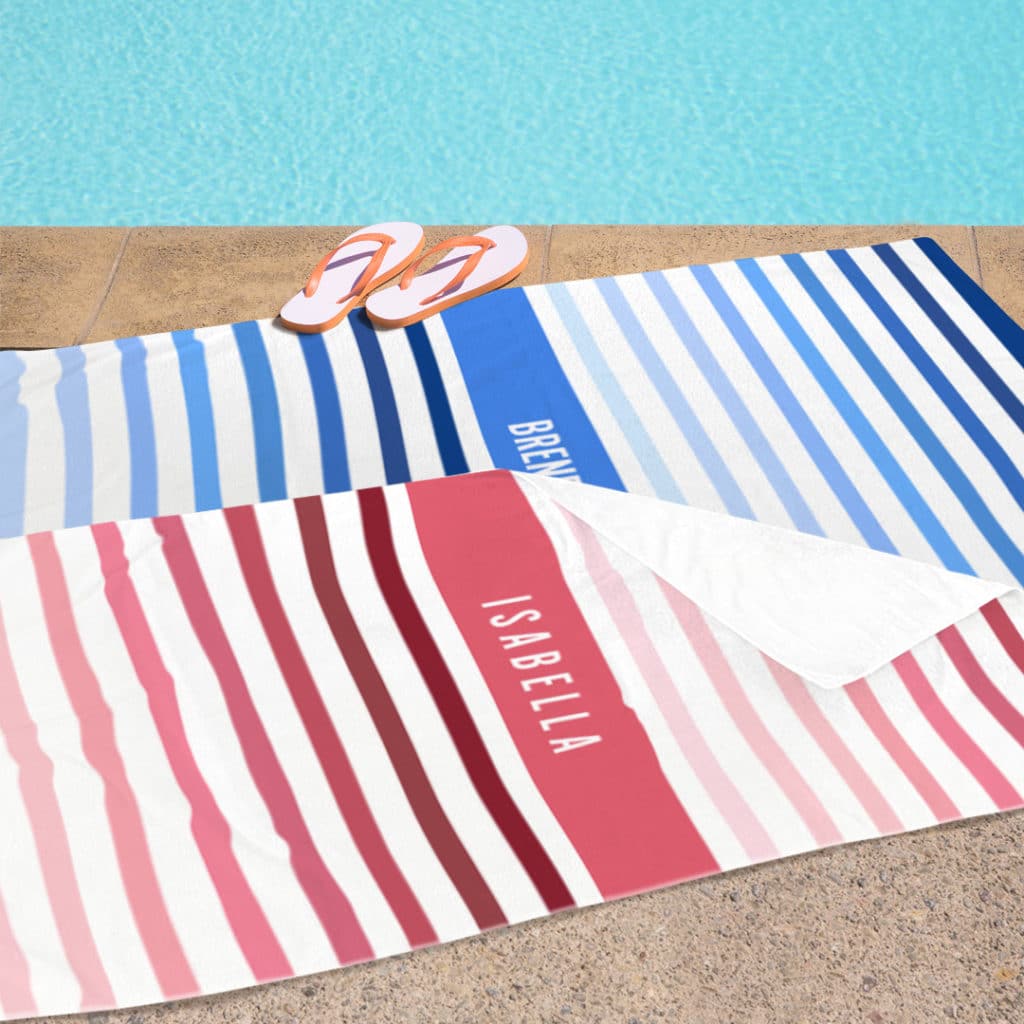 Durable and versatile, cotton holds the qualities of a marriage that's made it to its second year. The underlying meaning behind a cotton gift is that your marriage needs to be able to stay strong even when faced with difficult changes. Accomplish this, and the two of you will grow ever closer, your lives becoming intertwined like interwoven cotton fibers.
His and Her velour cotton / polycotton blend personalized beach towels are an excellent cotton themed anniversary gift. Practical but plush, there's something romantic about his and hers beach towels marking out your territory by the pool.
Not your thing? How about matching aprons? Perfect for helping out in the kitchen or outside on the grill, matching customized aprons say "we do it together"
3rd Wedding Anniversary: Leather or (modern: glass)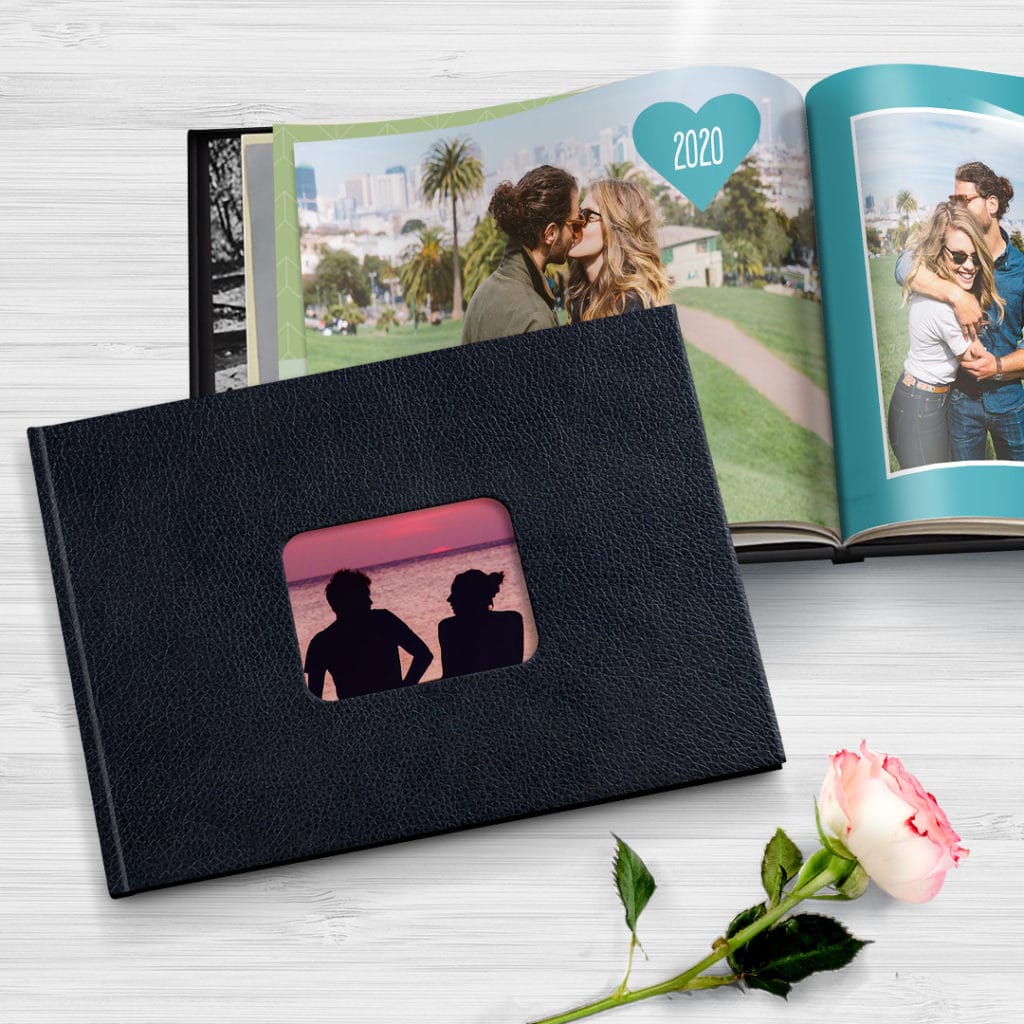 Leather represents the shelter and security that has come from your three years of marriage together. Leather is seen as a durable material the protects us from the elements, just as you are both able to protect each other from external problems coming from outside your marriage. Through thick and thin, rain or shine, you have each other.
In honor of your leather anniversary, what better present than a stylish leather photo book, full of happy memories?
Leather not your thing? How about a framed glass photo print or (faux) glass acrylic photo print to celebrate your 3 laps around the sun together? Or you could create a personalized leather valet tray to keep your pocket change or housekeys safe and remind you of your true love every time you do.
4th Wedding Anniversary: Linen (modern: fruit or flowers)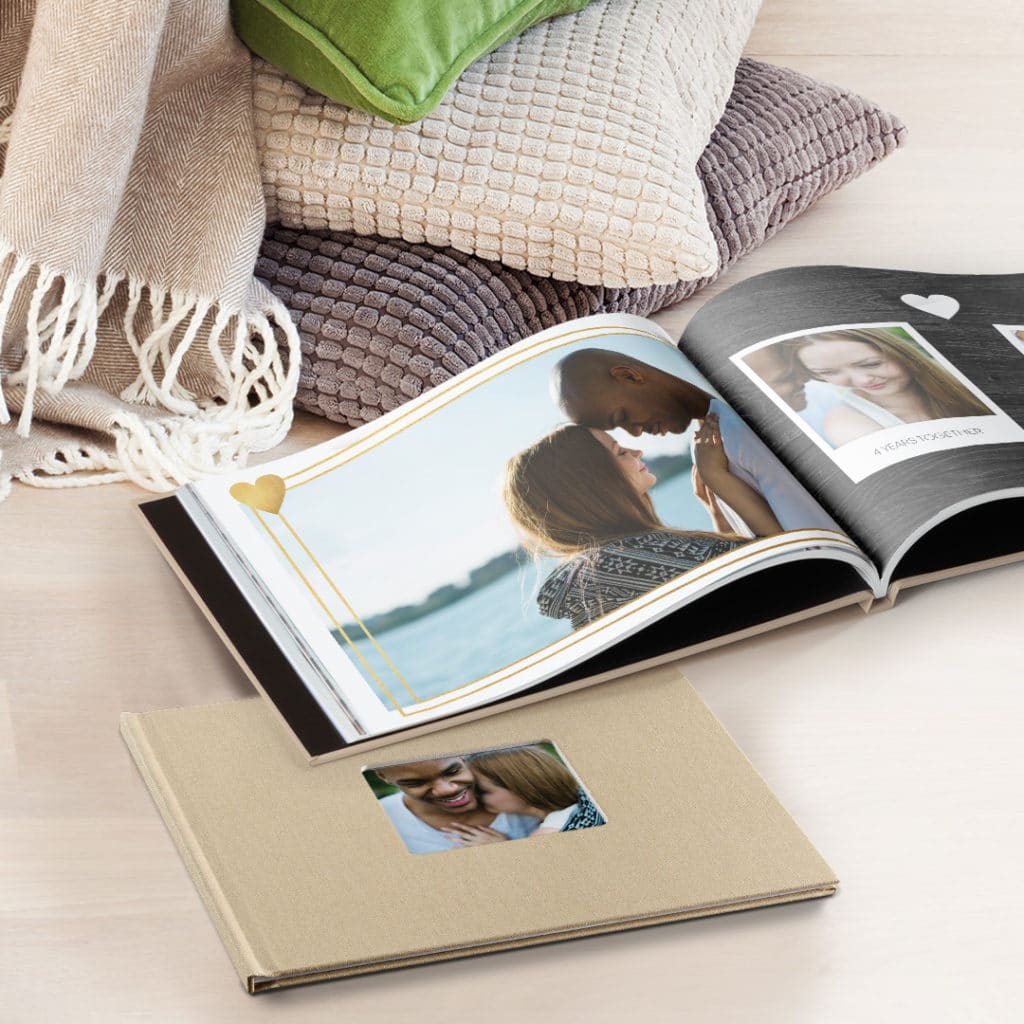 Four years! That means it's time for some gorgeous fruit and flowers! After all, at this stage, your marriage has really started to blossom and ripen.
Nothing says "We made it to year four!" like a classic linen photo book full of happy memories and embellished with clip art of your loved one's favorite flowers.
Too boring? How about a customized wine tumbler . After all, wine was once fruit.
5th Wedding Anniversary: Wood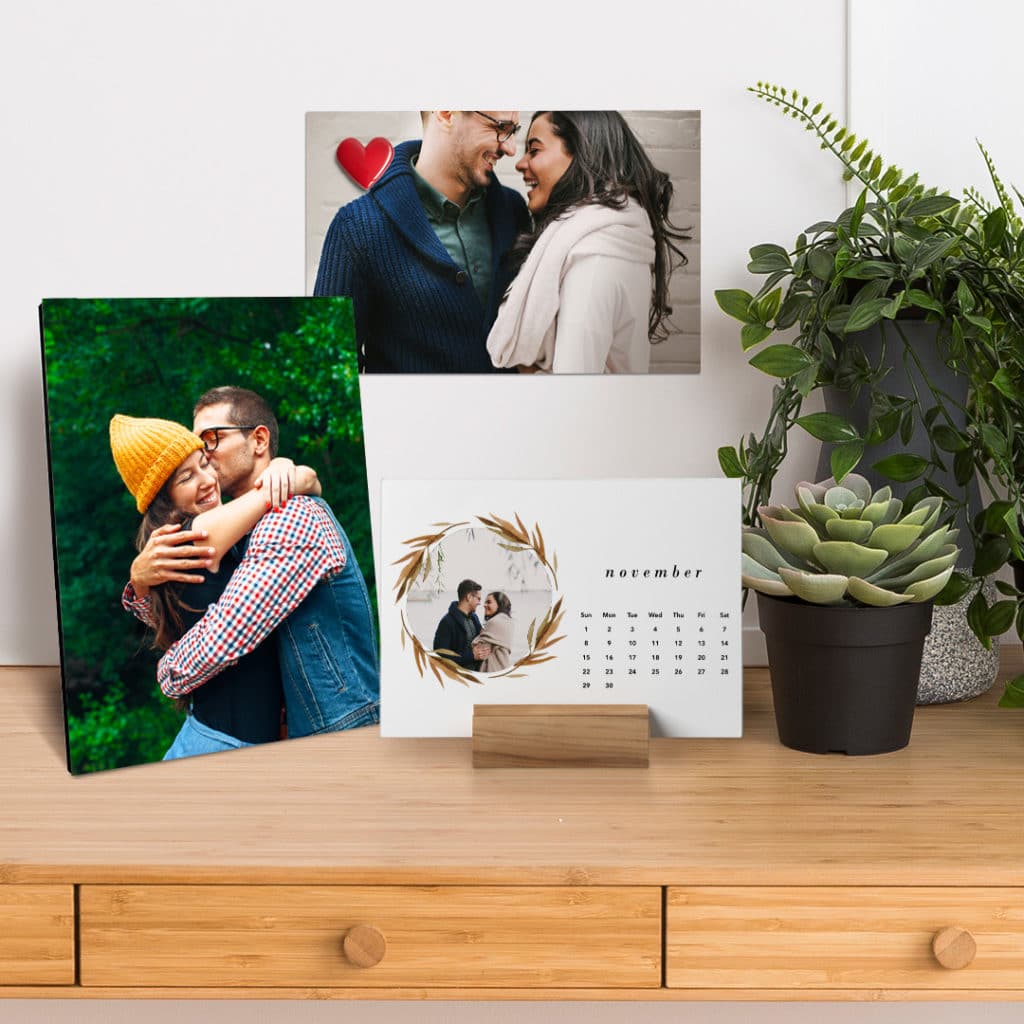 Trees symbolise strength, wisdom and time. Like a tree standing firmly in the wind, after five years of sharing the ups and downs, your relationship as husband and wife continues to grow from strength to strength. With deep roots firmly cemented in the ground, your marriage can endure anything.
A wooden photo panel featuring you as a couple is a great gift to celebrate your 5th wedding anniversary. Or you could create a re-fillable wood block calendar to ground you every day you look at it.
10th Wedding Anniversary: Aluminum or Tin
Ten years have flown by since you said: "I do"! Can you believe it? To mark the special double digits, tradition states that the two of you exchange tin or aluminum gifts. Having reached a decade of staying faithful as husband and wife, tin symbolizes the ability to last through time. Made from copper and bronze, tin does not rust, or erode over time.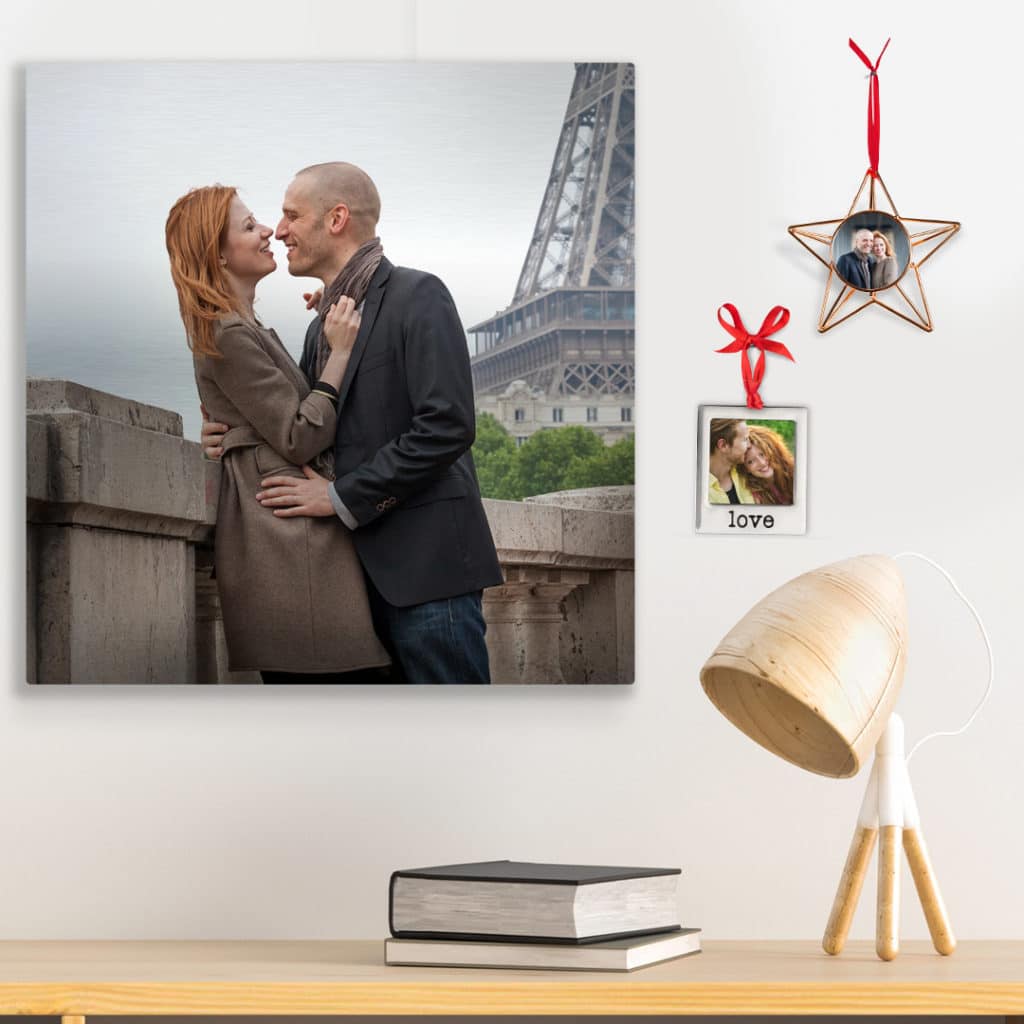 Aluminum, on the other hand, is a malleable metal which represents the flexibility and durability in marriage. After ten years together, you can now handle any obstacles thrown your way.
The perfect ten year wedding anniversary gift is a custom metal tabletop photo print, or even an aluminum ornament – which you can keep to display on the Xmas tree, or use as a decorative wall plaque all year-round.
Why not create a series of aluminum wall ornaments that showcase the special events in your lives and display your special memories in a shadow box frame, that you can add to as each year together passes.
Alternatively, you could create a photo collage of the highlights of your ten years together on our metal photo wall panels using one of our pre-made collage template designs. Shuffle the photos and text around in the builder, to tell your story in a way that is unique as you.
20th Wedding Anniversary: China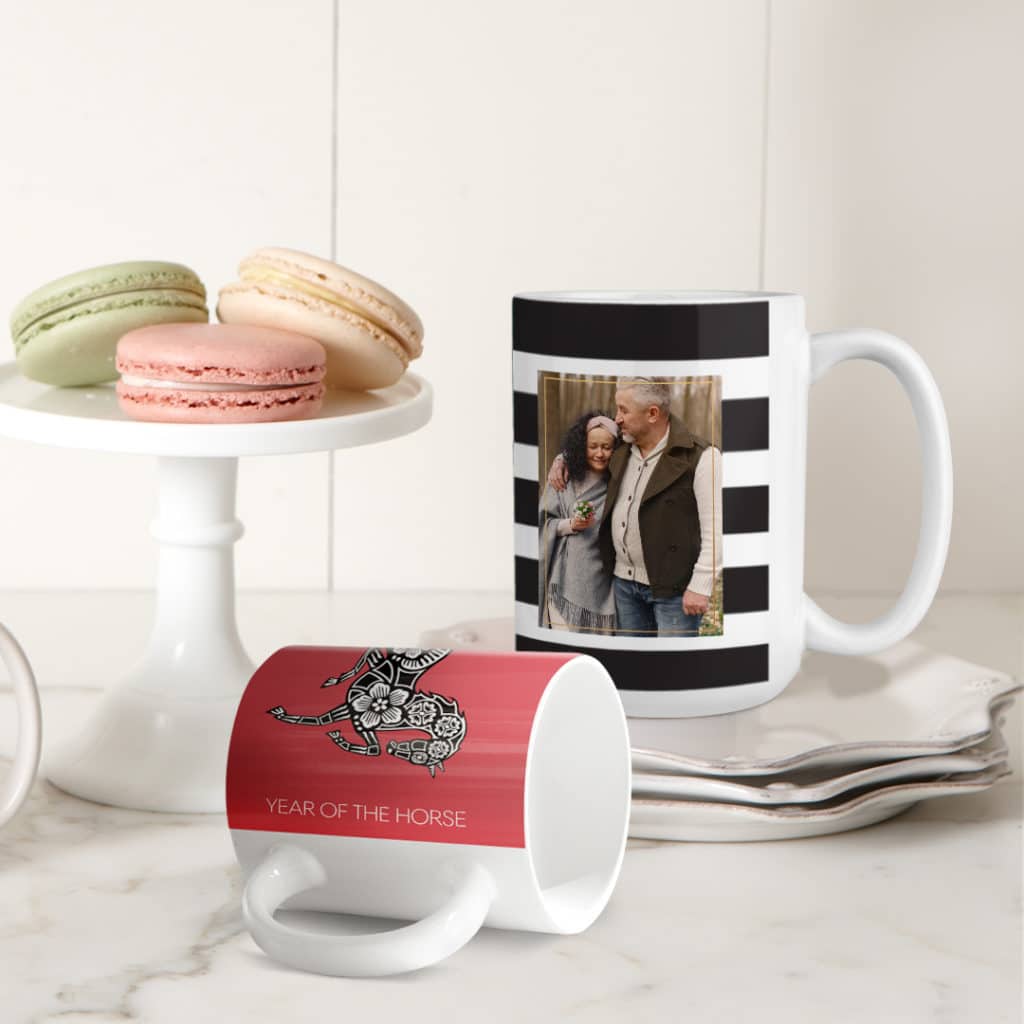 After twenty years together, china is seen as an overall representation of your marriage after two decades. Do not take it for granted or mishandle it, or it shall break. The obvious gift for a china-themed anniversary gift is a set of Chinese Zodiac themed mugs that highlight your compatibility in the stars. Read our blog for more information on your Chinese Zodiac Animals.
25th Wedding Anniversary: Silver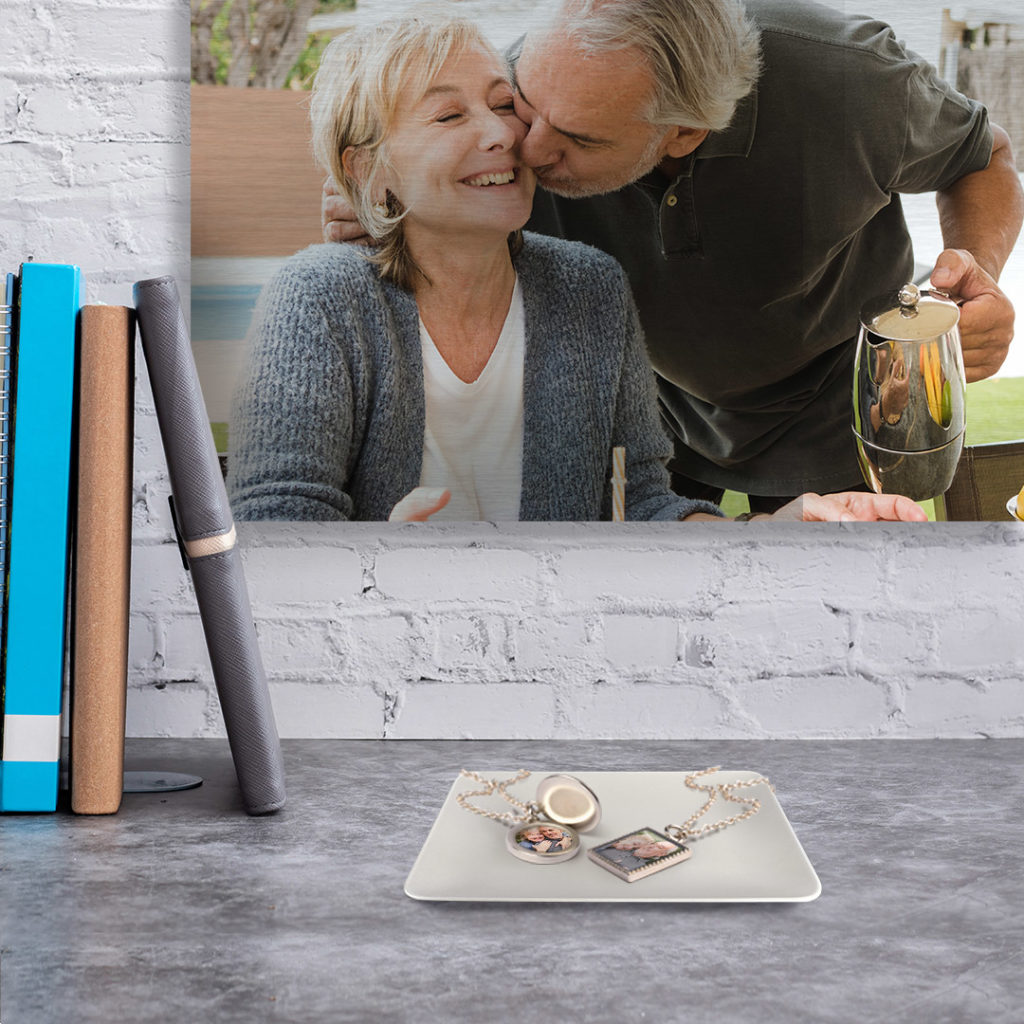 Halfway to 50! Silver needs hardly any introduction, as one of the most popular precious metals around. Having reached your 25th wedding anniversary, the value of your marriage has reached new heights. May your marriage continue to shine just like silver.
Silver jewelry is always a sure-fire way to please your other half. Choose from a Silver Locket or Silverplate Photo Necklace personalized with photos and love.
Silver colored metal prints are a sure-fire way to showcase your love for each other. Choose from wall mounted or table top options.
30th Wedding Anniversary: Pearls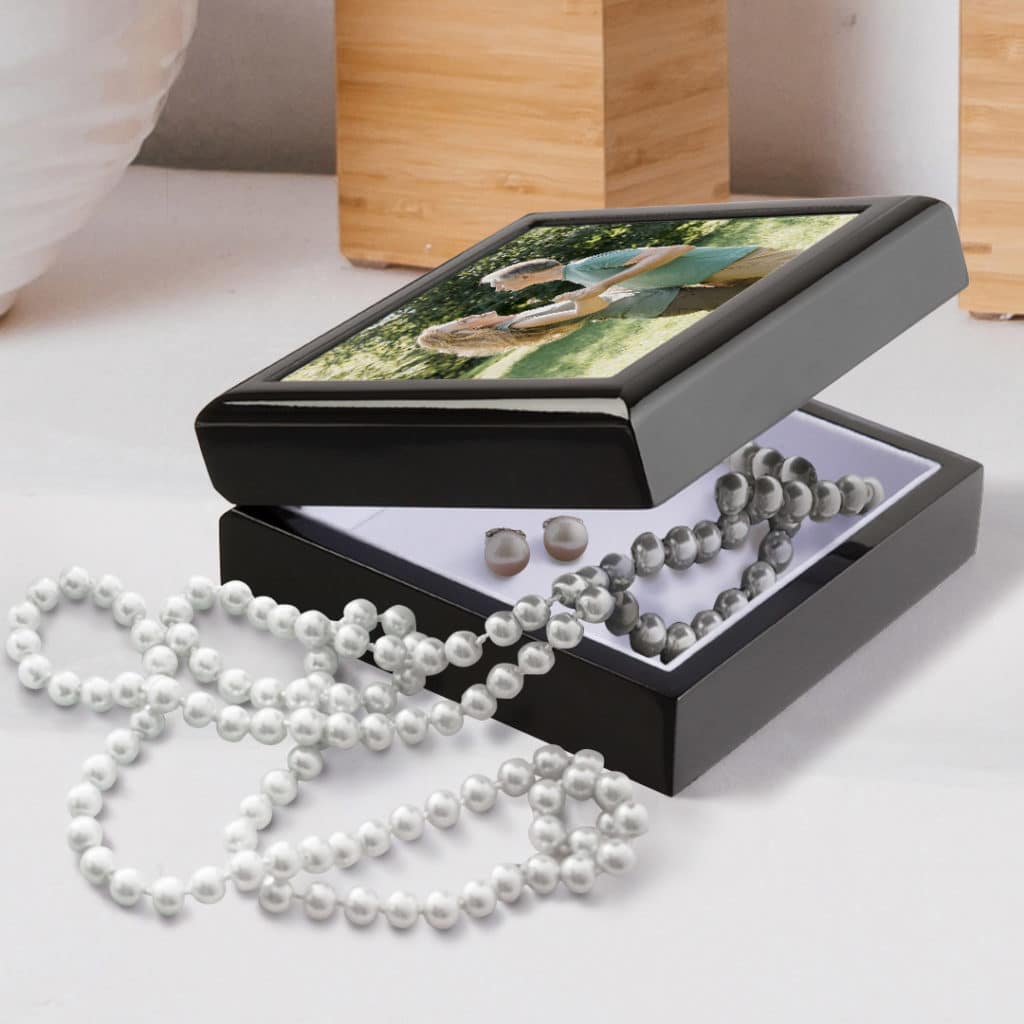 Pearls are known for their beauty, and also the considerable amount of time required to form. After being married for three decades, a pearl gift represents something beautiful that has been created over time. It also symbolizes the hidden beauty in your relationship that comes with maturity and from within.
As far as 30th wedding anniversary gifts go, you cannot go wrong with a gift that has pearls (of wisdom) – or just pearls. An elegant pearl necklace or pearl earrings for her is timeless. For him, a set of pearl cufflinks or a tailor-made suit or shirt with pearl buttons is always a win. Make sure to team it with a wooden keepsake box to keep them safe.
Or you could go with the pearls of wisdom idea, and create a custom piece of wall art that showcases your pearls of wisdom as a witty quote or anecdote.
40th Wedding Anniversary: Ruby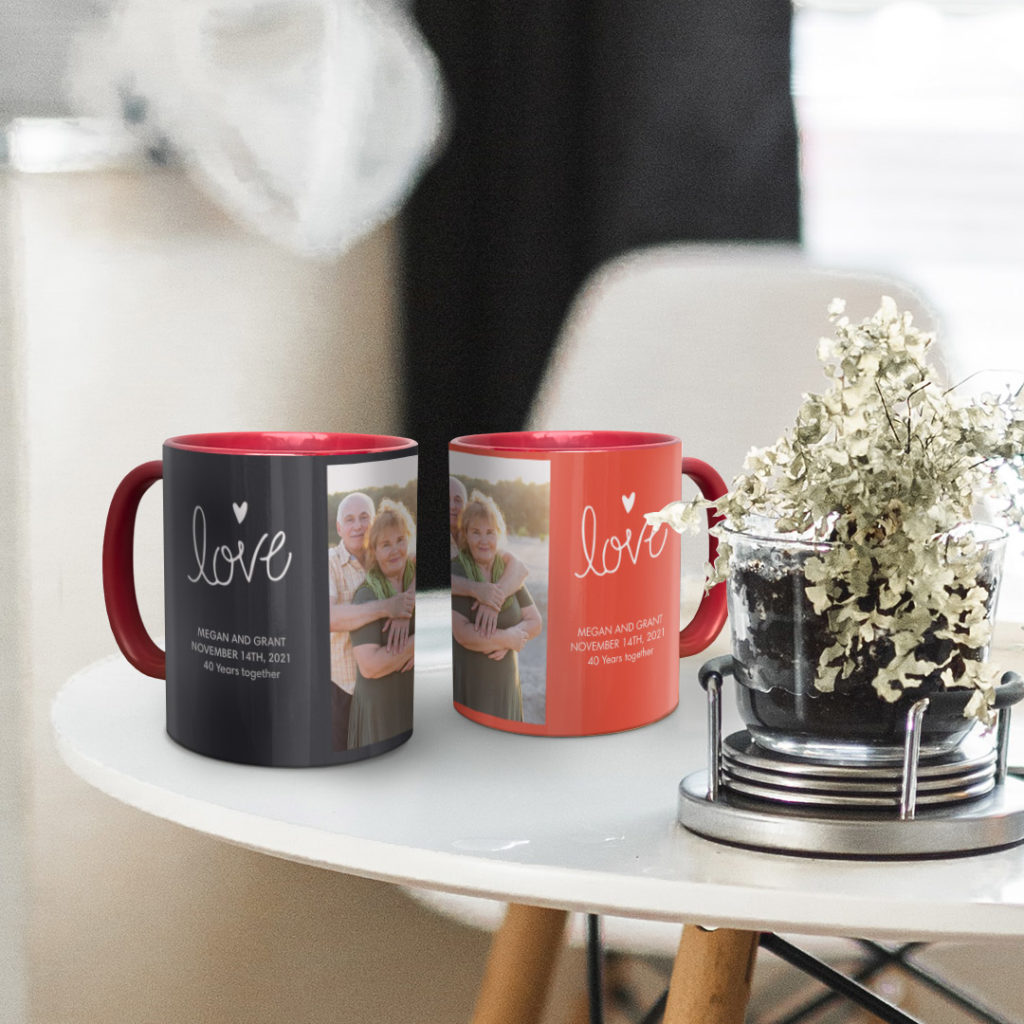 Your 40th wedding anniversary together calls for something special – and what could be more special than a glamorous blood-red ruby? Ruby is the stone of love and passion, a symbol of your deep and unwavering love for one another.
Show them how much they mean to you with a matching set of ruby-red personalized mugs that allow your creativity to shine and make them smile with every sip.
Need a little more warmth? How about a Ruby-Red "Lovestruck" blanket to snuggle up under? You'll find it under the More Designs > Love section
50th Wedding Anniversary: Gold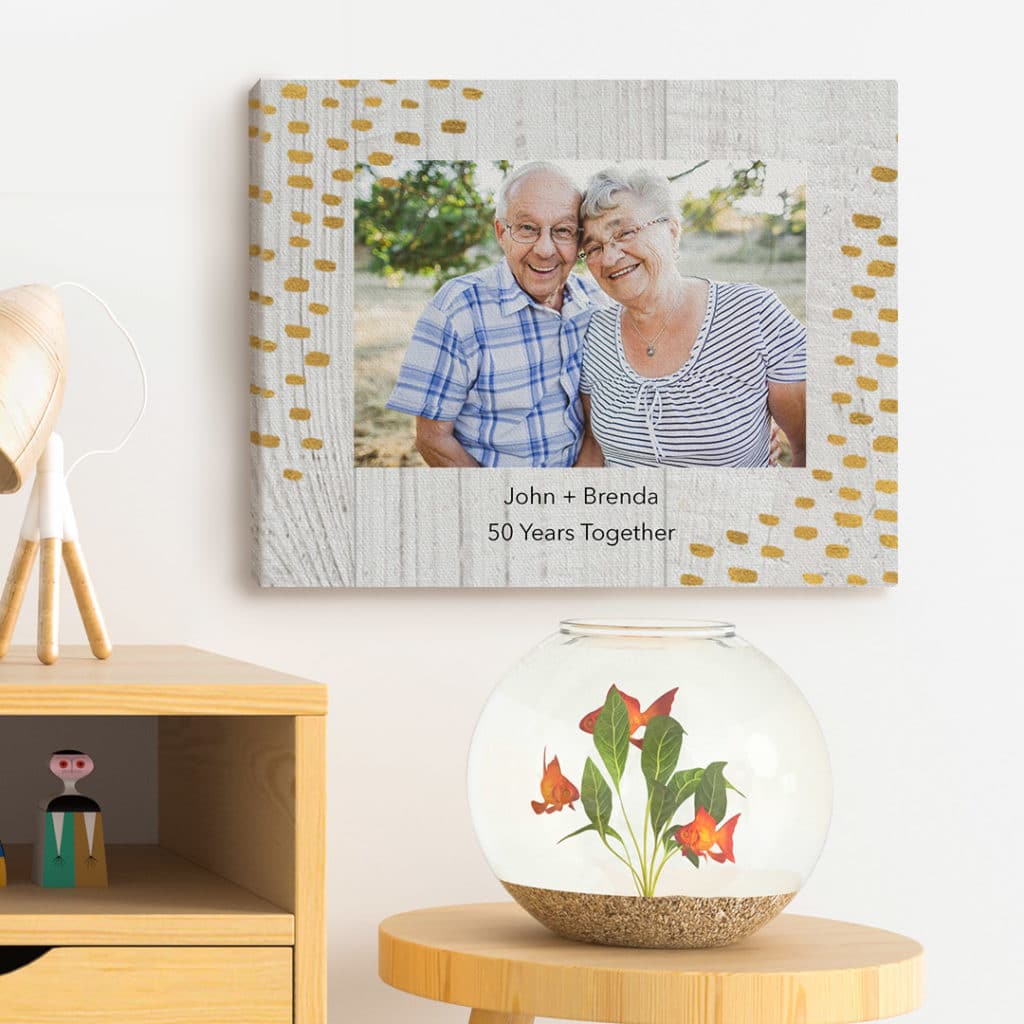 Half a century of being married, and you've made it to the gold standard. Gold represents the strength, wisdom, prosperity and significance of your marriage. As the most prized metal, it is a symbol of your 50th wedding anniversary – something that cannot be replaced.
How about designing your own bespoke gold framed canvas of your favorite memory? Or choose our gold painted dots canvas design to celebrate togetherness?
60th Wedding Anniversary: Diamond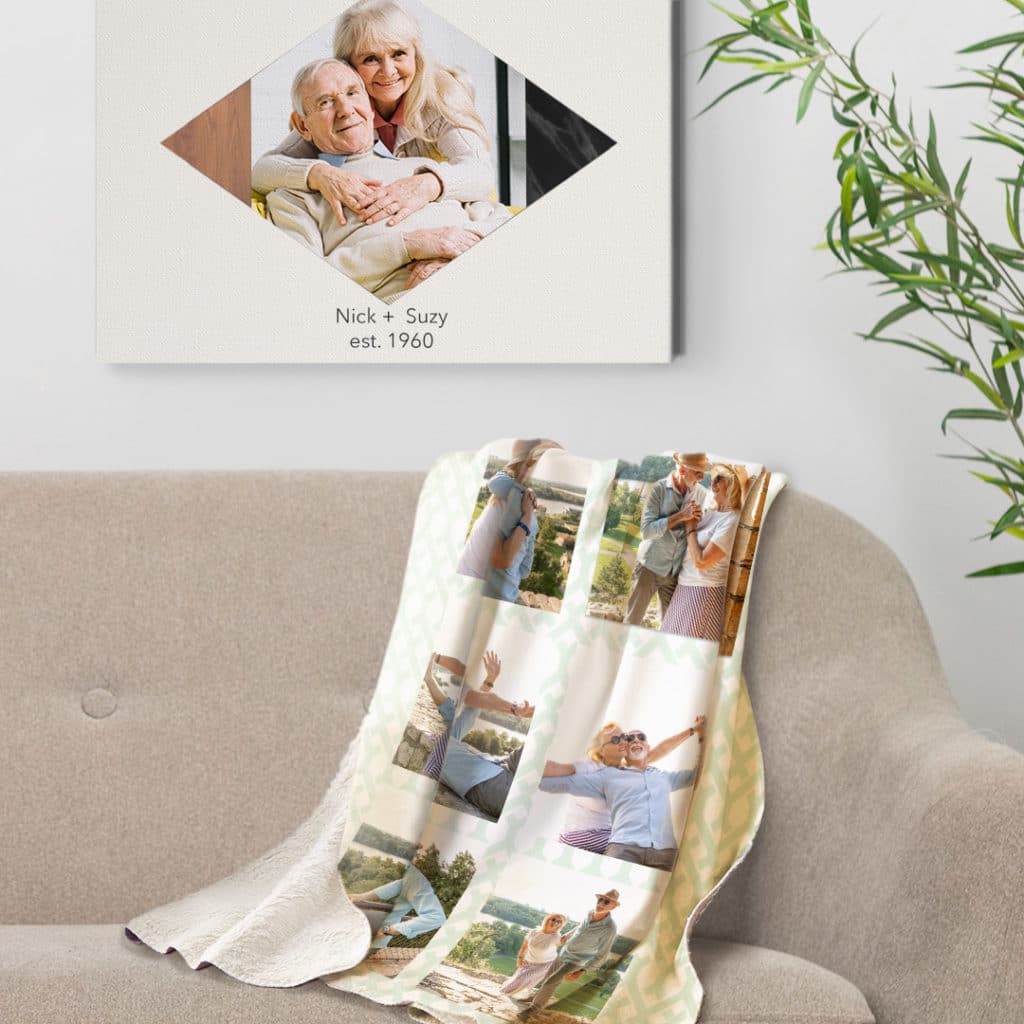 Shining bright like a diamond, your marriage has stood the test of time. This precious stone symbolizes strength, affection and your undying love for one another.
For that extra special 60th anniversary present, gift the love of your life a unique canvas print or blanket with a custom diamond photo collage design to celebrate all those happy memories of time gone by.
Whatever milestone anniversary gift you create, remember to pair it up with a heartfelt personalized anniversary card. We have a range of pre-made card designs to get you started, or you can create your own.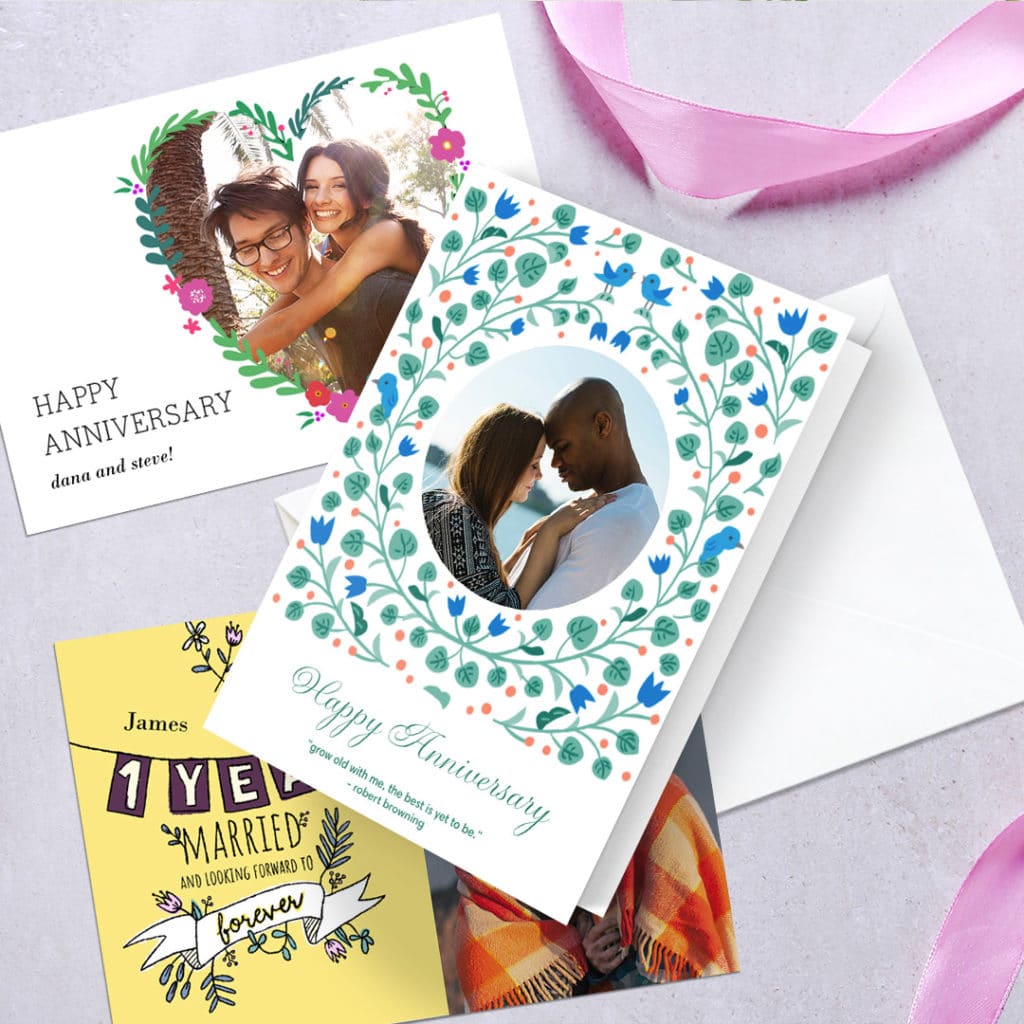 Whatever gift you choose for your anniversary, nothing say "I love you" more than a personalized gift & card created with love.
What did you create? We'd love to see your anniversary creations. Please tag us using @snapfishus on Instagram or Facebook with photos or use the hashtag #snapfish. You can also follow us on YouTube, Twitter and Pinterest, too!