Looking for fun ways on how to take your at-home Halloween get-together to the next level? We've got loads of ideas to have an unforgettable Halloween celebration. Although 2020 has been unusual to say the least, we still think this year's Halloween should be spooky, scary & all-around spectacular!
Create mugs for even more magic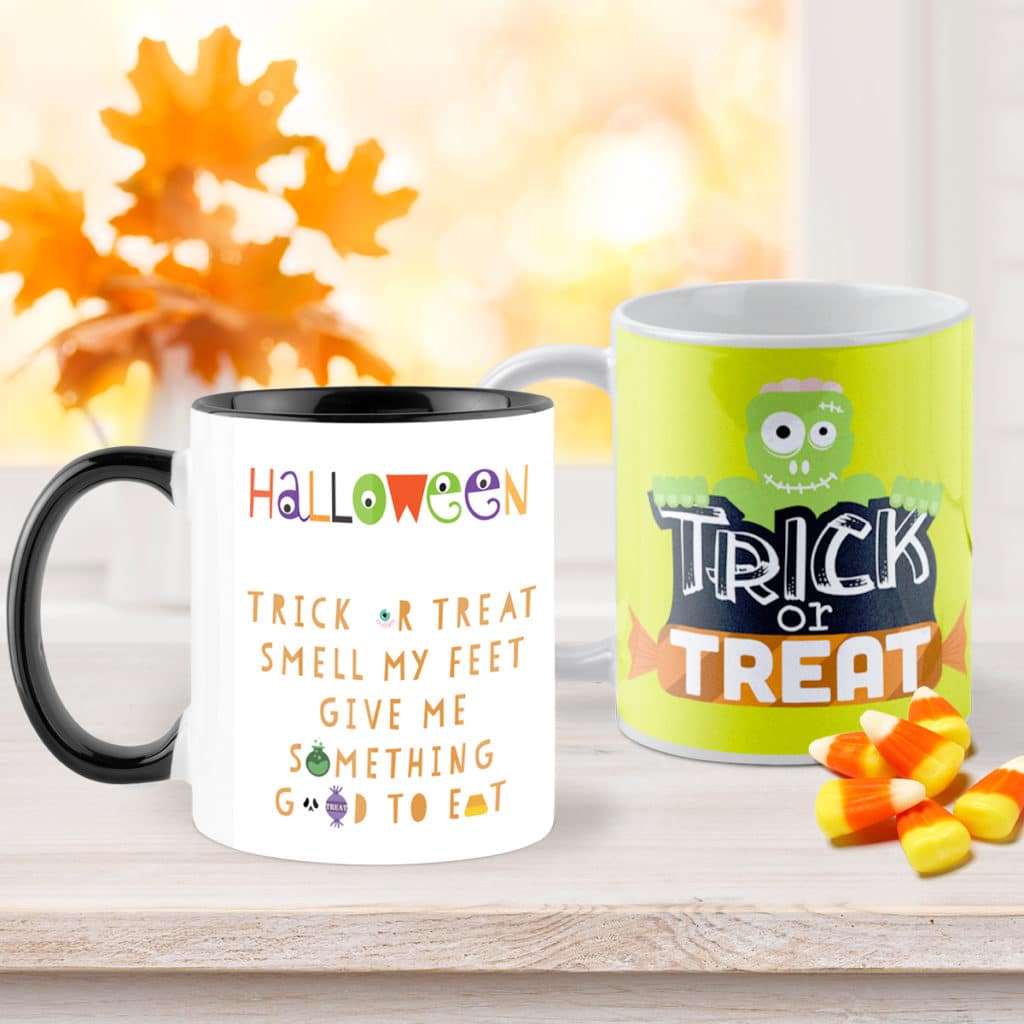 Whether it's just your immediate family, or you're going to invite a small handful of friends over, mugs filled with candy make a great takeaway gift for your Halloween bash. Personalize with your friends or family members' names, add spooky or silly Halloween-themed embellishments, and gift them to everyone who celebrates with you! You can even choose from one of our epic Halloween designs, such as the "Witch's Brew". 
Take the fun up a notch with magic mugs! They appear black, but once you pour a hot beverage in, they reveal your design — too cool! Add creepy embellishments like spiders, cobwebs, and bats to your magic mug design for a super-spooky vibe. 
Start with some fun games + activities
No better way to get the party started than with fun games + activities! Plan ahead and create a Halloween-themed photo puzzle! Add your favorite costume photo from the year's past and add some spooky embellishments to make it truly one-of-a-kind. This is a great brain activity for everyone, little ones included.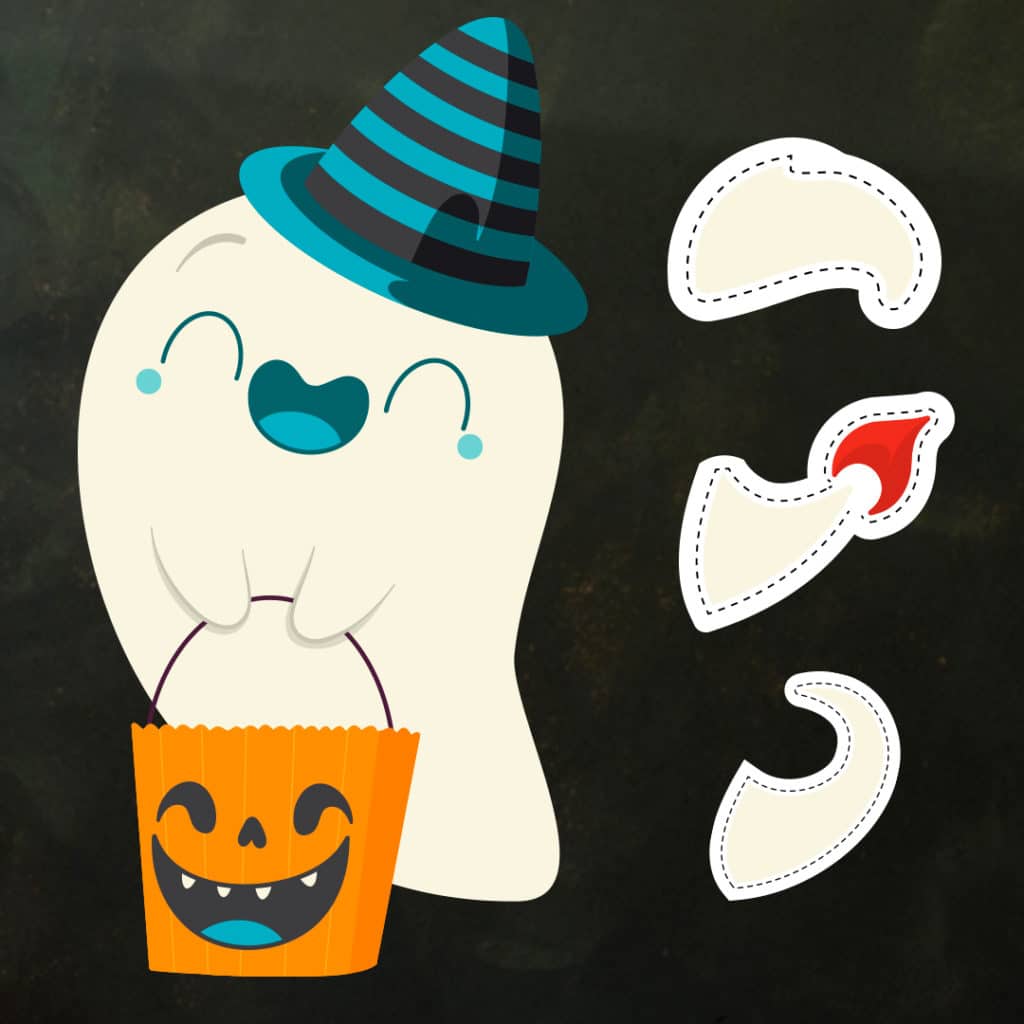 We've also got an easy printable activity that can be fun for the whole family. Print out our adorable Pin the Tail on the Ghost game and give it a try! We even have two adorable ghost options to choose from: white or black backgrounds. The rules are easy — wear a blindfold, spin around 3 times, and try to pin the tail on the ghost. Whoever get closest to the right spot wins. Create a little friendly competition with your partner, children, and anyone else you include in your festivities!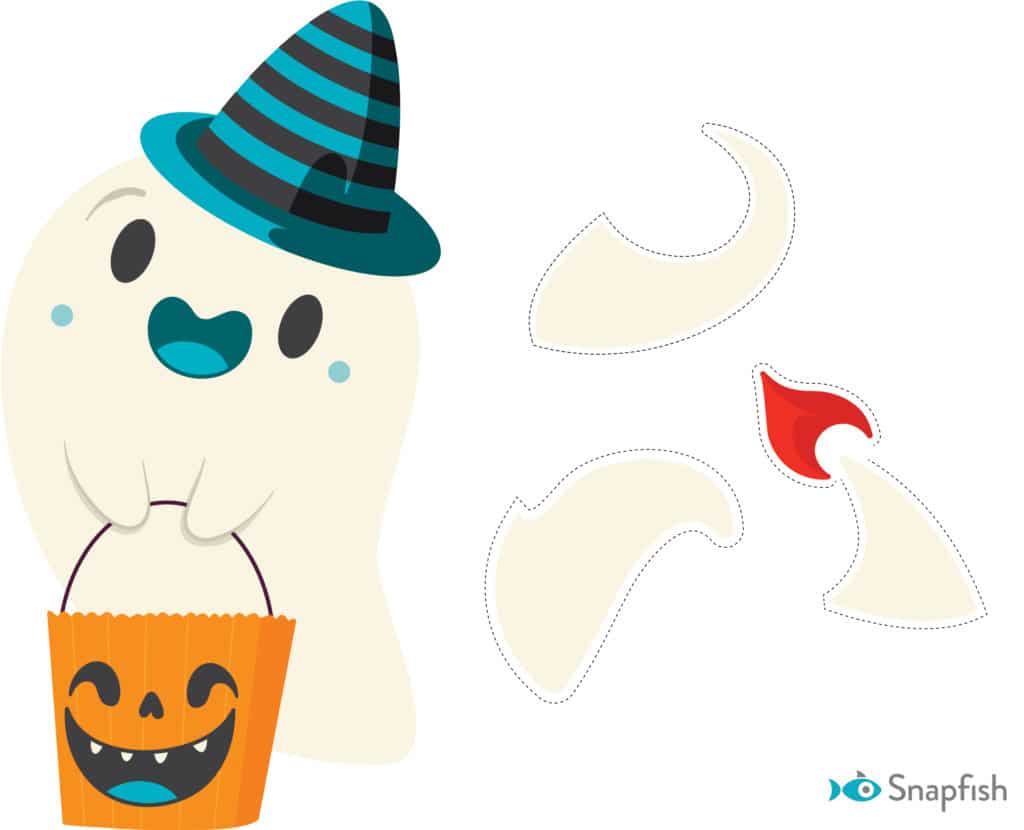 Rock spooky + silly masks
If you're having a few friends over, it's a good idea to have some face masks on hand to keep everyone safe and socially distant. Snapfish has loads of unique custom mask designs, but have you checked out our creepier designs? They're perfect for Halloween!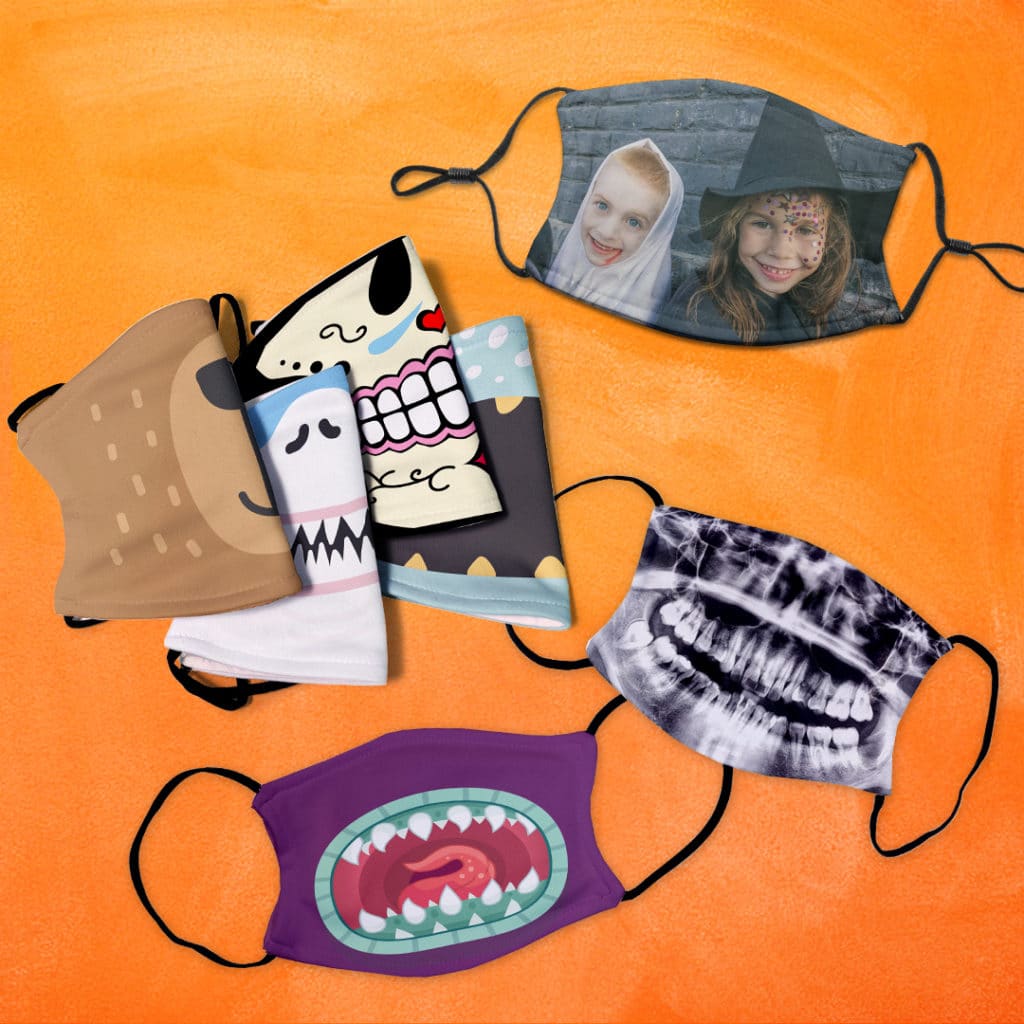 We have an x-ray skeleton, several monster mask designs (including fangs!), and even a sugar skull face mask. Plus, you can easily add a photo of your favorite Halloween costume to a full photo mask design. If you aren't into the creepy-crawly vibes, try one of our sweet animal face mask designs, including a bear, cat, or bunny. Did you know our custom face masks come in two sizes — small and large? This means both adults and children can have their ideal size and style!
More treats than tricks!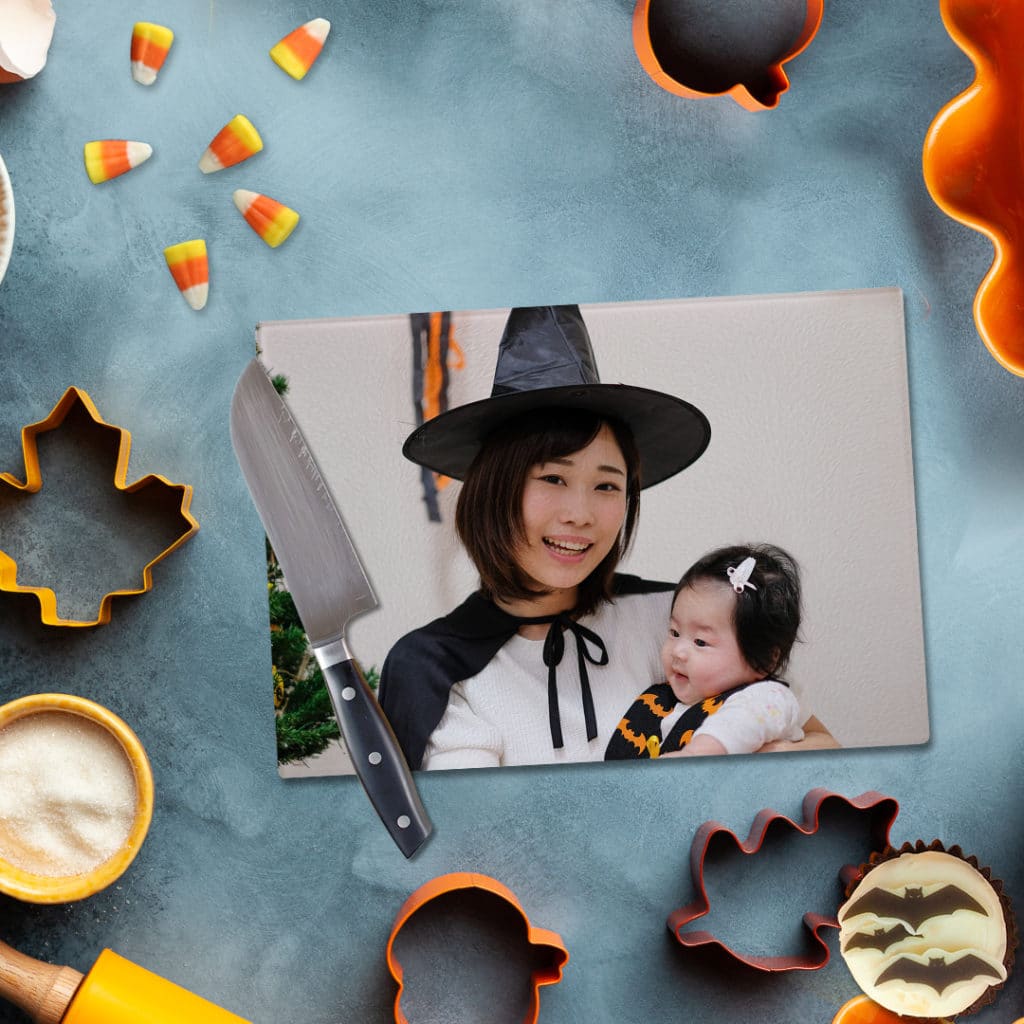 The key to Halloween — don't skimp on the treats! Whether it's candy corn and all the creepy candy or some delicious homemade baked goods, sugar is required. If you decide to bake, display your sweet treats on a personalized glass cutting board. Create something special for the season and add embellishments of pumpkins, skeletons, witches, monsters, and more. 
If you're looking to send friends + family home with some goodies of their own, you can grab some custom tote bags as well. Customize with a scary or silly design to fit your Halloween vibes! Don't skimp on the embellishments, either. Choose from our wide range of tote bags, including our Gusseted Cotton Tote Bag or Everyday Canvas Tote.  
Let the fun live on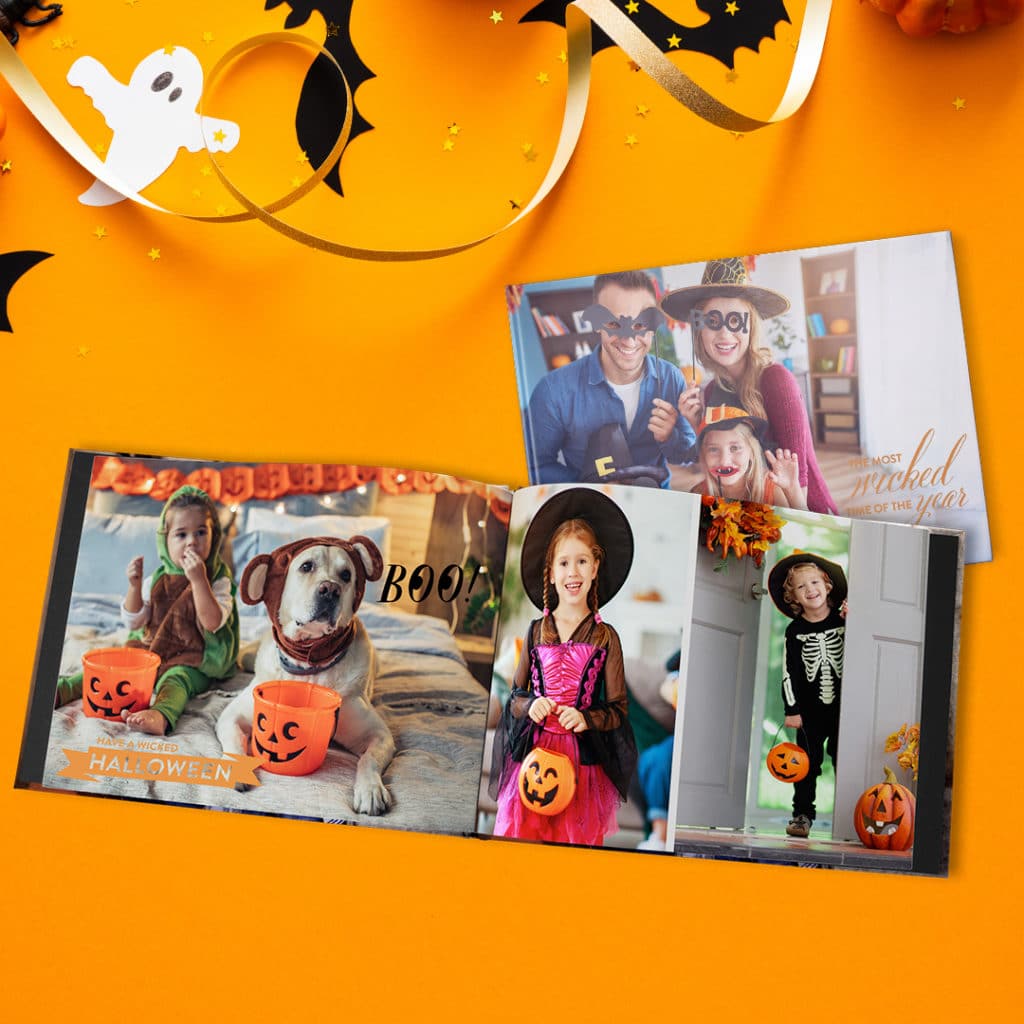 Don't forget to snap lots of photos to document your evening of tricks + treats. Capture the kid's kooky costumes, as well as the laughter and games galore. You can relive the Halloween fun long after it's done with personalized photo books! Add your favorite photo memories from your home Halloween party to a book layout of your choosing. Add text, but don't forget all the spooky, scary, seasonal embellishments!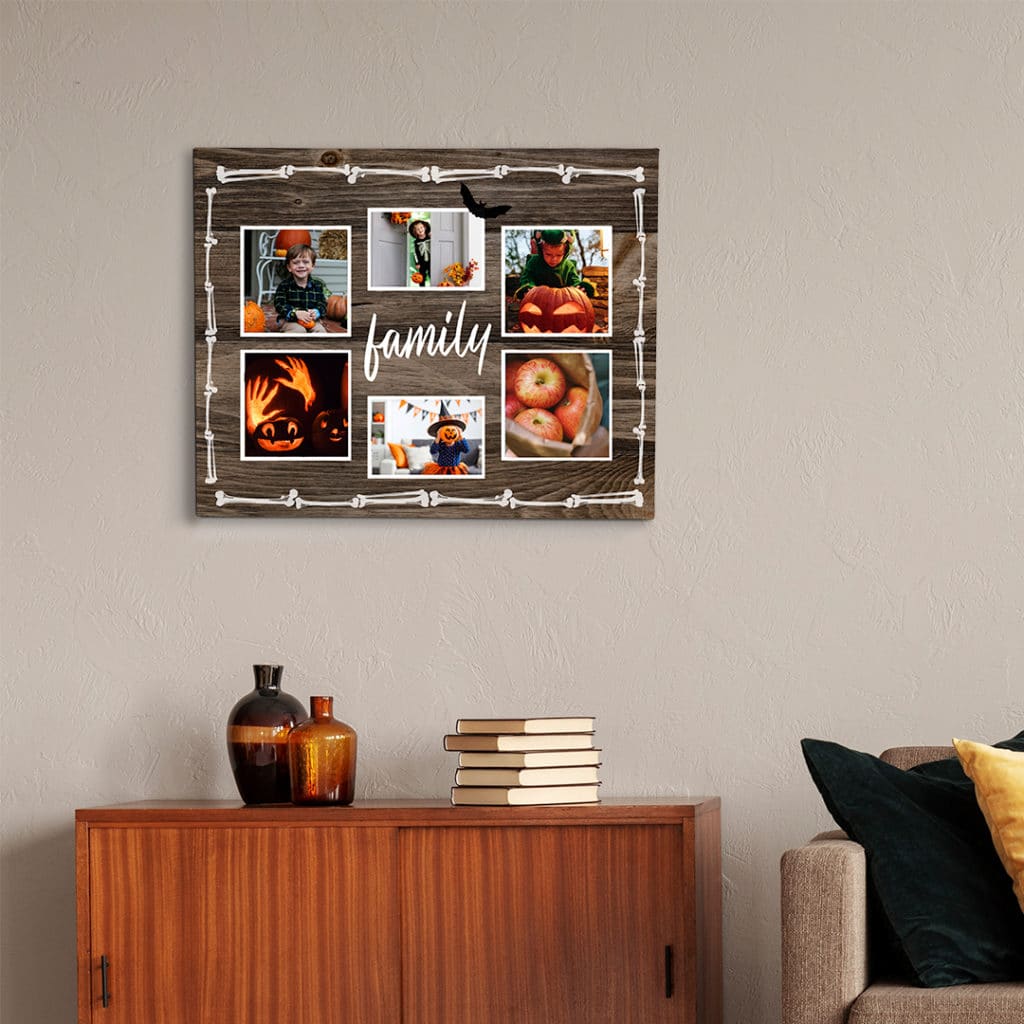 It's easy to create custom canvas to commemorate your Halloween fun, too. Pick your perfect size + style and add some pictures from your spooktacular celebration. Add photos of the whole family to one of our family-centric canvas designs. Plus, it's easy to swap out canvas to coordinate with every season. Make some for the holidays, summer fun, and beyond. 
Did you host a Halloween monster mash this year? Even if it was just for your family, share the silly + spooky photo memories with us. You can tag us on Instagram or Facebook or use the hashtag #snapfish. Don't forget to follow us on Twitter and Pinterest, too.