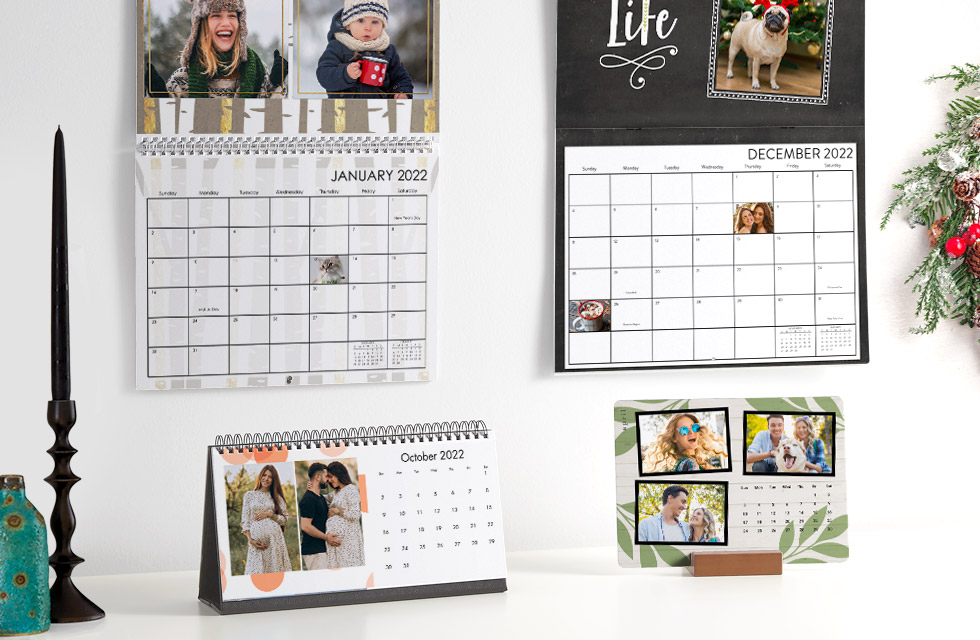 Ring in the New Year with a custom 2022 calendar made with Snapfish.
It's so easy to make the best calendar using the Snapfish online calendar maker because you can truly customize it with your key events and special dates. With Snapfish, you can personalize a 2022 calendar for your kitchen, office, study, or anywhere else you need one. When you make a custom photo calendar, keeping track of all your important 2022 dates, such as dentist appointments, birthdays and holidays, is fun and easy!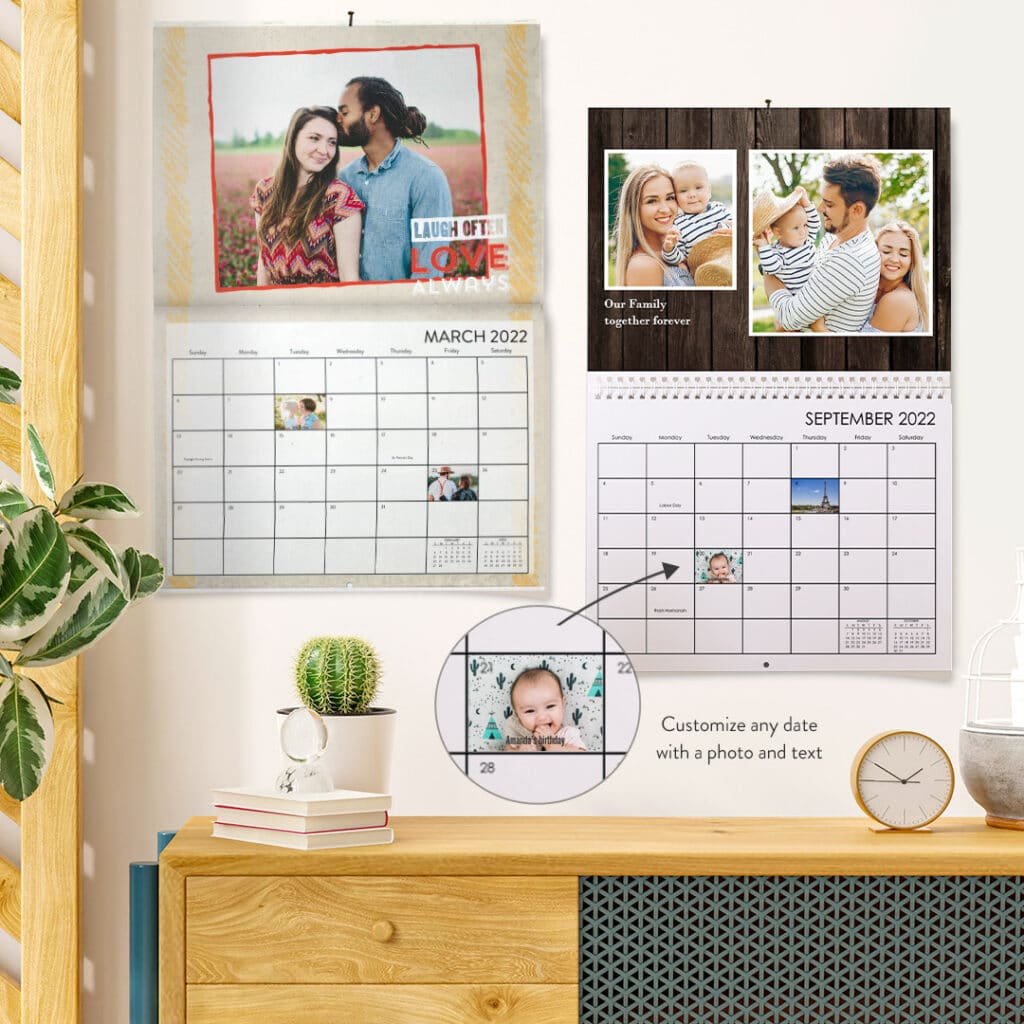 Creating a personalized calendar online is a cinch. All you need to do is choose your calendar style and design, upload photos and add important events to our pre-made calendar layouts. We'll print it and deliver it straight to your door. Or, if time is of the essence, you can create an 8×10 single-sided calendar or 8.5×11 wall calendar and pick them up the same day, in your local CVS, Walgreens or Walmart stores.
What Types Of 2022 Calendars Does Snapfish Sell?
Wall Calendars
Before choosing your 2022 calendar, think where you'll be using the calendar. A monthly wall planner is the best option for regular use and writing down daily notes in a high traffic area, while a table-top calendar could be the best for glancing at those key dates each month.
Snapfish offers a broad range of wall calendars and small wall calendars to put up in any room or office from the large 12×12 calendar to the smaller 8.5×11 calendar (which can also be created for same day in-store pick up).
Choose between our two wall calendar formats
Standard Wall Calendars (available as 8.5×11, 11x5x14 and 12×12), where the spiral bound calendar opens up to show a separate page for the monthly grid.
Premium Stationery Wall Calendars (available as 9×12), where the design is printed continuously from top to bottom and your photos are printed on a matte finish premium stationery cardstock.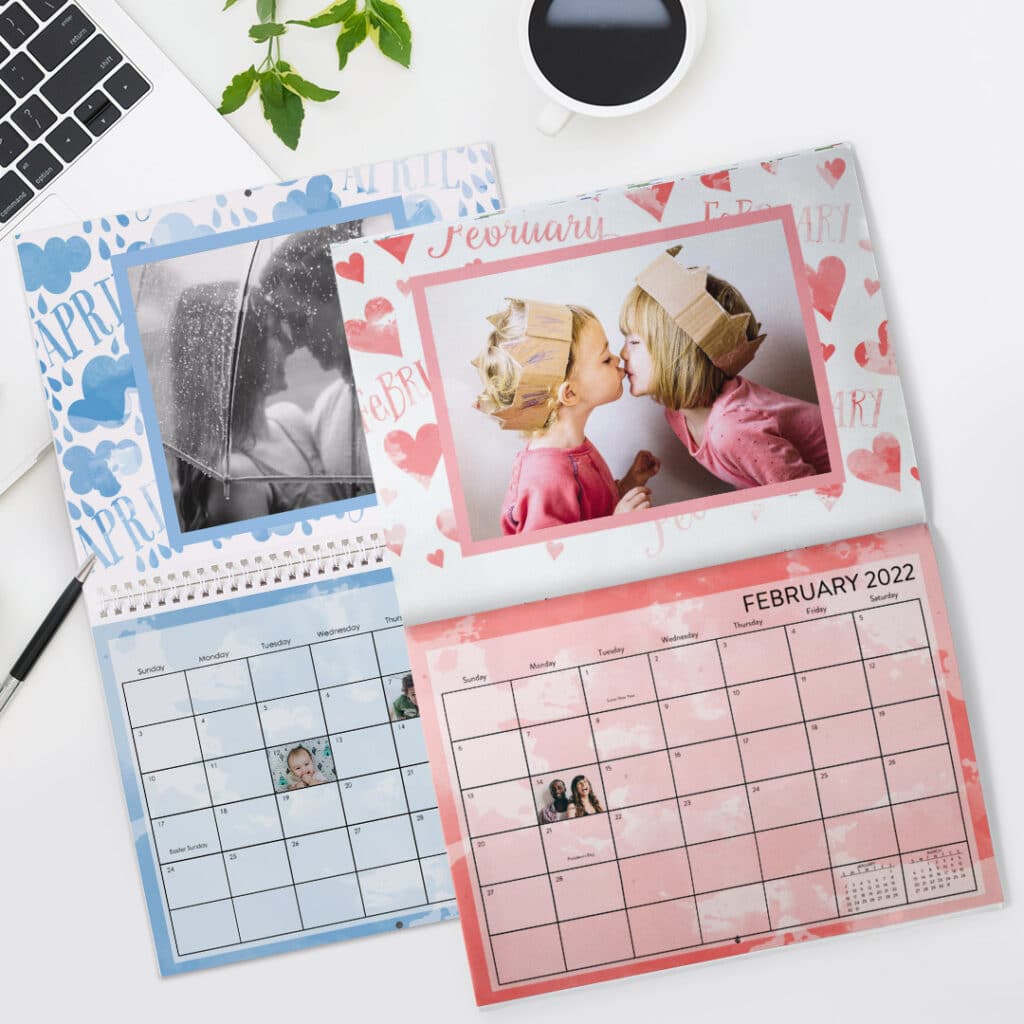 Our wall calendars are printed on high quality paper or cardstock which means your calendar has a beautiful professional finish. To make the wall calendar your own, our pre-made calendar layouts have space to include a large photo for each month or you can create a unique photo layout on each page with all your best pictures. Don't forget to include photos and text on important dates – for free – when you order one of our Wall Calendar options!
Table-top Calendars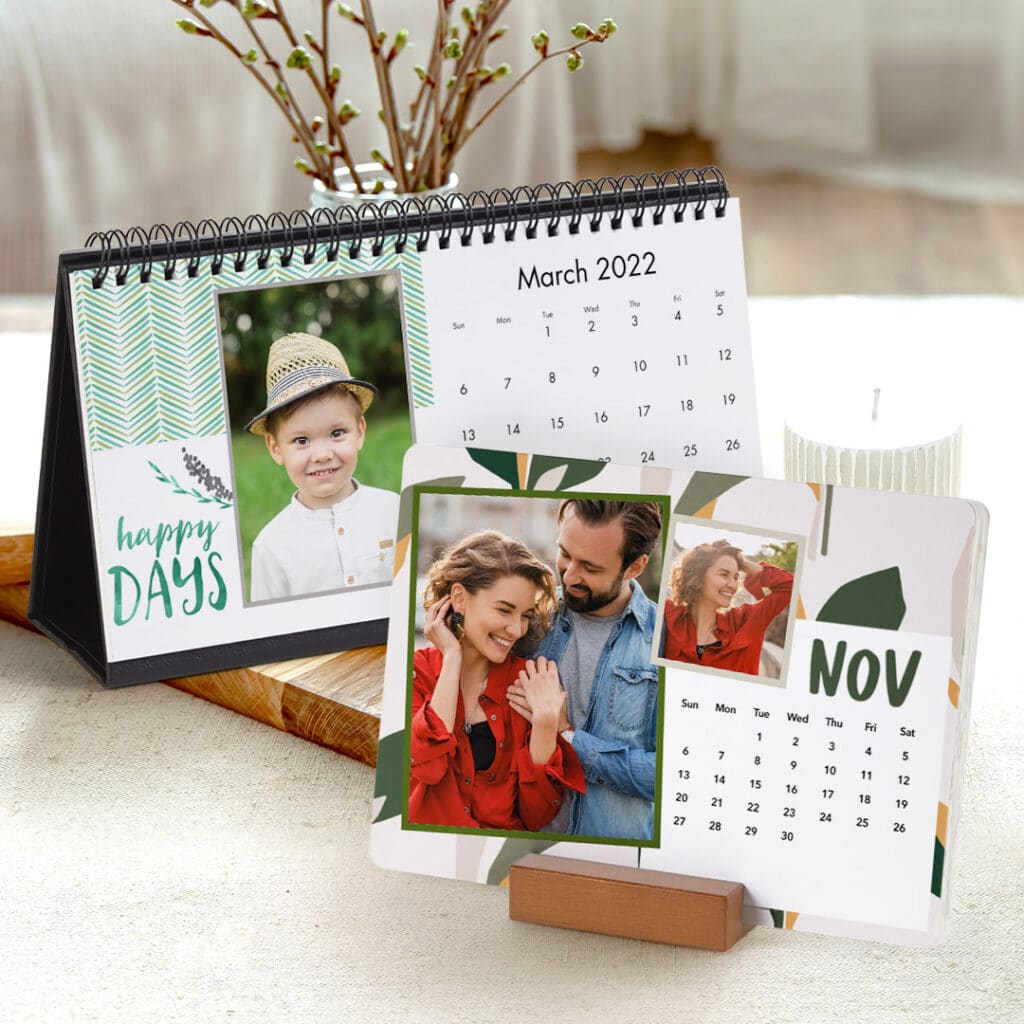 Our desk calendars (with standard or faux leather stands) and wood block easel calendars are suited for desks and hallways, where you want to see your favorite memories and just circle key dates to keep track of those special occasions. With Snapfish, it's easy to make the perfect calendar online for your home, for the family, and the office.
Easel or Wood Block Calendars
Easel calendars, also called Wood Block Calendars, double as beautiful home decor for your shelves and coffee tables. With an easel calendar, each month is printed on thick, durable 120lb. recycled matte finish cardstock that you can customize with your personal photos and fun designs, and comes with a beautifully polished, caramel stained beech stand. Just circle those key 2022 dates so you can see everything at a quick glance.
Desk Calendars
Desk calendars are perfect for office or home desks. The Snapfish desk calendar is available with a standard or faux leather stand, and sits flat on the table top so you can easily see the calendar while you're working and flip the month over when it's time for a new month. Desk calendars make great at-a-glance calendars since you can simply highlight those key dates and flip through all those fond memories throughout the year.
Why create a custom calendar with Snapfish?
Our wall calendars come pre-loaded with the List Of 2022 National Holidays
If you're looking to create a calendar with specific holidays, there may be other key dates you might want to add into your custom calendar. The main national holidays for 2022 are listed below.
| | |
| --- | --- |
| Martin Luther King Day | 17th Jan 2022 |
| Memorial Day | 30th May 2022 |
| Independence Day | 4th Jul 2022 |
| Labor Day | 5th Sep 2022 |
| Veteran's Day | 11th Nov 2022 |
| Thanksgiving | 24th Nov 2022 |
| Christmas Day | 25th Dec 2022 |
As well as listing the national holidays, your custom 2022 calendar might also show solstice and equinox dates as well as when the clocks change. Knowing these dates will make it easier to use your creative calendar for planning, gardening, and even help you remember when to change the kitchen clock!
| | |
| --- | --- |
| Daylight Saving Time Starts (Clocks go forward) | 13th Mar, 2022 |
| Spring Equinox | 20th Ma, 2022 |
| Summer Solstice | 21st Jun, 2022 |
| Fall Equinox | 23rd Sep, 2022 |
| Daylight Saving Time Ends (Clocks go back) | 6th Nov, 2022 |
| Winter Solstice | 21st Dec, 2022 |
Top selling designs for your personalised 2022 calendar
We have a wide range of calendar designs to suit your style and below are a few of our favorites.
Instagram Friendly Photo Calendar Layouts
The "Multi-photo Square" wall calendar design is perfect for printing all your favorite Instagram pictures.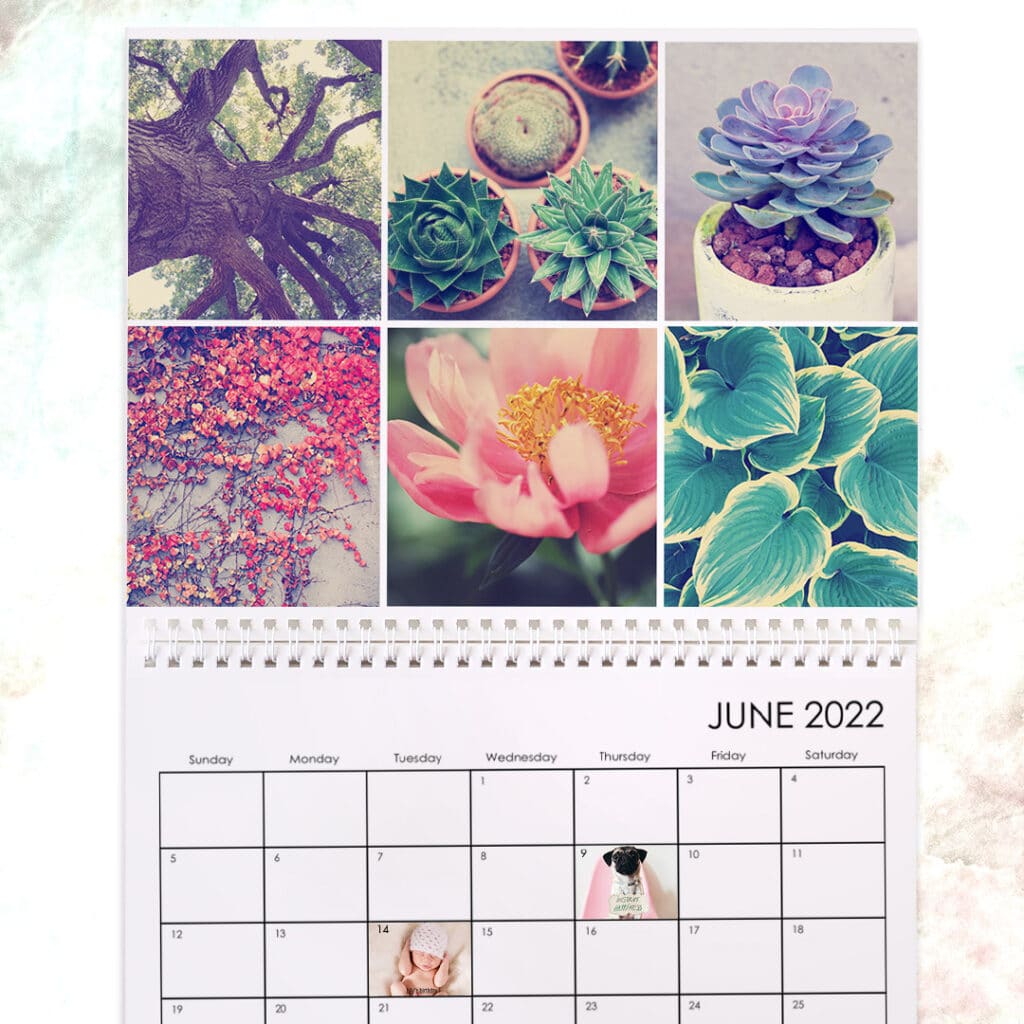 Make Multi Photo Square Wall Calendar
Classy Chalkboard Calendar Backgrounds
The "Chalkboard Seasons" calendar design is perfect for when you want to achieve that minimalistic monochrome look in your home.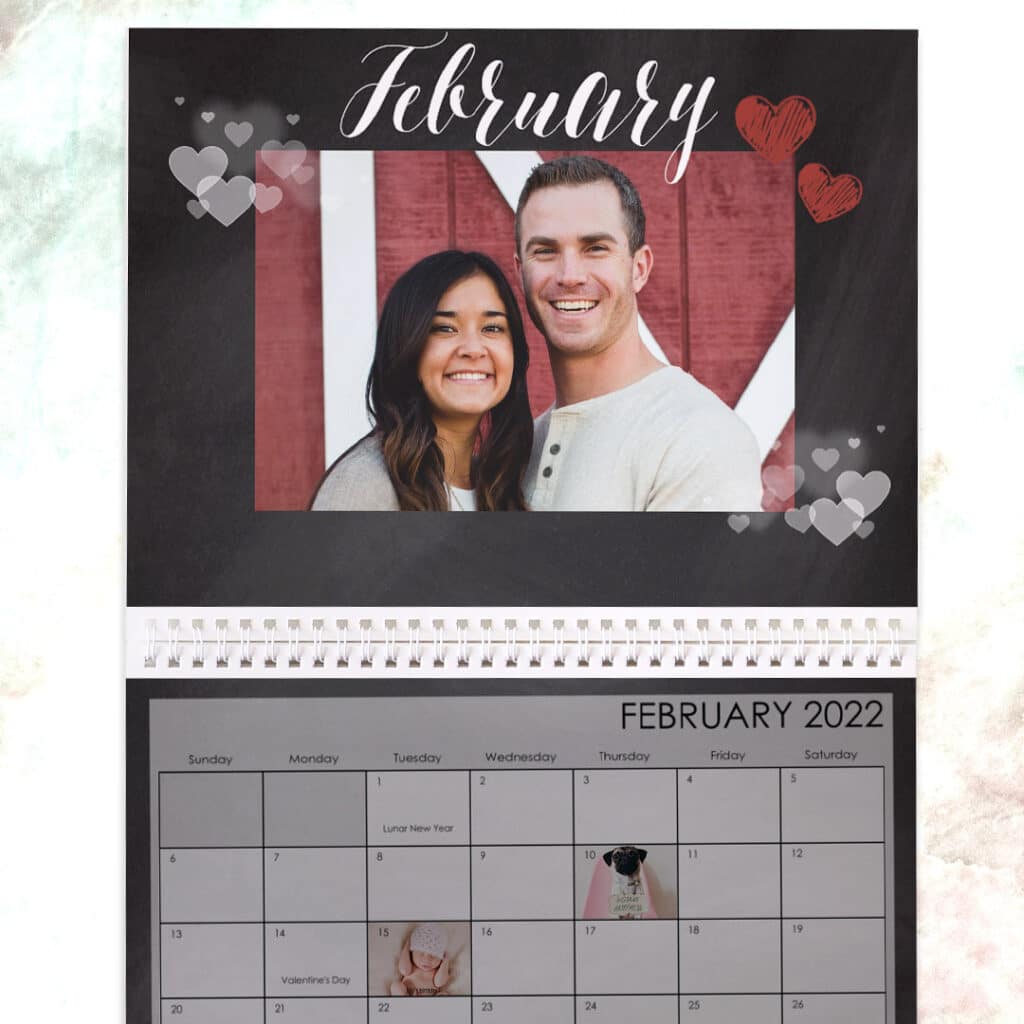 Design Chalkboard Seasons Calendar
Watercolor Sketchbook Calendar Layout
Add embellishments for a handcrafted effect, with design options from top to bottom. Personalize special dates with photos and text.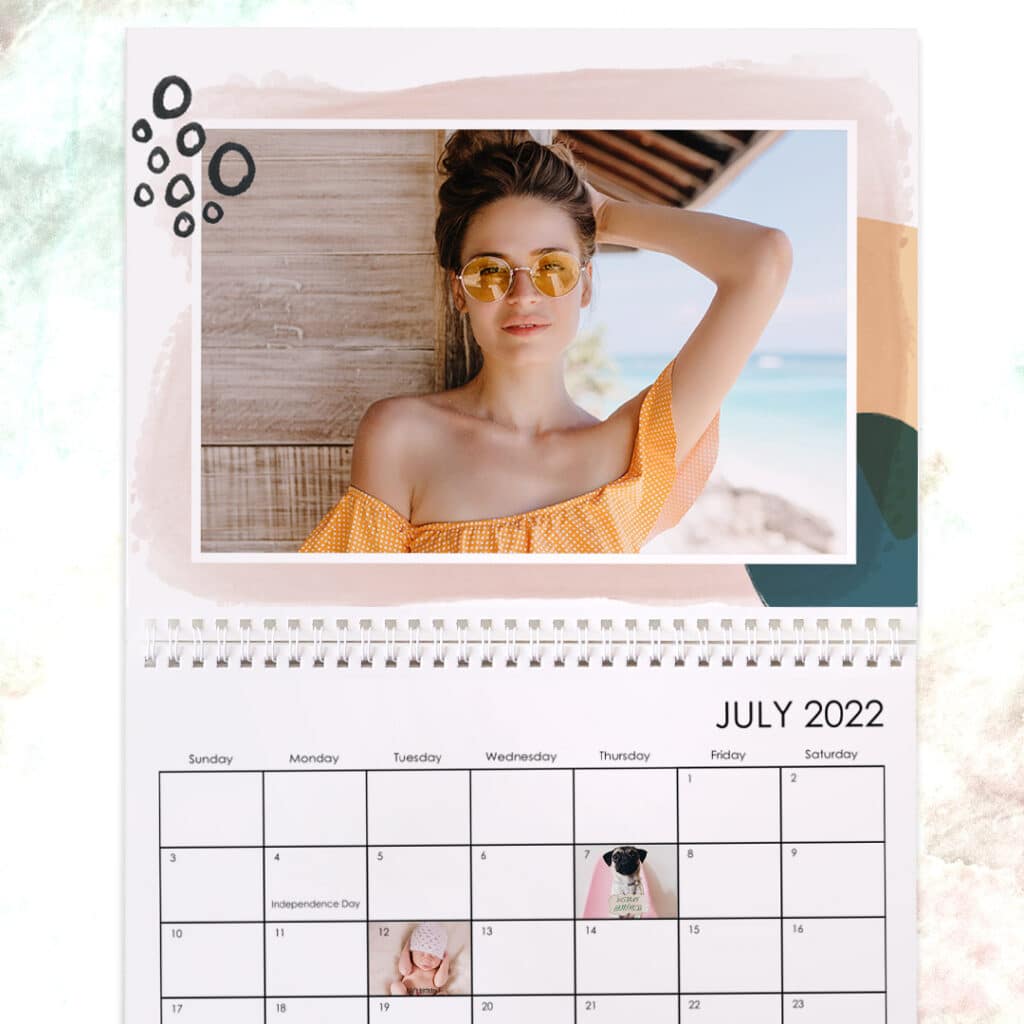 Make Watercolor Sketchbook Calendar
Floral Calendar
This pretty botanical themed calendar design is lovely and will easily match feminine or bohemian home decor.
Make Illustrated Seasons Calendar
Colouring Book Calendar – perfect for kids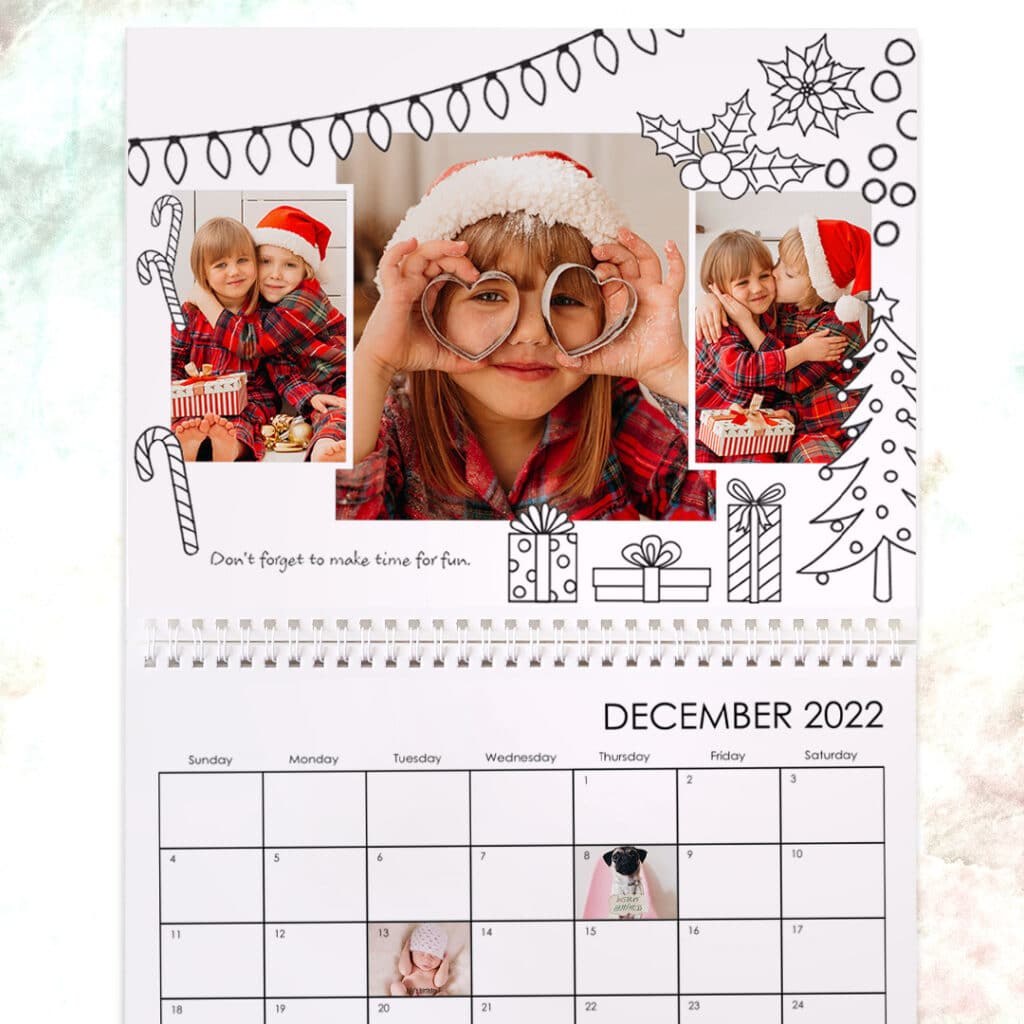 The Coloring Book photo calendar design allows you to get creative with all types of artistic media – crayons, colored pencils, markers, glitter, glue, feathers…your kids can go crazy.
Make Coloring Book Calendar
Design Your Own Calendar Design
Upload photos, select and customize the photo layout to suit. You can select different layouts, backgrounds or designs for each month. Make your own calendar design.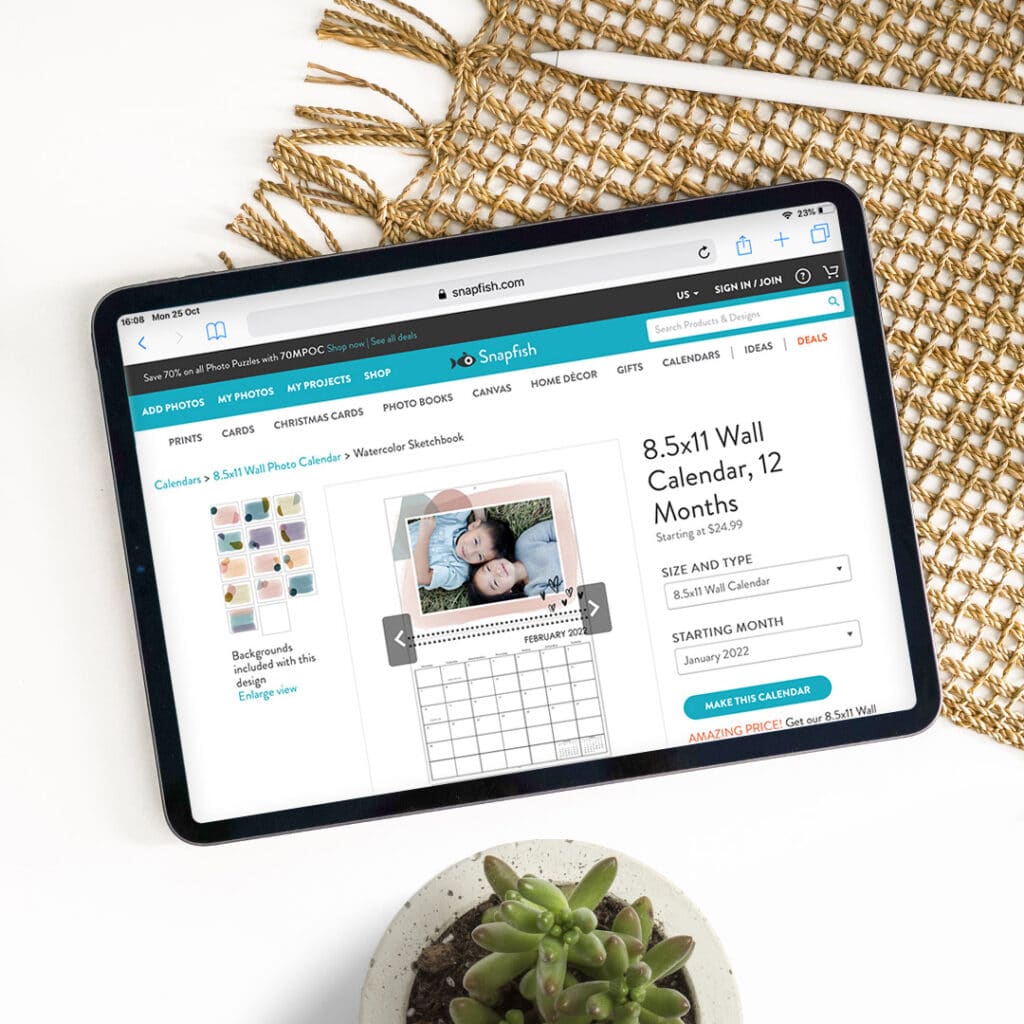 Design your own custom calendar
How Do You Customize A Snapfish Calendar With Your Key Dates?
The Snapfish online calendar maker is easy to use. Firstly, select the calendar size and template you want, upload photos and then create a calendar. Our wall calendars have the main national holidays built into the calendar templates, but you can also add personal calendar dates when you create a Wall Calendar.
Tips For Choosing A 2022 Calendar
A creative wall calendar is a great family calendar since you can hang it up anywhere in the home and it has lots of space for writing key calendar details.
Alternatively, choose the functional desk calendar or stylish wood block calendar for people who can't hang calendars on their wall, or like to have a table-top calendar close to where they work or relax.
Once you select your calendar type and theme, you can customize further using the online calendar design tools to swap layouts, backgrounds, text, and embellishments to suit your needs.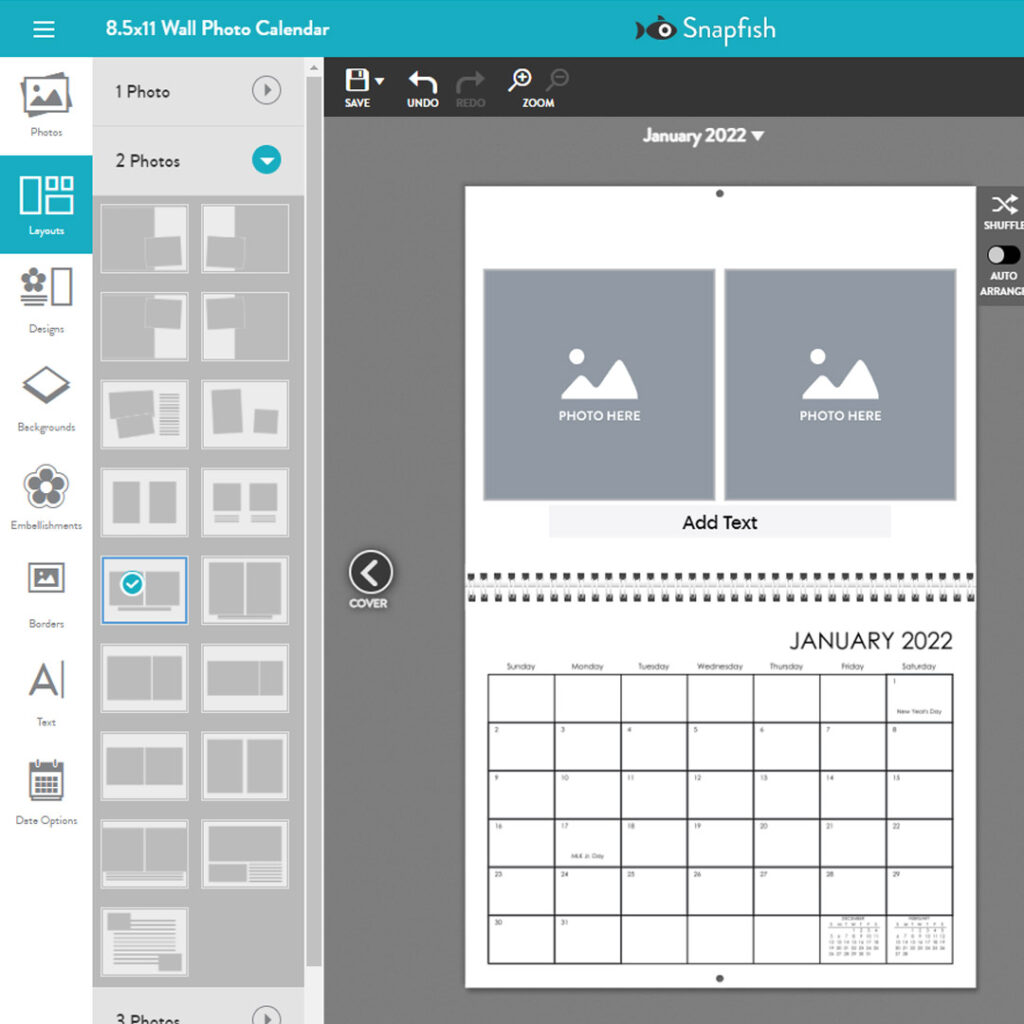 The best part of creating a 2022 calendar online is being able to ensure your photos are exactly where you want them on the page. Depending on the type of calendar you choose, you can use multiple photos on each page or a single photo to set the theme for the month. You don't have to choose a standard year calendar if you don't need one – you can choose to create an academic calendar (perfect for teachers or students) or start at a specific month if needed.
Use the following tips below to create the best 2022 calendar for you and your family & friends this year.
Make each month special by selecting seasonal photos and backgrounds
Remember to take advantage of the free photo dates on Wall Calendars to highlight those important dates
Include all your favorite pictures so you can relive your best memories from last year, each month.
Whatever calendar type you create, have fun making it unique with pre-designed photo layouts and backgrounds that you can customize. Your calendar can showcase pictures of the family, pets, travel spots, kids, and many more memories and they also make the best holiday gifts for your family year after year!
Feeling inspired to create your own calendar? Please share your creations with us on social media! Just tag us with @snapfishus on Instagram or Facebook with photos or use the hashtag #snapfish. You can also follow us on YouTube, Twitter and Pinterest, too!
Feeling inspired to create your own calendar? Please share your creations with us on social media! Just tag us with @snapfishus on Instagram or Facebook with photos or use the hashtag #snapfish. You can also follow us on YouTube, Twitter and Pinterest, too!