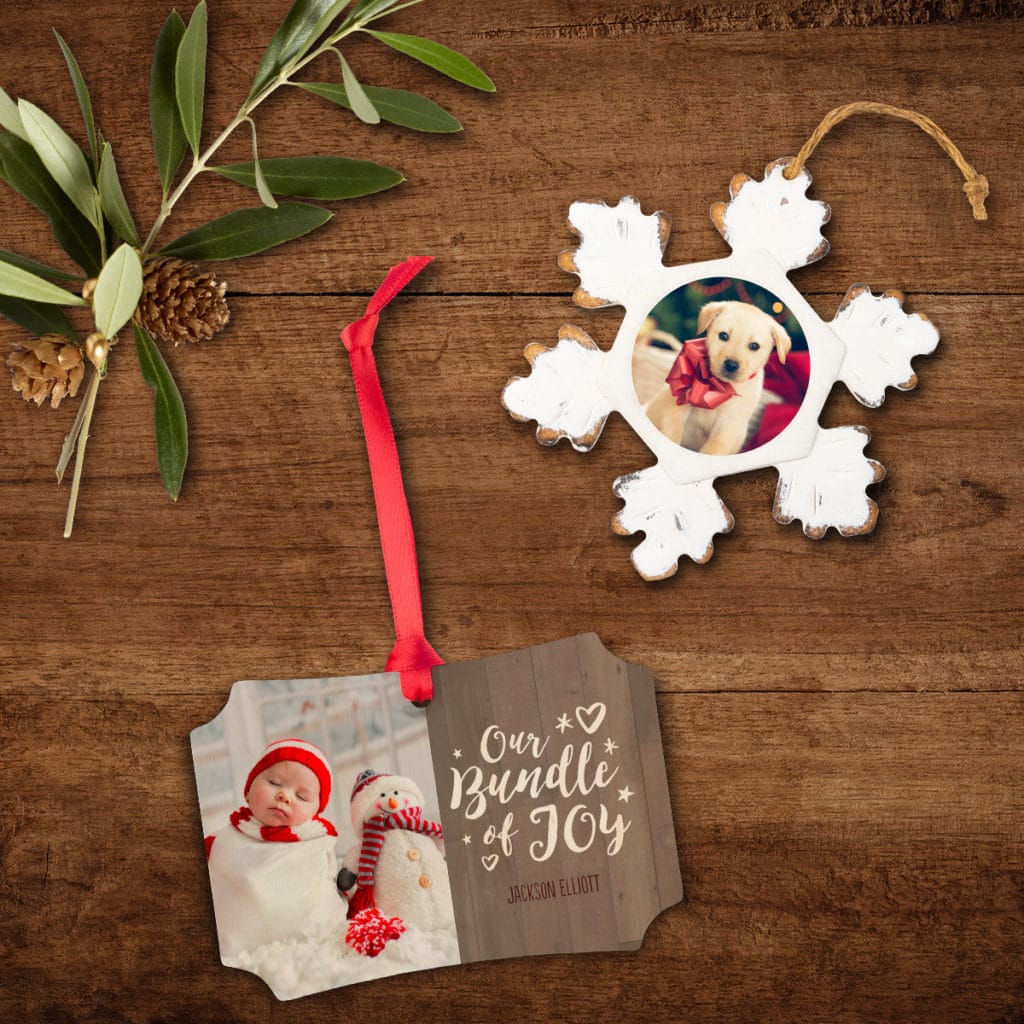 It's beginning to look a lot like Christmas! And, there's nothing that gets us in the holiday spirit faster than decorating a tree. Plus, with each new Christmas season comes the chance to add a brand-new personalized ornament to the tree.
Let Snapfish help you pick out which holiday ornament to create this year! Whether your tastes are more traditional or modern, we've got plenty of styles and designs to match any mood. Read on to see the many ways you can adorn your tree with merry memories. 
Decorate like a pro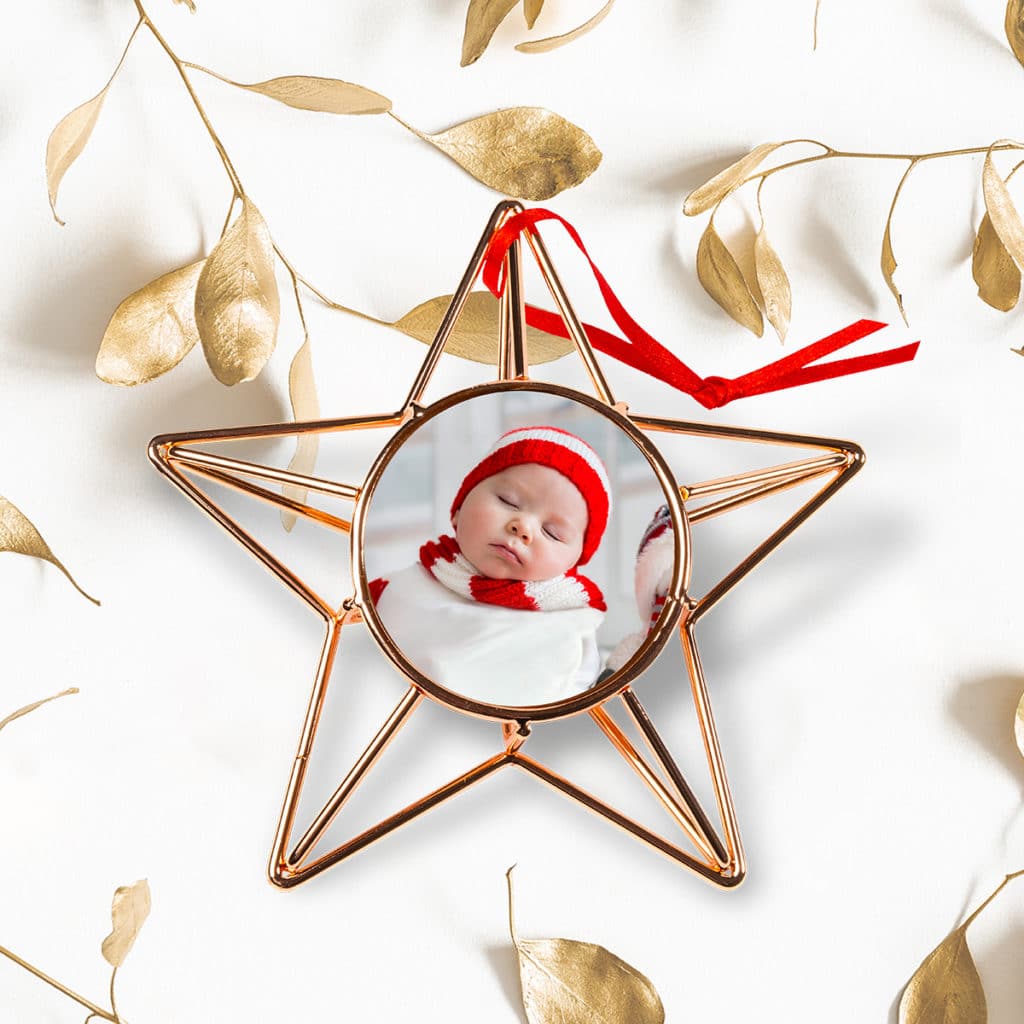 First off, you'll want to decide a theme for your decorations. If you're going for a more natural look, you'll love our rustic ornaments!  The rustic mitten is made with painted wood + metal, the rustic snowflake is made with painted wood, and both include a twine hanger. Our maple photo ornaments are also perfect for adding a touch of country charm to your tree. You can choose from three styles: maple round, maple scalloped, or maple square photo ornaments. 
Are you in love with mixed metals? Blend together shiny silvers, glittery golds, and bright coppers. Our copper wire star ornament or our shiny chrome ornaments will add the perfect sheen. For those who dig a more vintage vibe, you may prefer our snowflake Christmas ornament, sled ornament, or porcelain finial Christmas ornament. Want to create a more whimsical tree this year? Personalize our colorful joy Christmas ornament or shake things up with our snow scene Christmas ornament. 
New designs for 2021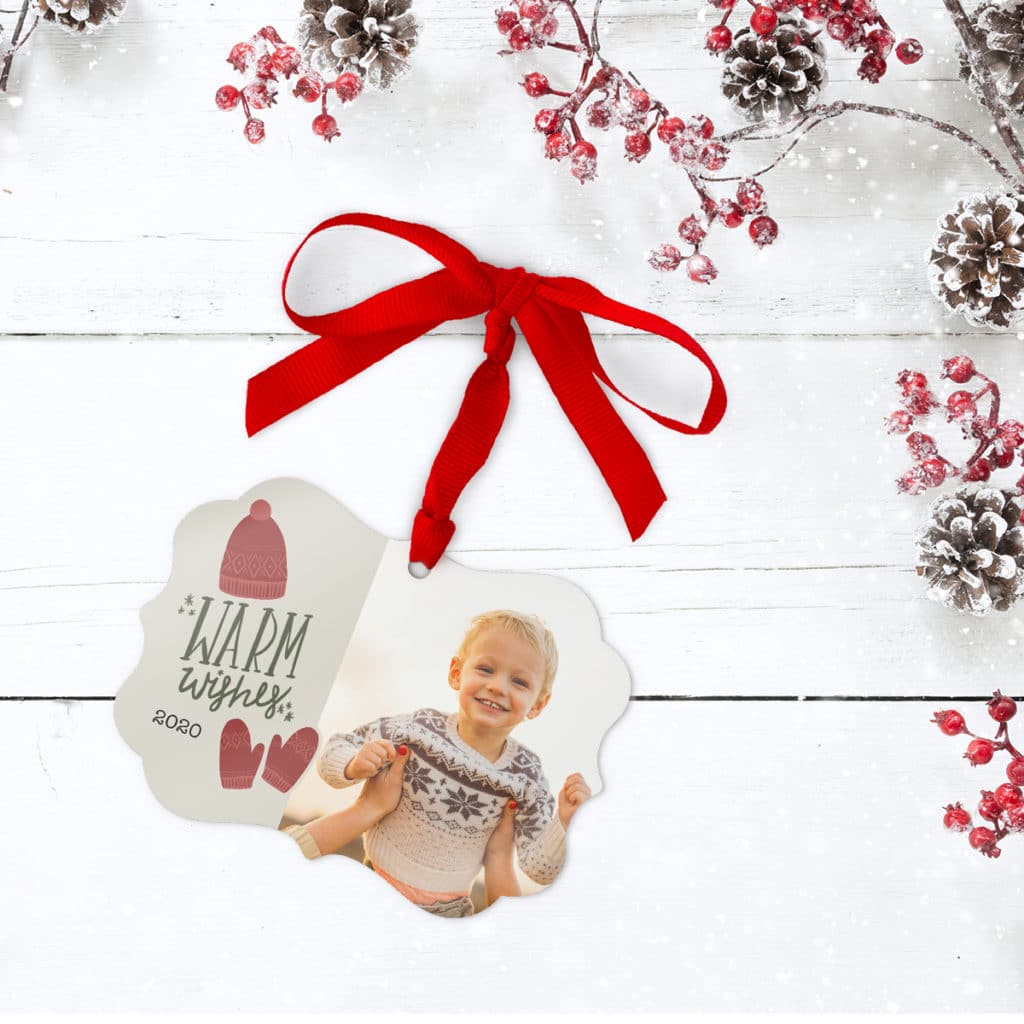 Our in-house team of designers has been hard at work creating cheerful new designs for the year. With over 25 new styles, you're sure to find something magical for every tree personality! For a more playful look, check out our Ugly and Bright Christmas sweater design that you can personalize with your name or face. Want something a bit more botanical? You'll adore our Christmas Wreath, Golden Branches, Joy, Merry, Chalkboard Evergreen, and Leafy Frame designs. Festive phrases are always fun to have on ornaments, too! You'll find these sweet sentiments on our Warm Wishes, Merry Wishes, Blessed, Be Merry, Merry Script, and Oh What Fun designs. 
No photo? No problem! We have a lovely Holiday Monogram you can personalize with your last name and initial. And after the past year we've had, we also threw in a couple of humorous designs — Santa Mask and We Survived 2020. 
To find any of our new designs, just browse our maple ornaments, glass ornaments, and aluminum ornaments. 
Deck the halls with our 2021 tree ornaments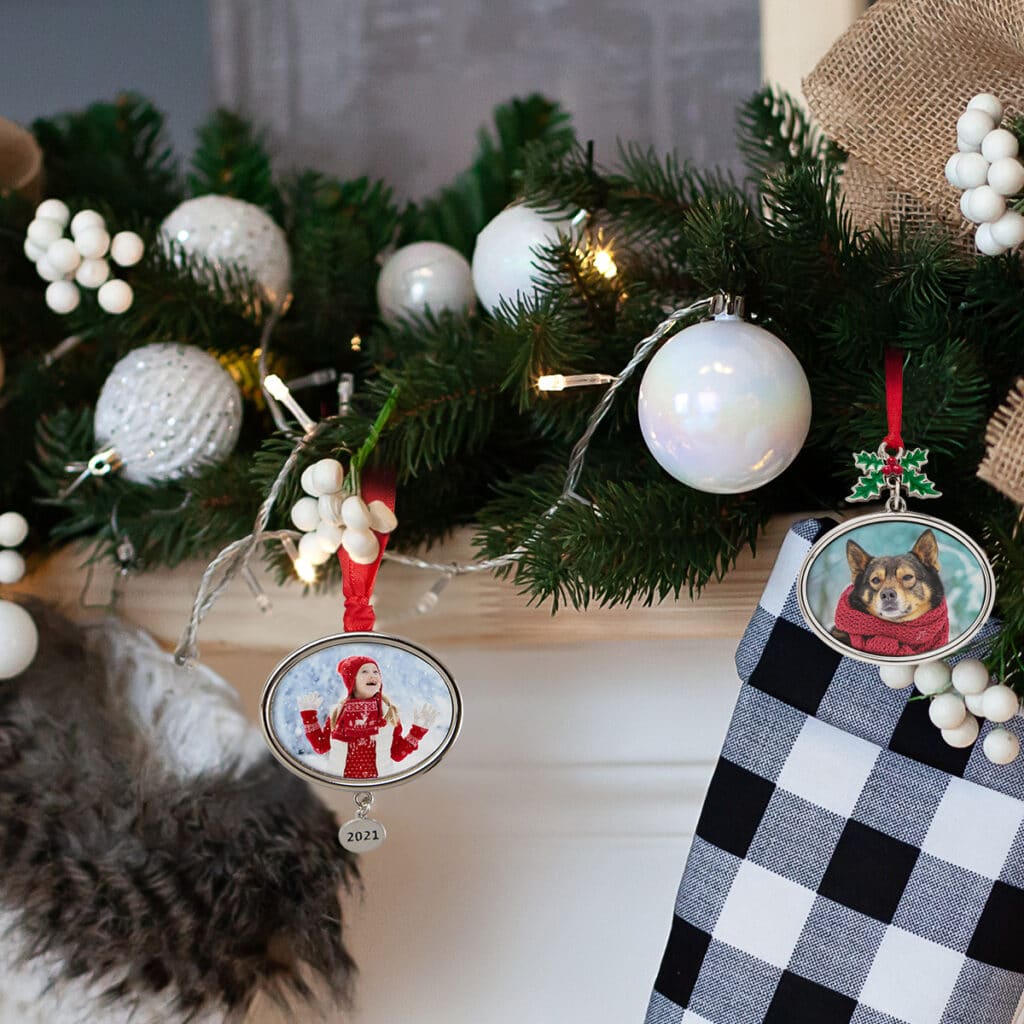 Remember, Christmas ornaments aren't just for trees! Add a festive finishing touch to any room with custom ornaments. If you're hanging garland along your mantel, staircase, or entryway, attach a few ornaments for a pop of color. We love the new shiny silver tone 2021 Christmas Ornament and Metal Holly Ornaments for adding a touch of elegance and sparkle to your home.
For Christmas stockings, you can fasten photo ornaments for a little extra pizazz. Hosting a fancy dinner party or winter wedding? Create customized ornaments to use as place cards or dress up place settings. Your guests will appreciate the personalized party favor, too! Photo ornaments are also perfect for using as special gift tags. 
Host a holly jolly tree decorating party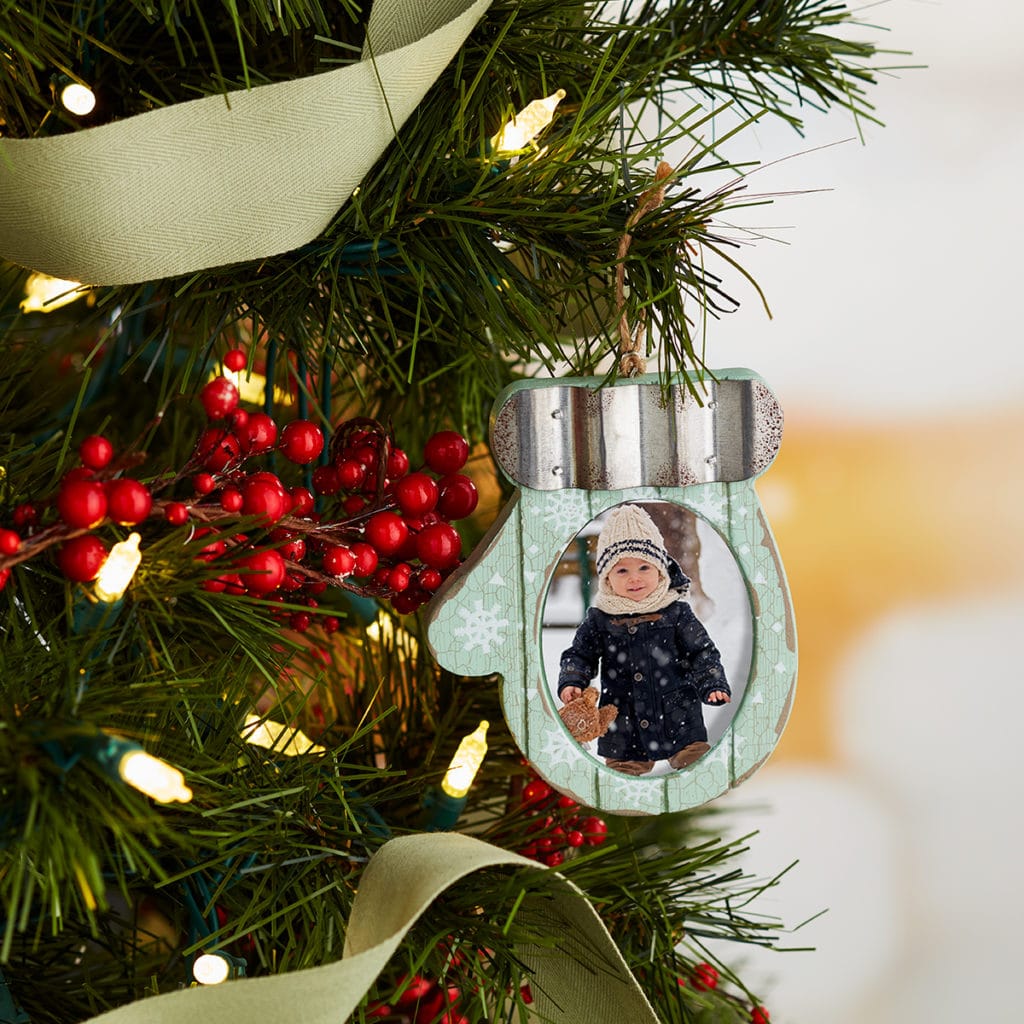 If you're looking to have close family and friends over this season, why not host a tree trimming party? It's a great way to spend some quality time with loved ones and a fun way to get your tree decorated! 
First things first, you'll need to send out invitations. We have close to 100 different holiday party invitations you can customize with your event details, and several of these designs you can personalize with photos. 
Once the guests RSVP, you'll need to make sure you have plenty of refreshments to keep your guests fueled for the evening. Since everyone will be busy trimming the tree, charcuterie boards and finger foods are a perfect way to keep them going. To make it fun + festive, serve snacks up on a seasonal cutting board. Don't forget the beverages! Winter warmers like spiced cider, mulled wine, and hot chocolate are always a welcome drink. Just make sure you have plenty of mugs on hand. One of our favorite mugs is the magic mug, which reveals a hidden photo once warm liquid is poured inside. 
Afraid you'll run out of places for your guests to sit? You can always expand your seating options with blankets + pillows. Try creating some festive throw pillows and cozy Christmas blankets to set the mood.
If you're looking to turn the party up a notch, make it an ornament exchange party! Just use the same rules that apply to any white elephant gift exchange. Set a budget, and guests will bring a wrapped ornament to contribute to the gift pool. Players will then draw numbers to see who goes first. The first player gets to pick any ornament from the pile to unwrap. The following players can then take turns opening a new gift from the pile or stealing an unwrapped one from someone else. 
What's a party without a fun little souvenir you can take home? Set up a DIY photo ornament station so the kids (or young at heart) can have fun making their own Rudolph photo ornaments! Plus, it's a great way you can share those photos you've been meaning to print all year. Definitely take advantage of your 100 free prints credit in the Snapfish app! 
Materials Needed
Photo prints with smiling faces
Brown construction paper or cardstock
Pipe cleaners (brown, gold, or red)
Mini red pom poms
Thin ribbon or twine
Tape
Pencil or pen
Scissors
Hot glue gun (optional)
Hole punch (optional)
Directions
Cut out 4" diameter circles using brown construction paper or cardstock.
Place your circle template on top of your photo and trace around it. 
Cut out your photo, trim to fit, and glue to your circle. 
Next, create curly antlers by wrapping pipe cleaners around a pen or pencil. Adhere them to the back of your photo with hot glue. 
Cut out small ears using your leftover construction paper or cardstock and glue or tape next to the antlers. 
Add a dot of glue to your photo subject's nose and attach a mini red pom pom.
Last but not least, adhere ribbon or twine loop to the back of the ornament with tape or glue. You could also use a hole punch and thread the string through and tie in a knot. Once dry you can hang on the tree!
Ready, set, create!
Feeling inspired to create your very own custom Christmas ornaments? Just visit our Christmas Tree Ornaments + Keepsakes page and select your favorite style to start. Once you're in the project builder, you'll be able to see the different layouts and designs available for your selected ornament. To create ornaments on the go, be sure to visit the Snapfish app, too! While our specialized designs may not be available in the app, you can still create personalized photo ornaments with different layout options.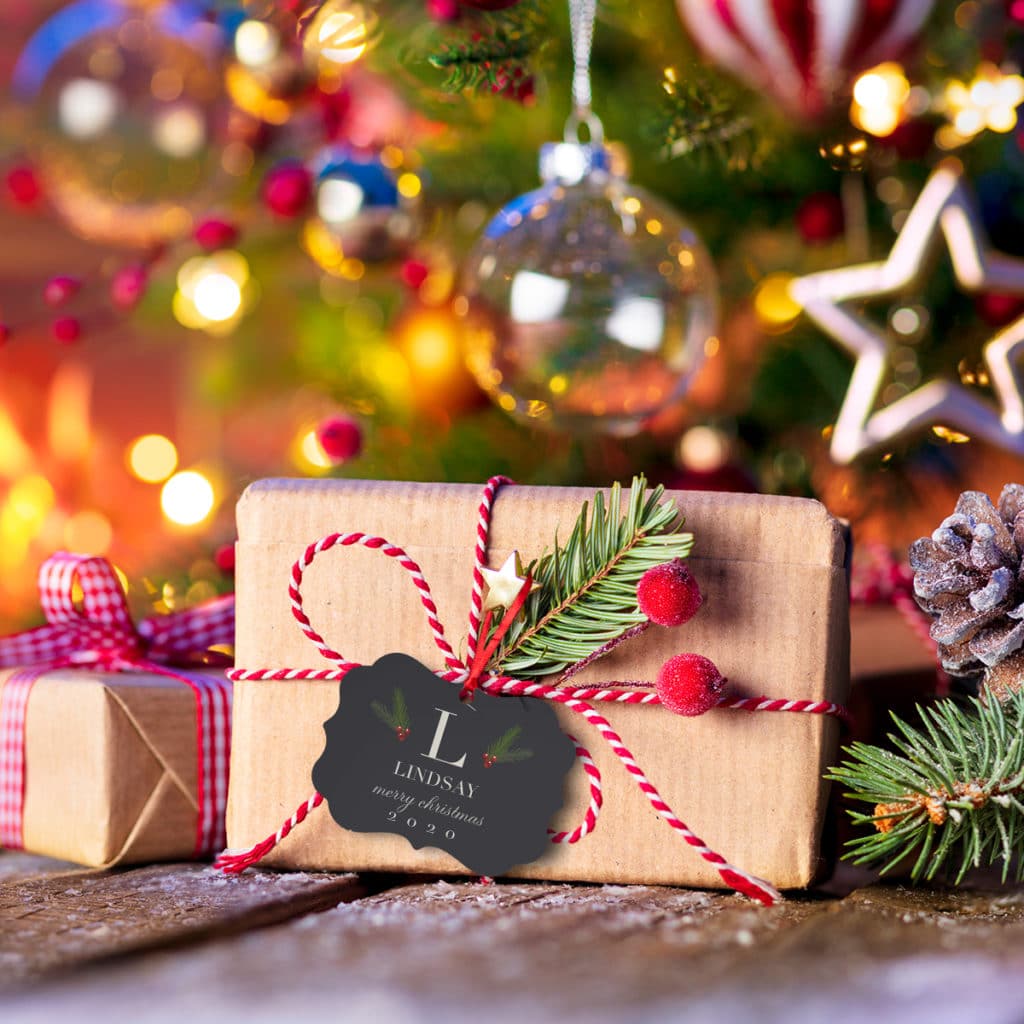 We'd love to see how you end up adding a bit of holiday cheer to your home this year! Make sure you tag us on Instagram or Facebook with your photos or use the hashtag #snapfish. You can also follow us on YouTube, Twitter and Pinterest, too!