Few things are more exciting than sweet surprises on your wedding day. Blogger Lydi Out Loud was lucky enough to experience one firsthand, thanks to her clever father! Read on to hear about her family fun, and see the gorgeous photo book she created to remember it all.
Excerpt from Lydi Out Loud:
My dad loves surprises and he had been holding on to a mega one for our reception. Ryan and I both went to Ohio State and are huge Buckeye fans. My dad had arranged for the Ohio State Alumni Marching Band to come and perform at our reception. It was an incredible surprise and got everyone on their feet to clap along to the Buckeye Battle Cry and sing along to the alma mater. It was one of the best parts of the day.
This year I made an album of our wedding which perfectly captures those moments and other highlights of that unforgettable day. I was able to use one of Snapfish's templates to design the exact album I envisioned, complete with beautiful backgrounds, embellishments, and even text. I wanted to give my dad a personalized gift that is just as special as he is.
Thanks for sharing, Lydi! Check out a sneak peek of her book below, and read the full blog post.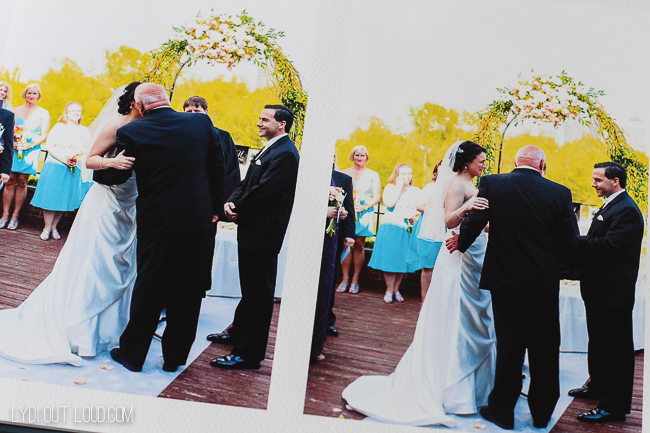 Create your own special photo book
Photos courtesy of Lydi Out Loud.
We love seeing what you come up with! Please tag us @SnapfishUS and #snapfish on Facebook, Instagram & Pinterest. Check out the Snapfish site for even more custom gift ideas.