A custom photo puzzle is a great way to share quality time with your family at any time of the year. Whether you're brand new to puzzling or a puzzle aficionado, we have tips to help you choose the ideal photos for creating personalized puzzles!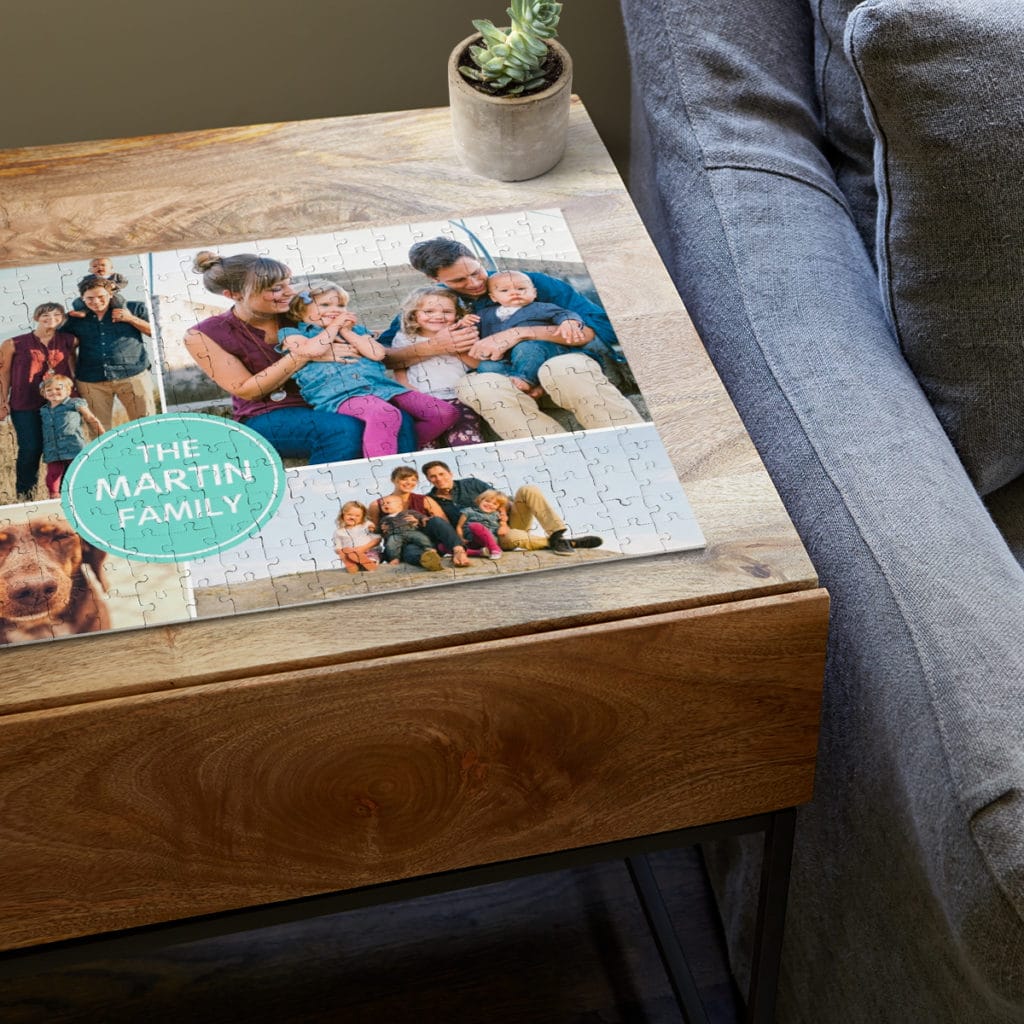 Photo Resolution 
Choosing high-resolution images is an important aspect of creating custom puzzles.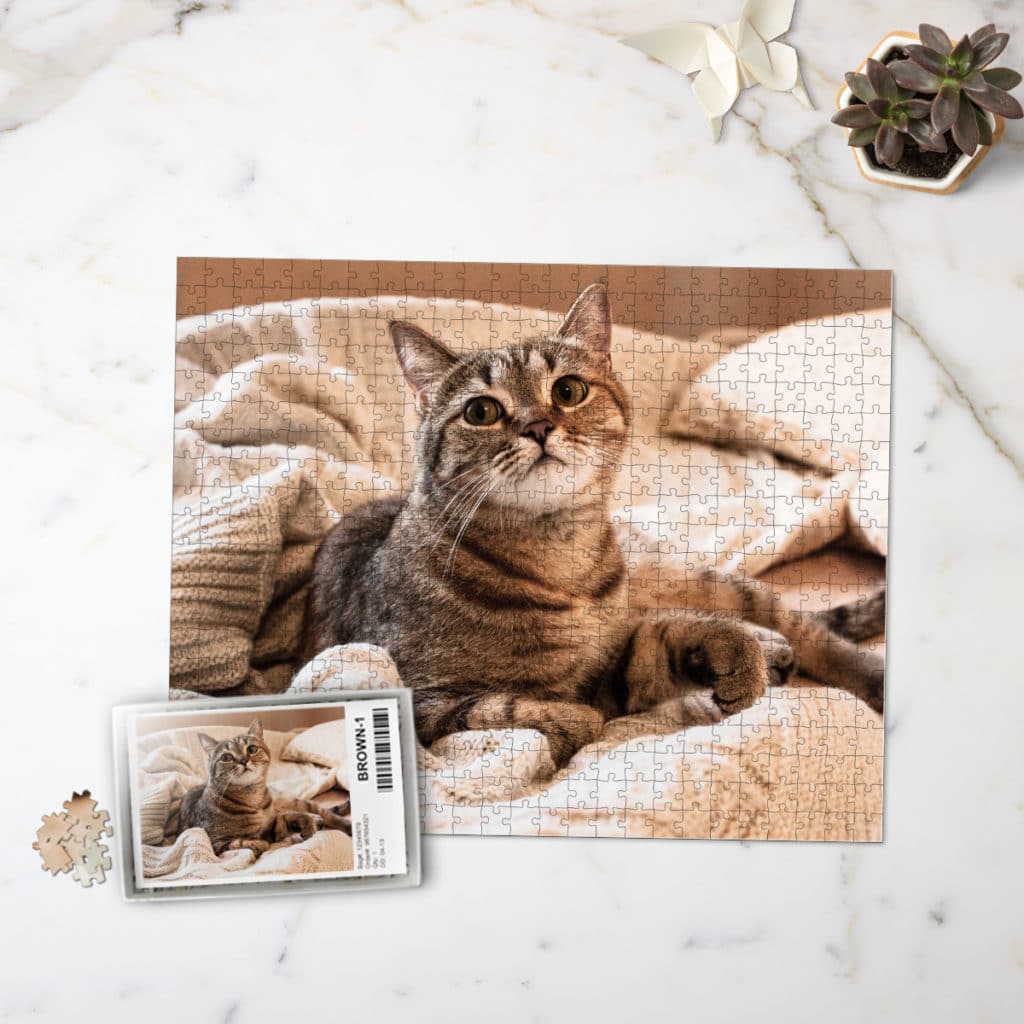 Using high-resolution pictures means that your photos will be sharp and clear when printed on the puzzle — perfect for putting together the jigsaw pieces. If you're worried about photo resolution size, don't fret! Our builder tool will alert you if it's too small. For more info on photo resolution for our custom gifts, read this help article. 
Photo Composition
The picture you choose for your puzzle affects the difficulty.  More complex images are more challenging to put together than simple images. We recommend a portrait-style photo for beginner puzzlers, like a family photo. More advanced puzzlers should try something a little more complicated, like a landscape photo from a recent vacation.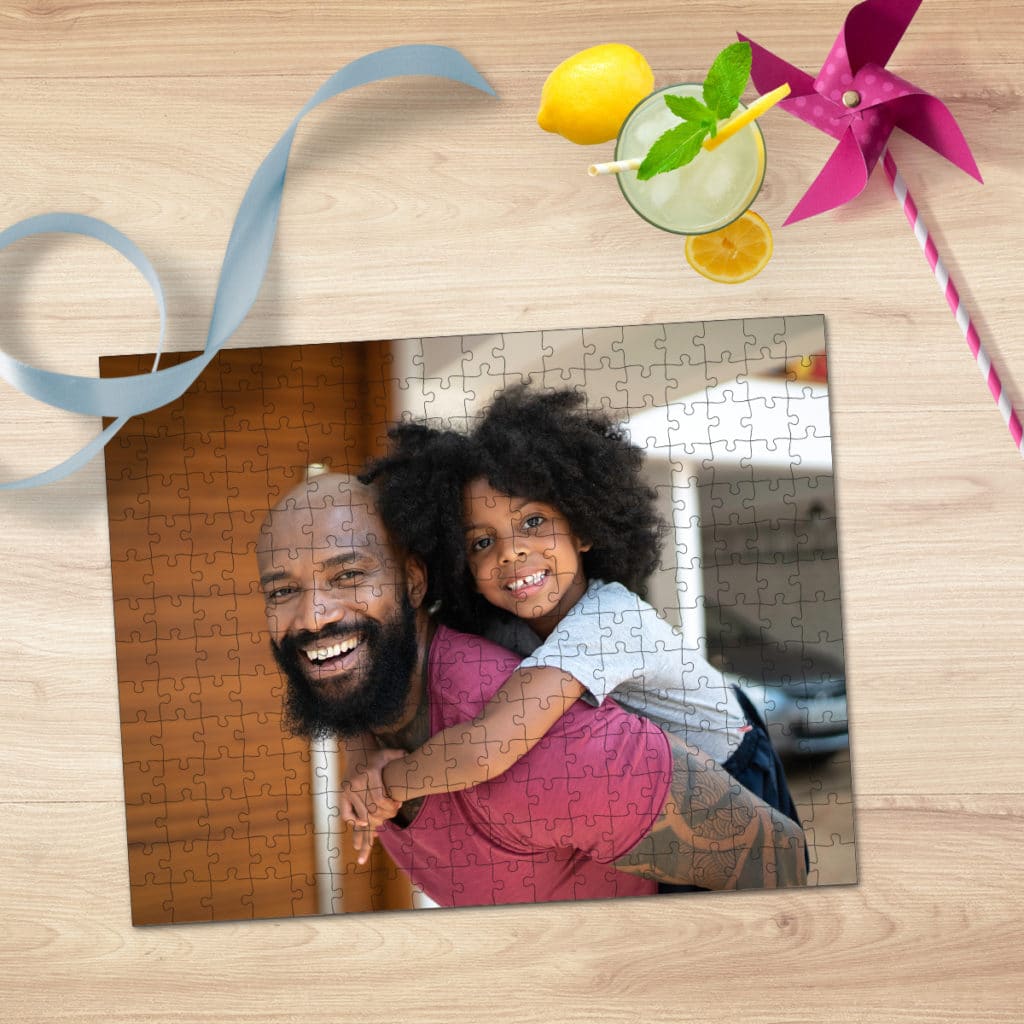 Don't forget to choose images with bright colors and sharp shapes to make sure the puzzle clear and easy to put together. 
We love to pick a theme for our puzzles. Some ideas for a puzzle theme are a family photo collage with pictures from over the years, pet-themed puzzles with puppy pictures and paw print embellishments, or a puzzle commemorating your child's winning soccer team. Puzzling is a great way to share memories with your loved ones while completing a fun brain activity!
Number of Photos
Your puzzle can be a single photo featuring your favorite picture from your engagement shoot, or you can add multiple pictures with our photo collage layouts.   
Adding multiple photos to a collage adds a fun extra challenge to your puzzle! You can personalize your photo puzzle by adding text, embellishments, and background designs to make it one-of-a-kind. Our custom puzzles make great gifts for kid's birthdays, Christmas, Valentine's Day, Mother's Day, Father's Day, anniversaries, and more.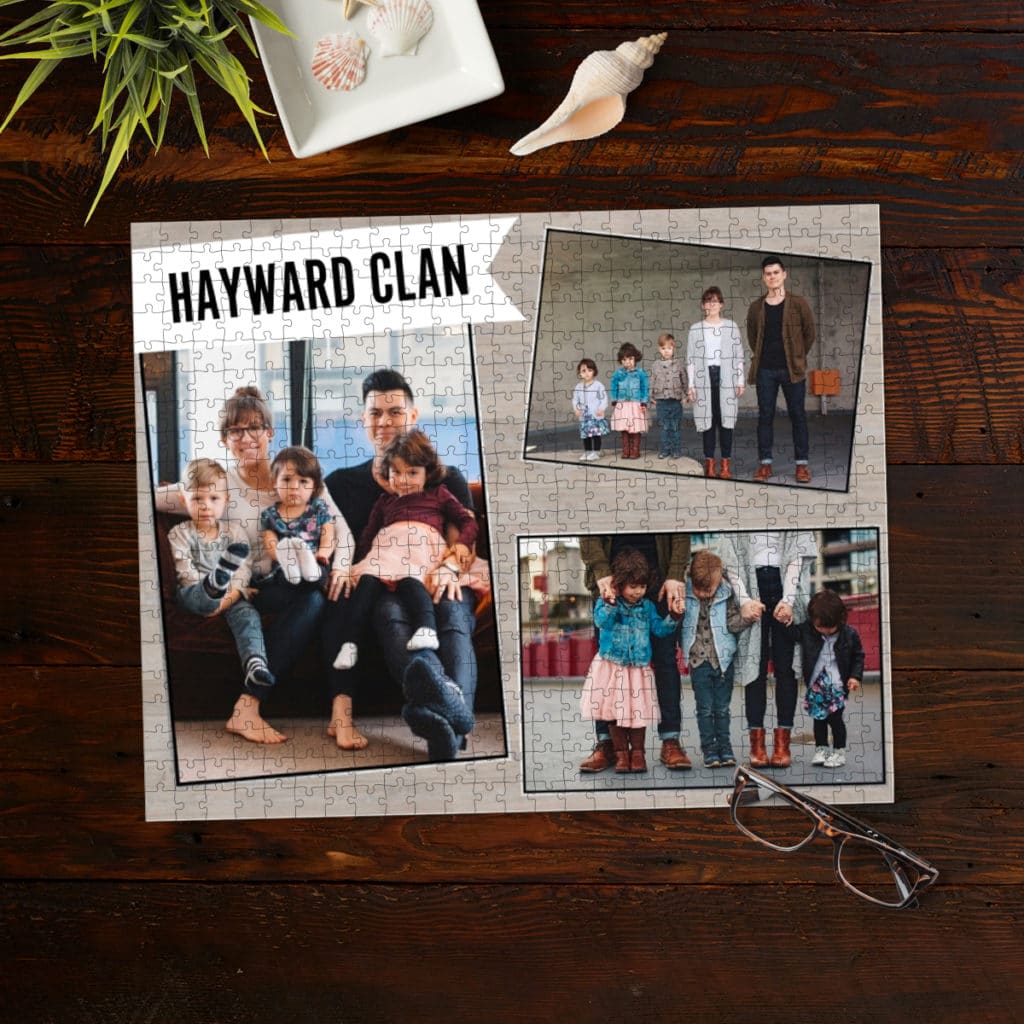 We also offer premade designs, so you can create a custom puzzle extra-easily.  Some of our premade puzzle themes include best friend-themed puzzles and sports-themed puzzles. 
If you're looking to celebrate your family, check out one of our family-themed puzzles such as our monogram puzzle, family name puzzle, and hugs love family puzzle.
Don't have a photo? Not a problem! We offer puzzle designs that don't require images, such as our kids firetruck puzzle, football icon puzzle, and princess flowers puzzle — all of which can be personalized with a name!
We have two puzzle sizes; our 252 piece puzzle is 10×14 inches, and our 500 piece puzzle is 16×20. The more pieces your puzzle has, the more of a challenge it'll be to solve.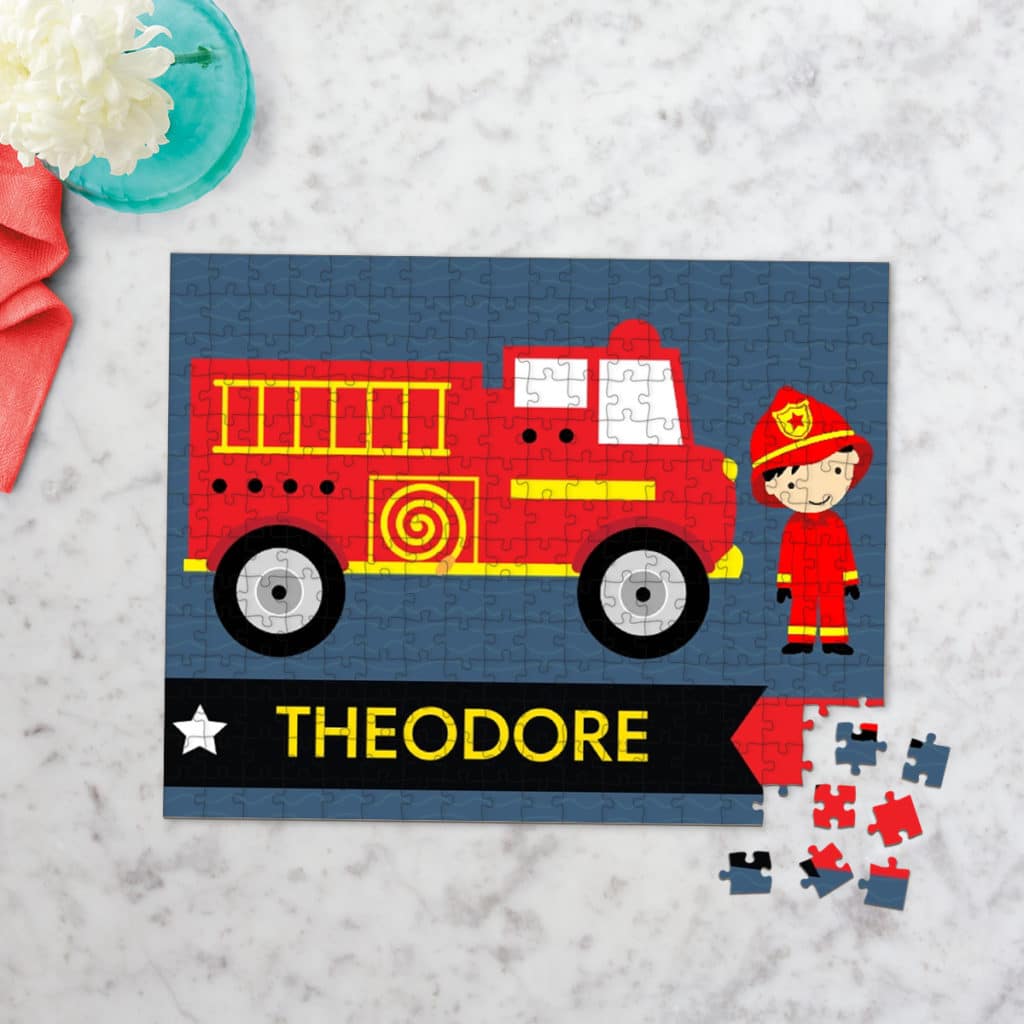 Puzzles are a great family game night activity to complete together, or you can leave your puzzle on the dining room table for family members to solve throughout the day. Fun tip: try adding a wager – the placer of the final piece gets to pick the photo for the next puzzle!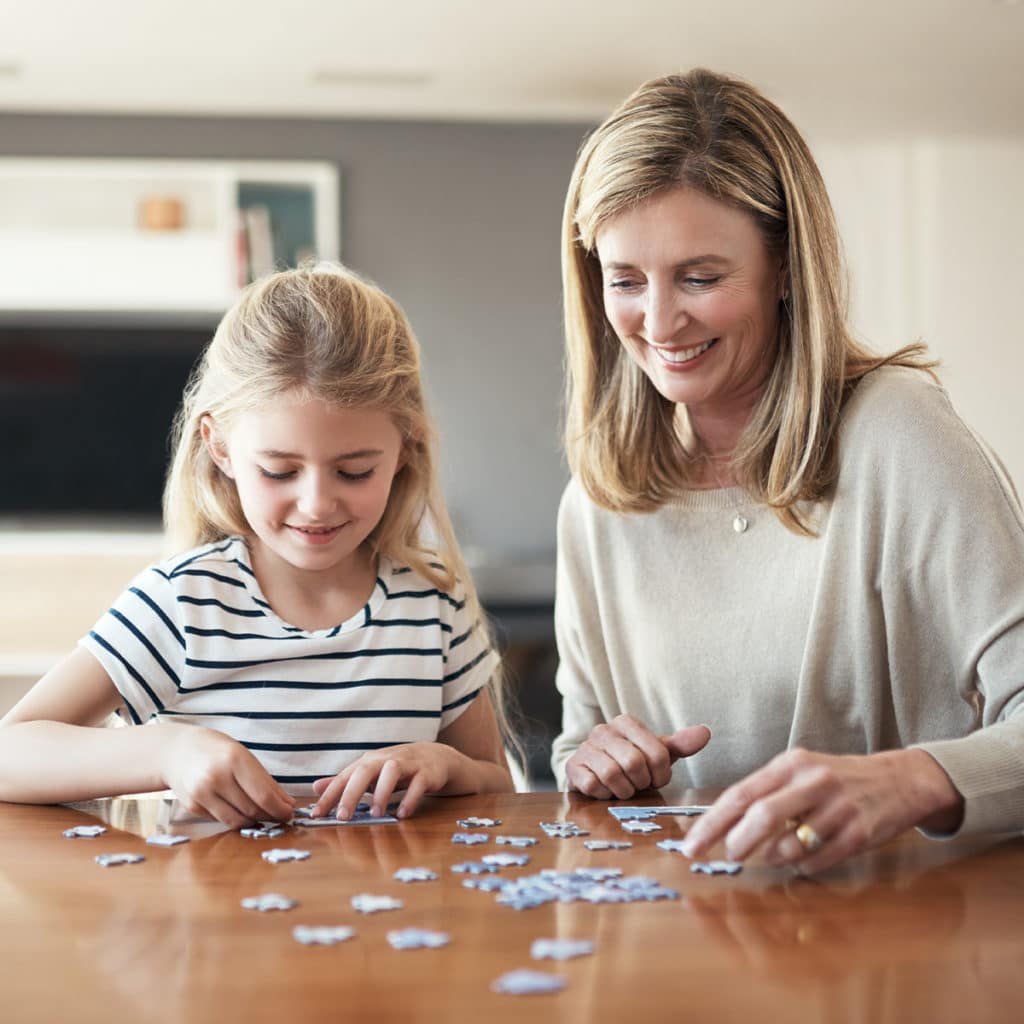 After You Finish
Wondering what to do with your puzzle after you've finished it? First, don't forget to take a picture of your hard work! After that, frame your puzzle and hang it on a wall to spice up your home décor. 
Another thought is to try completing the puzzle again, but this time with a challenge. Some ideas include timing your puzzling, trying to put together the puzzle from upside down, or having a puzzle race with a friend or family member starting on opposite sides of the puzzle!
If you order a custom puzzle, snap a picture of your puzzle (in-progress and when it's finished) and share it with us on social media! You can tag us using @snapfishus in your photos on Instagram or Facebook or use the hashtag #snapfish. Don't forget to follow us on YouTube, Twitter and Pinterest, too.