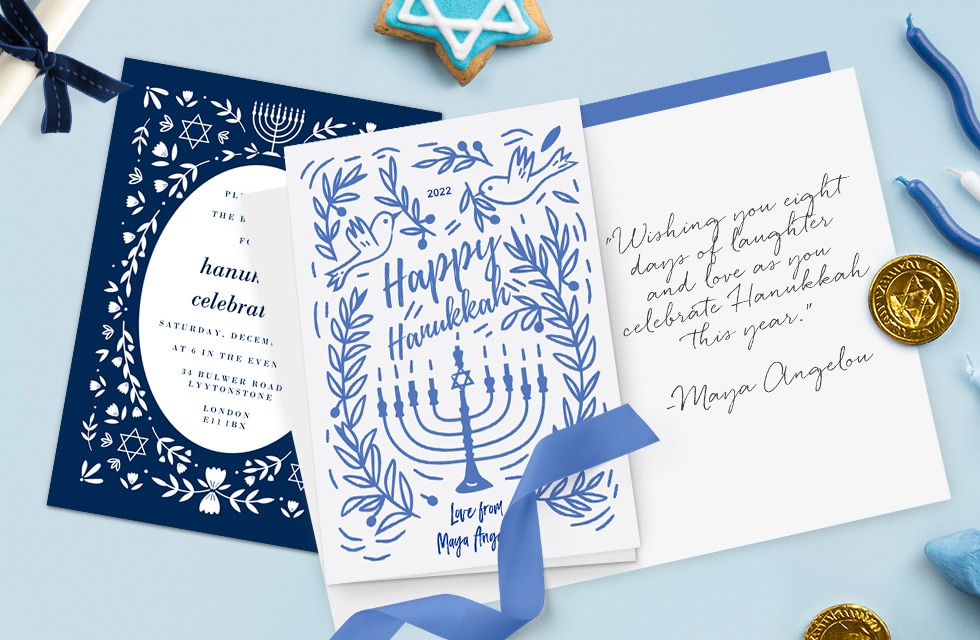 Hanukkah is a time for friends and family to get together and celebrate. What better way to show your loved ones how much you care than by sending them a handwritten card? But what should you write in a Hanukkah card?
Don't worry, we're here to help! In this blog post, we'll give you some ideas on what to write in a Hanukkah card. Whether you're looking for something funny, sentimental, or just plain ol' nice, we've got you covered.
Typical Hanukkah Traditions
1. Lighting the Menorah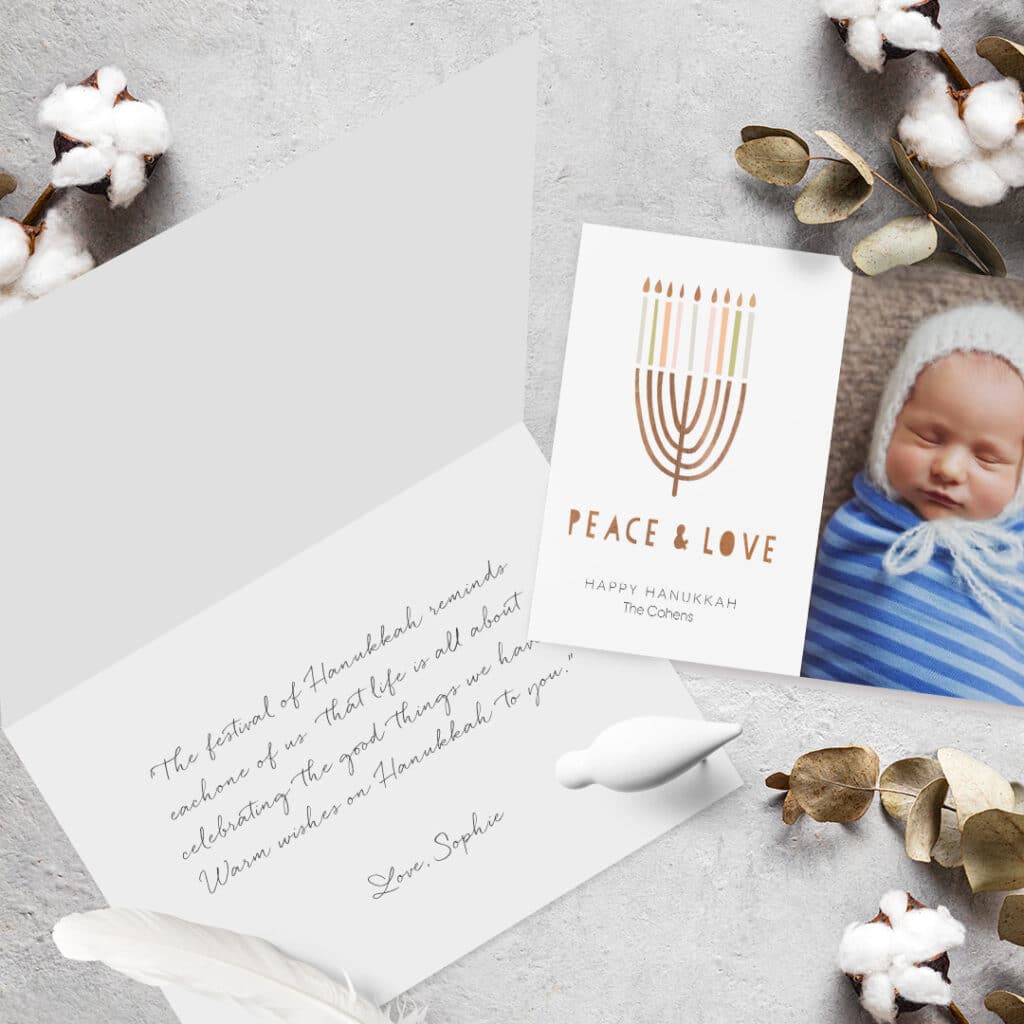 The most important of all the Hanukkah traditions is the lighting of the menorah, a nine-branched candelabra that represents the lamp and the miracle from the Hanukkah story told in the Talmud. For the eight nights of Hanukkah, families come together and light a new candle of the menorah while saying a blessing.
2. Playing Dreidel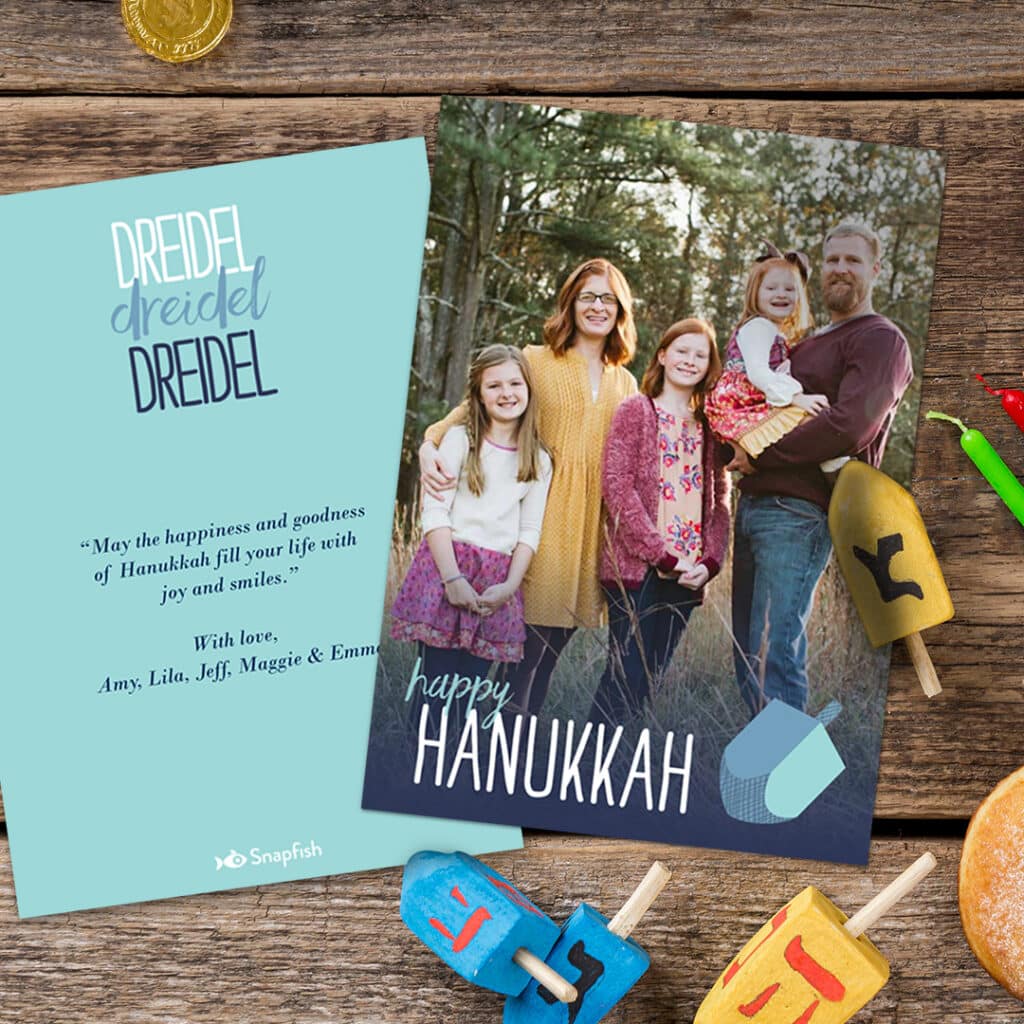 A dreidel is a tiny spinning top, inscribed with Hebrew letters on its four sides, and it's used to play the Hanukkah game of the same name. Dreidel starts with each player contributing into a central pot. The pot can then be won depending on how the dreidel falls on any given turn; the four Hebrew letters indicate whether a player must take nothing, take everything, take half or put one in.
3. Fried Food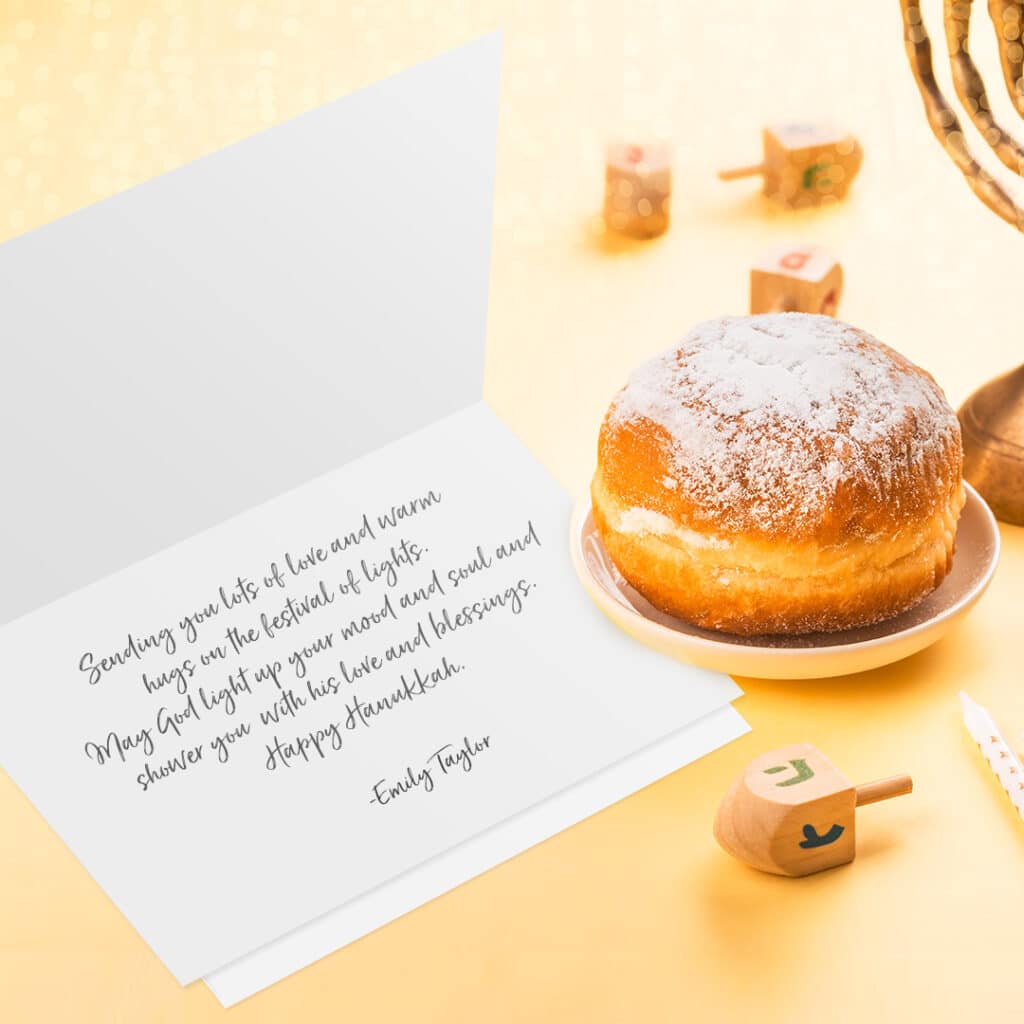 Foods fried in oil—like potato latkes and jelly donuts—are a main feature of the festivities and a nod to the Hanukkah miracle being celebrated.
4. Hanukkah Gelt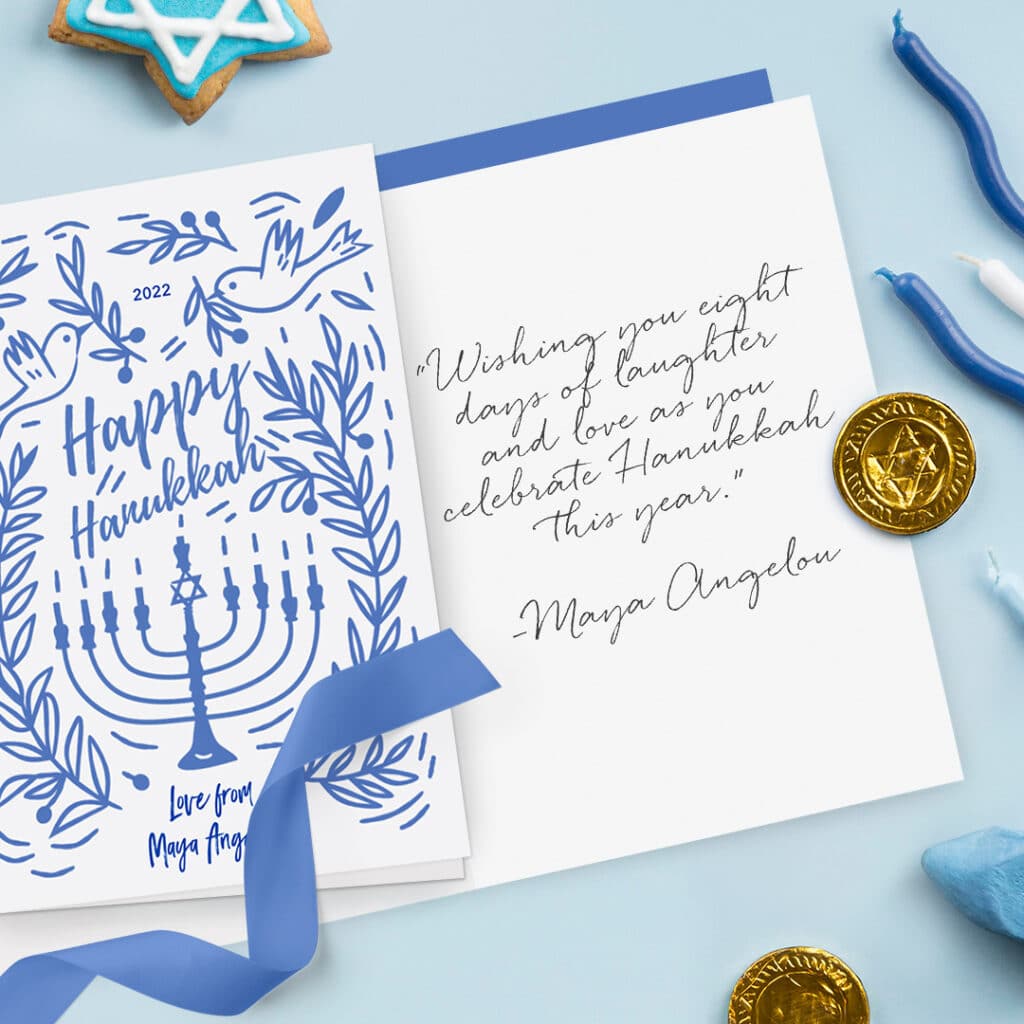 Gelt, the yiddish word for 'money,' refers to the foil-wrapped chocolate coins that are usually exchanged over Hanukkah. These coins are typically given as presents and then used to play dreidel for winnings.
5. Giving Gifts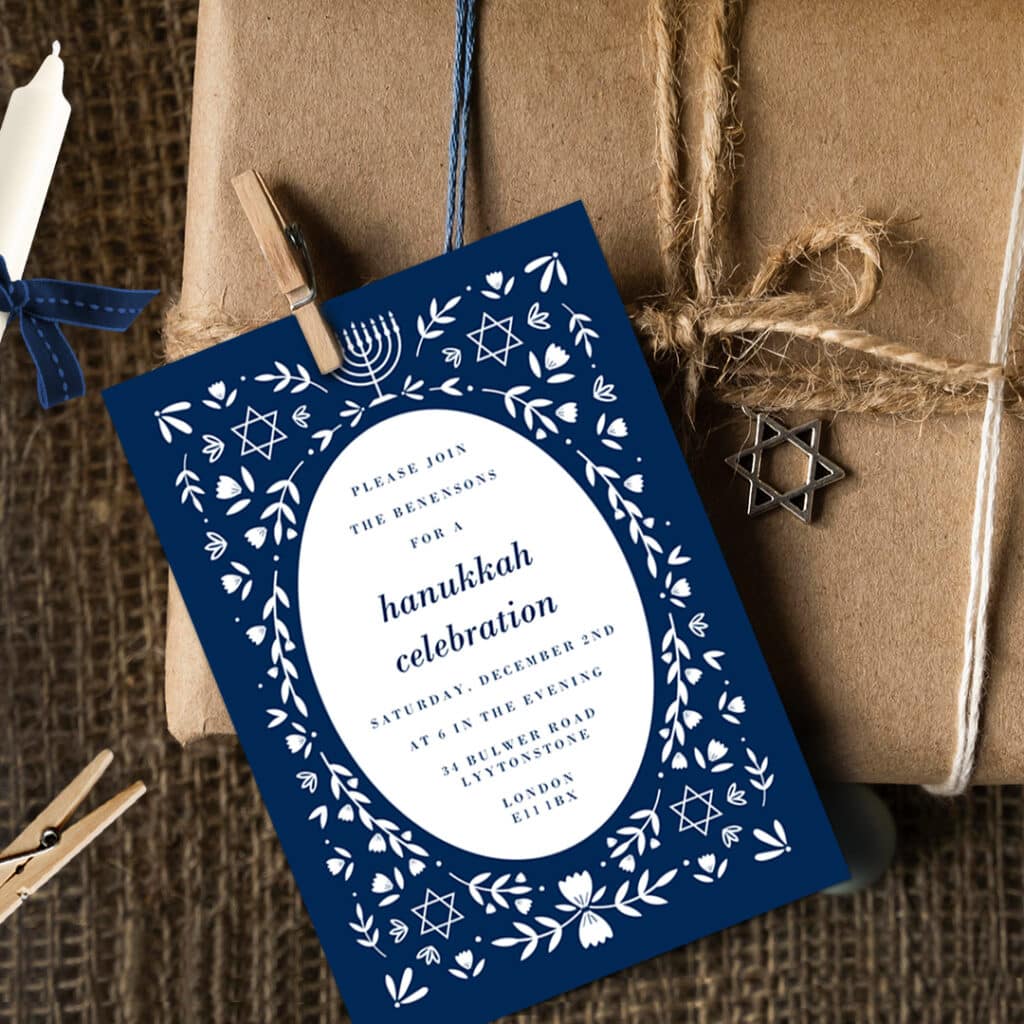 Historically, gelt was the only gift given at Hanukkah—either in the form of real coins, or the chocolate ones described above. Some families have chosen to include nightly gift exchanges in their Hanukkah celebrations, while others give cash to stay more in keeping with the original holiday tradition.
6. Music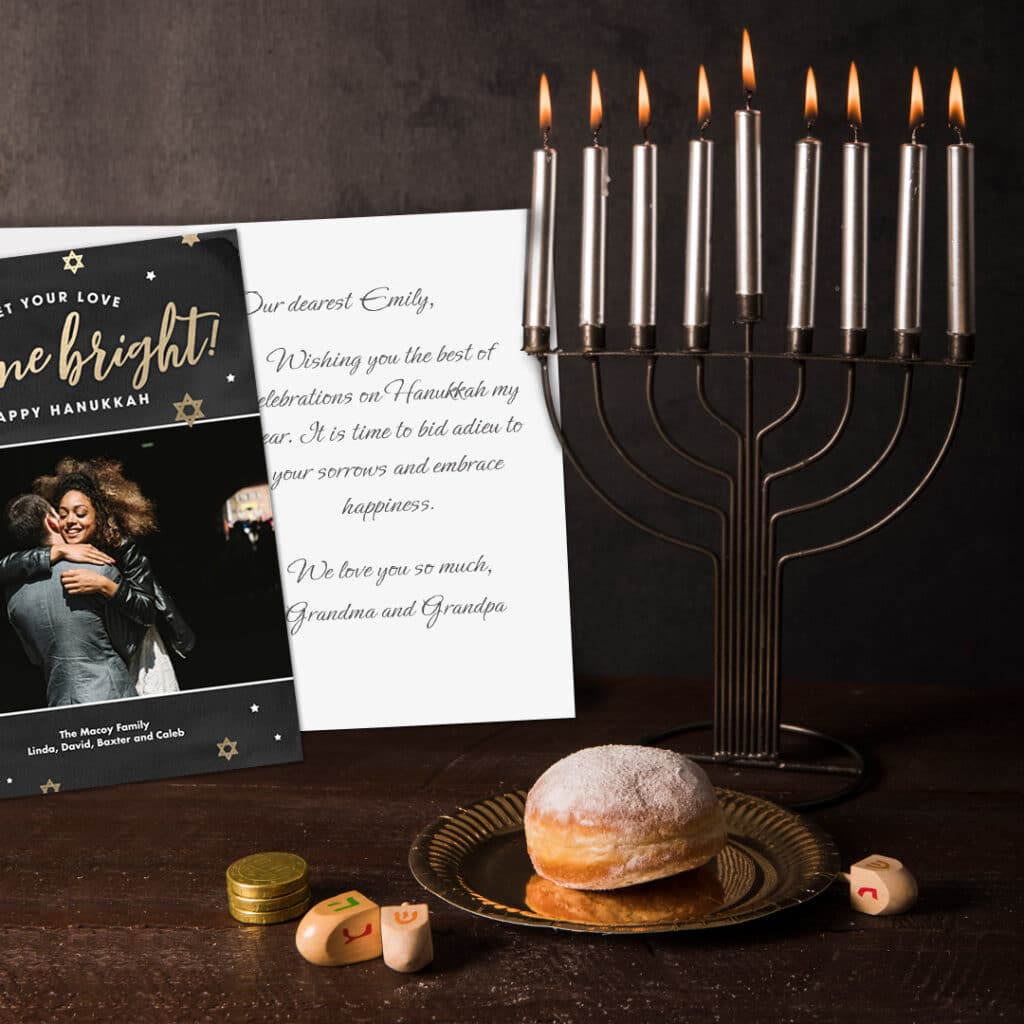 Aside from Ma'oz Tzur, a song typically sung after the nightly lighting of the candles, the celebration also includes a playlist of Hanukkah hits, including more traditional Hebrew folk songs such as "S'vivon sov sov sov".
Examples of what to write in your Hanukkah card
Times we spent together are special memories.
Family means even more during holidays like Hanukkah.
You bring joy and light to the world.
Happy Hanukkah and thank you for everything you do.
From the first day till the last, I'll be thinking of you.
I'm so grateful you're in my world.
Wish we could share this Hanukkah together.
Your love shines through all you do.
Having a friend like you means so much.
Wishing you eight days of laughter and love as you celebrate Hanukkah this year.
Just reminding you you're special to me at Hanukkah and always.
Your thoughtful, warm-hearted spirit makes you unique.
The kindness you show all year is appreciated.
Enclosing "latkes" love with this!
"With sparkling candles, renewed faith, we celebrate our old tradition….. Sending my best wishes on occasion of Hanukkah."
"Wishing you the best of celebrations on Hanukkah my dear. It is time to bid adieu to your sorrows and embrace happiness."
"May the high spirits and positive colors of Hanukkah surround you and leave you with a happy heart. Warm wishes on Hanukkah to you."
"Let us make the most of the Hanukkah celebrations by letting go all those things which demotivate us and embracing those which inspire us. Happy Hanukkah."
"May the eight days of Hanukkah celebrations be full of happiness, smiles and goodness for all of us. Warm greetings on Hanukkah to you."
"May this Hanukkah be the brightest and the happiest for you and bring you eternal joys and smiles to you. Happy Hanukkah my dear."
"The festival of Hanukkah reminds each one of us that life is all about celebrating the good things we have. Warm wishes on Hanukkah to you.
"As we celebrate the festival of Hanukkah, I wish that you have the most beautiful times with your loves ones for these eight days and more. Happy Hanukkah."
"Warm greetings on Hanukkah to everyone. Let us celebrate this beautiful occasion with the most loved people around us."
"May the happiness and goodness of Hanukkah fill your life with joy and smiles."
"Sending you lots of love and warm hugs on the festival of lights. May God light up your mood and soul and shower you with his love and blessings. Happy Hanukkah."
"Warm wishes on Hanukkah to you my dear. May your life be full of laughter and smiles. May you forget all your worries and enjoy this happy occasion with your loved ones."
See our full range of beautiful Hanukkah cards here.
We'd love to see how you celebrate Hanukkah!
We love seeing what you come up with! Please tag us @SnapfishUS and #snapfish on Facebook, Instagram & Pinterest. Check out the Snapfish site for even more custom gift ideas.