If handwriting the yearly family update on all your holiday cards feels like a chore, here's a tip: print your message on the back of your holiday cards instead.
All 5×7 Flat Stationery Cards are designed with beautiful coordinating patterns on the front and back. Some back of Christmas card designs lend themselves better to text than others. Opt for light patterns that pair well with dark text, or go with solid colors with a design around the edges.
Customizing Cards Messages Is As Simple As 1-2-3
Follow these easy steps and cross "write holiday cards" off your to-do list, easy as 1-2-3.
1. Create Front of Card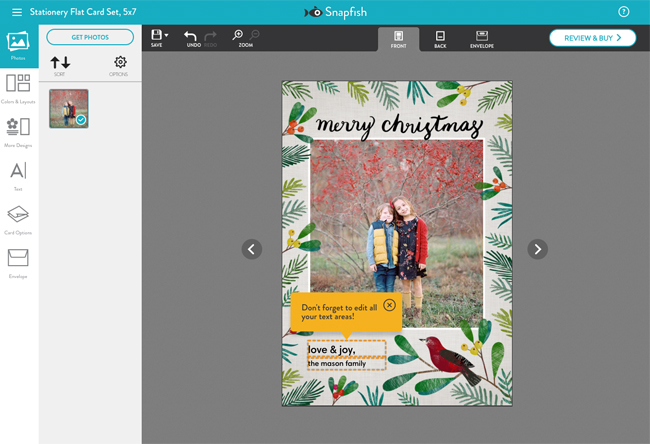 Add your photo and customize the front of your Christmas card with photos and text. Browse Colors and Layouts category in the left sidebar for more photo layout options. Look at those cuties! Click the arrow to flip the card over.
2. Add text.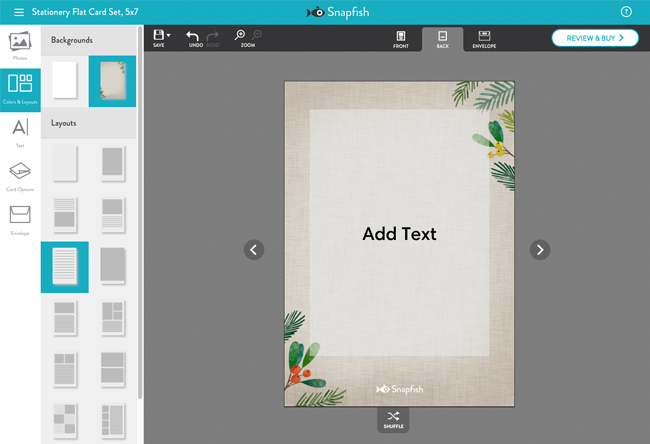 Click Colors and Layouts again. Select a layout with a text box. You can even add another photo or two or three or more. Type your note directly into the text box, or paste from a Word doc.
3. Customize with fonts and colors.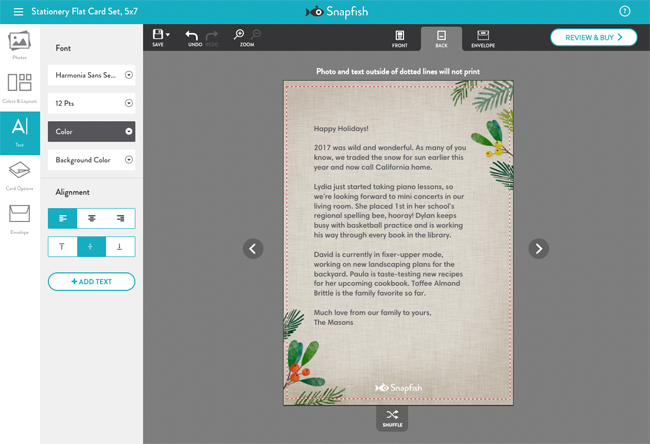 Choose from our collection of fonts, change type size, and browse colors until you love how it looks. Adjust text box size to find a good fit.
It's that easy! Another time-saver: Print your family's return address to the envelope flap when you order your cards to pull the whole look together.
Shop all Holiday Cards (the one featured in this blog is called Bright Branches) and get started! Find all our cards discounts on our deals page.
We love seeing what you create. Tag @SnapfishUS and #snapfish on Instagram, Pinterest and Facebook and we'll share our favorites.