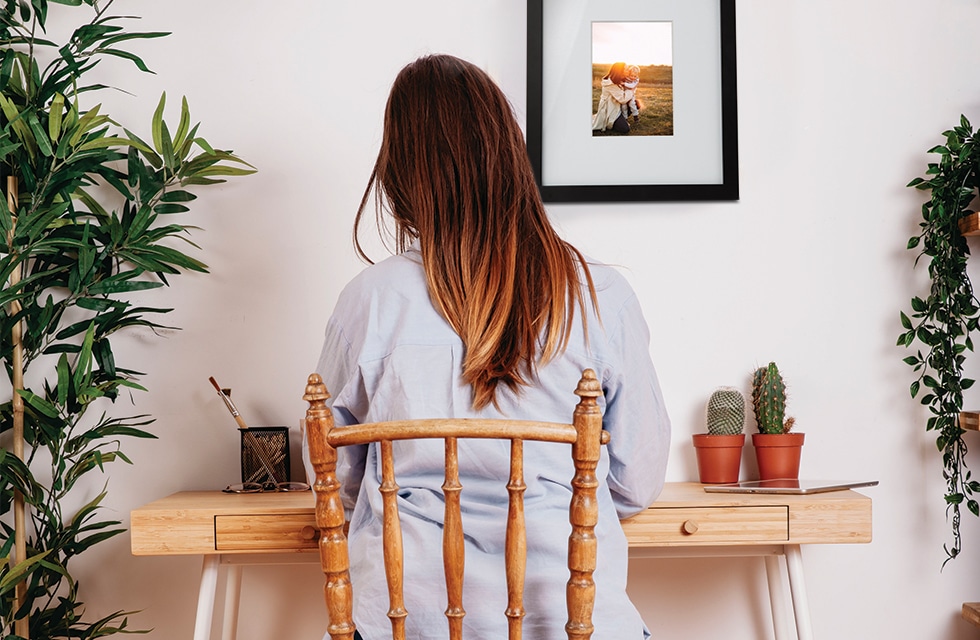 At the moment, a lot of us will be in a position where we're working from home. While for some us, this can be a blessing – having our home comforts around while we work will make the day that little bit easier. For others, it may be difficult to feel focused, there may be a whole heap of distractions and for some of us, we may just hate the look of the workspace we've got.
While we can't help with the distractions you may be faced with when you're working from home, what we can do is give you a few tips on brightening up that home office space. Not only will this give you a much more pleasant place to work for the foreseeable future, it will hopefully get you feeling motivated to get on with your daily tasks. So, if your home office is needing a bit of TLC, check out our top tips to brighten up your workspace!
Look for Inspiration
If you have no idea where to start with home office ideas, your first port of call is Pinterest and Instagram for a whole heap of inspiration. Whether you find interior design ideas that you can work towards over time, or small and simple touches that you can easily include now, there no doubt will be inspiration for everyone.
Personal Touches
The nice thing about having your own home office is that you can add as many personal touches as you want. Whether that's in the form of fun decor and accessories, or by adding a few photos of loved ones, it's up to you. We're well known for our photo prints here at Snapfish, so why not get a few of your favorite snaps ordered and add a few photo frames to your desk?
If you're short on space, why not opt for adding some of your favorite pics to your desk in another way? One of the benefits of working from is the fact you can help yourself to as many hot drinks that you fancy, so you could always treat yourself to one of our lovely photo mugs or insulated water bottles to bring a smile to your face every time you sip your favorite drink.
Whether you opt for a classic collage, or a design that matches your personality, there's something for everyone! Top Tip: add a custom coaster to the mix for added inspiration and to brighten up your day.
Make Your Work Area "Feel" Like You
Another way to make your work space feel like "you" is through personalized desk accessories. A leatherette desk set or acrylic desk set is a super sleek way to show off one of your favorite photos. They're also sure to help you stay organized with spots for writing utensils and more.
You could also easily create a custom mousepad! Whether it's a collage from a recent family vacation, a collection of your favorite snaps, or a single full photo, it's sure to make you smile every day.
Be sure to check out our wood block desk calendars, too! The polished beechwood stand is stunning, and 12 months means 12 opportunities to pick the perfect photo. Choose from one of our beautiful designs and make something awesome for your desk.
Brighten Up Your Walls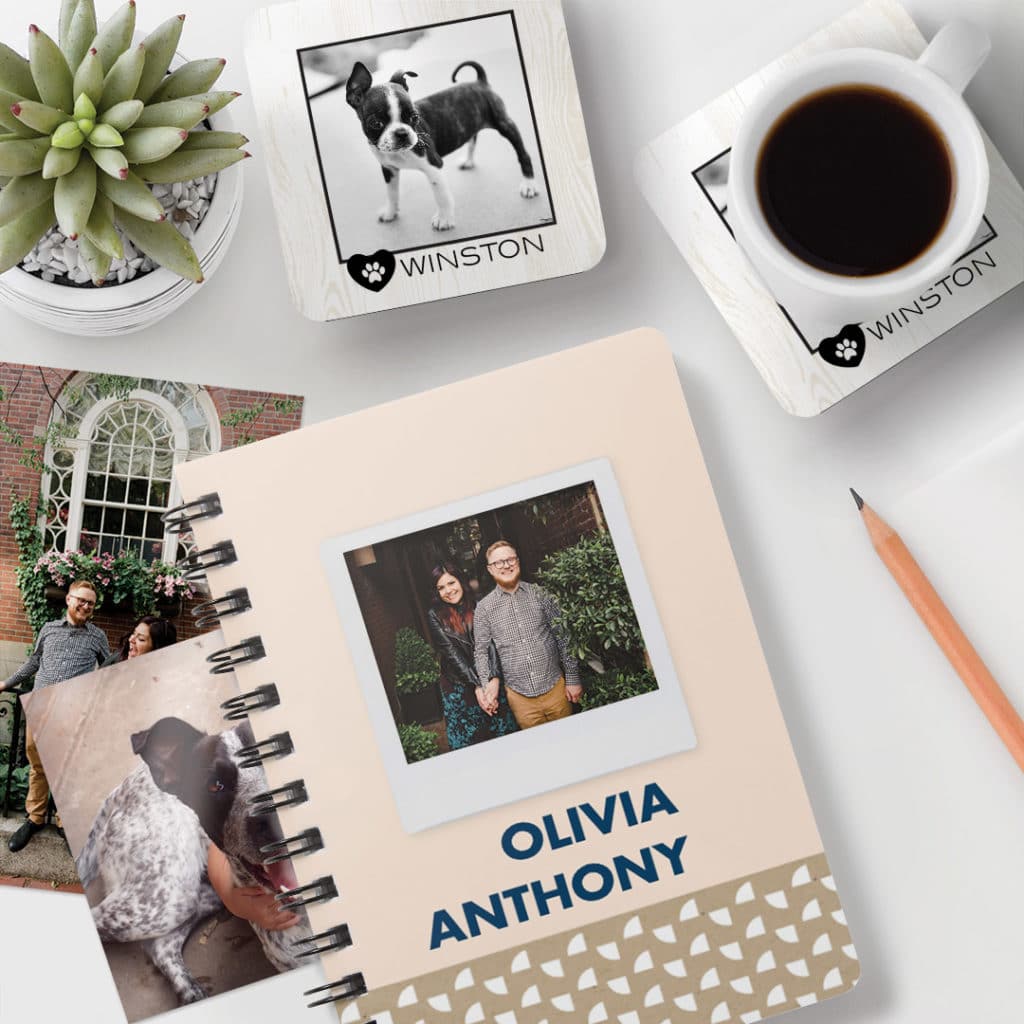 While we're on the topic of personal touches, if you want to add a few of your favorite photos to your home office but your desk doesn't quite have the space, consider brightening up your walls instead with our wide range of wall art, from canvas to acrylic prints, posters and framed prints.
So, whether you opt for a single canvas print or a few colorful poster prints, there are plenty of options available on both our free photo app or website. If you really can't decide on what snaps to use, this is the sort of thing that gallery walls are made for. With plenty of ideas for creating awesome displays with photo prints, there's options for all budgets, all office sizes, and all tastes! Top Tip: Display your photos against a neutral colored wall to ensure that things don't look too busy, and it will fast become the focal point of your room.
Declutter
No one wants to work in a cluttered office! Therefore, one of the simplest ways to brighten up your office is to give it a spring clean. Give surfaces a good dust, remove any clutter and tidy away anything you're not using. Keep on top of the smaller tasks too, such as emptying the trash and removing empty plates and mugs when you're finished with them. Tidy desk, tidy mind!
Think About Your Desk Position
If you're able to, consider having a bit of a furniture rearrange in your workspace. Interior design experts actually say that your desk should be positioned facing the room rather than a wall, however this may not be an option for everyone! So what can you do when it comes to the best position for your desk? If you don't really have the option to have your desk facing the room, positioning it against a window is a great way to let plenty of natural light in and to ensure the space feels less cramped. 
Colorful Accessories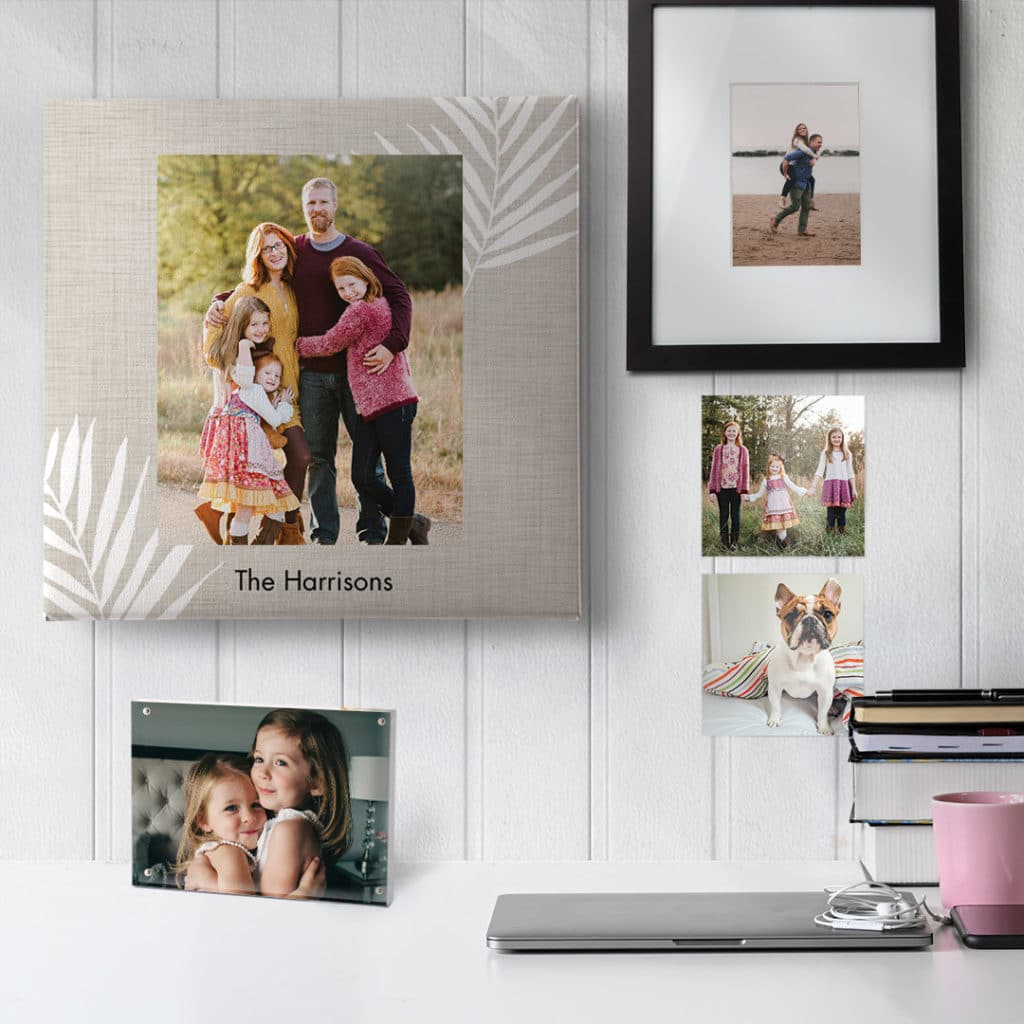 Adding pops of color to your office can be a great way to brighten up your home office and make things more welcoming. Display any desk photos in brightly coloured frames and invest in a few colorful touches such as personalized stationery to provide fun finishing touches. If you opt to add a canvas print (or any other print for that matter) or two to your home office, our design tool allows you to really make the use of bright colors and fun backgrounds, so you can create them to match your color scheme.
It's not just wall decor you can add color too either – why not get creative with our range of personalized notebooks & journals and include your favorite shades along with your favorite photos on the cover too?
Plant Power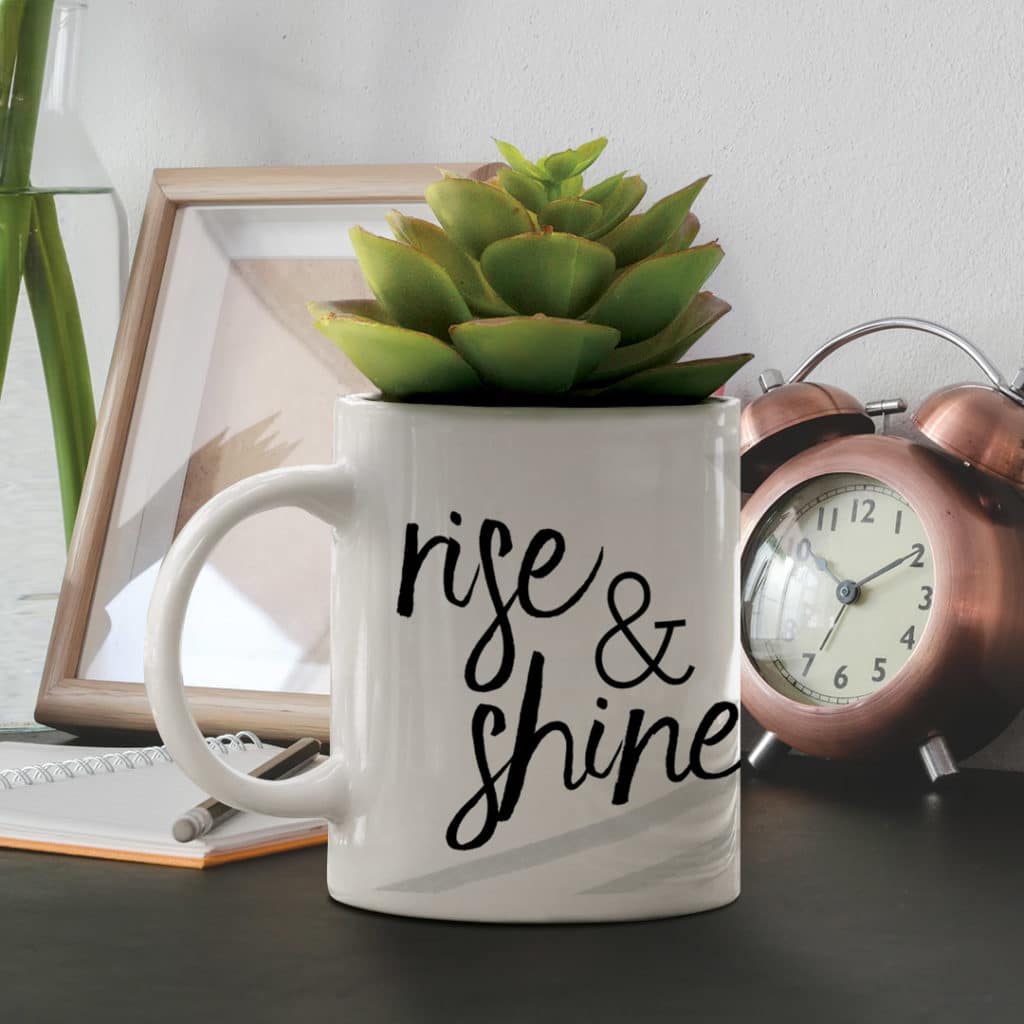 Finally, adding a little greenery to your office space is a great way to get your room feeling fresh and calm. Opt for something that doesn't need too much attention (particularly if you're known to forget about them!) and consider something that's safe for pets too if you have a furry friend who takes up residence in your office too! Top Tip: Plant a succulent in a personalized photo mug for a simple, yet effective potted plant idea. And you can use the mug later when you relocate back to the proper office!
Simple, yet effective
So there you have it, a few simple ways you can brighten up your workspace! At Snapfish we think everyone should be able to add some lovely personal touches to their home office by featuring some of their favorite memories – whether on the walls at your desk. 
If you've made use of your photo prints in your home office, we'd love to see! Why not share your snaps with us on our socials? We are on Facebook, Twitter, Instagram, Pinterest and YouTube, so please tag us @snapfishus or use the hashtag #snapfish and show us your stylish workspace!
Written by Amy Jackson – Content Writer at My Favourite Voucher Codes – 27th March 2020