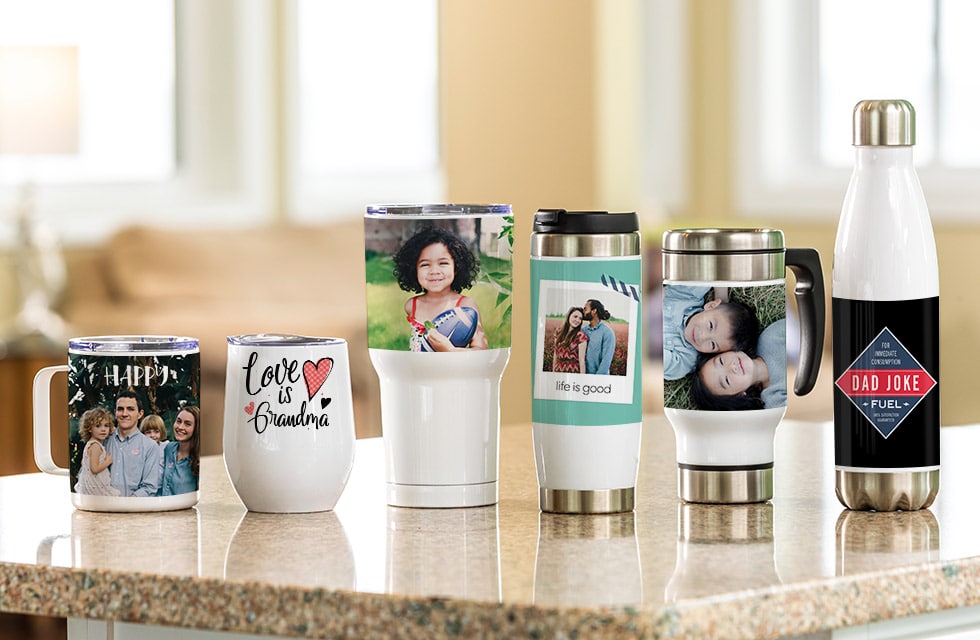 Personalized mugs are perfect for brightening up any tea or coffee break. You could easily upload photos, add names and customize the text on your mug. Your unique custom creation will be crafted and delivered to your home before you know it.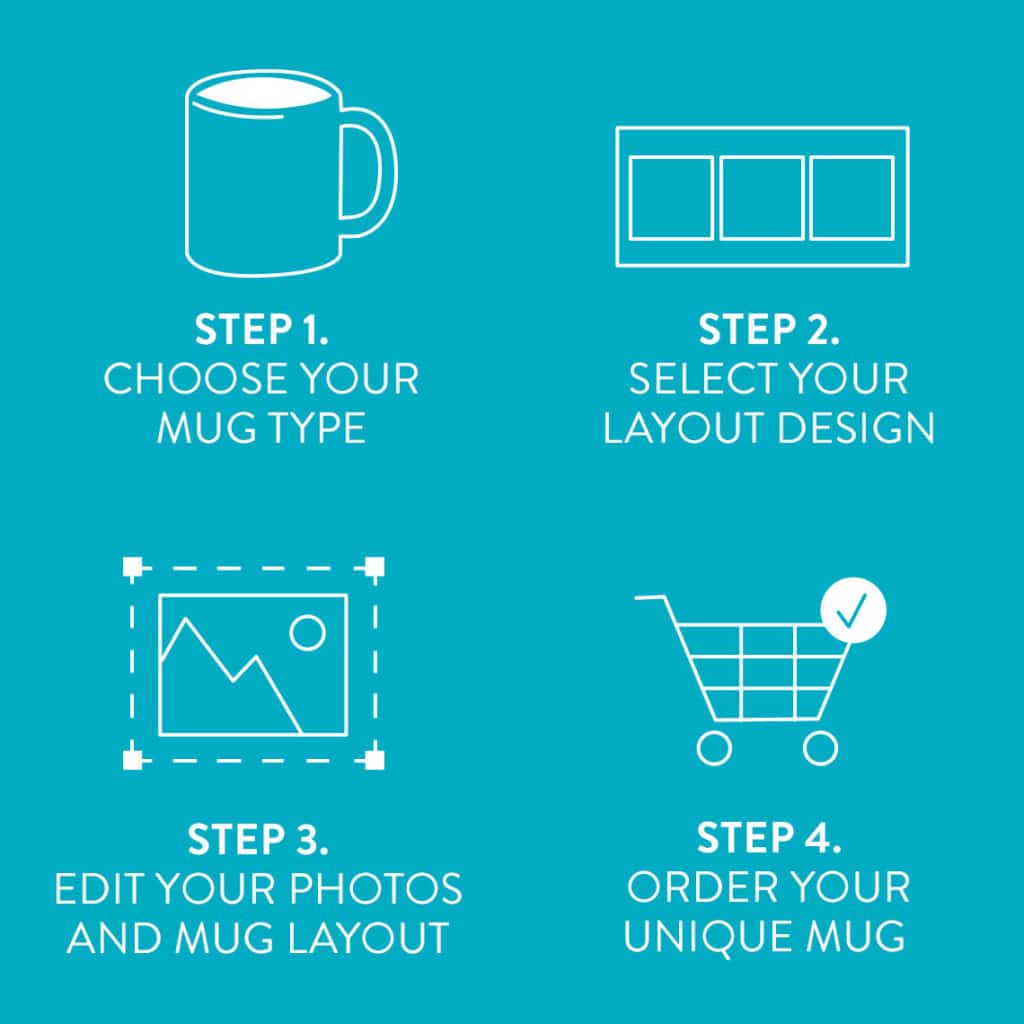 Step 1: Choose your mug type
You have a choice between 11oz standard, color accent, 15oz medium, 20oz large and grande coffee mugs. And there's a surprise with our Magic Mugs, as the photos reveal themselves when hot water is added! Enamel Mugs are super cute and retro, with space for up to three photos, as well as themes and captions. Take one camping, or use them as festive pencil pots and candle holders.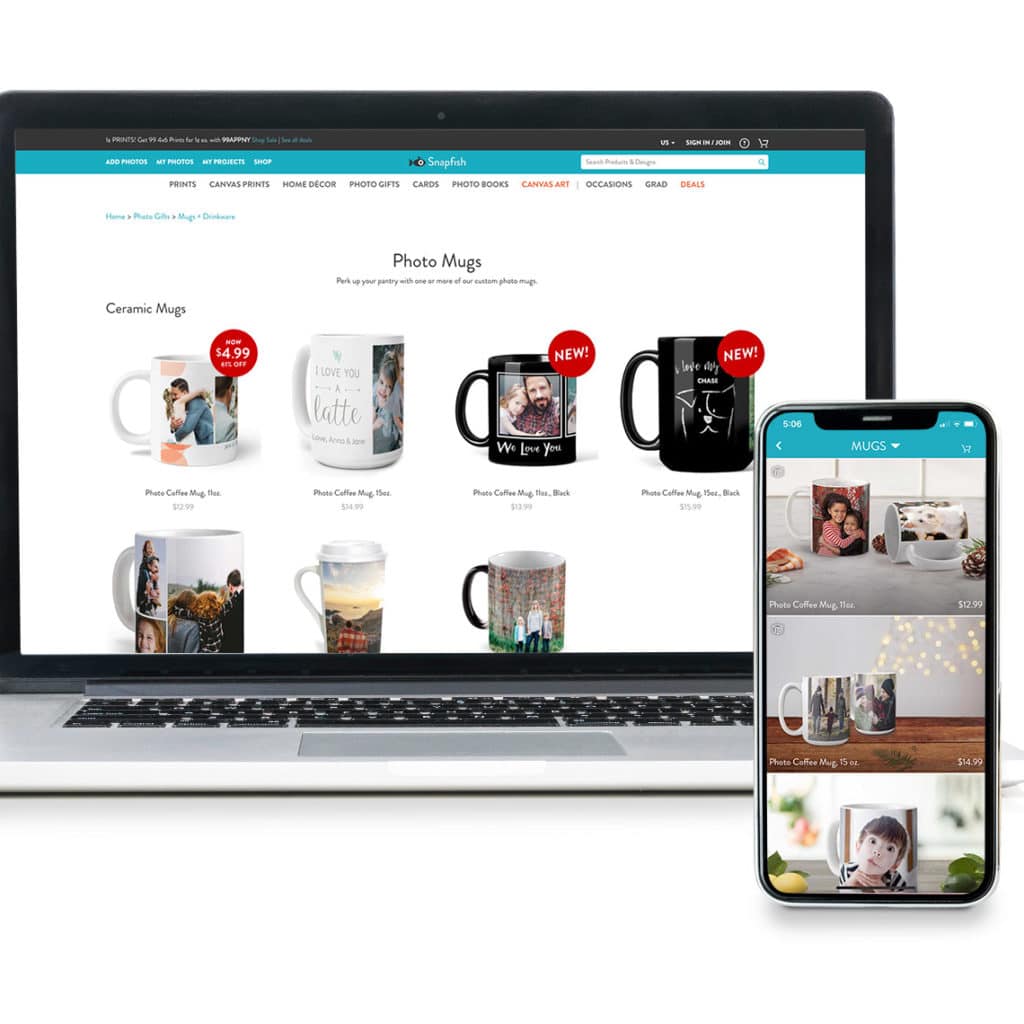 Step 2: Select your design layout
We have hundreds of photo mug designs, allowing you to upload your own picture(s) straight from your device. Whether it's just the one photo or multiple images, you'll find a range of different designs in order to create the perfect gift.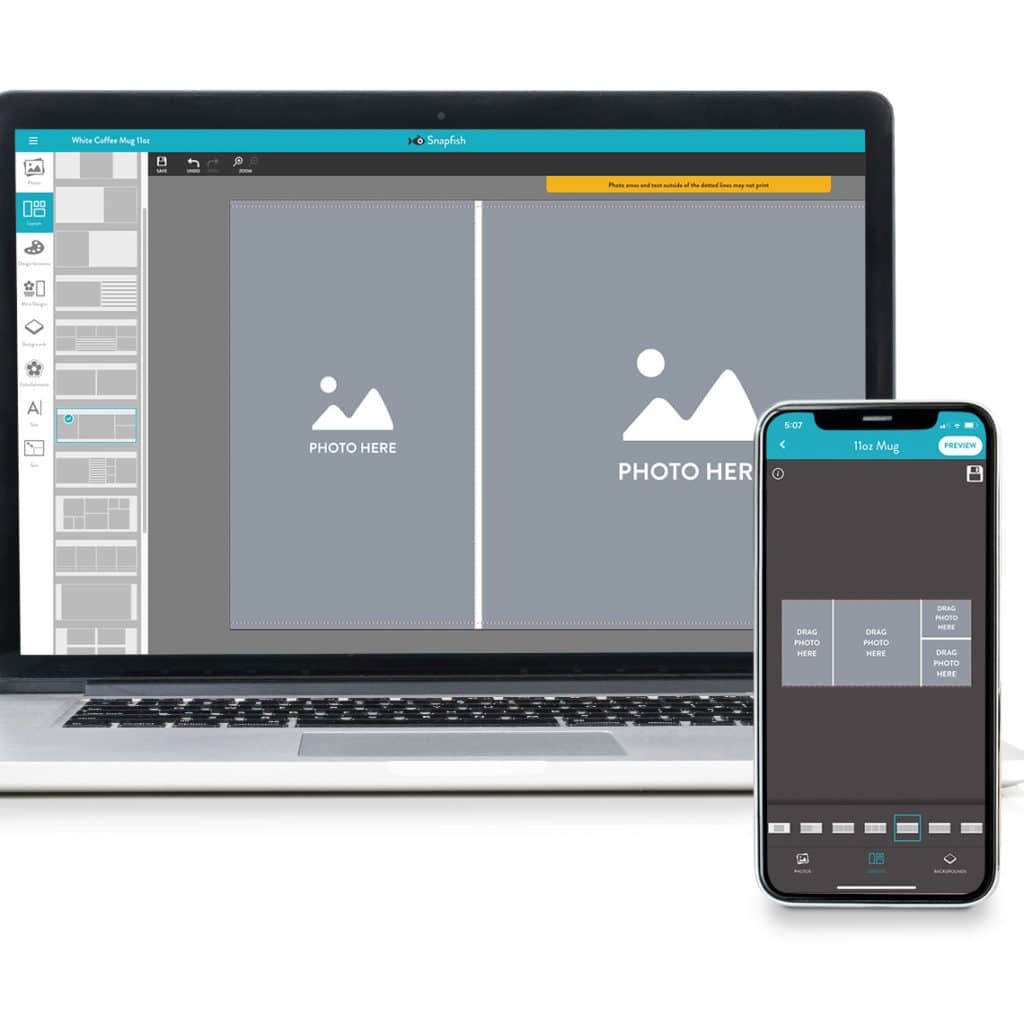 Step 3: Edit your photos and mug layout
You can edit your photos with our easy to use editor: rotate, reposition, zoom and add filters or special effects. You can search through our wide range of mug designs and discover mugs for him, her and the kids. There are also seasonal mugs for Holiday, Valentine's Day and more. You can even create your ideal mug from scratch, with or without photos.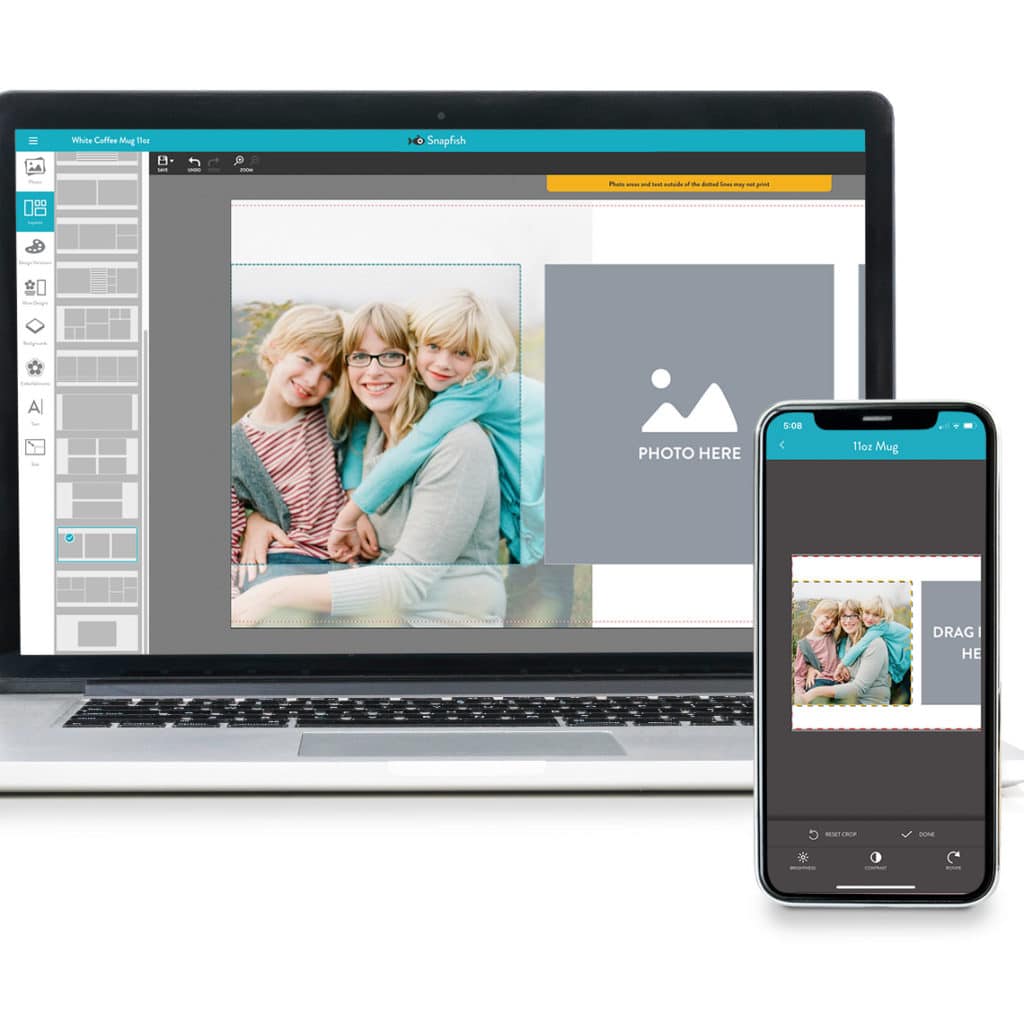 Step 4: Order your unique mug in the time it takes to brew your coffee!
A photo mug makes a wonderfully thoughtful gift. It's so quick and simple for you to add personalized touches to an object they'll use on an everyday basis. Alternatively, make one for yourself and keep those smiles coming even on the sleepiest of mornings. And it's now even easier to create and order your Mug straight from your cell phone with our free photo app!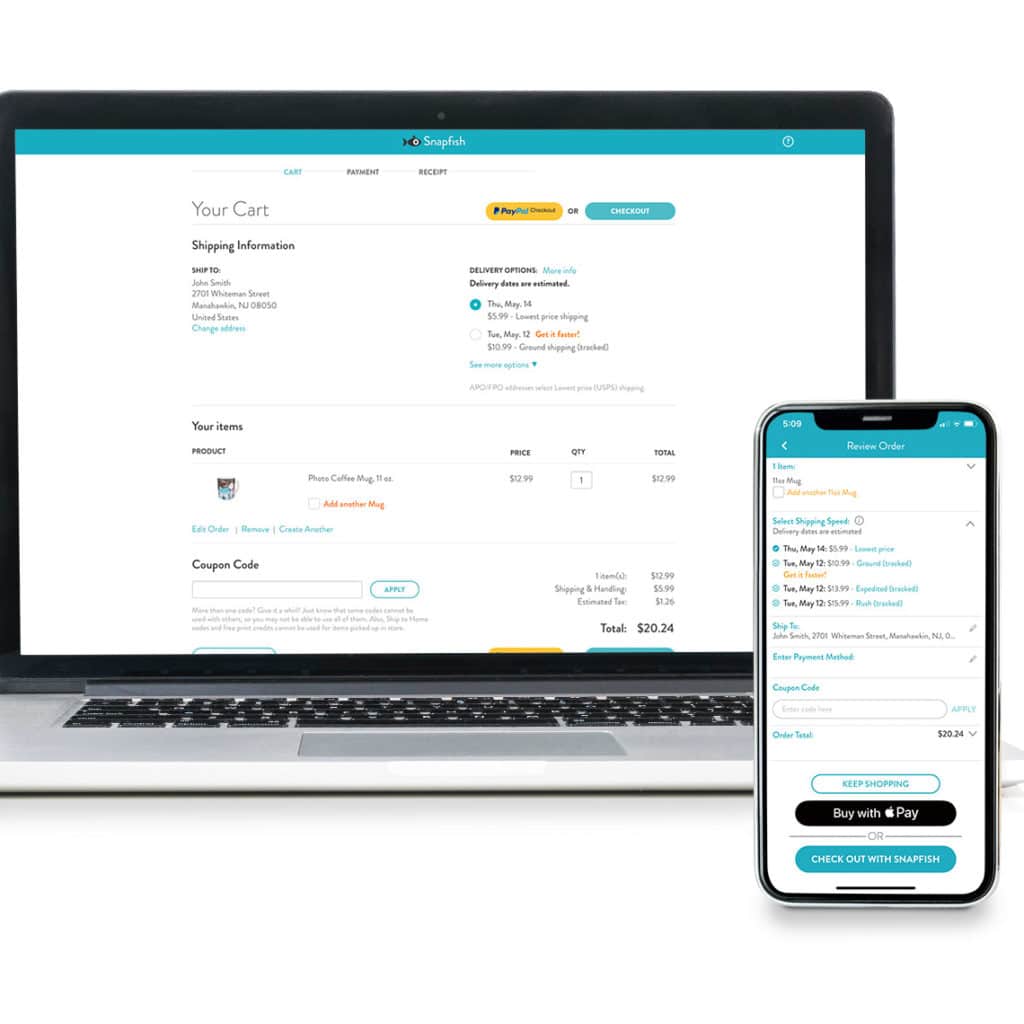 How does my image stay on the mug?
Your photos are embedded into the ceramic or porcelain through a process known as 'sublimation' that uses heat and special top-quality inks. Imagine a big oven where your photos are essentially 'baked' into your mug so they won't come off. Our Magic Mugs are produced using a special process called heat reveal technology; the heat of your drink makes your picture appear, "as if by magic". Most of our mugs are dishwasher and microwave-safe, and make perfect gifts for anyone you know who loves a good cup!
Brighten Up Your Brew ☕
We've got many different designs, sizes, and layouts for you to choose from. All you've got to do is choose your Personalized Photo Mug and add some of your favorite snaps. Check out some of the different types of mugs below:
White Coffee Mug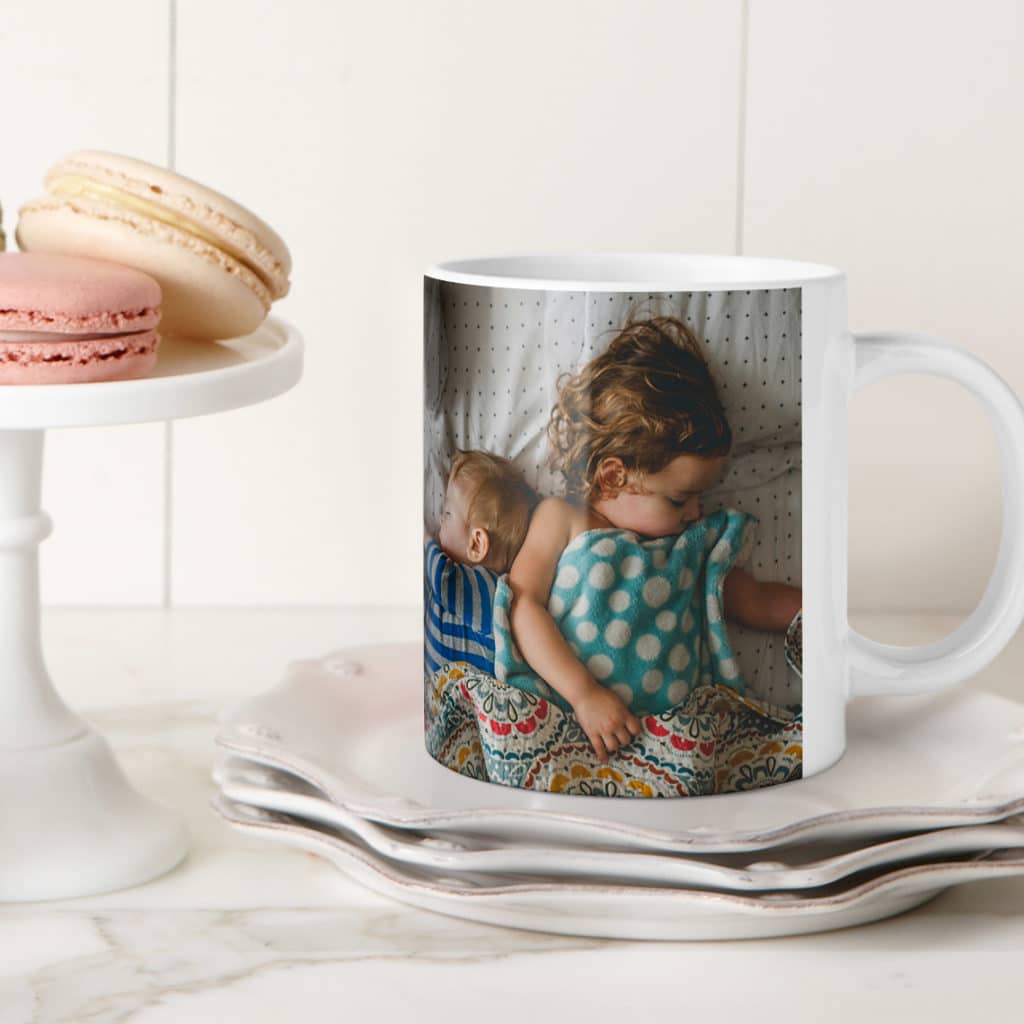 Crack a smile before the first sip with our 11oz White Coffee Photo Mugs, or supersize the experience with our large 15oz and 20oz options. Select your favorite photo, and choose from a wide range of designs and embellishments. Reminisce about cherished moments whilst enjoying your fave brew! 11oz and 15oz also available in black.
Magic Photo Mugs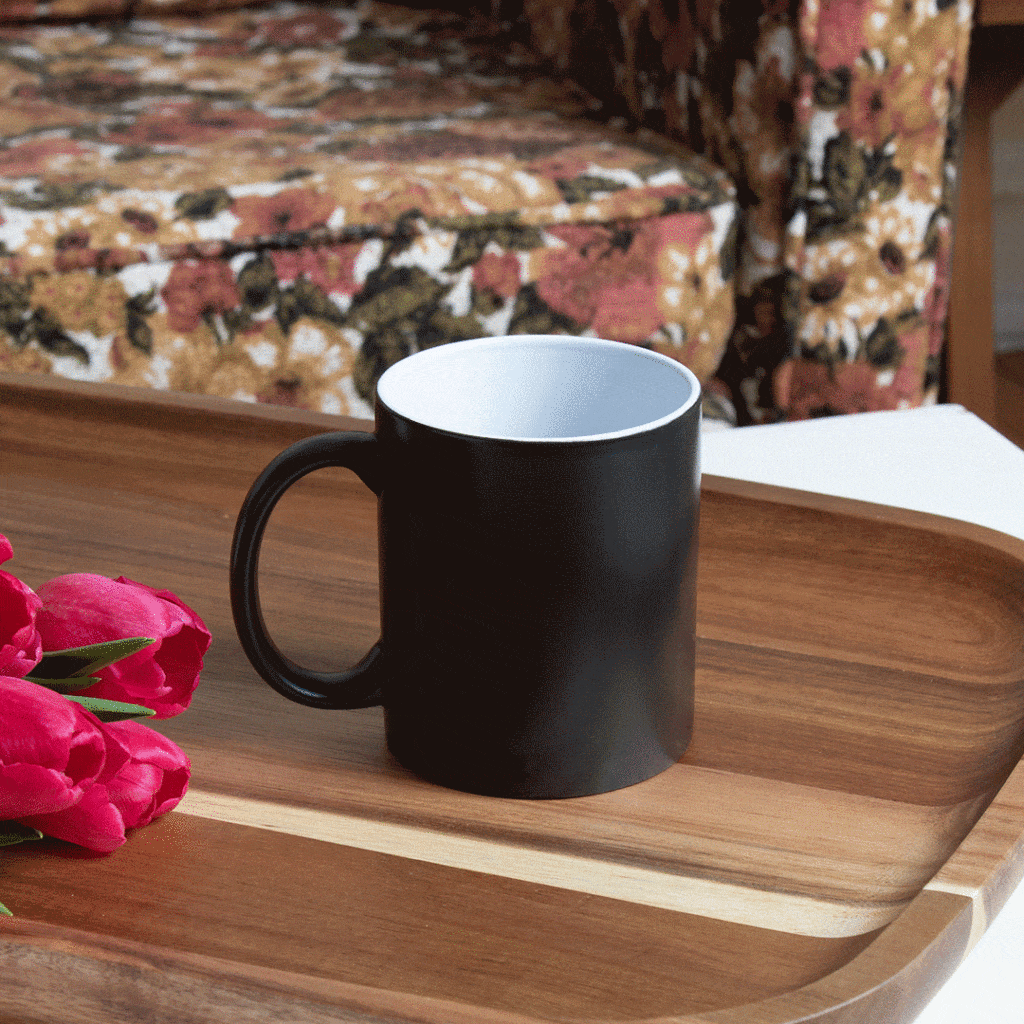 Our 11oz Magic Photo Mugs are a unique and fun way to brighten up your morning routine. Whether at home, or at the office, your image gradually appears when you fill it with a hot drink. Delightful as a surprise for the tea or coffee drinker in your life, or simply as a treat for yourself!
Travel Photo Mugs & Insulated Tumblers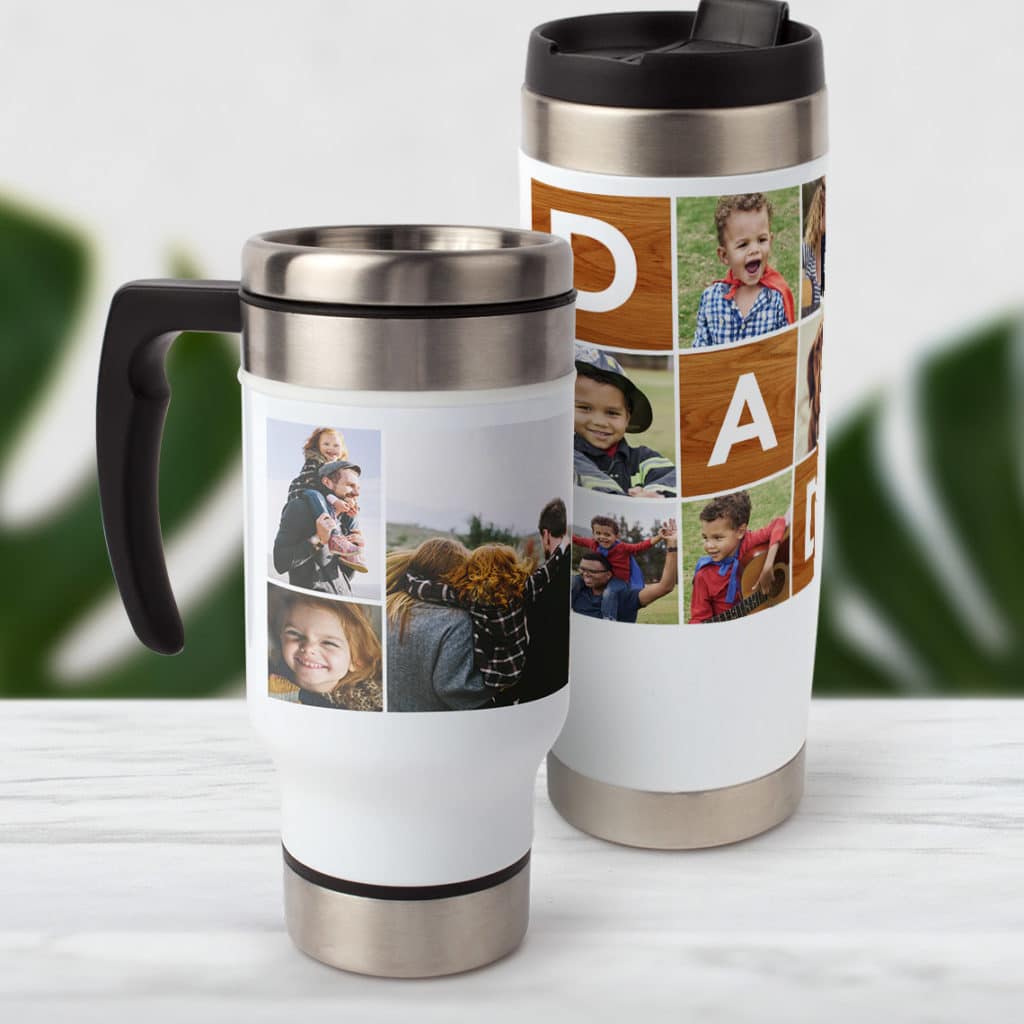 Perk up your morning brew, on the go! Our travel mugs and insulated tumblers are great for your morning commute to work, or the early morning school run. With dozens of designs to choose from, you can create a unique Travel Mug that's completely tailored to your life.
Colored Accent Mugs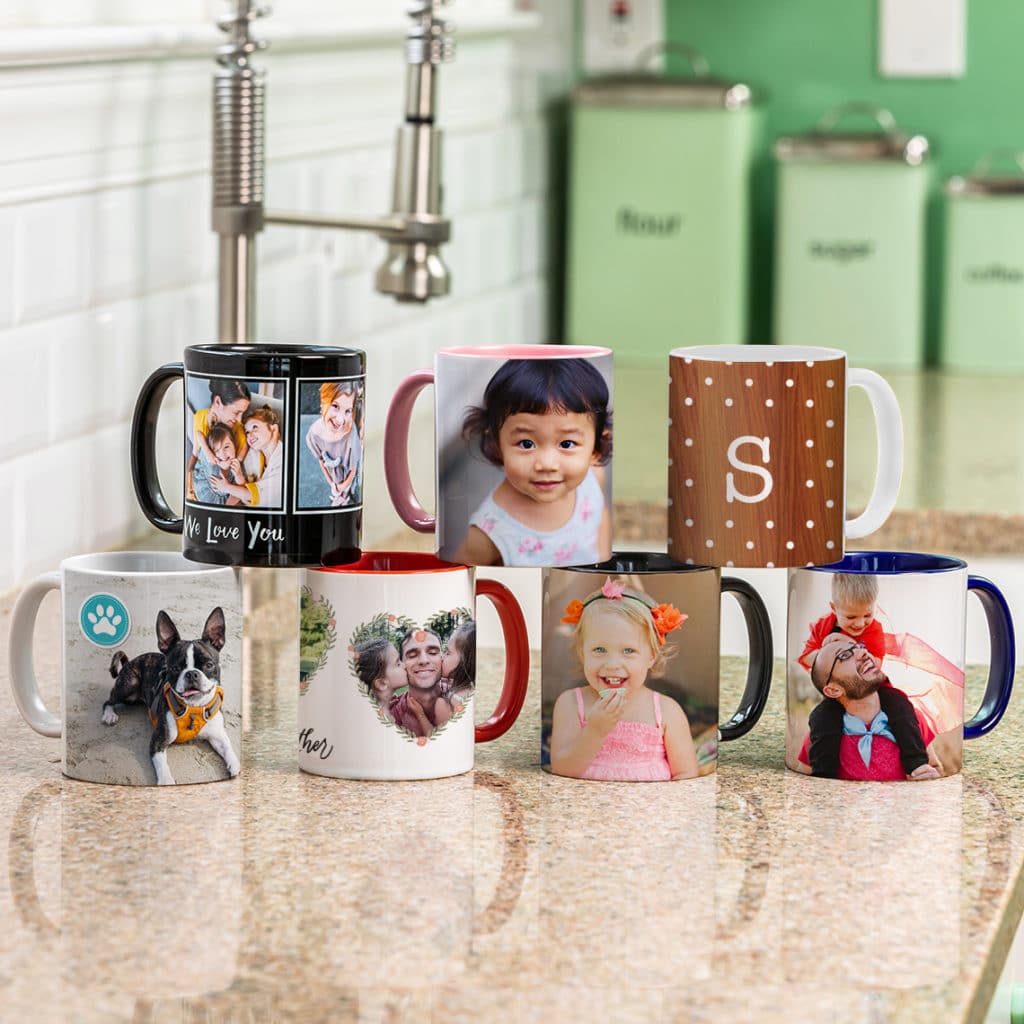 Add a splash of color to your cup with one of our 11oz Colored Accent Mugs. We offer a range of colors to complement your photo and personal style. Your chosen color will be printed on the inside of your mug and on the handle. Choose from red, yellow, navy, sky blue and black pops of color.
Insulated Wine Cup or Coffee Mug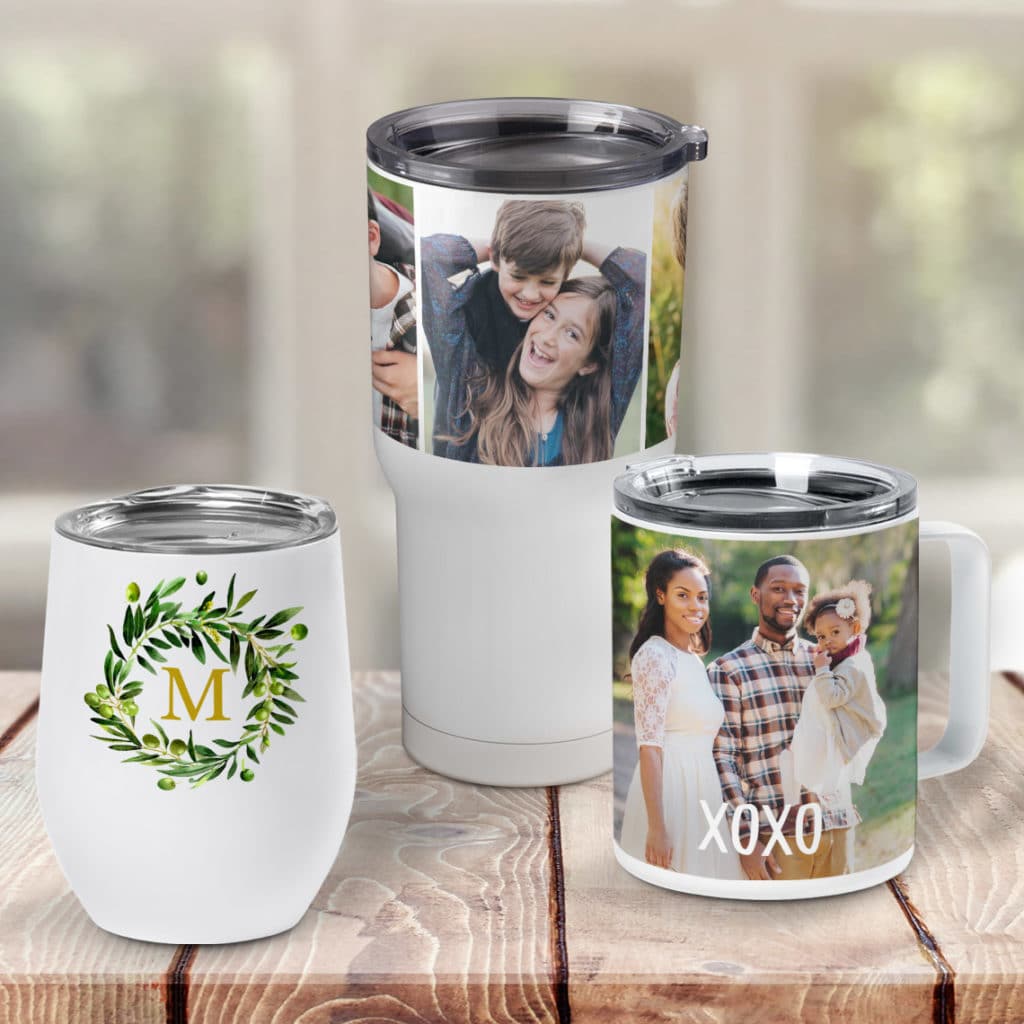 Our range of insulated tumblers are perfect for tea, coffee and even wine! Customize our insulated wine cup, insulated tumbler or insulated coffee mug with your very own design and photos, or use one of our professional layouts.
Enamel Mugs
Our personalized enamel photo mug is the perfect cup to warm your hands while you're sitting around the campfire, cheering on your favorite team or simply enjoying a picnic! Great for both indoor and outdoor use, this sturdy and stylish cup is perfect for coffee, tea, or even your fave morning cereal.
16oz Grande Coffee Mug with Lid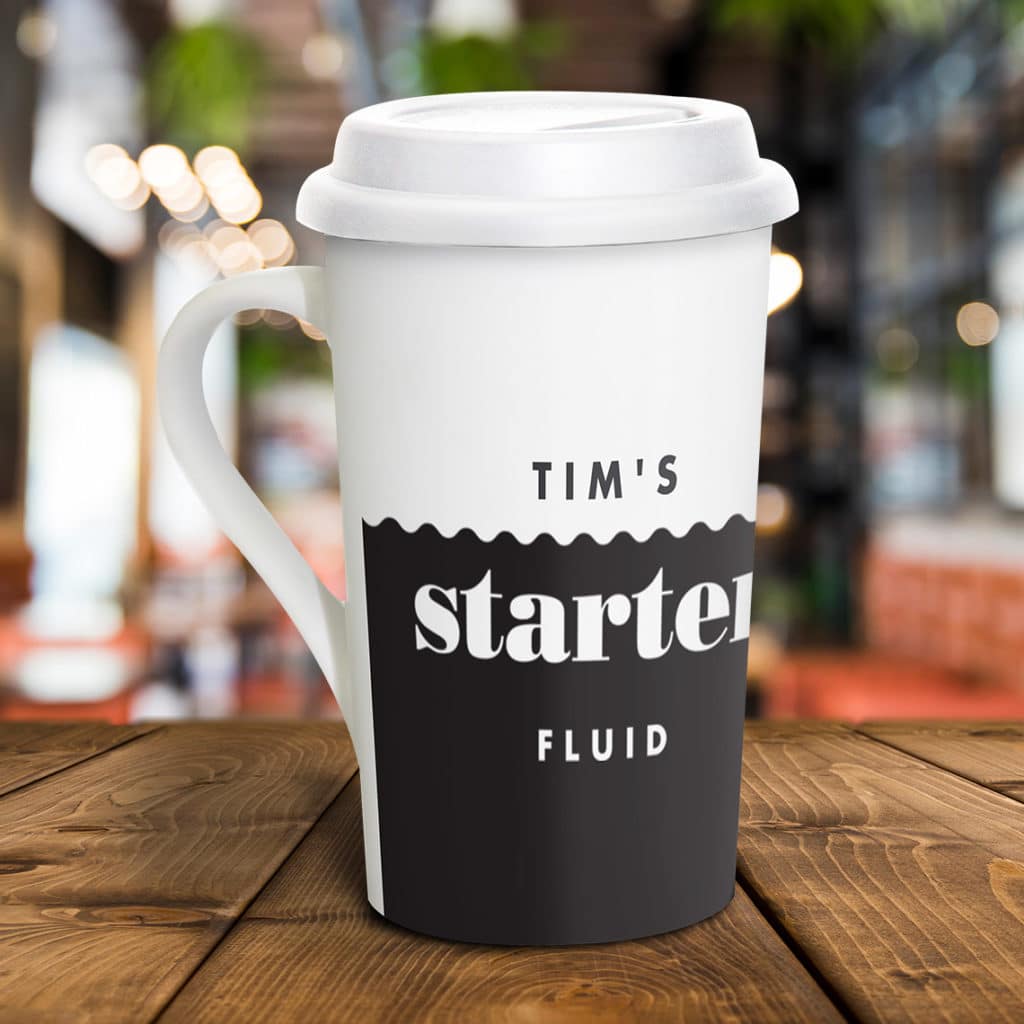 Do your bit for the environment with these reusable coffee mugs. Perfect to take into your local coffee shop and get refills without the guilt.
Whatever your beverage of choice is, our personalized 16oz. grande coffee mug with lid is ideal for keeping your favorite photos close at hand and your drinks perfectly hot or cold. Can't decide on a favorite photo? Create a collage photo mug! It doesn't matter if there is just one photo on the mug or an entire collage on the mug; your friends and family will appreciate the personal touches you put into this unique photo gift.
Feeling inspired to create your own mugs and drinkware? We love seeing what you make, so be sure to share your photos with us on social media! You can tag us using @snapfishus on Instagram or Facebook with photos or use the hashtag #snapfish. Don't forget to follow us on YouTube, Twitter and Pinterest too!