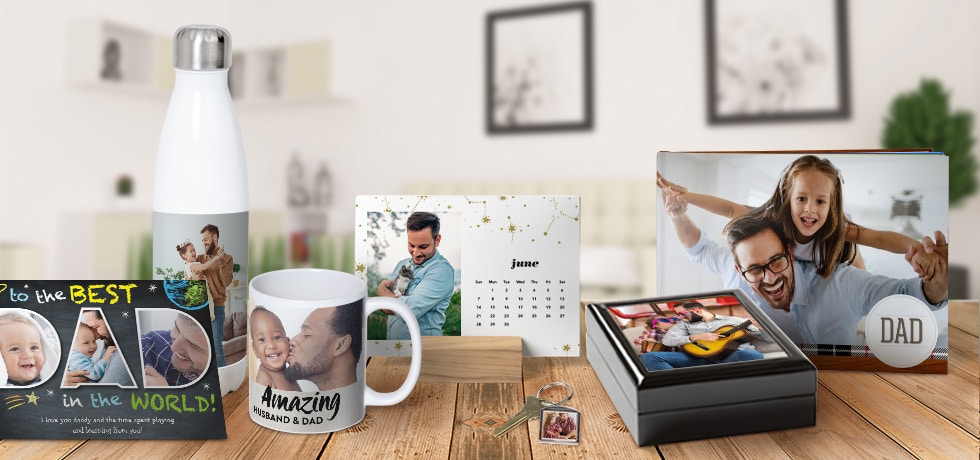 Make Dad feel extra special this Father's Day with a carefully curated gift matched to Dad's interests. Whatever type of Dad he is, he's bound to appreciate the thoughtful Father's Day gifts and cards you create for him.
Here are a few ideas for Dad this Father's Day (June 21st 2020), that you can create in minutes and he will love for years!
For All Dads and Granddads: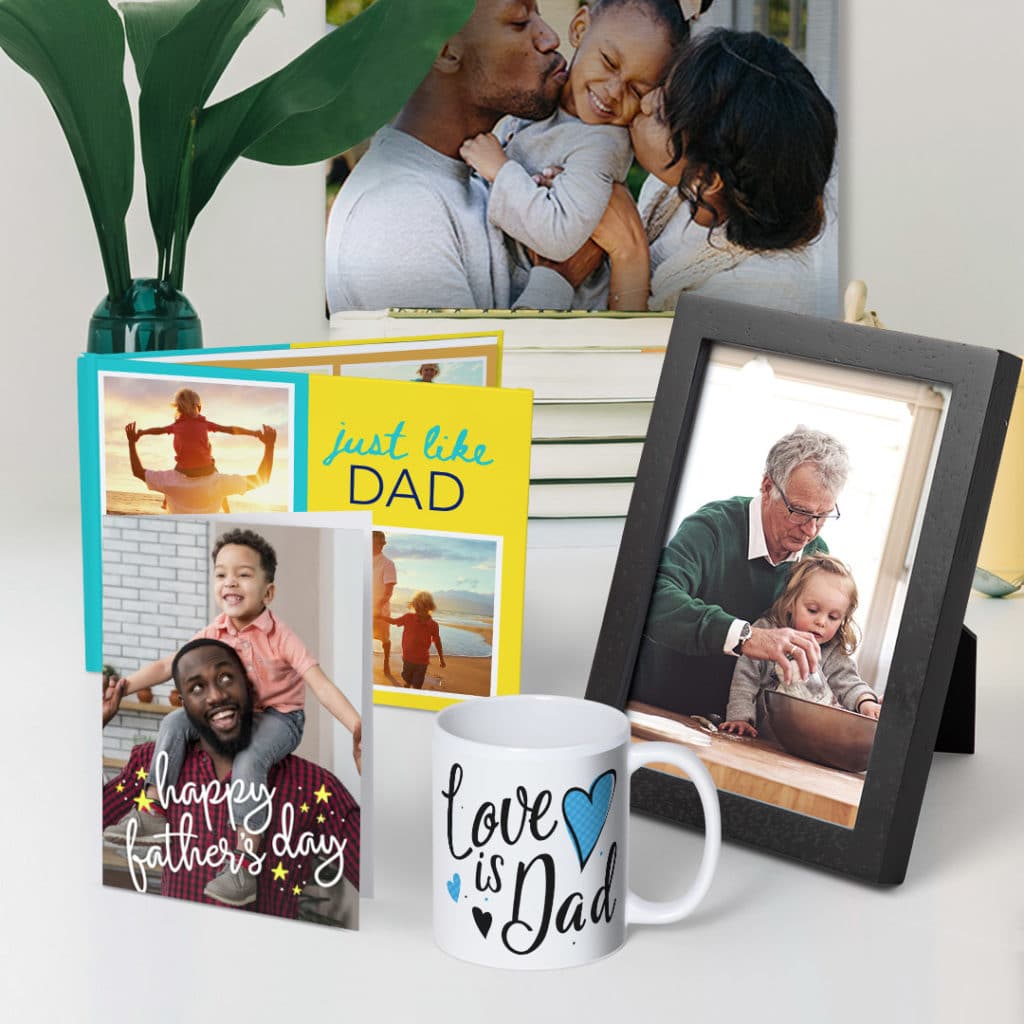 Dads and Granddads will love to receive personalized treats like our coffee mugs, framed prints, tabletop metal prints and photo books of all the happy family memories. These gifts are all the sweeter by having personalized sentiment, photos and even kids drawings printed on them. Gifts they will treasure forever! Top it all off with a custom Father's Day card to say, "Happy Father's Day, Dad. Thanks for all that you do!" and Dad's heart will burst with happiness and love.
Need help crafting the perfect card message to go with your perfect gift bag? Check out our blog post on what to write in a Father's Day card and Dad Jokes to make Dad smile when he opens your card.
For New Dads: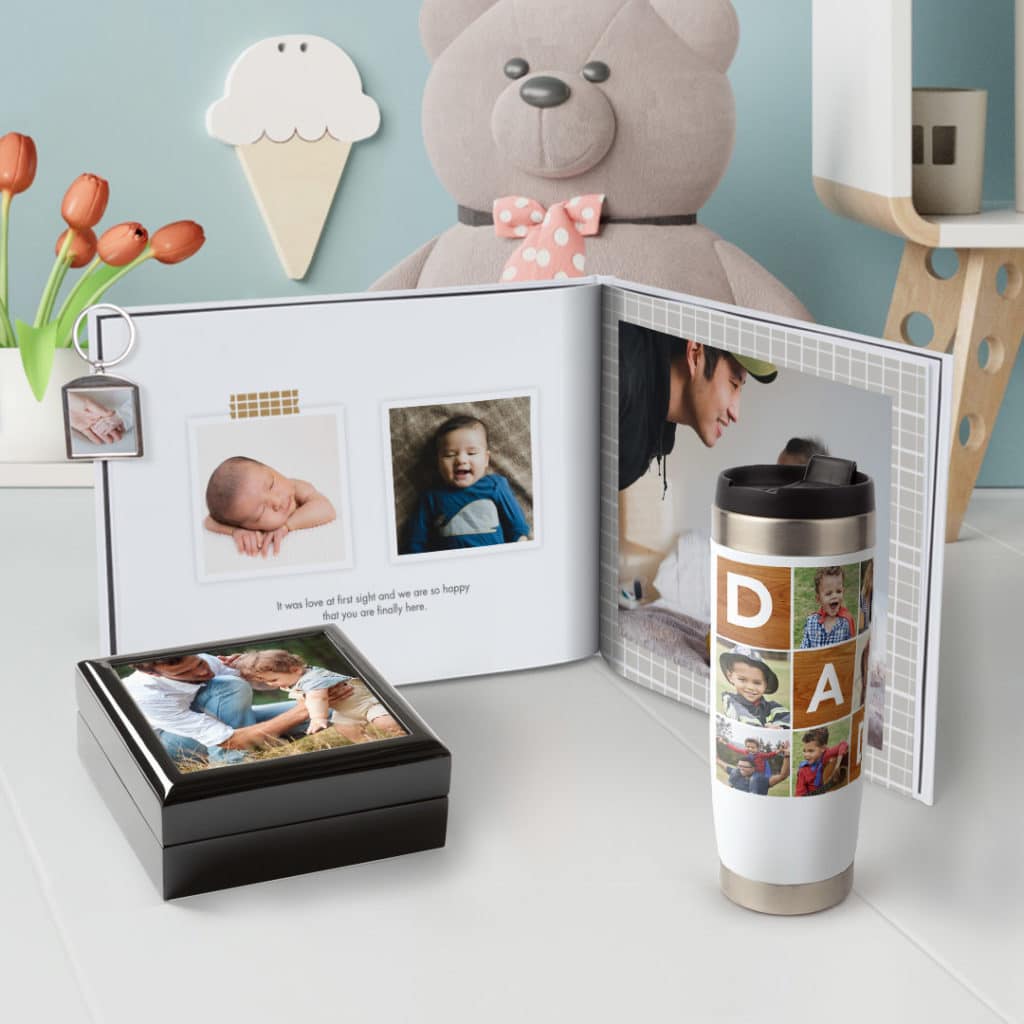 New Dads will love this collection of handy yet delightful personalized gifts to make being a new Dad even more special (works for new-Granddads too). From photo books that document the bump to baby journey, and keychains that allow him to brag about his new family, to custom keepsake boxes where he can store all those treasured trinkets and insulated coffee mugs that allow him to take his family with him on the daily commute, whatever you create will make Dad smile with joy!
For Working From Home Dads:
If Dad works from home, he will love this collection of personalized gifts to help him keep you close to his heart throughout the day. From a custom grande mug with lid for his favorite coffee blend, a custom softcover journal for meeting note taking, a photo mousepad and re-positionable photo tile for the wall by his desk to a photo magnet for his filing cabinet, he'll love it all.
For Out At Work Dads: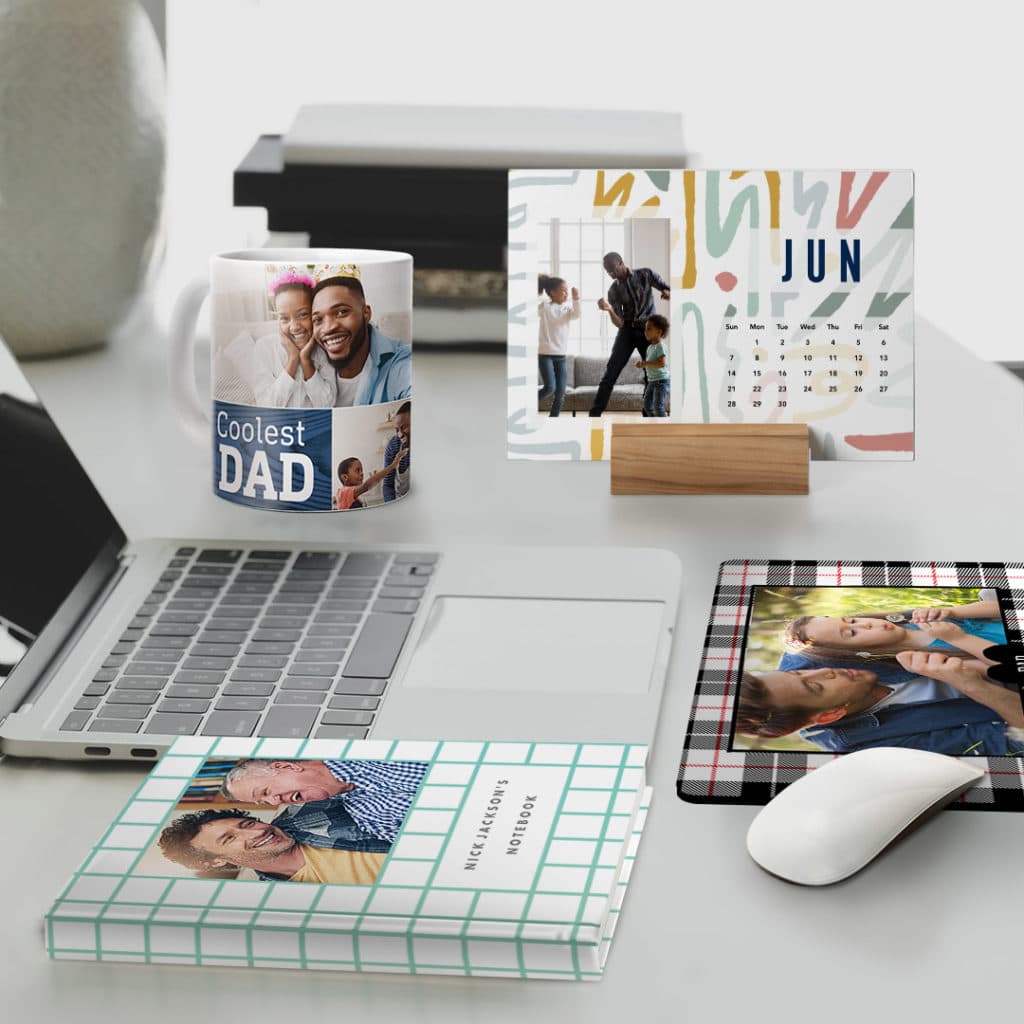 Leaving the house every morning and being away from you is hard, so bring some warmth to his day with a personalized mug for his mandatory morning coffee or tea, a personalized hardcover notebook for all his meeting doodles and a wood block desk calendar for his desk in the office. He will love the custom mousepad, too. Browse our range of Father's Day card designs here to choose the perfect Father's Day card.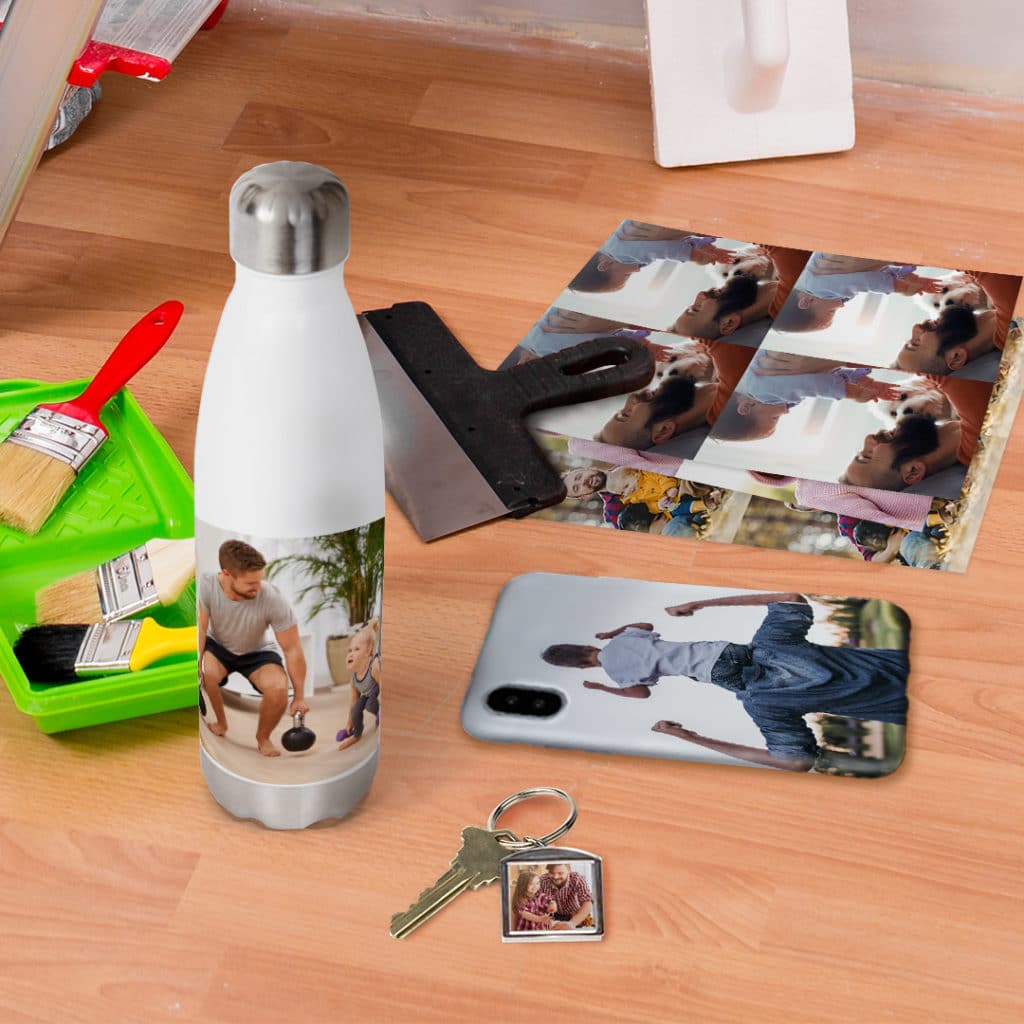 Dad doesn't work in an office? Keychains, wallet prints, water bottles & phone cases ensure he can carry you with him all day.
Not what you were looking for? Check out our range of custom Father's Day gift ideas. We have ideas to suit all budgets.
For Outdoorsy Dads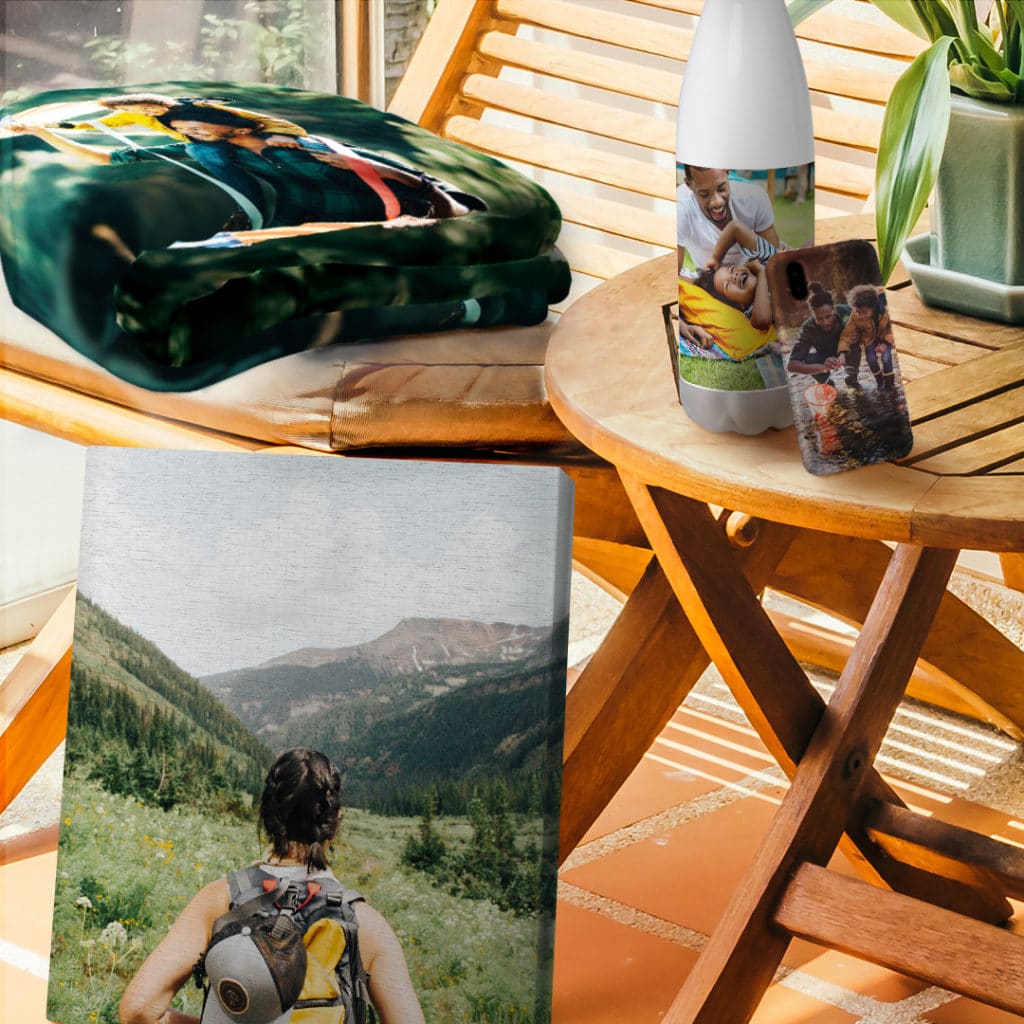 Dads that love being outdoors will love our custom fleece blankets for keeping cozy outdoors. Team it with a personalized water bottle to keep him hydrated. For when he comes home, gift him a photo canvas print of his favorite landscape, and wrap his phone with love with a custom phone case to make his feel special whenever he phones home!
For Funny Dads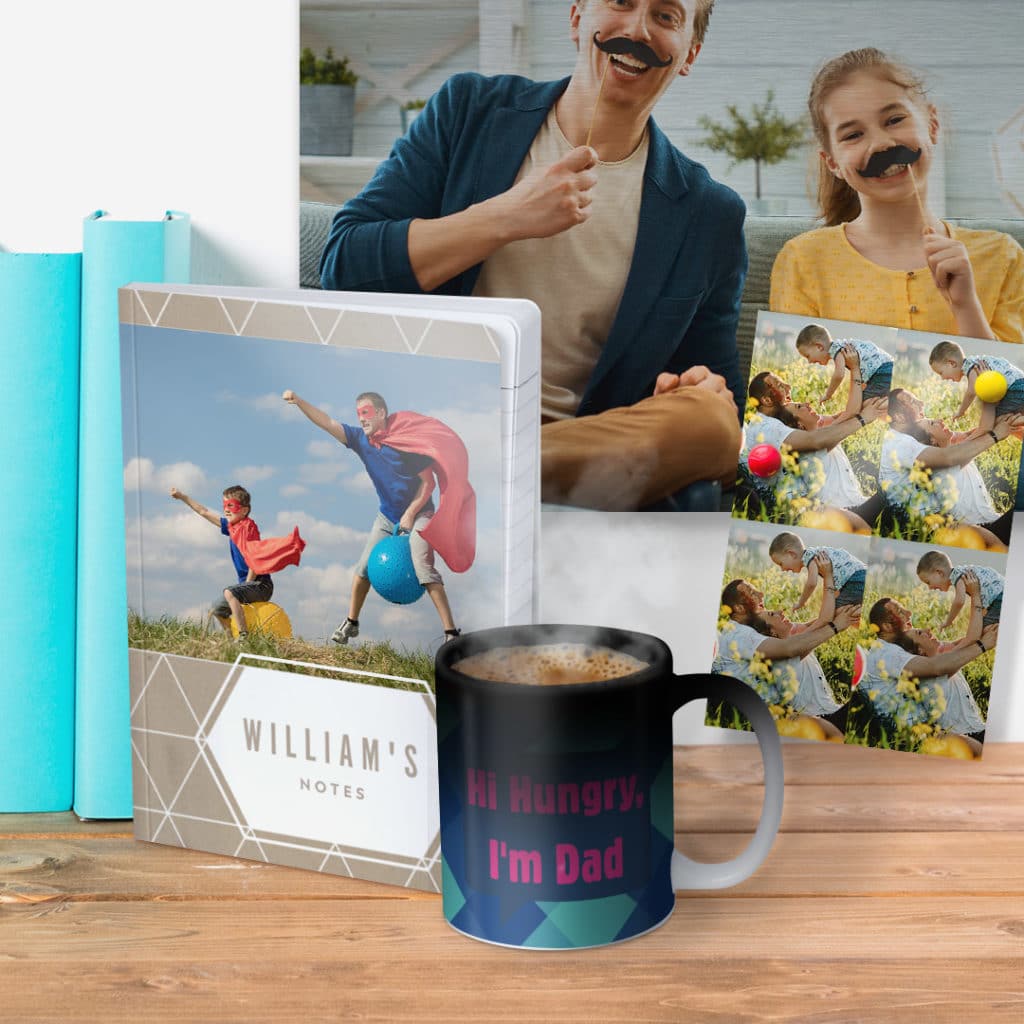 Gift him a personalized softcover notebook so he can record his best gags; a magic mug to reveal one of his best quips, immortalise Dad telling his best joke on a fun wallet photo prints or create a photo collage print of his funniest moments.
For Pet Dads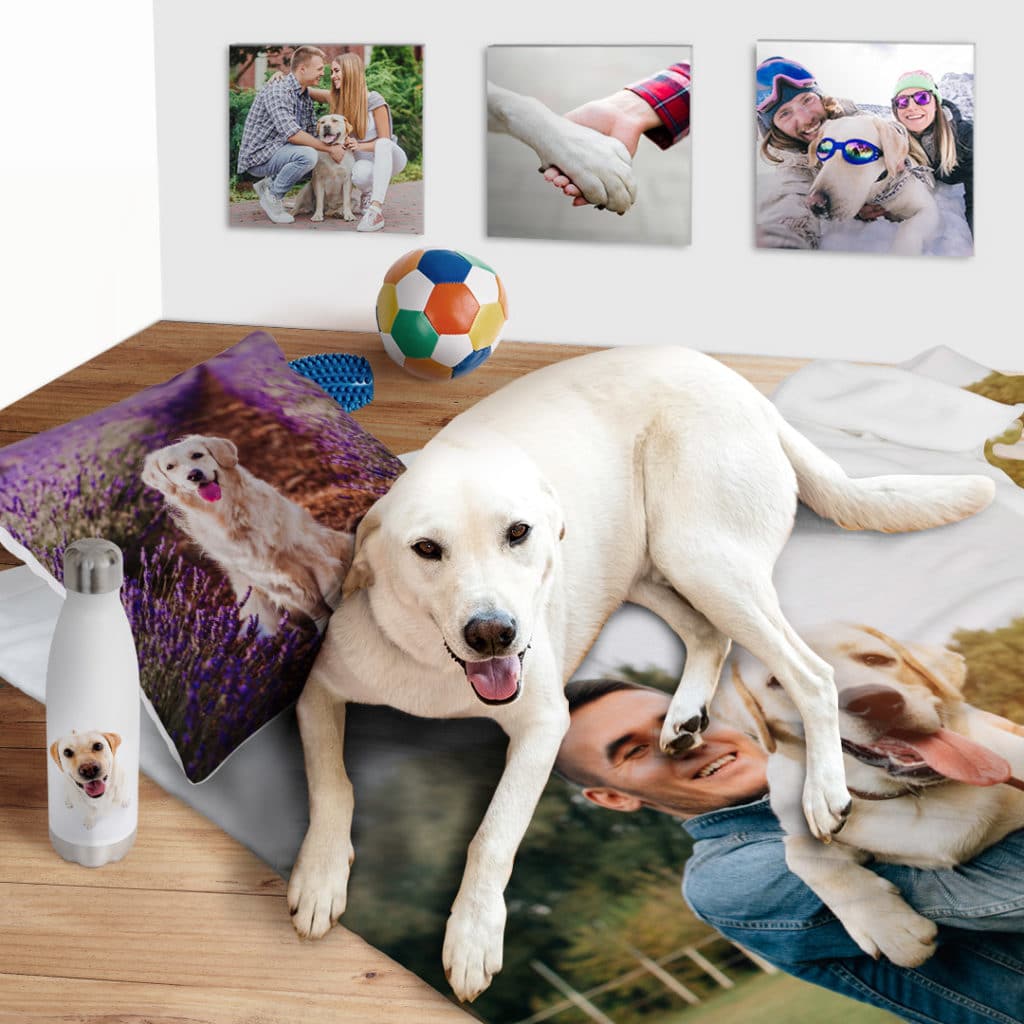 What pet dad wouldn't love his own photo water bottle, featuring his own "best boy" – handy when the pooch gets thirsty too! Photo pillows & custom fleece blankets are also popular, although Dad needs to make sure the pet doesn't claim it first…. And team that with photo tiles featuring their "baby" so their pet can take centre stage (although, don't they anyway?) We have tons more pet-focused gift ideas to get you inspired on the site.
For Granddads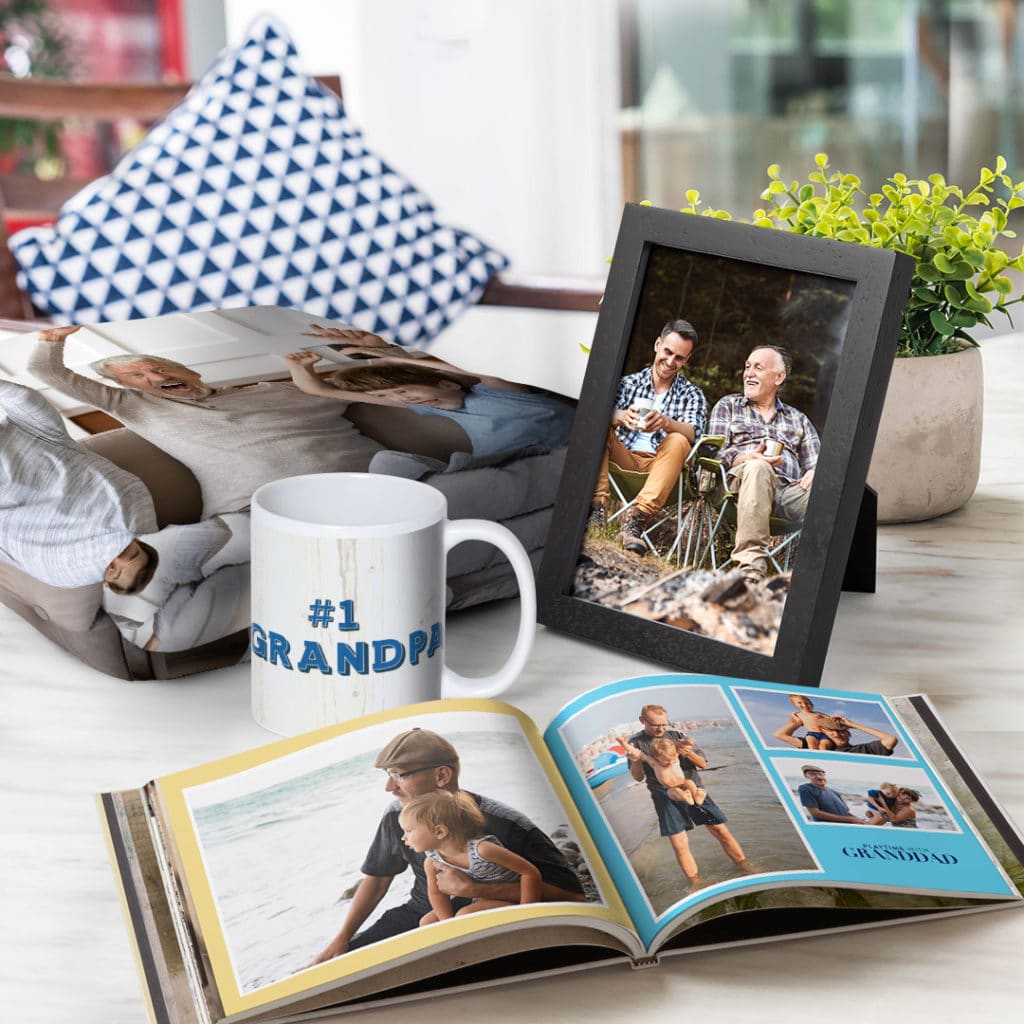 All Granddads love receiving framed photo prints of their special grandchild(en). Get one up on your siblings when you gift Granddad a photo mug and photo book of him and the grandchildren – guaranteed to make Granny want one too (make is easier to know what to gift her next Mother's Day)! Then, for when it is getting late, Granddad will love cozying up in a personalized photo blanket!
We also have a collection of carefully curated digital stickers to make your Father's Day message more fun. Find out more about embellishments for him, here.
Feeling inspired to create your own Father's Day gifts? Whatever you create for the Dad in your life, don't forget to top it all off with a unique Father's Day card, personalized by you
Remember to visit our blog for more Father's Day tips and inspiration and then please share your custom Father's Day gift ideas for Dad with us. We love seeing what you create. Remember to tag us with @snapfishUS or #snapfish when you share on Facebook, Instagram, YouTube, Twitter and Pinterest.