Ding ding ding! Come and get it! The family's all here and the plates are full. We love seeing how mealtime brings people together, from family recipes to grandma's dishware. How do you set the table? Get inspired by our favorite foodies' fun ways to make mealtime fun (and cleanup easy) with these perfect placemat ideas.
Serve up useful signage
Tina of The Worktop perked up the coffee station of her best brunch party using her placemat as spill-proof signage. (A coffee bar that simply wipes clean—that'll certainly sweeten every sip!)
"I made this coffee placemat with Snapfish. It's a budget-friendly table décor that makes your coffee station look like a million dollars!"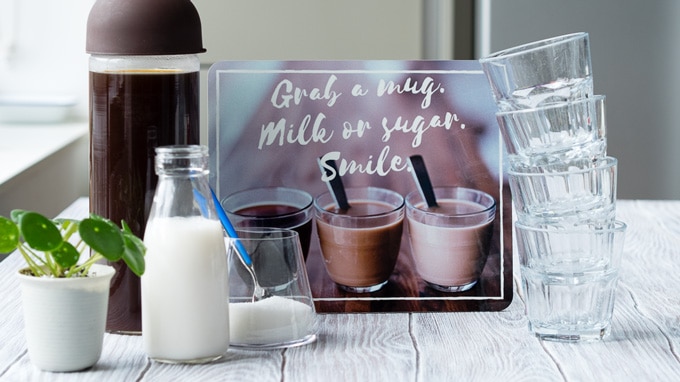 Capture meaningful moments
Bring the family together. Danielle of Today's The Best Day cultivated a meaningful moment with her family around the dinner table with their tradition of each sharing things that made them happy each day. We can't stop gushing over the sweetest thing her daughter had to say.
"Last night as we gathered around the table, it was my five year olds turn…She opened her mouth and said in her sweetest voice, 'It made me happy that I get to be with our family and have my own placemat with our family's picture on it!'…It wasn't the splash pad or park or playing with friends or a movie or even treats that made her the happiest – it was the simplicity of being together with her family."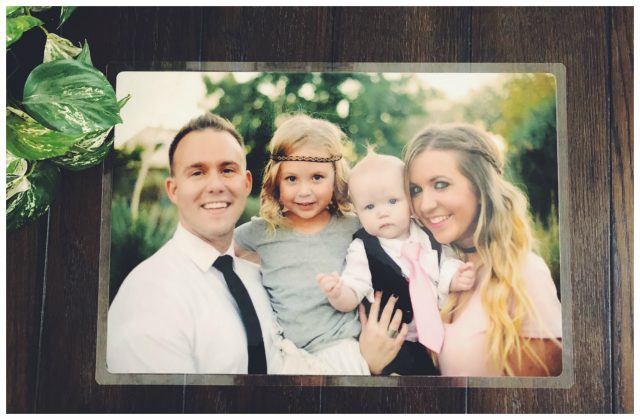 Make outdoor eating fun
Louise of Pink Pear Bear and her family took advantage of a heat wave and enjoyed their meal al fresco in their gazebo with a photo collage of favorite family photos on our placemats.
"The other lovely product we created was a set of photo placemats, we won't leave them outside permanently, but can bring them out for meals to make the table extra special. There are many different options when creating your products on Snapfish, you can choose the layout, have one photo or many, select a background colour, add text and generally make them totally personalised. They would make a really lovely gift as you can add a message for a birthday, wedding or Christmas present."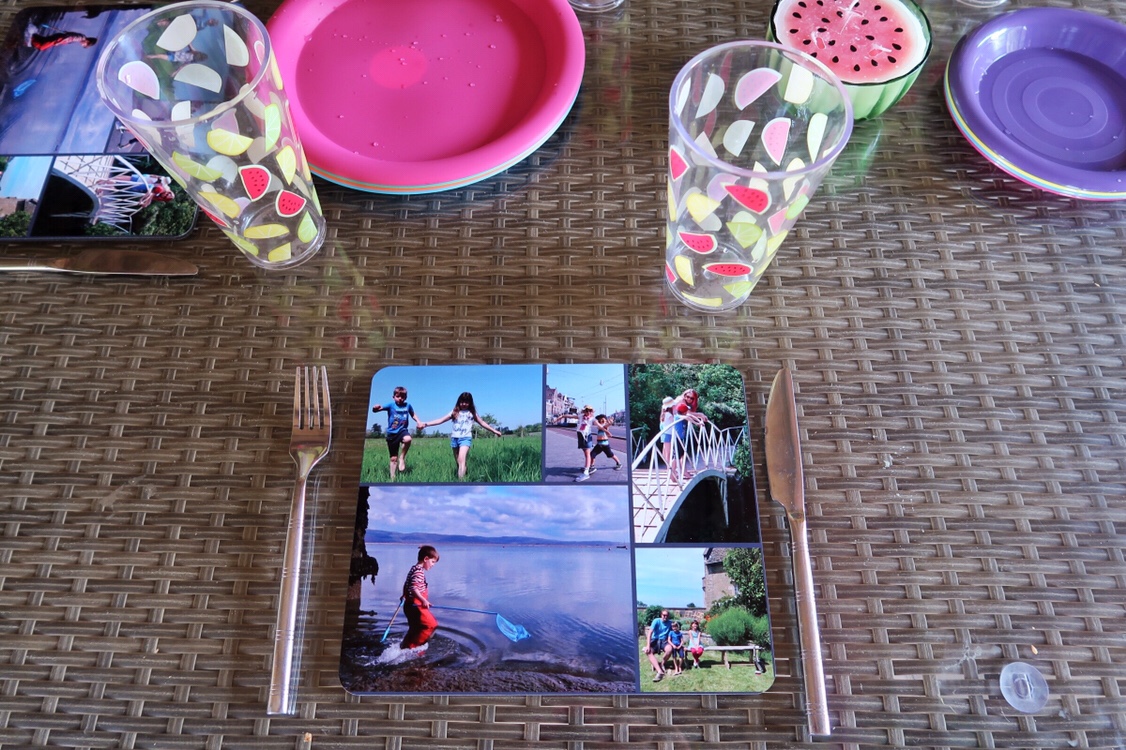 How would you top your tablescape? Decorate your placemats with one of our stylish pre-made designs or create your own starting with your favorite photos!
Personalize your own placemats
Check out more of our kitchen gear like aprons, cutting boards, and floor mats, and create your own matching collection!
Check out our Snapfish Deals page for the latest offers and get started now!
We love seeing what you come up with! Please tag us @SnapfishUS and #snapfish on Facebook, Instagram & Pinterest. Check out the Snapfish site for even more custom gift ideas.