Graduating is no easy feat. It's a momentous occasion that honors the impressive work of a special scholar, as well as and a mark of new beginnings.
Celebrate your graduate with thoughtful, meaningful graduation announcements, invitations, and thank you cards that are bound to get top honors with your friends and loved ones! Whether they're finishing kindergarten or high school or even saying farewell to college, we've got the perfect design for your special grad.
The Star Pupil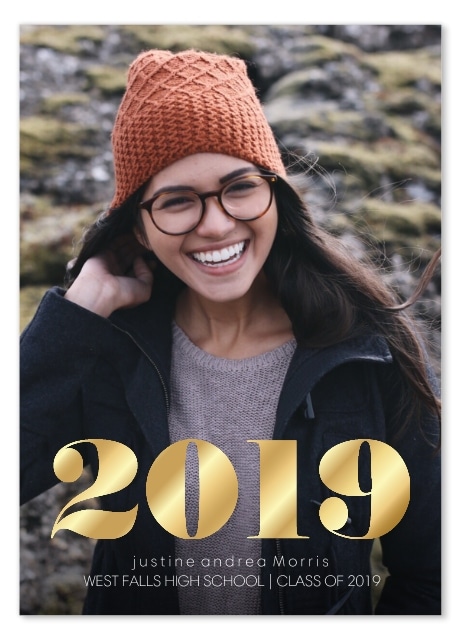 All eyes on your rad grad! Our Shining Class of 2019 design puts your grad front and center as the star of the show. Choose from gold, silver, or rose gold embossed foil that shines as bright as their achievements.
The Focused Student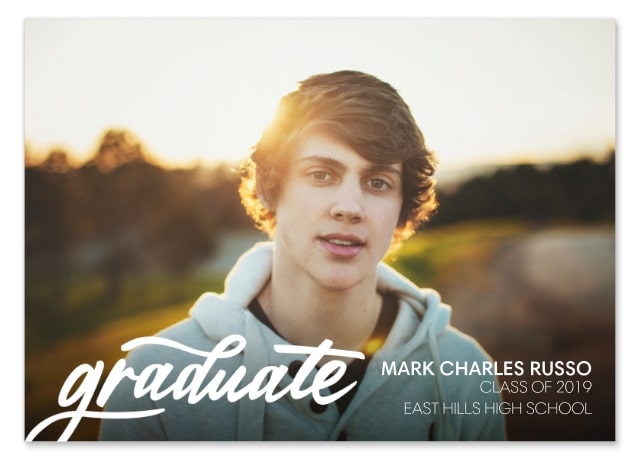 Give them the credit that they deserve with a graduation announcement that really shows them off! Our Graduate Script design pairs sophisticated messaging with your pride and joy's lovely smile.
The Double Major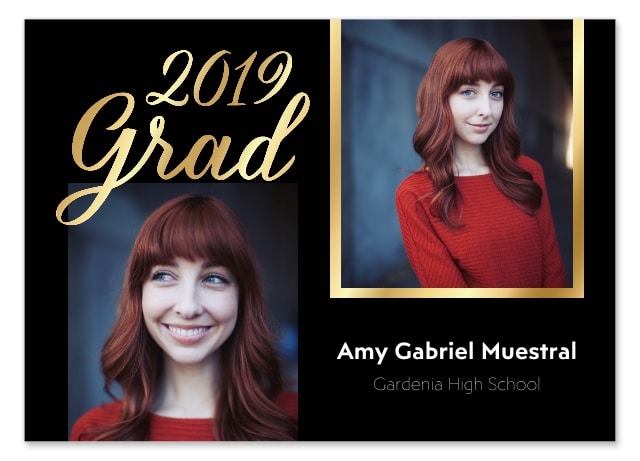 You may have noticed this between the art classes and sports practice, but your grad is a student of many talents. Our Shining Grad design allows you to showcase the many sides of your amazing scholar. Perfect for graduate invitations and announcements.
The Over-Achiever
Your grad is seriously gifted, which is why you need a collage graduation card design to show off all of their success! This timeless, classy wood design holds up to 6 photos of your awesome alum.
The Dean's List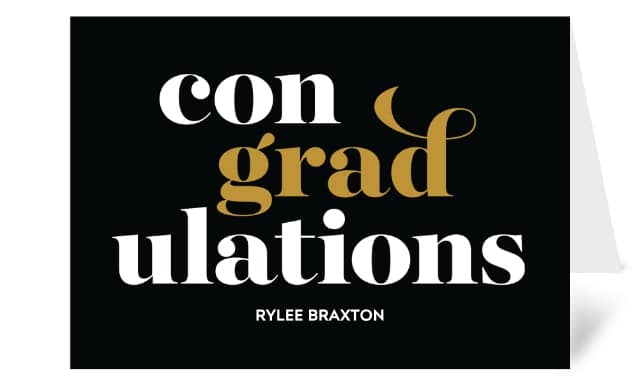 Send extra special congrats with a graduation card that makes the honor roll. This A+ Congradulations Grad design is clever and classy—just like your studious scholar!
The Shining Student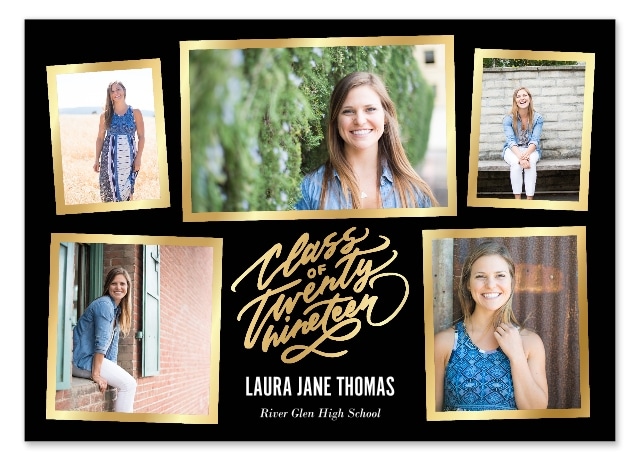 Your graduate will shine brightly on foil embossed graduation cards. This glimmering Class of 2019 collage design adds extra sparkle to the announcement of your incredible news!
. This glimmering Class of 2019 collage design adds extra sparkle to the announcement of your incredible news!
The Rockstar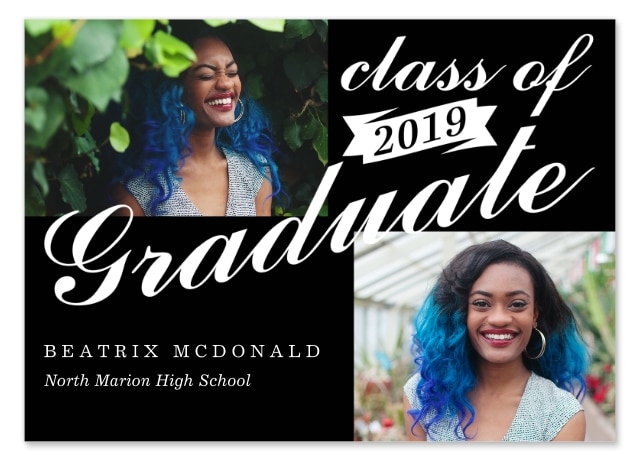 Let the good times roll! Your grad gets all their work done and does it in style. Express how much of a superstar they are with this loud and proud Graduate Banner card design.
The Artist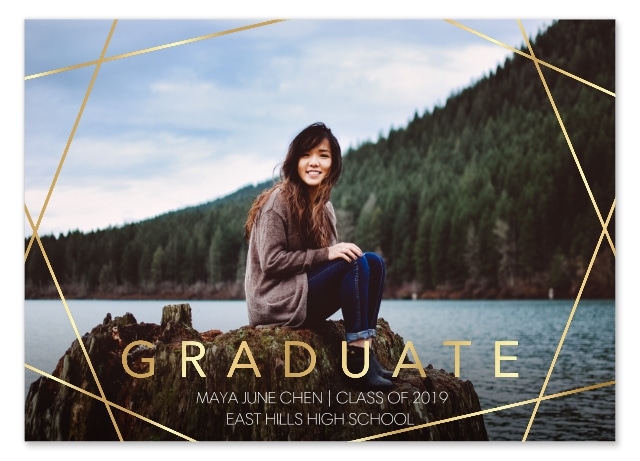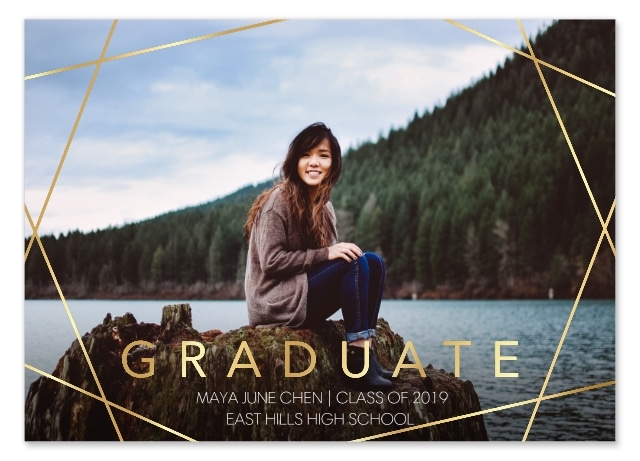 Your student has always brought their creativity to life, from easels to sketchbooks, and everywhere in between. Our Geometric Grad card design is contemporary and chic, adding visual framework around the true masterpiece. A little detail goes a long way! Don't forget to check out the matching graduation thank you card designs.
The Class Act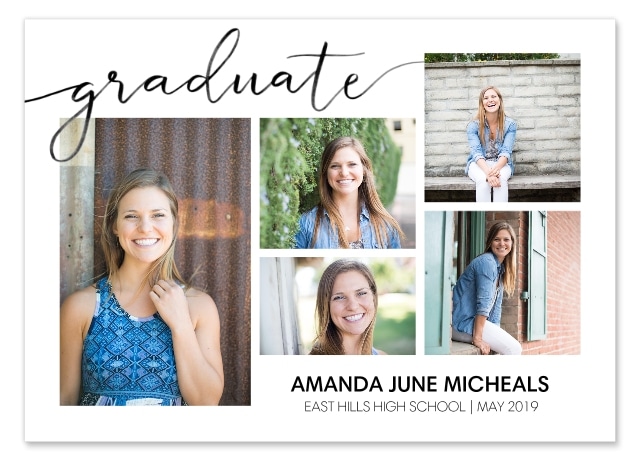 Caps off! Put the spotlight on your student's graduation with a very chic collage announcement. Class never goes out of style with this Simple Graduate card design.
The Life of the Party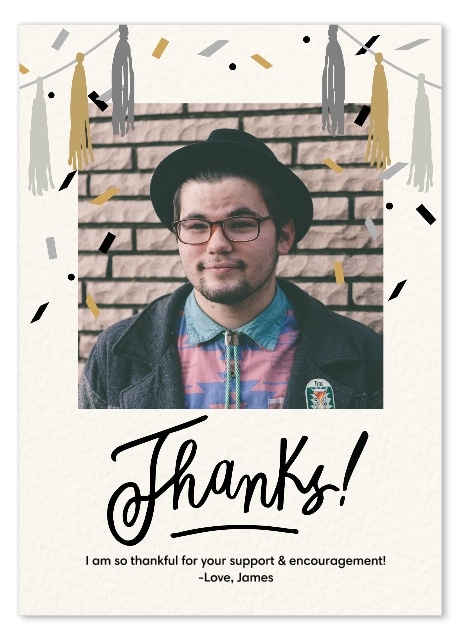 The tassel was really worth the hassle! This graduate Tasseled Thank You card is fun and vivacious, just like your grad who is always the life of the party. (Bonus!) It's also available in a matching graduation invitation design!
Ready to get started? Find everything you'll need and more top graduation card designs in our Graduation suite, here!
We can't wait to see how you'll celebrate! Tag us with @snapfishUS and #snapfish when you share your graduate's cards with on Instagram.