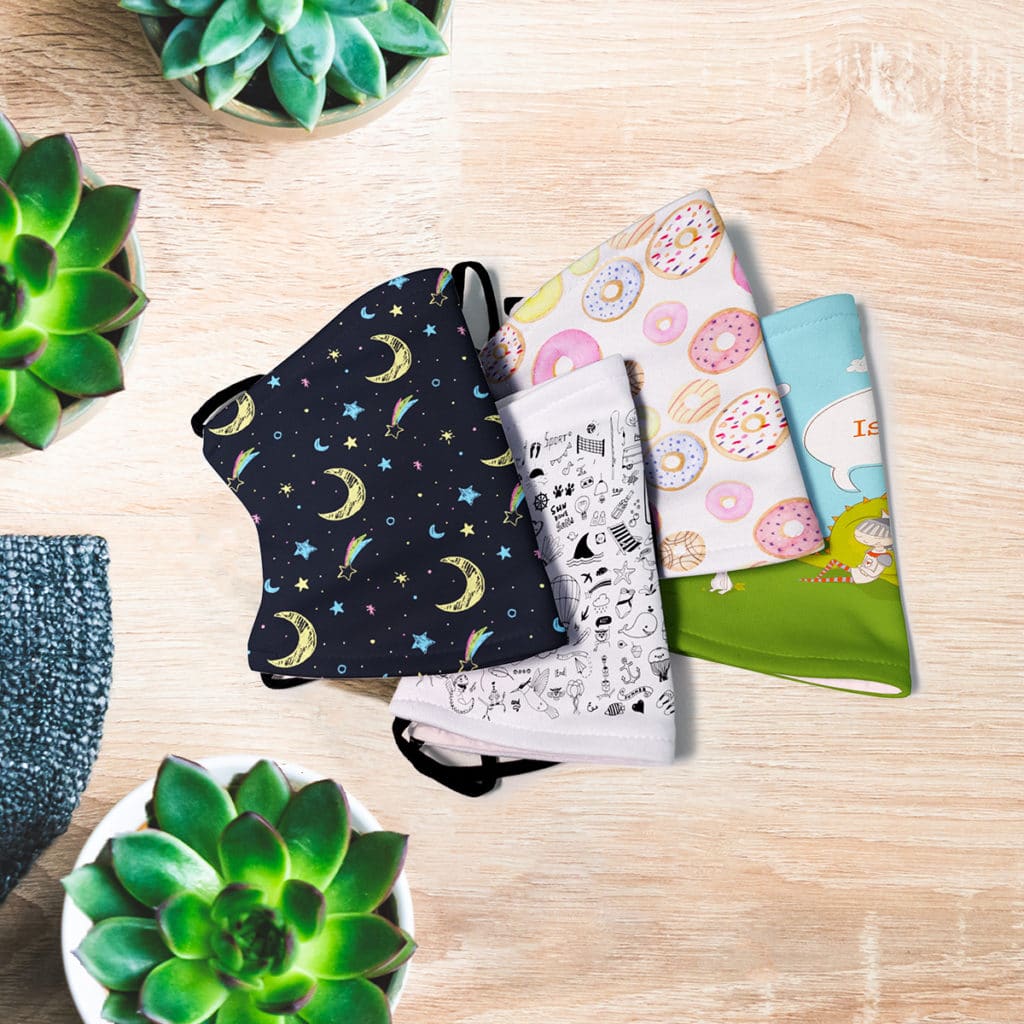 Face masks first started out as a temporary solution to help lessen the spread of coronavirus (COVID-19), but they've now transitioned into an everyday way of life. Most cities and states have even made mask-wearing mandatory when out in public. Since most masks sold are a one-size-fits all model, parents are having a hard time finding kids' face masks that fit right.
Even those with more petite faces are having trouble finding small face masks that don't sag. Luckily, at Snapfish, we now have two sizes to help you find a secure and snug mask. Read on to see the difference between our large and small masks.
Small vs. Large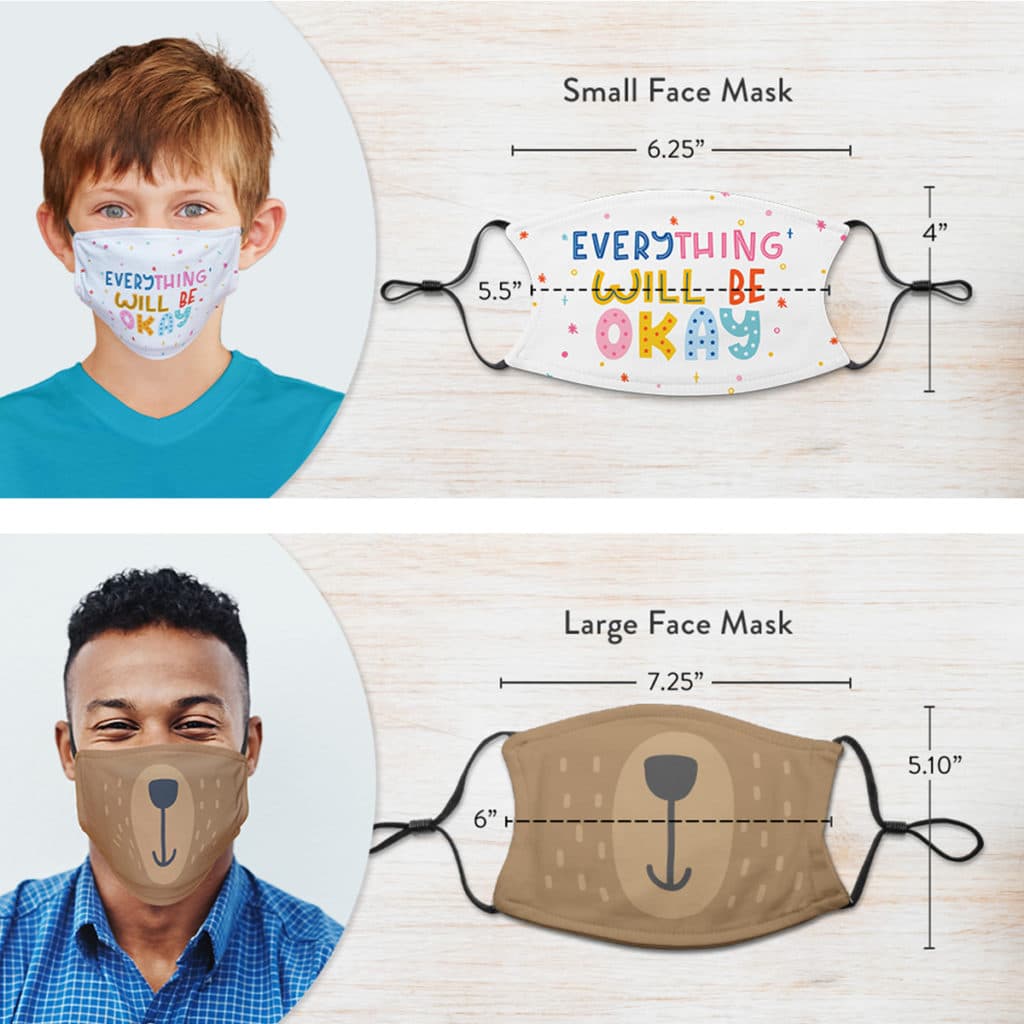 When trying to gauge which size will fit best, measure your face horizontally across the tip of your nose to determine width. Next you'll want to measure vertically from the bridge of your nose to chin. Once you've established those numbers, compare them to our large and small mask measurements and pick the best option.
Our large mask's horizontal measurements are 7.25" wide at the top and bottom, 6" wide across the middle, and 5.10" vertically from the bridge of the nose to your chin. Our small mask's horizontal measurements are 6.25" wide at the top and bottom, 5.5" wide across the middle, and 4" vertically from the bridge of the nose to your chin.
Perfecting Your Look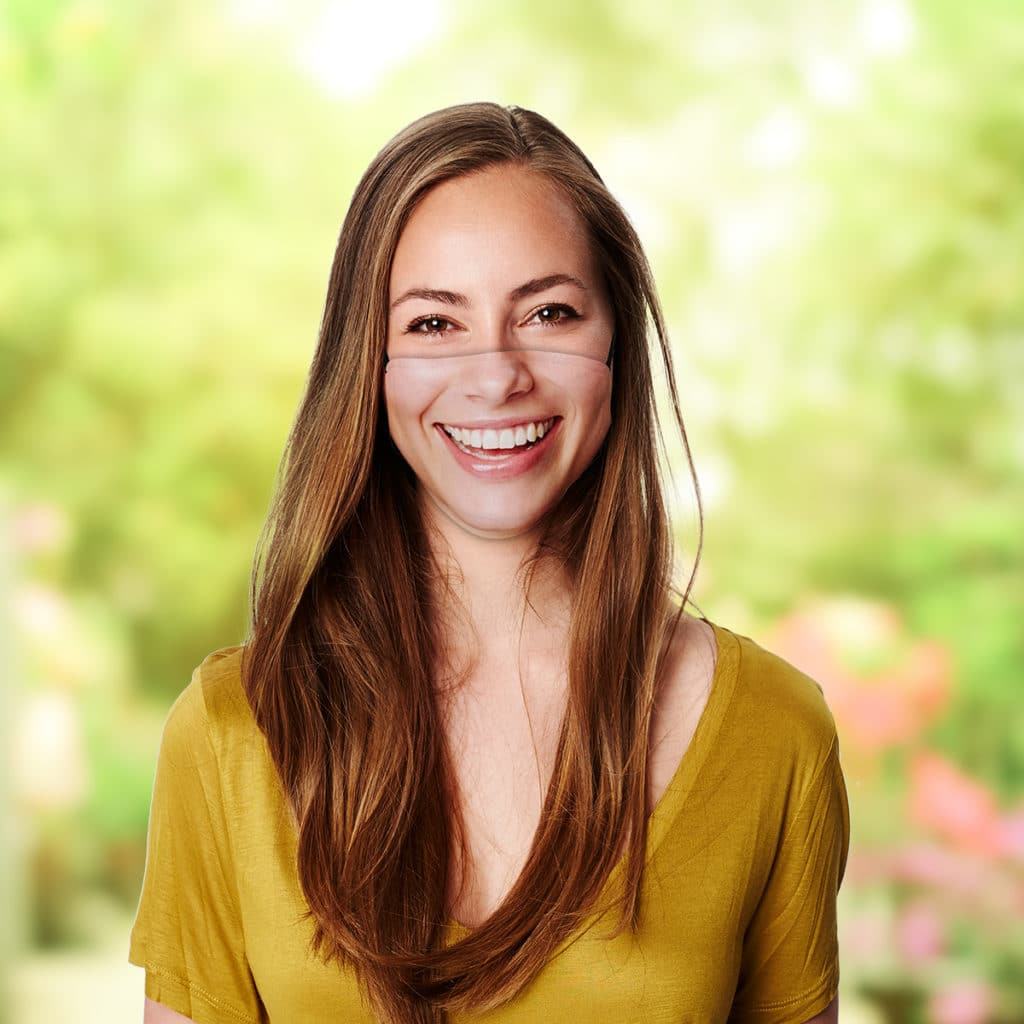 Now that you have the right size picked out, let's make it look amazing! You can personalize a face mask in minutes using our easy-to-use project builder. Simply add favorite photos, custom text, or choose from one of our exclusive designs. Our masks are sold individually, so you can order something unique for every member of the family! One of the more popular ideas is to create a mask that shows off their sweet smile underneath. Wishing you were travelling the world instead of quarantining? Use a scenic photo of that favorite faraway destination and keep the dream alive!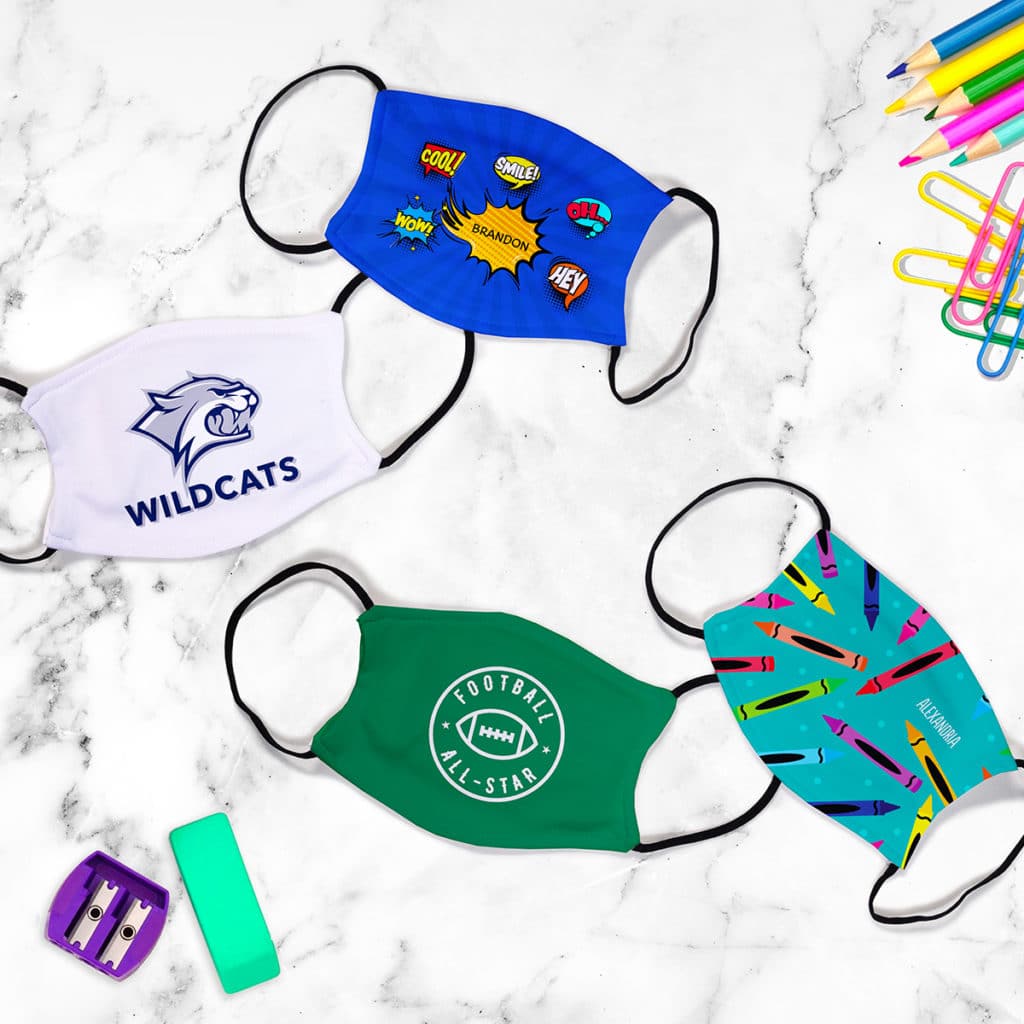 Custom masks are also being made with school logos and mascots for fun back-to-school looks. Kids, teens, and even the young at heart will love showing off our playful and colorful designs. We've even seen masks as must-have party favors for weddings and other intimate gatherings where socially-distanced style is a must. There's no limit to how creative you can get!
How to Wear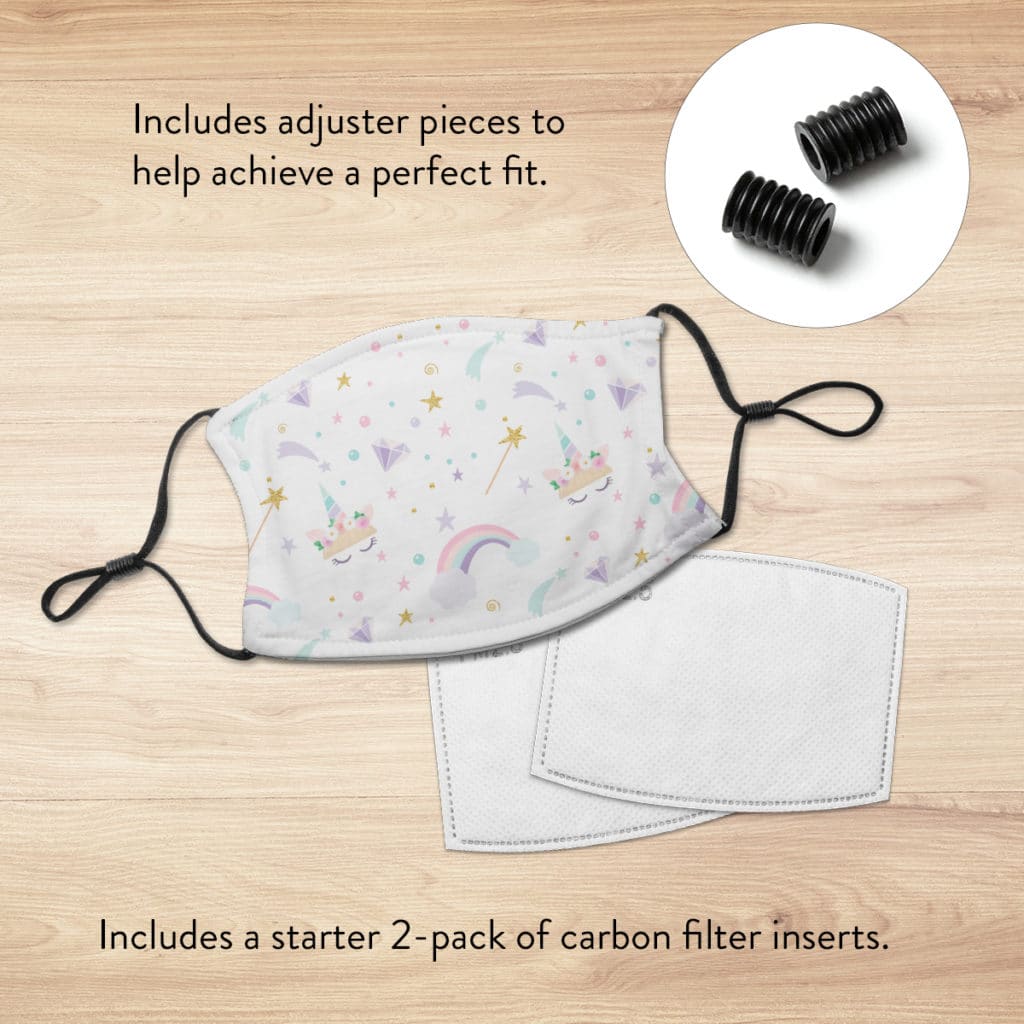 While our masks are designed to fit a wide variety of faces, we know that everybody is different! This is why we've included silicone adjusters with every mask order. Check out the step-by-step instructions below on how to attach the silicone adjuster pieces and ensure your mask fits perfectly!
Insert the elastic loop on one side of the mask into the larger sized hole through the center of the silicone adjuster.
Repeat for the loop on the other side.
Try on the mask to check for fit while holding the silicone adjusters in place.
If the mask still fits too loosely, slide the silicone adjuster closer to the mask to tighten.
If the mask fits too tightly, slide the silicone adjuster away from the mask to loosen.
Your face mask can be machine washed and comes with a 2-pack of carbon filter inserts to get you started. To insert the carbon filters, simply open the pocket on the side of the face mask and slide in one of the PM2.5 filters supplied.
Stay safe and help prevent the spread of COVID-19! Remember to combine mask wearing with other protective measures such as maintaining at least six feet distance from others and washing hands frequently. Remember to wash or sanitize your hands before putting on or taking off your mask to minimize the risk of spreading the coronavirus.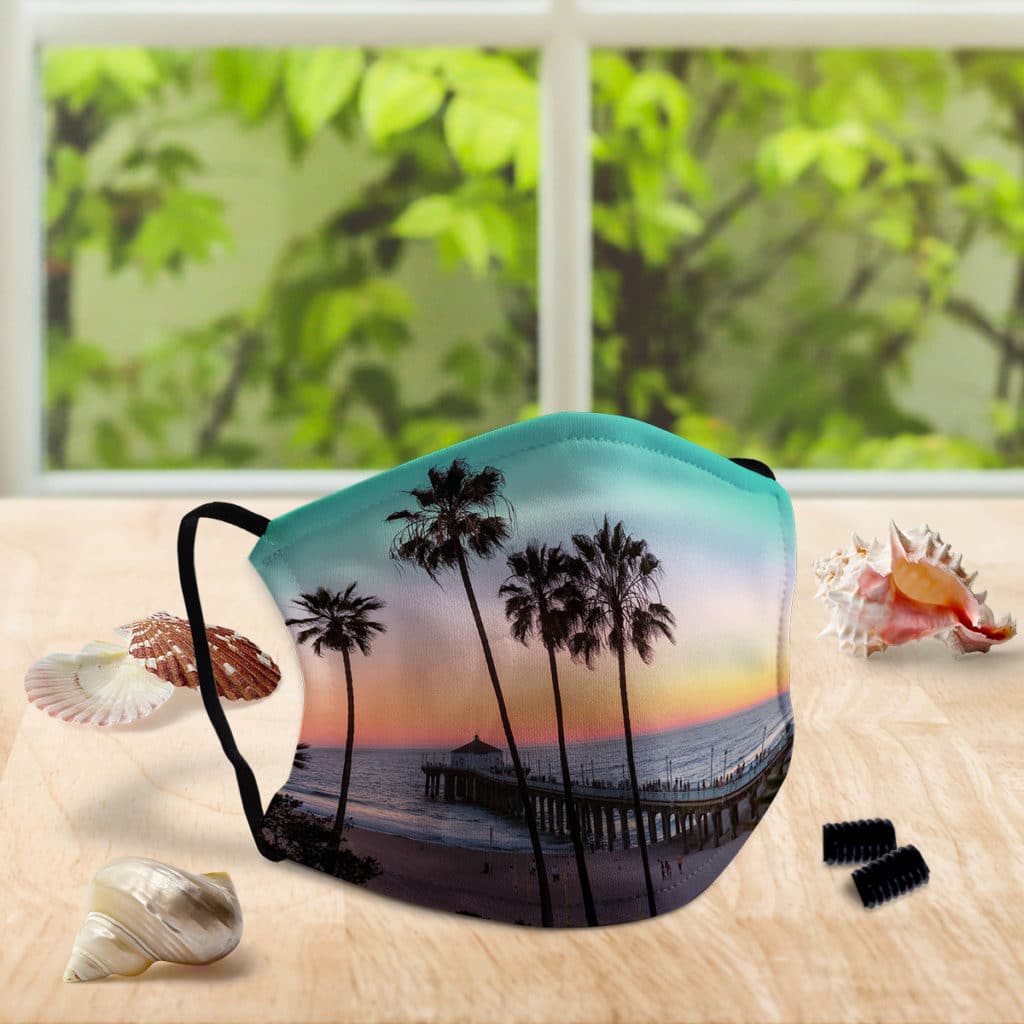 We'd love to see how you end up personalizing your face masks. Make sure you share photos of your face covering creations with us on social media. Just tag us with @snapfishus on Instagram or Facebook with photos or use the hashtag #snapfish. You can also follow us on YouTube, Twitter and Pinterest, too!