Show your Daddy how much you care with personalized photo gifts, perfect for Father's Day this June!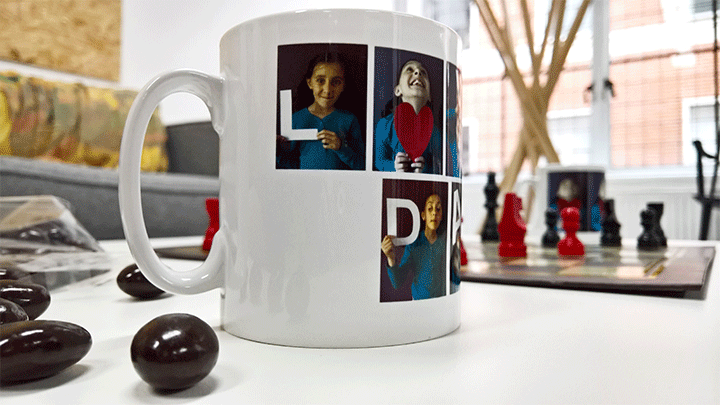 Follow these simple steps to create your own gift:
1. Take your photos! 
We used online templates to print out the letters for our chosen phrase; 'L❤VE YOU DADDY'. Cut them out, and have a mini photo-shoot with your kids. Let them have fun, and be creative!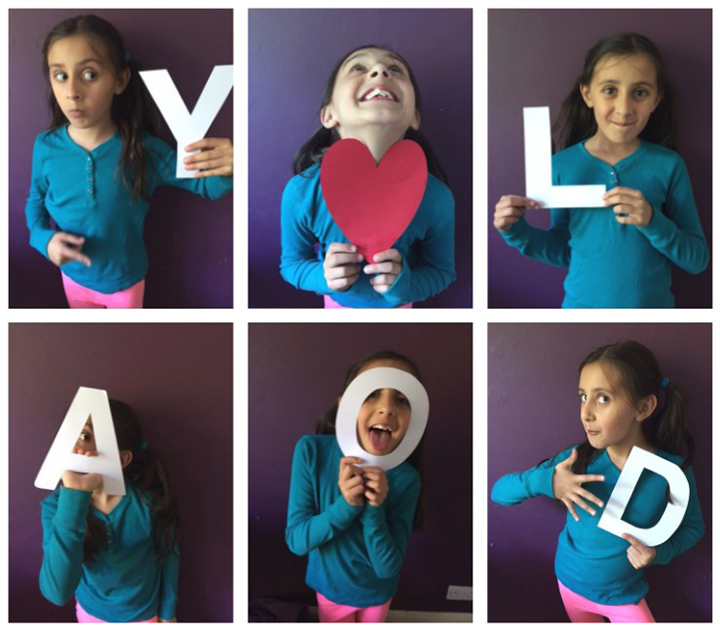 2. Before creating the table-top photo panel, we decided to add a black and white filter to the photos, using PicMonkey. We uploaded our pictures to Snapfish and started creating our photo gifts.
We created a table-top photo panel, as it's the perfect gift to sit on Pop's desk! This idea could work with many of the photo gifts available, we also created a personalized photo mug and large photo poster print.
3. Start your design by removing the single image layout from your table-top photo panel. To do this simply click on the 'photo here' area, and press the 'delete' key on you keyboard.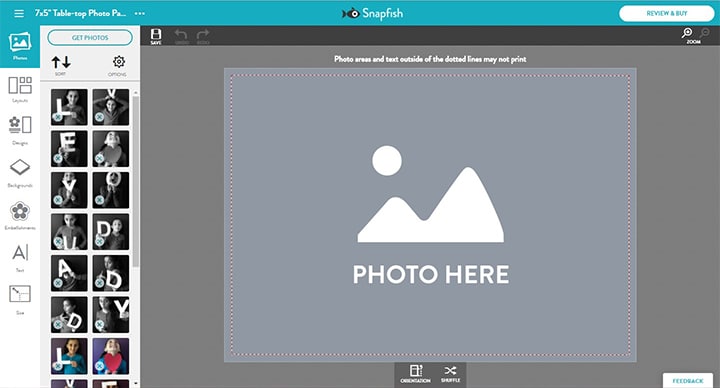 4. Drag and drop your photos on to your table-top photo panel. Use the bright pink lines to make sure all of your images are aligned. If you are creating a shorter phrase than 'LOVE YOU DADDY', then you may want to increase the size of your pictures!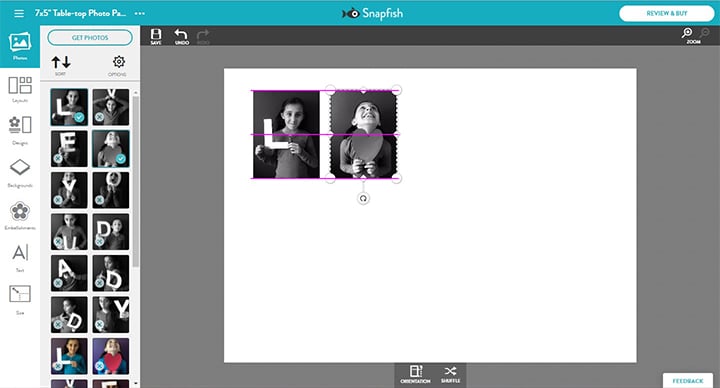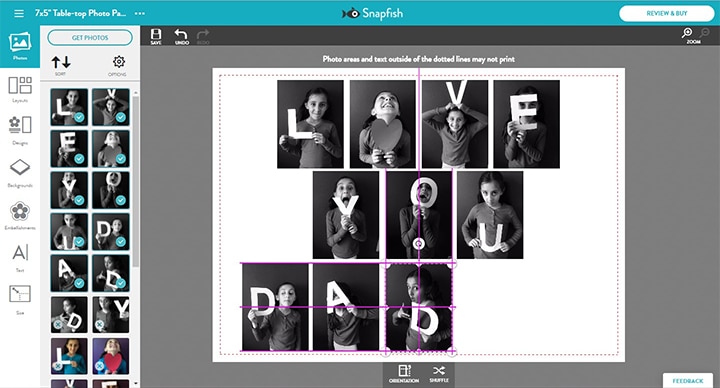 5. Originally the heart in our picture was red, but when we added the black and white filter it turned gray! We decided to add a bright red heart embellishment to the image to replace it. It helps to add an a little pop of colour.
We resized and moved the heart so it fitted exactly over the original heart, and looked as though it was part of the photo!
The heart can be found in Embellishments > Basic > Hearts & Stars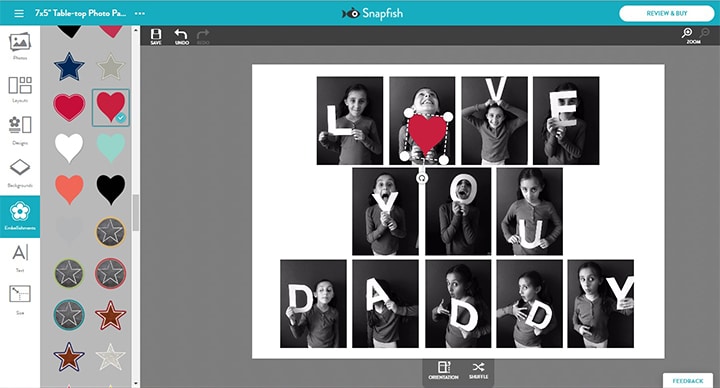 6. To contrast against the black and white photos, we added a pale blue background. There are over 120 colors to choose from, as well as textures, patterns and collections.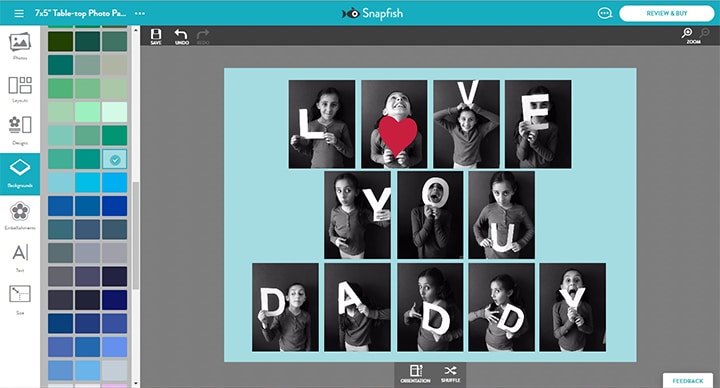 7. We all know the devil is in the detail. In this case, it was adding a simple white border to each of the photos, which helped the photos to stand out. Making this simple change gave the design a more completed look! 
The frame can be found in Embellishments > Basic > Frames & Corners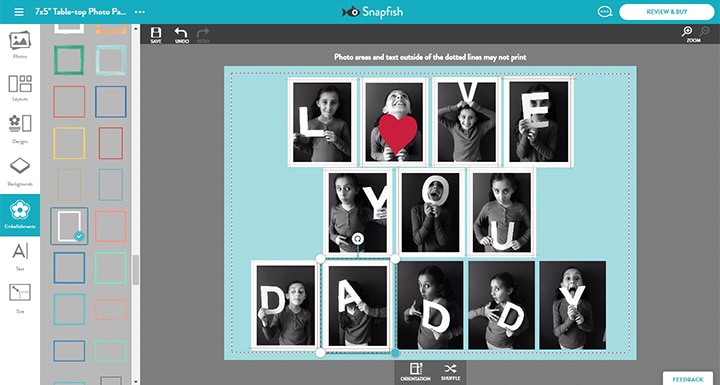 8. Once you have finished creating your table-top photo panel click click 'Review & Buy', and this is what your photo gift will look like when printed!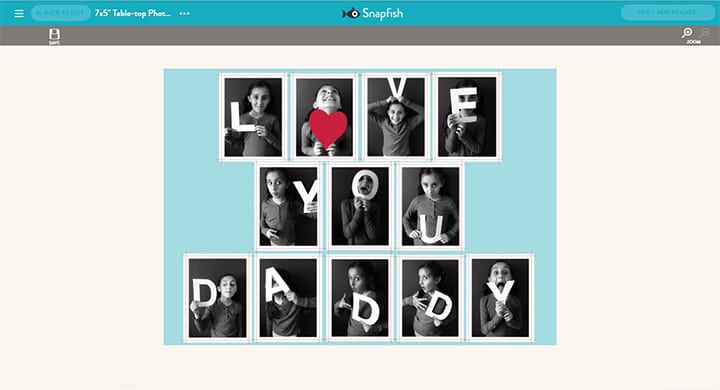 Shop all Father's Day photo gifts to find the perfect Father's Day gift. 
Remember to check for the last order date for Father's Day to ensure you get your orders finished on time!
We love seeing what you come up with! Please tag us @SnapfishUS and #snapfish on Facebook, Instagram & Pinterest . We love seeing what you create.