How do you custom design your dream wedding invitation?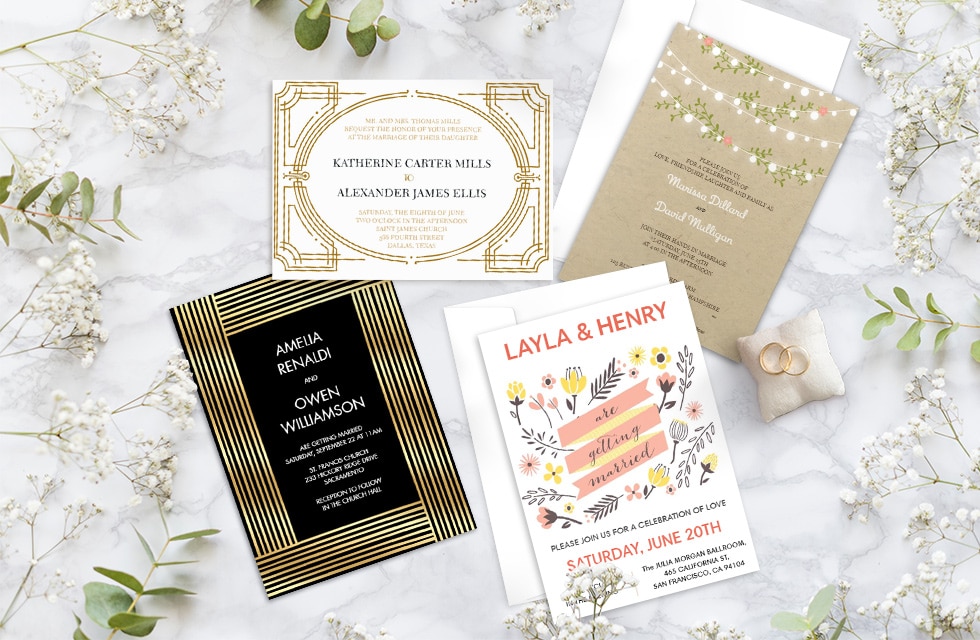 Wedding Invitation Inspiration
Pulling off your dream wedding is no small task. It has to be an expression of both partners and their love, needs to satisfy the guests and, perhaps most importantly, should stay within your budget. Get started with wedding stationery, party favor and invitation ideas that can be personalized for whichever theme you choose.
Classic & Elegant Wedding Invitation Style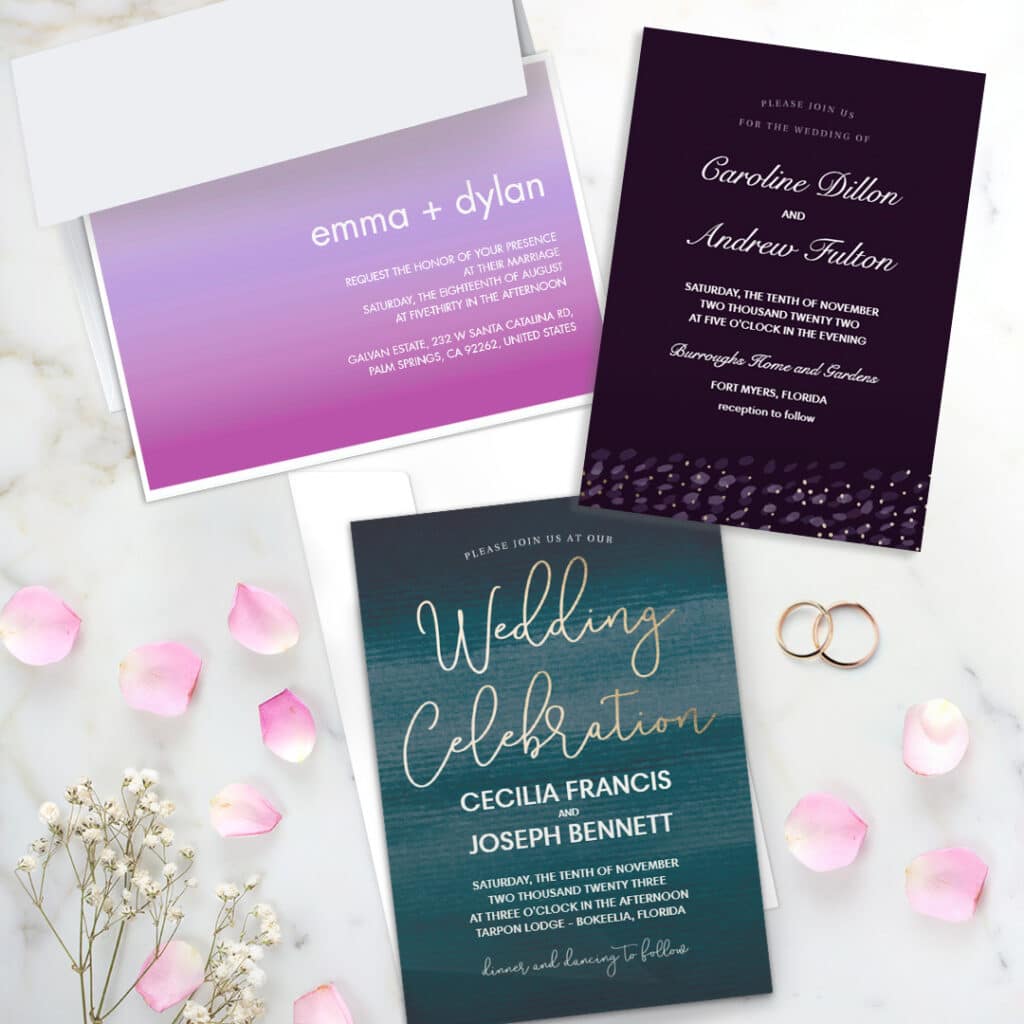 Opt for this style of invitation if your wedding theme is on the more traditional side. Just use the names of the happy couple or monogram their initials for a clean yet elegant look. Better yet, paste one or more photos from the engagement announcement onto the cover of the invitation, while keeping the other wedding cards (save the date, wedding announcement, wedding programs, and thank you cards) simple and timeless. For extra flair, consider rounded corners or scalloped edges to make your cards stand out.
Match The (Wedding) Season
Once you've chosen your wedding date, consider matching your invitation look to said season. Make choosing a theme that much easier by going for a seasonal wedding that reflects the weather outside. Choose floral imagery for a spring wedding; embrace greens for the background of the invitation or the typography for the set.
Spring / Summer Weddings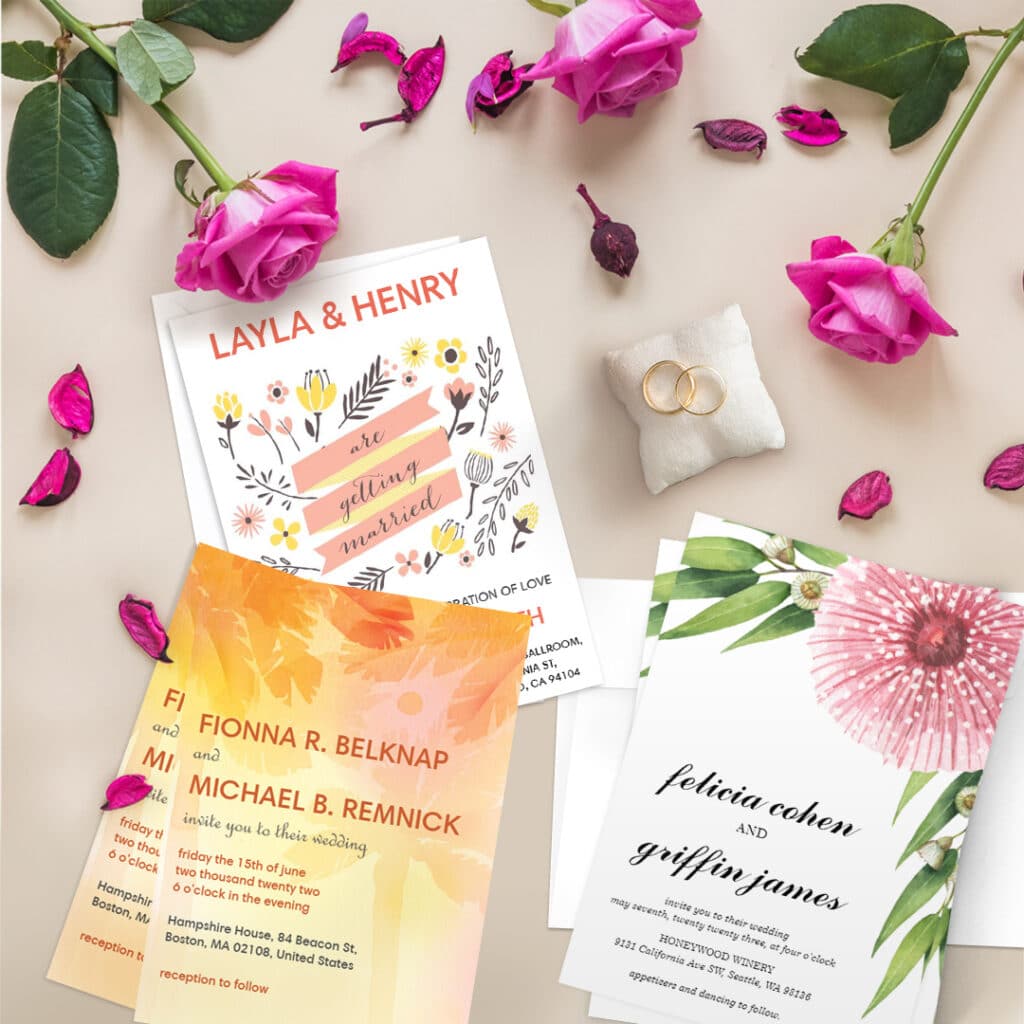 Use floral accents for a summer wedding by the beach or in a garden.
Winter Wedding Wonder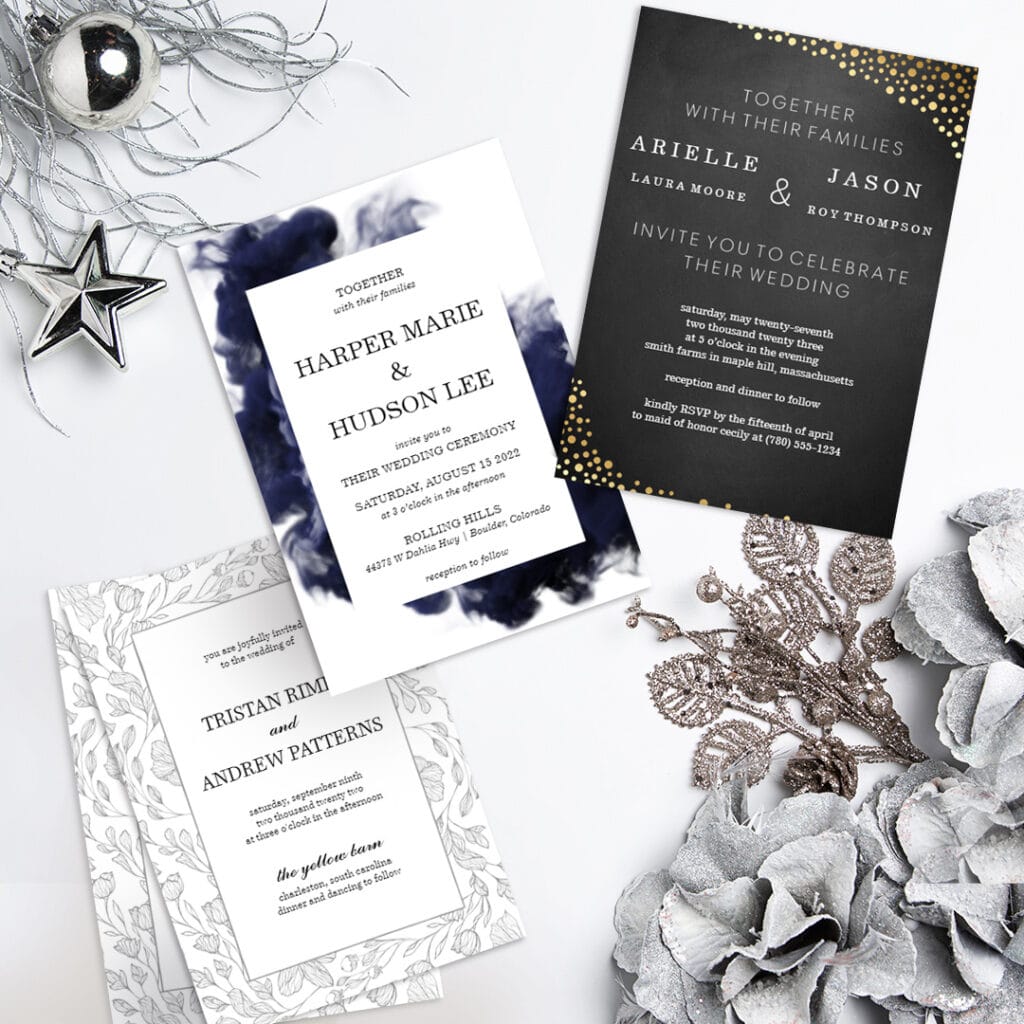 Go for fall colors and a rustic style for your September wedding invitations; or choose blues, silvers, and snowflakes, for a winter wonderland ceremony.
Wedding Au Naturel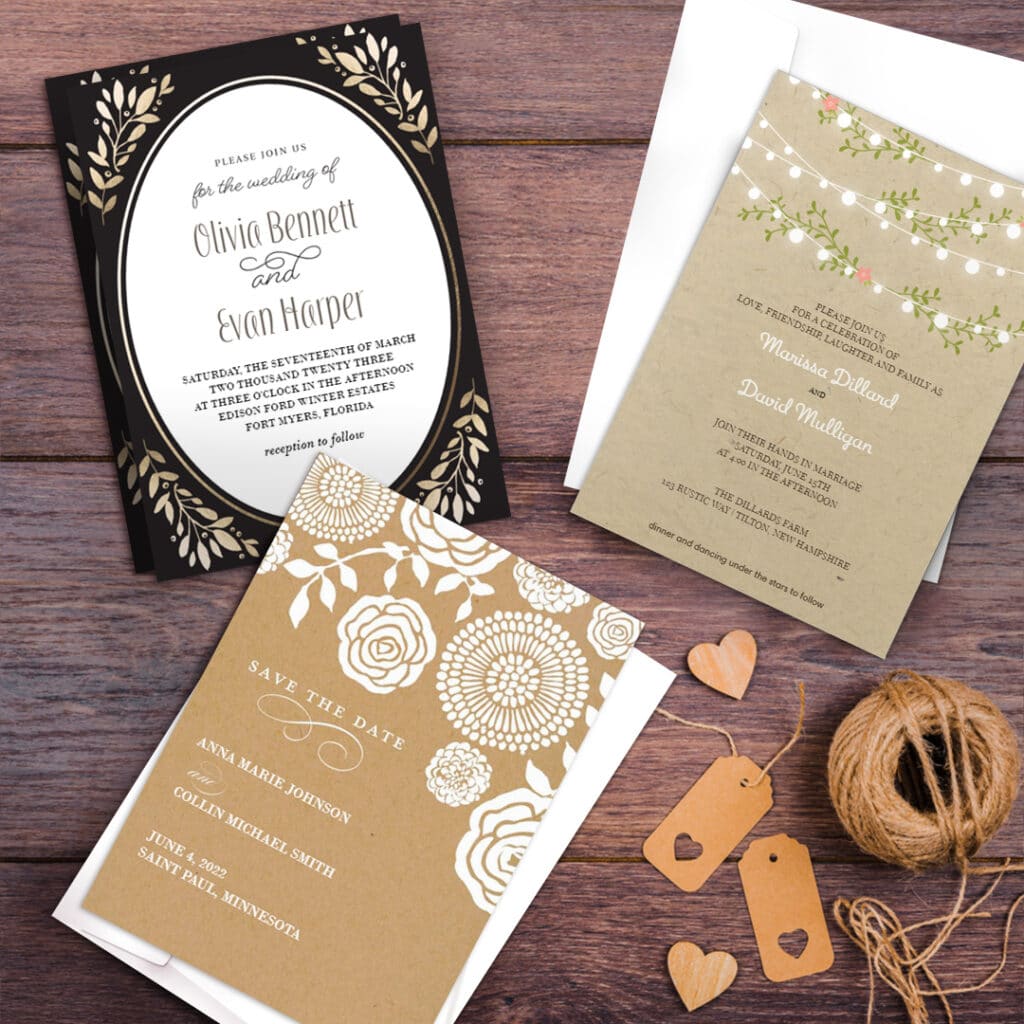 Whether your rustic chic wedding is going to be held in a barn or even outside under a marquee, this unique wedding theme is great for those inspired by nature and the countryside. Add as much natural wood, plant life, and twinkly lights, into your decor as possible to create the ideal rustic vibe. Make sure to reflect each of these elements in your matching wedding invitations by adding a dark brown or light grey background color, floral imagery if you so desire, and any other embellishments that suit the theme.
Wedding Watercolor Wonder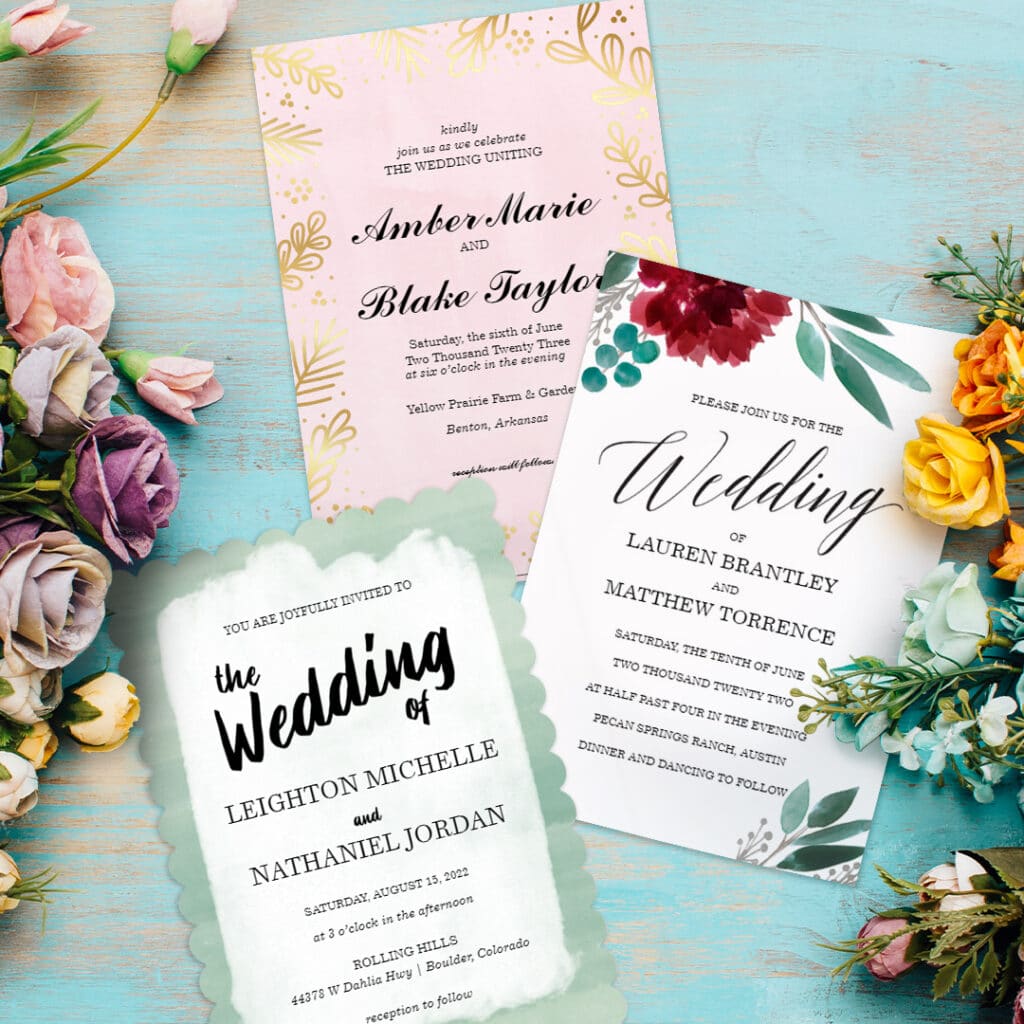 For a softer, more romantic look, choose watercolor invitations that reflect other elements of your wedding decor and theme.
Add florals and plant life if your wedding is going to take place in a floral wonderland or other natural setting. Or, choose warm shades like yellows, oranges, and browns, for an outdoor fall wedding. For a waterfront wedding, add shades of blue and light to dark ombrés to represent the water (or even whimsical swans!). Whether you go with beautiful color combinations or simple watercolour styles, your invites will go perfectly with your nature-inspired event.
Vintage & Retro Wedding Style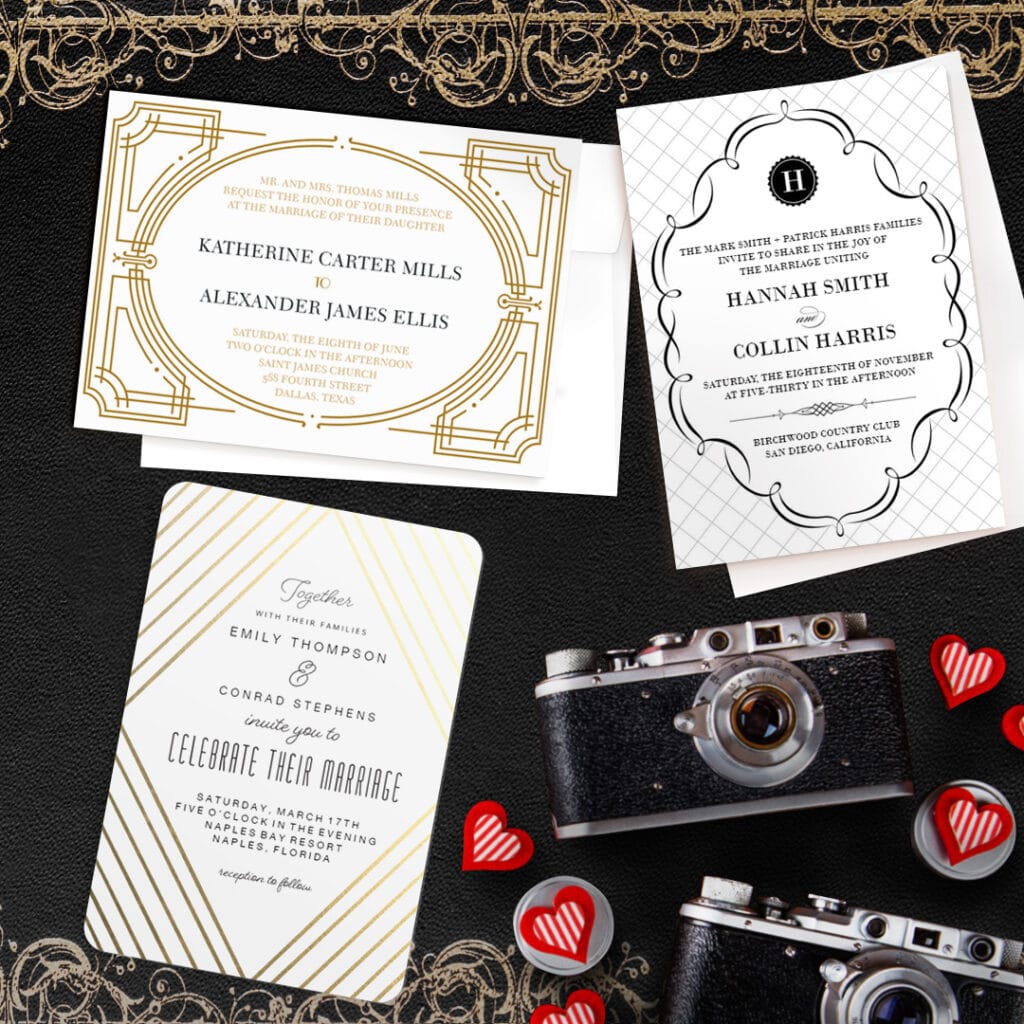 Love all things retro? Start with vintage invitations that reflect your taste for the old-fashioned side of life. Embrace floral fringes and lace adornments on your cards; but if lace and florals aren't your style, look to the 1920s with an art deco aesthetic. Or, go a little more modern with 1950s-inspired invites that feature bright colors and sharp lines. Pick a simple cover on the actual invitation cards with you and your spouses' names written in an elegant cursive font.
Less is More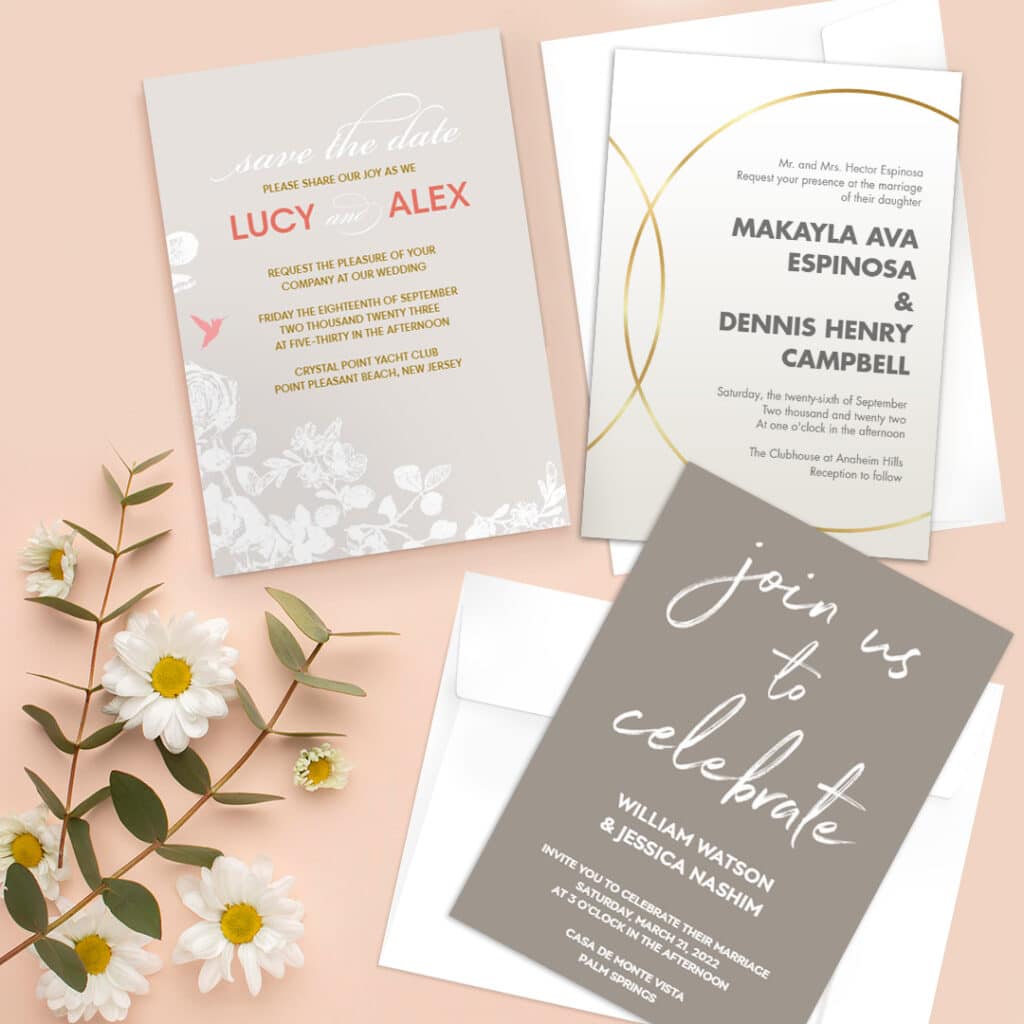 For a no-frills wedding invitation, consider a minimalist invite that's light on the embellishments. Perfect for a smaller, simpler wedding ceremony, opt for a clean white or black background with the partners' monograms and wedding information written in a clear, consistent font. Add any extra elements to your minimalist design — botanical, creative, elegant, beachy, or chic — for a personal touch that'll make your invite all the more unique.
Choose our popular 'Design your own' feature if you'd like to add some extra warmth and personality to your invite. Pull inspiration from the colors of your wedding and add photos of the couple to the invitation card for added personalization.
Wedding Flower Power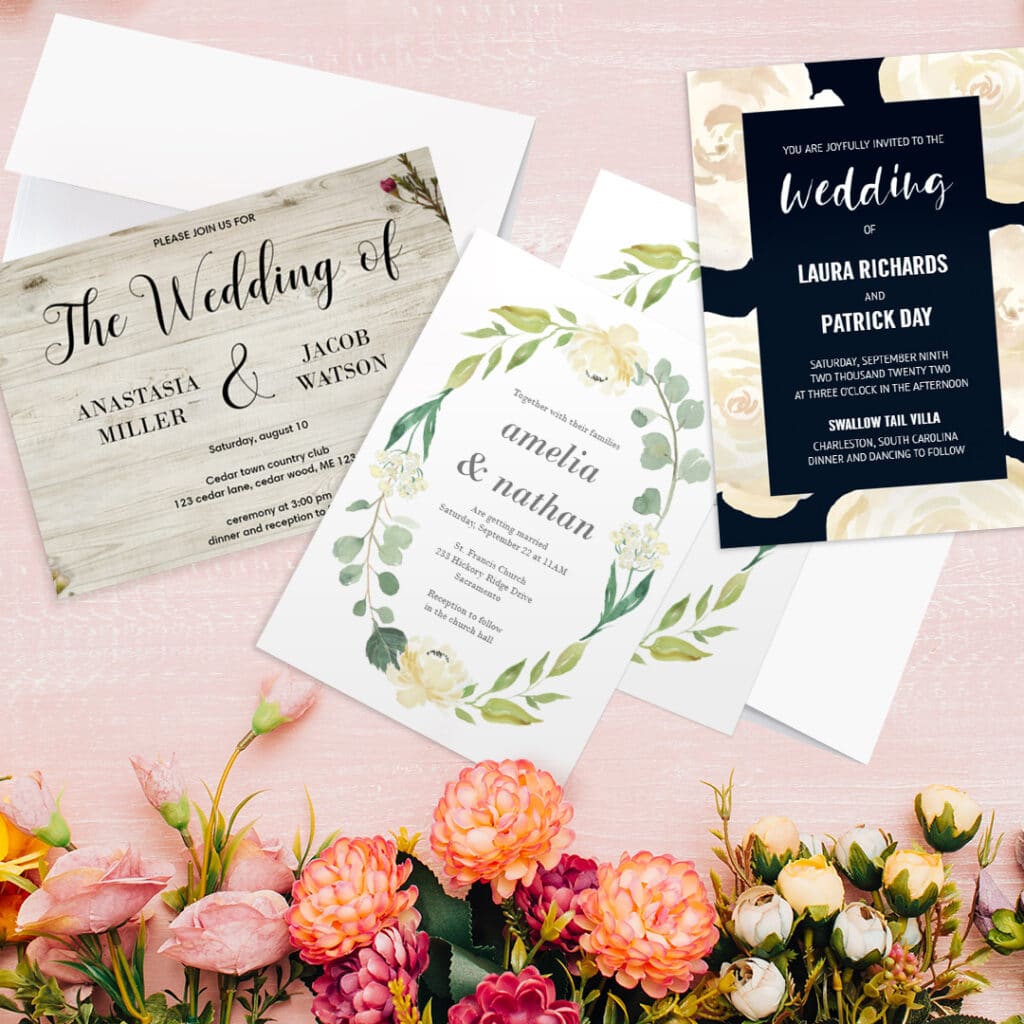 This timeless wedding theme is always a great go-to for a romantic and beautiful ceremony. Look to botany and nature for floral wedding invitations that will convey your wedding's boho chic vibes. Opt for pastel, rustic or elegant accents for a personal touch, and pick a whimsical cursive font to reflect the natural aesthetic. As an alternative, inscribe the couple's names amidst the florals in a simple uppercase typography that contrasts with the complex and colorful florals on the card; or, go minimalist with limited flowers and a clean overall design.
Gold Standard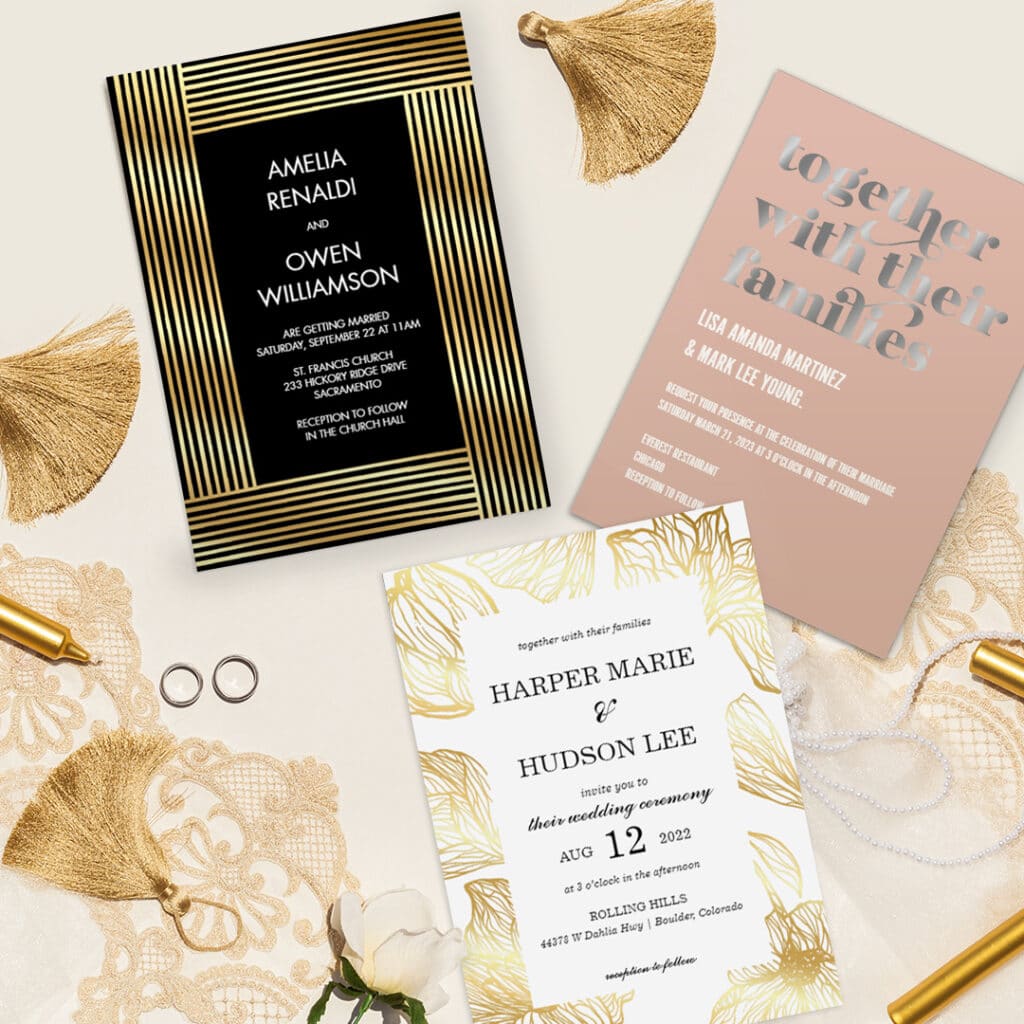 Looking to make a more glamorous statement? Perhaps you're planning to hold your wedding ceremony or reception at an ornate venue or grand estate. What about a luxurious decor scheme and color story? With foil cards, your invites will be printed on premium cardstock, and embossed with either metallic gold, silver or rose gold foil – a perfect match for the wedding couple that likes to go big.
How To Create Your Wedding Invitations
Crafting amazing wedding stationery doesn't have to take up all your time and add unnecessary stress when you use our simple wedding card maker tools. Whether you choose to DIY or buy your invites straight off the website, putting together your own wedding invitations is simple, enjoyable and affordable with Snapfish!
Step 1: Choose the right size for your card. Our most popular wedding invitation size and format is the classic 5×7 flat card set, but we also offer 6×8 flat cards, 8×4 flat cards and even folded greeting card styles
Step 2: Select a wedding announcement, Save The Date or wedding invitation design style
Step 3: Choose your desired card size, and click the 'Create now' button to get started
Step 4: Choose your cardstock type: matte or gloss
Step 5: Pick your trim (square, scalloped or rounded) to personalize the card shape
Step 6: Review and select the card design colorway
Step 7: Select the font and color for the typography and upload any photos you want. You can see all the design options in the left hand navigation
Step 8: Add the main wedding information: couples' names, the location, date and time. If you're not set on the details yet, just leave a placeholder to see what it will look like in the end. You can save your design at any time by clicking on the 'Save' icon at the top of the builder
Step 9: Don't forget to personalize the back of the card!
Step 10: Choose a layout and background color for the back of the card, e.g. text, photos, or both.
Step 11: Add photos and text to the reverse of the card, as required
Step 12: Click 'Review & Buy' for a final check of your finished card design
Step 13: Add to cart, or save for later
Now, your wedding invitation is personalized to match your wedding theme and you can check that task off your To Do list!
Addressing Wedding Invitations
Knowing how to address invitations is an important aspect of wedding etiquette. The invitation wording can be more or less formal depending on the wedding size, theme, and types of guests. Either way, it is customary to use titles and full names of the guests when addressing the envelopes.
Make sure to send separate invitations to children over 18, and write 'Plus One' if bringing a guest is allowed.
When To Send Your Wedding Invitations
There are many opinions about when is the best time to send out wedding invitations; a general rule of thumb is to send them out about two months before the wedding so guests have enough advance notice. However, if yours is a destination or mid-week wedding, then sending invitations or Save The Dates as early as possible is best so that guests have time to book tickets and request time off work or other engagements, as needed.
When you're hosting a virtual wedding, a month in advance is typically enough time for guests to mark their calendars. Since this type of wedding doesn't require your guests to travel or buy new attire (well, maybe just a new top for that Zoom-call), you'll just need to make sure that they won't have any other plans for that day.
Planning a wedding can be a challenging yet exciting task. Thankfully, it's easy to create that perfect, personalized wedding invitation to match any theme or type of celebration, from the classic church or registry office wedding, to a micro-ceremony, virtual or even humanist celebration. Showcase your unique personalities with our custom wedding invitation design tools, and don't forget that essential photo book for all those wedding album photos!
Feeling inspired to create your own stunning wedding invitations? Share your wedding invitations, Thank You cards and photo books with us on social media. You can tag us with @snapfishUS in your photos on Instagram or Facebook, or use the hashtag #snapfish. Follow us on YouTube, Twitter and Pinterest, too. Check out the Snapfish site for more wedding inspiration and gift ideas!