Despite some uncertainty surrounding graduation traditions and celebrations this year, it's important that we still recognize the accomplishments of our 2020 graduates. Their hard work and dedication over the last four years should not be overlooked.
So how can we honor and acknowledge our grads this year even though we can't celebrate in the usual ways? Check out our awesome and easy ideas to make 2020 grads feel special. 
Throw a virtual graduation party
While we may be missing all the in-person fun, don't let that stop you from having a good time. Send out a virtual invitation and have a digital celebration via Skype, Zoom, Houseparty, or any other app in honor of your graduate! Get grandparents, aunts, uncles, cousins, and friends all on the group video call. It's a super simple way for everyone to share how proud they are of the new graduate!
Make sure you decorate for the party, too! Use your grad's senior pictures as decorations in the form of canvas prints, photo tiles, or a large personalized poster. Feel free to add embellishments to make these feel even more personalized and special for your graduate. You can even create a custom tabletop panel featuring the graduation year and more.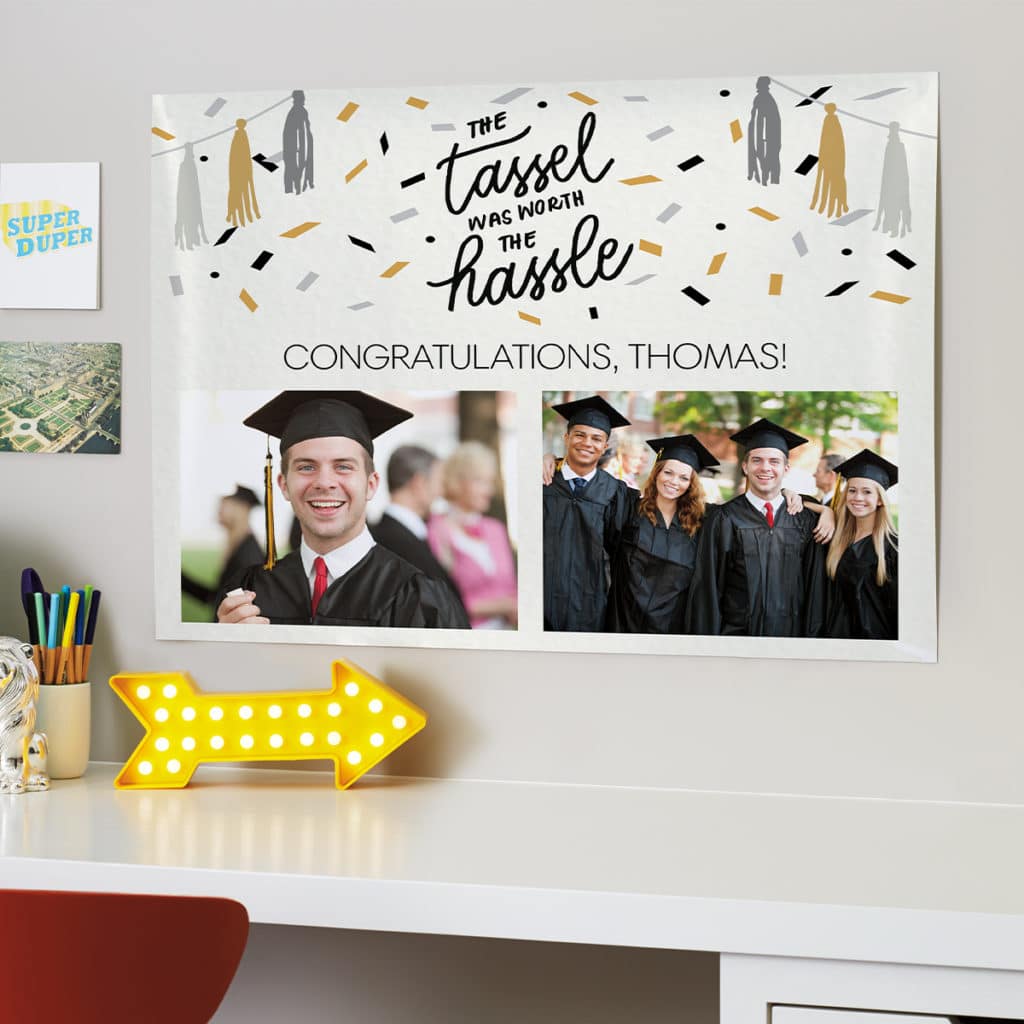 What about creating a photo banner using prints of some of their favorite school memories? Add some streamers and you've got an awesome wall display (that doubles as a video call background!), perfect for your new grad. These are fun and simple ways to make your grad feel special, despite the unusual circumstances.
Send your congratulations in the mail
Although we may not be able to enjoy the large-scale graduation parties we're used to, you can still tell the grads you know that you're proud of them with a custom congratulations card. You can easily add their cap and gown portrait to a card or choose from one of our non-photo designs. This is sure to make any 2020 graduate feel the love!
We also make it easy for graduates to share their excitement via mail too. Choose from any of our personalized graduation announcement cards and send them off to friends, family, and loved ones around the world. We have tons of classic designs, as well as modern and contemporary card options.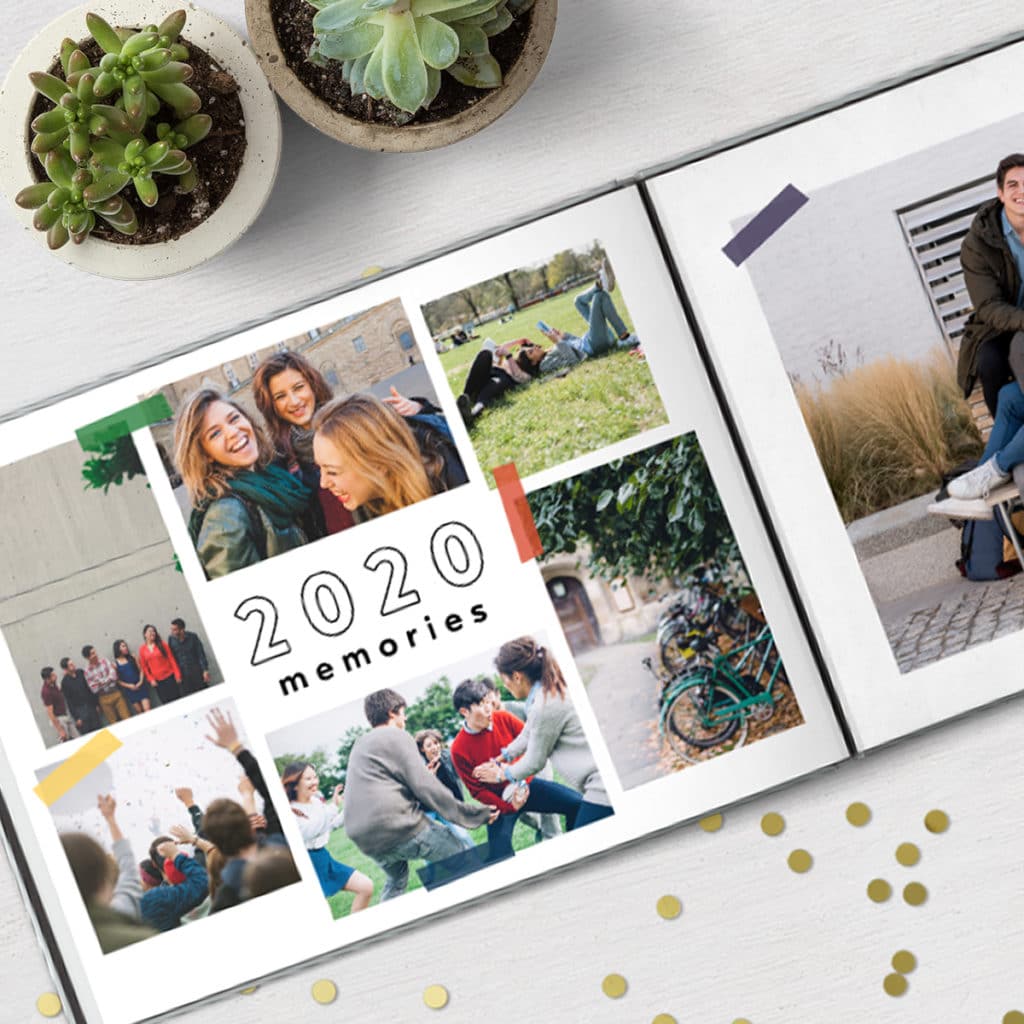 Sweeten the surprise with a personalized gift
Looking for something epic to gift alongside your custom card? How about a picture-perfect personalized gift! High school grads would love a fleece blanket featuring their favorite photos from the last 4 years. These are perfect for keeping cozy in a dorm room! Add some awesome embellishments and you've made a great one-of-a-kind gift for your graduate.
Drinkware with a big 2020 or other graduation-related embellishment is always a good option as well. Our insulated tumbler is a super popular pick! College graduates would love our insulated wine cup; pick a design with their name, graduation year, or even add a photo.
A great gift for a friend that's graduating would be a completely custom photo book. This is a great way to capture a bunch of your favorite photo memories in one place, and is always fun to look back on. Consider it a digital scrapbook to commemorate your four years of school!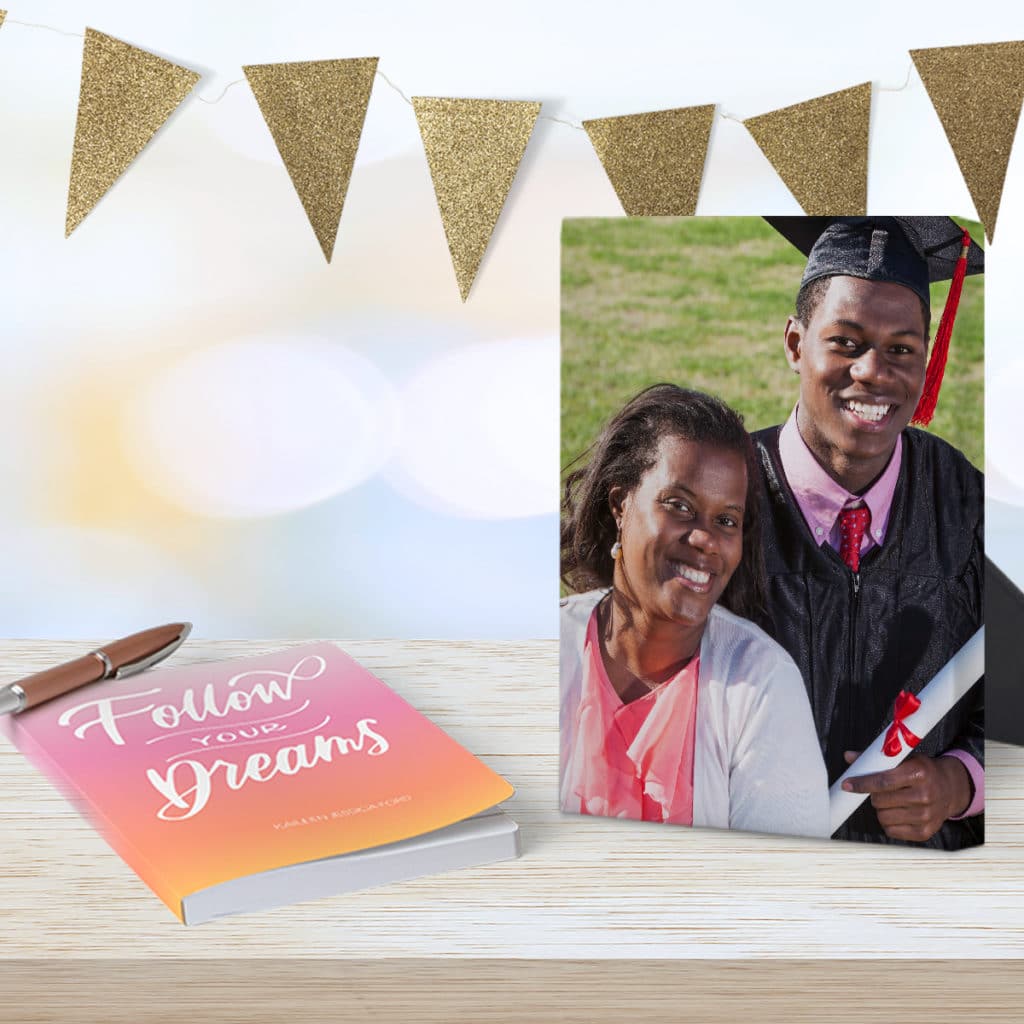 Send picture-perfect photo gifts to grandparents
No family member can resist bragging about the accomplishments of their brood! Share the excitement of your 2020 grad by showcasing senior portraits on a variety of products. Grandma and grandpa are sure to love mugs featuring their favorite 2020 grads' smiling face.
You can also show off senior pictures or photos of their favorite school memories with 8×8 photo tile, framed photo prints, or tabletop photo panels shipped directly to your loved one's door. This is a great way to commemorate your grad's special achievement.
Share your thanks to teachers + coaches
Another easy way to help wrap up this non-traditional spring semester is to send thank you cards to the teachers, coaches, and school staff members that made it all possible. Since the year-end activities aren't face-to-face this year, a sweet card in the mail with a handwritten note is a great way to show your appreciation to the people who helped you through the last 4 years.
We can't wait to see all of the wonderful and creative ways you celebrate 2020 graduates… Be sure to share your photos with us on social media! You can tag us on Instagram or Facebook with photos or use the hashtag #snapfish. Don't forget to follow us on Twitter and Pinterest, too!