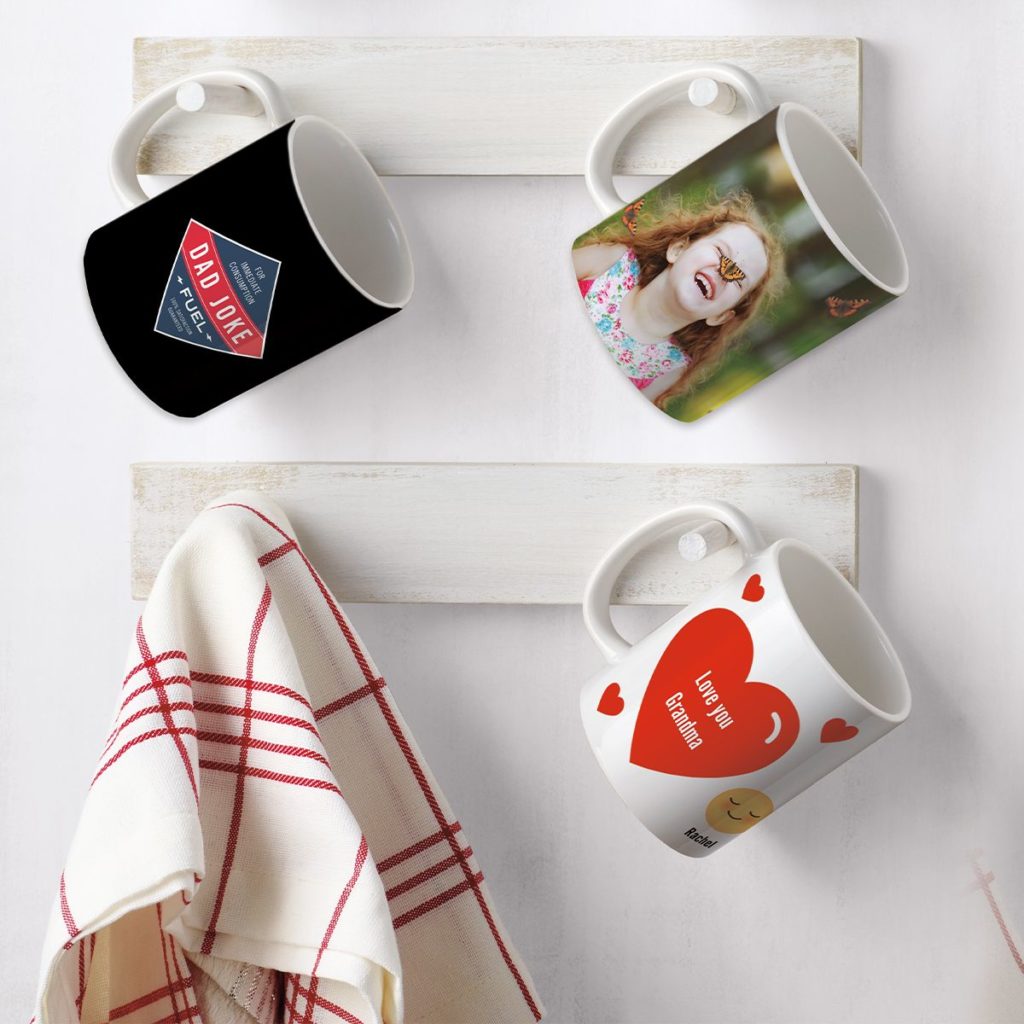 Who doesn't love letting their personality shine through their mugs? For years, #1 MOM or #1 DAD mugs reigned supreme, along with mugs featuring your favorite cartoon characters, movie references, and more. But with Snapfish, it's easier than ever to make something 100% custom and unique for you or your loved ones.
Choose Your Mug Style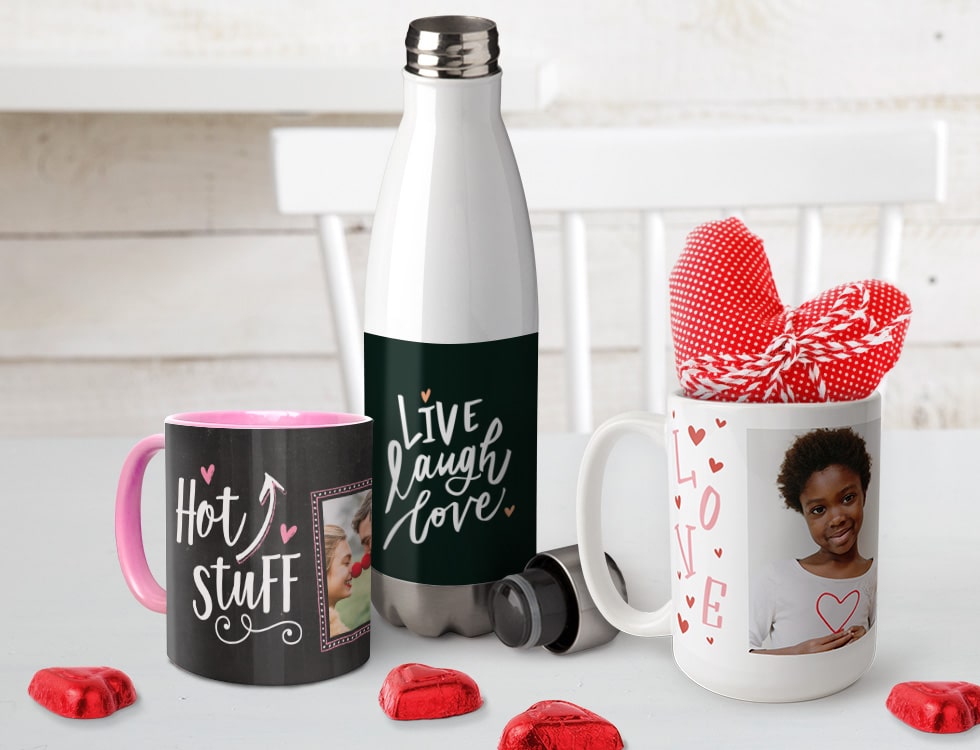 At Snapfish, we offer a wide variety of mug options for you to personalize. We have customizable 11 oz. white standard, customizable 11 oz. black standard and 15 oz. medium mugs in both white and black, as well as a 20 oz. photo coffee mug.
You can also personalize a 16 oz. grande coffee mug with a lid or our 10 oz. insulated coffee mug with lid to take with you on-the-go! Plus, there's the 12 oz. enamel campfire mug — so cute and so easy to make your own.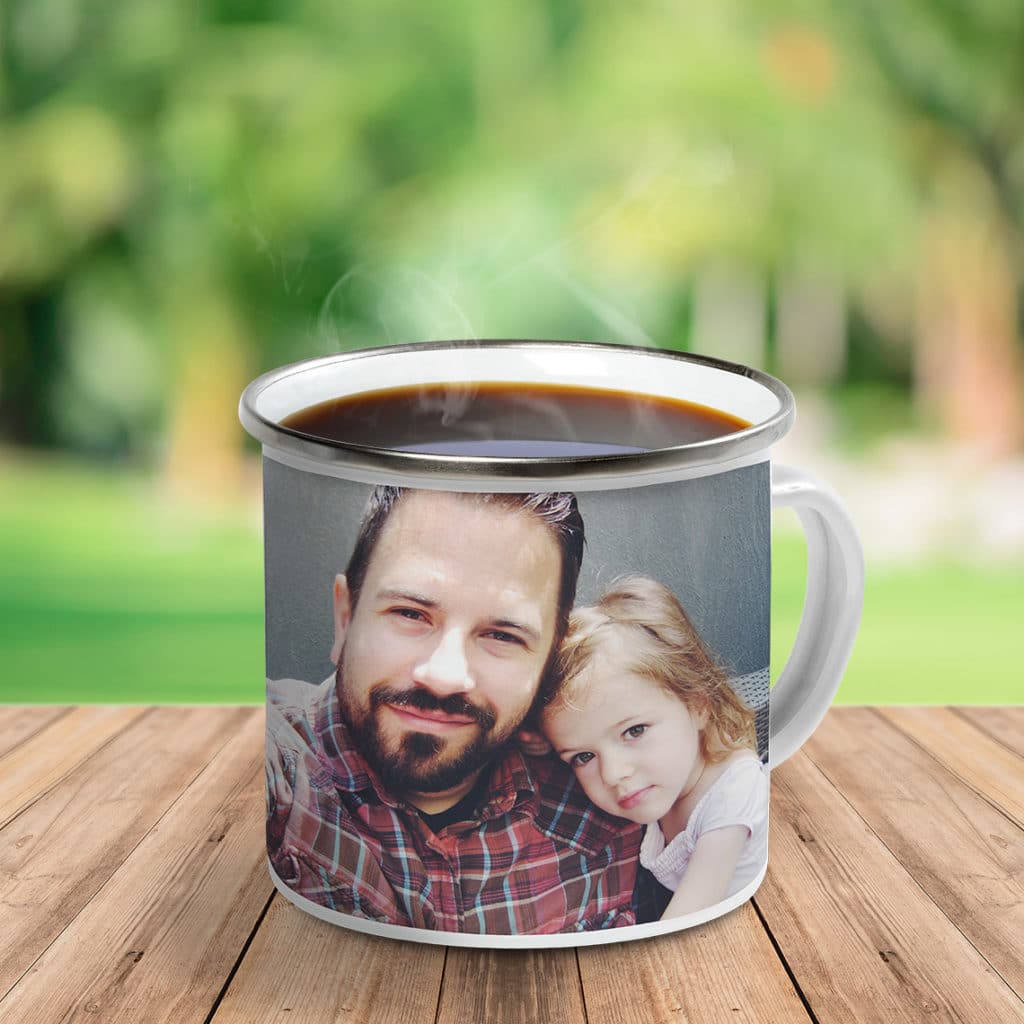 Our new insulated drinkware collection of wine cups, travel tumblers (with and without handles), coffee mugs, and water bottles (insulated and stainless steel), is proving a hit with the customers
How To Design Your Personalized Mug
The next step is to choose which photos or design elements you want to include on your mug. Our easy-to-use builder makes is super straightforward. Just upload your photos, select embellishments, add text, and make a mug that is 100% uniquely you.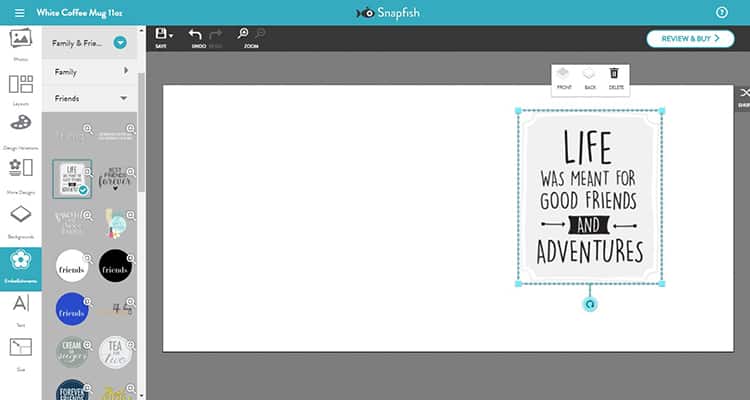 Are you giving a mug as a gift? We make it easy for you to create personalized sister mugs, best friend mugs, and more. Choose your favorite photo of the two of you together and add it into one of our stunning pre-made designs. No photo? No problem! We have many non-photo design layouts too. This is a gift that's sure to make your friend or loved one smile!
We want you to love your custom mug, which is why we recommend that you only use high resolution images. This helps ensure the best possible outcome for the printing process and your end product.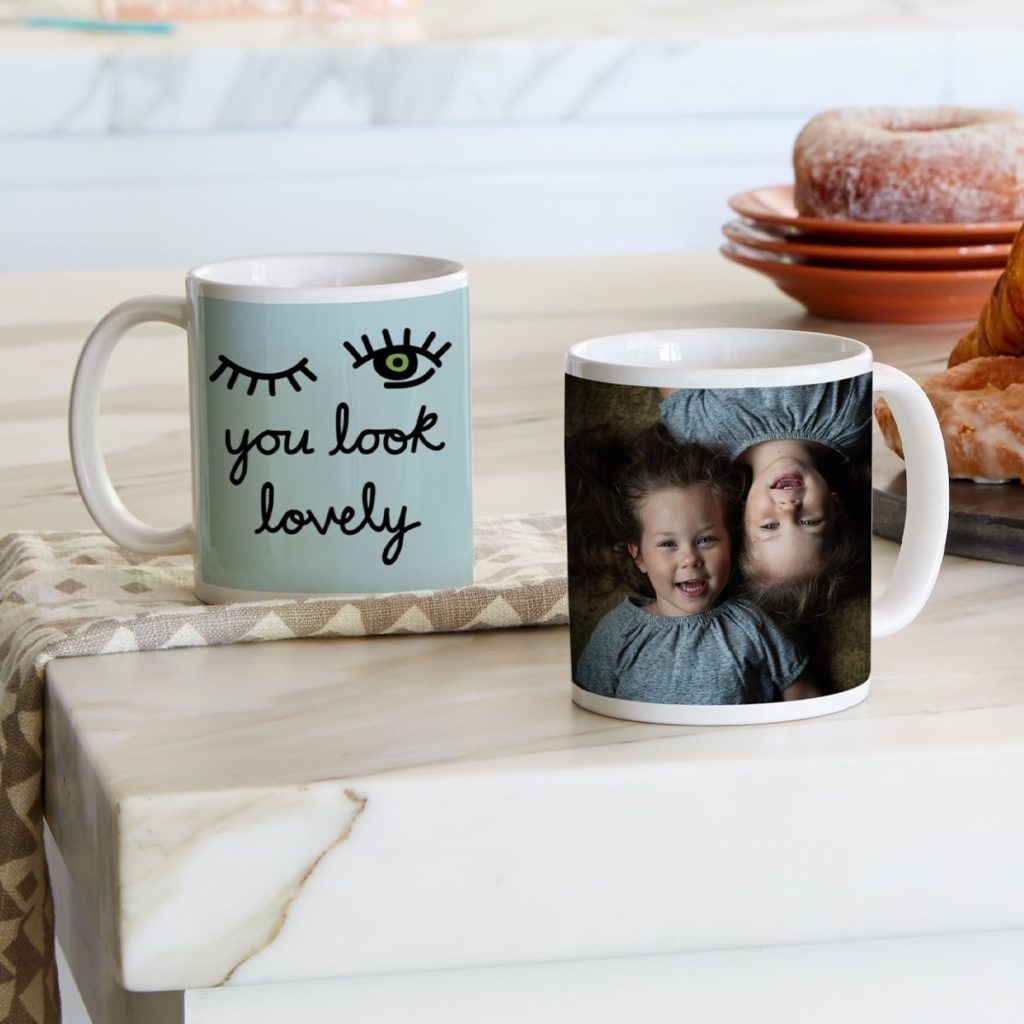 What Material are Mugs Made From?
Our standard photo coffee mug, available in 11 oz., 15 oz., and 20 oz. sizes, as well as black and white colors, are ceramic. Our photo mugs are also microwave and dishwasher safe, which makes them easy to use and easy to clean! The magic coffee mug is also ceramic but should not be microwaved or put in the dishwasher, as it will ruin the magical effect!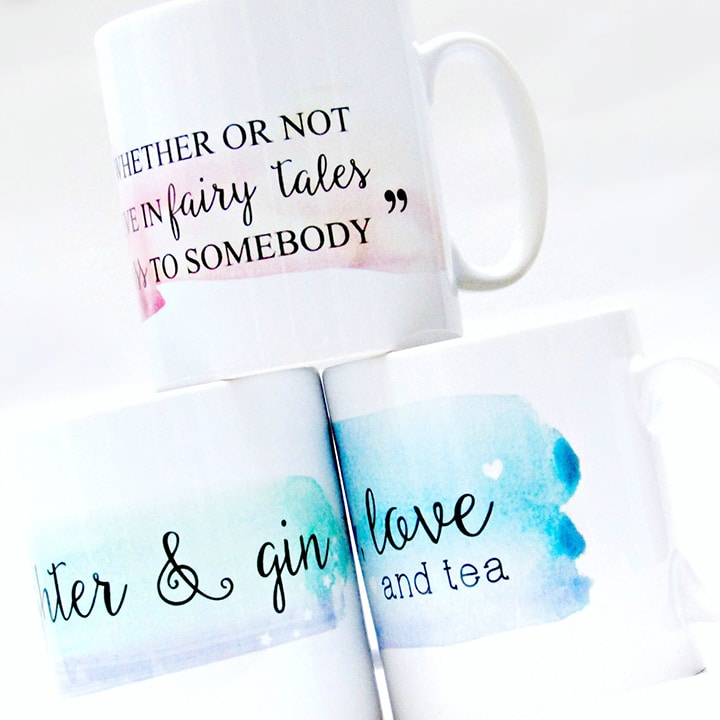 The grande coffee mug with lid is also made with a heavyweight ceramic, featuring a matte finish, but is not recommended for dishwashing or microwaving. Handwashing is preferred for this mug style.
Our enamel campfire mug is made from stainless steel with an enamel finish and should also only be handwashed to preserve the vibrancy of your photos.
The insulated coffee mug is 4.5 inches tall and made from double-insulated stainless steel with a snap-on acrylic lid. Again, handwashing is recommended for this mug style.
Each of our coffee mugs are durable and gorgeous, especially if you follow our best practices for preserving the image quality.
How To Order Your Personalized Mug
Ready to get started and make your own custom mug? Follow these instructions to get the process started!
Desktop Instructions:
From the Snapfish home page, click the Photo Gifts tab and go down to Mugs + Drinkware. Here, you can browse all of our mug options. Then, choose the style, color, and size of the mug you want to create. Once you've decided on the product you want to order, click the Create Now button.
Once you're in the product builder tool, upload photos you may want to use to your Snapfish account. You're able to upload from multiple sources, including Facebook, Google Photos, your computer, Flickr, and Instagram. These photos will all appear in the Photos tab within the Builder toolbar.
Place your photos by dragging them into place within the design space.
Once a photo has been added to the layout, you can shuffle and adjust orientation.
If your selected layout includes text boxes, you can add or edit text next!
You can change the layout and background, as well as add additional embellishments by using the toolbar on the left. You can also change sizes of fonts and elements here.
When you're satisfied with your mug design, click Review & Buy in the upper right-hand corner. From there, you can click Back to Edit to make additional changes or Add to Cart to move on to checkout.
App Instructions:
Open the Snapfish app and scroll down to the Mugs section. Tap the Mugs section and choose the size/style mug that you want to create. Tap on the product of your choosing.
This will open up your photos from your phone. From here, you can start choosing photos from My Phone or select the Show My Albums tab to access different photo albums on your phone. You can also choose from other sources, including your Snapfish account, Instagram, Facebook, and Google Photos.
Your selected photos will now appear in the Photos tab of the Builder toolbar at the bottom.
Place your photos into the design by dragging them to the designated space. If you're doing a full-photo design, then you're just about done!
Once a picture has been added to the layout, you can click to shuffle and adjust orientation.
If your selected layout includes text boxes, you can add or edit text next!
You can choose different layout and background options here by using the toolbar below.
When you're satisfied with your mug design, click Preview in the upper right-hand corner. From there, you can click Edit to go back and make additional changes or Order to move on to checkout.
Made a mistake and need to amend your order? Visit your Order Details page and select Cancel Order within 60 minutes of placing it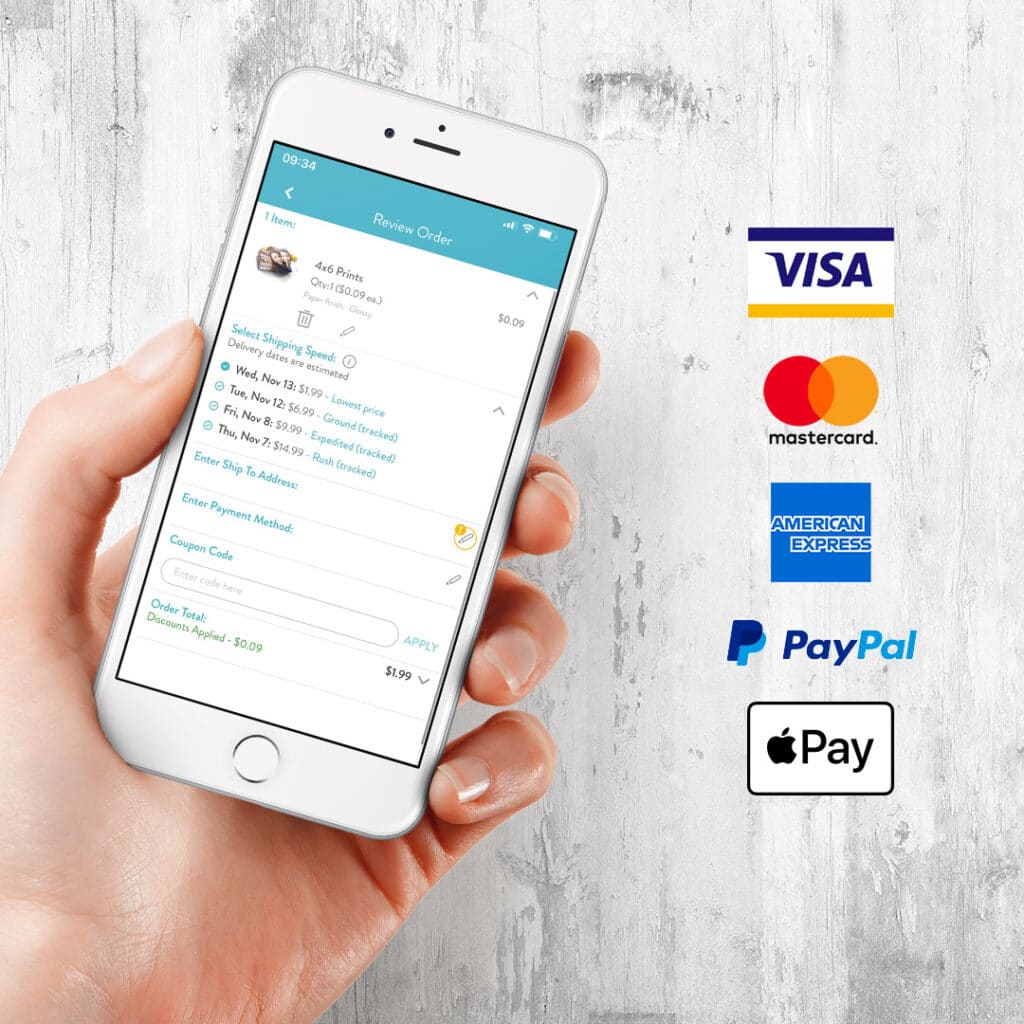 We hope that we've helped make your mug shopping and creating process a bit easier. If you need more tips and tricks, or want to read up about more that Snapfish has to offer, be sure to check out our other blog posts!
We love when you share photos of your Snapfish products in use, so feel free to tag us #snapfish or mention @snapfishus on Instagram, Facebook, Pinterest, or Twitter so we can see your gorgeous creation!