What exactly is a photo book?
Photobooks are a great way to display your photos and allow you to tell a story at the same time. It's basically a photo album you create online and which is digitally printed. Start by choosing a size and binding type for your book. Next, upload your photos. You then get to customize each page with our large selection of backgrounds, text, embellishments (clip art), and arrange the photos into a layout of your choice.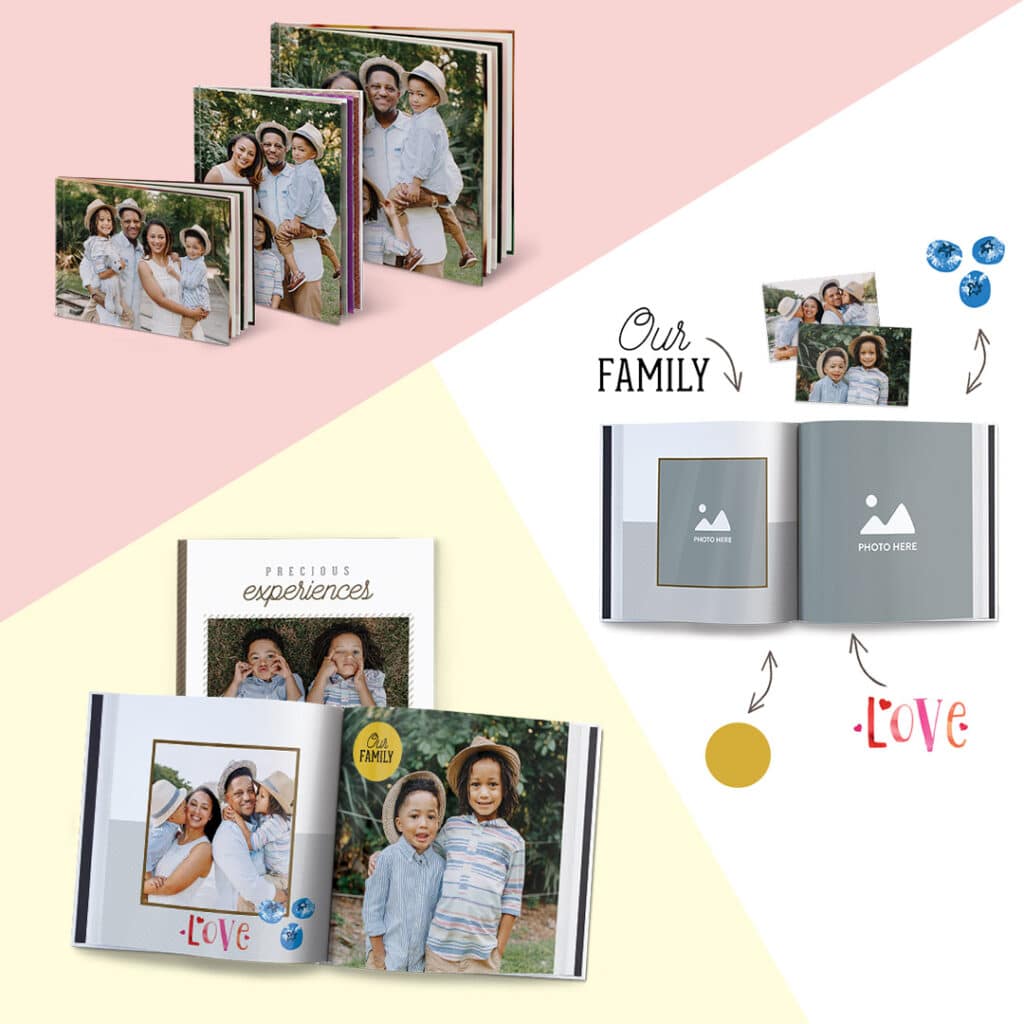 Photo book vs Photo album
One of the most obvious differences between Albums and Books is the book thickness and binding type. Photo Book images are printed directly onto paper and bound into your chosen book format. Photo Albums typically have photo prints pasted onto the page. Photo Books are typically more lightweight, and thinner than traditional photo albums, so they take up less room on the coffee table or shelf.
Traditionally photo albums have small pockets where you can add individually printed photos or blank pages you can attach photo prints to. Photo albums are more like scrapbooks, where you stick prints into an album, adding a creative touch to the entire process.
The idea with photo albums is to avoid having hundreds of photo prints boxed away, never to see the light of day. You can spend hours deciding which photos you want to put in your albums, selecting each family memory individually. It is a time-consuming process, but one that could be lovingly pored over with family and friends.
With a photo book, you don't add photos one at a time – instead, you select all the photos you want to include before your photo book is made and you can add your photos one-by-one from your digital album to your online book, or use our autofill feature to add them chronologically. You design your perfect photo book online using the website or photo app. Whether you want to preserve your wedding day, look back on your annual family getaway, or record your baby's first milestones, the options for creativity are endless. You can even scan or photograph old family pictures and even kids' artwork to create a digitally printed family history scrapbook.
Photo books are fully customizable: you can change as many aspects as you like. Create a vacation or travel timeline and add captions & click art to your favorite moments. You can even create your own story to read to your little one, featuring early photos of family memories or their drawings.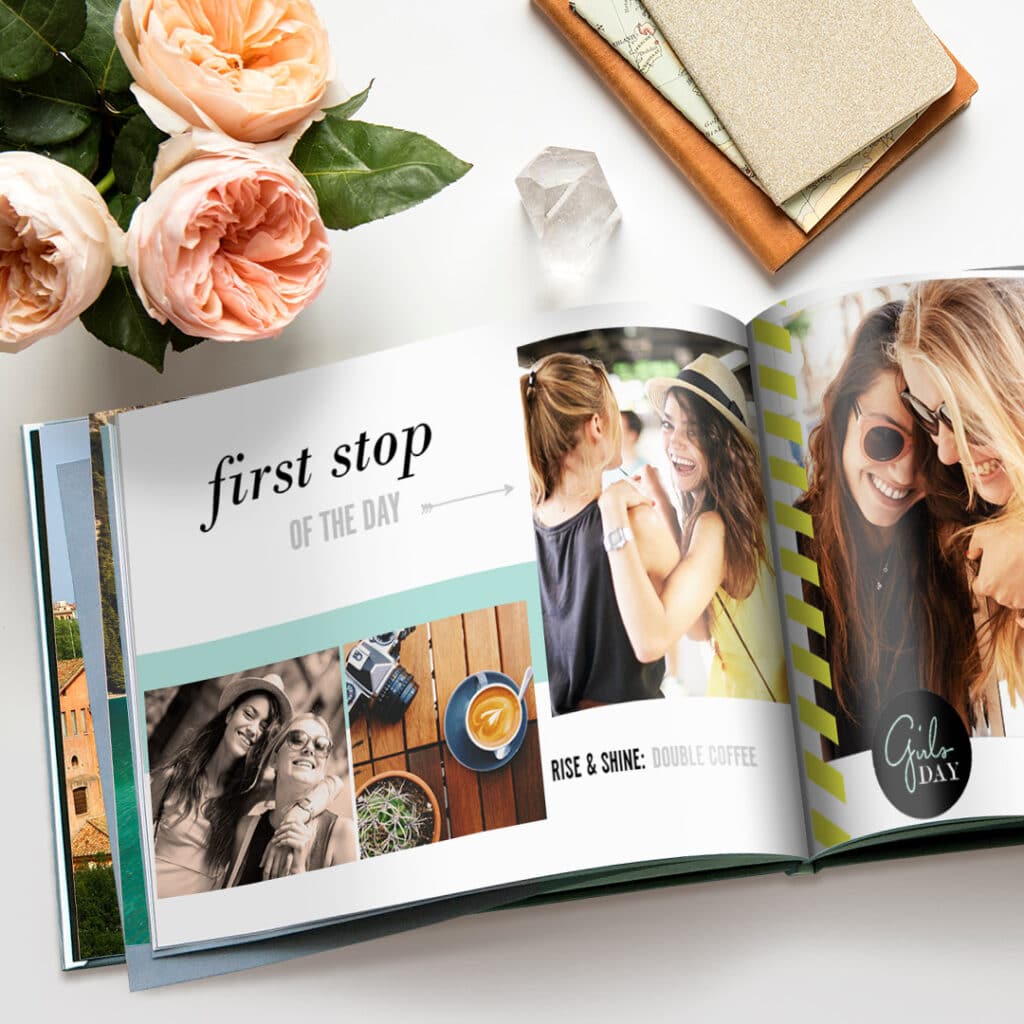 In a bind
Photo books are available in a classic style, with traditional book binding (perfect bound or saddle stitched) or a layflat style. The Layflat Photo Book style differs from a standard photo book in that photographs can be printed across the two pages in each spread, where the standard photo book is bound like a traditional book with central stitching. Layflat binding is perfect for those stunning panoramic shots or wedding photos, when you want to show larger format pictures seamlessly across a double page spread.
In addition to the standard custom cover, leather cover and linen cover options. Snapfish offer two layflat photo book binding choices:
Layflat Hardcover Photo Book which is perfect for travel books, baby books and family history books. Printed on archival-quality paper with a satin finish these layflat hardcover photo books have a durable glossy finish cover which you can customize with photos, text and embellishments. It is stitch bound and available in 4 sizes with up to 90 pages.
Premium Layflat Hardcover Photo Book. These premium quality photo books are perfect for weddings and portfolios. The seamless layflat binding allows for elegant two-page spread where the photos are printed as one continuous sheet so every page lays flat and the deluxe velvet-soft, matte covers can be customized with photos, text and embellishments. Inside, your photos are printed on extra-thick premium paper and you can create your unique layflat photo books up to 100 pages.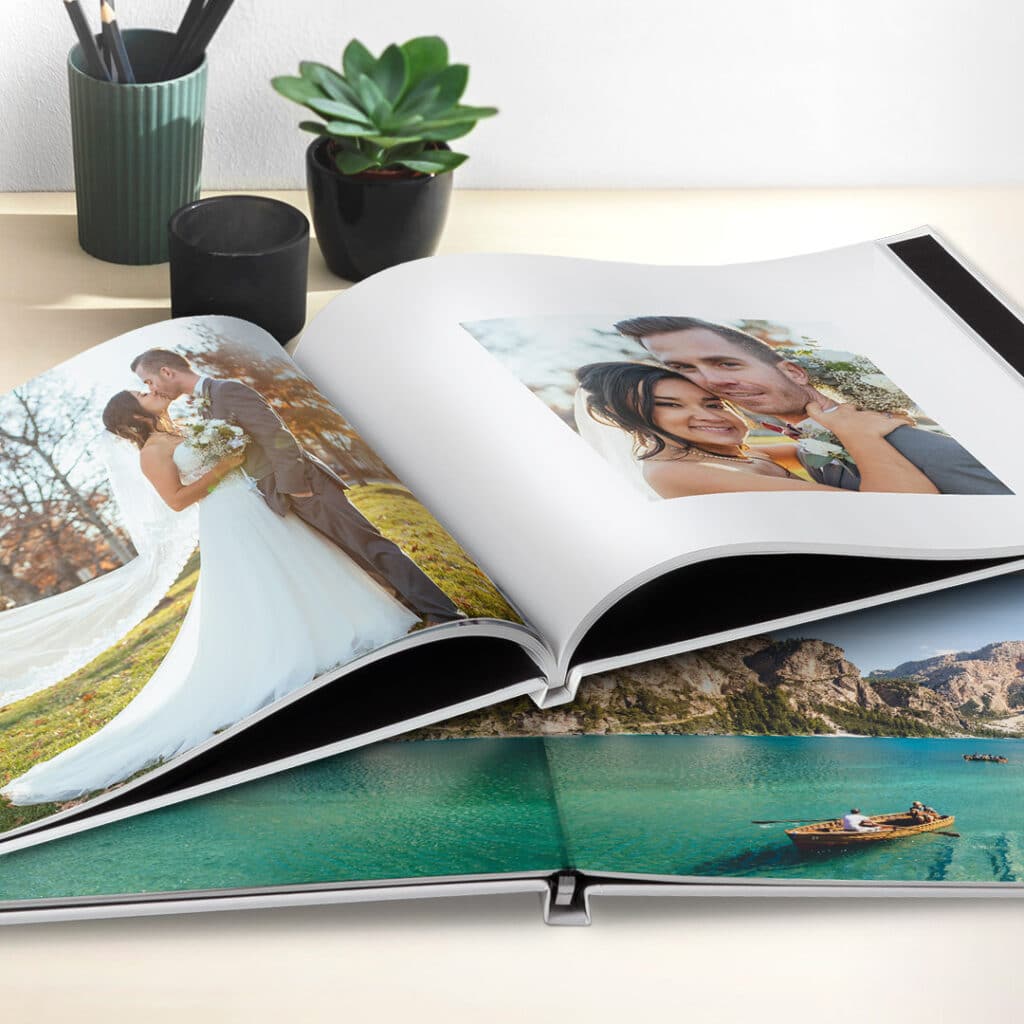 Cover to cover
With Snapfish, you can choose from hardcover and softcover photo covers, where you upload a photo to print on the front and back of your album and you can add a personal title to your photo book spine, or more traditional hard backed leather or linen die cut covers that allow a tantalizing glimpse of the stunning photos within your custom photo album. Snapfish offers you the option to upgrade any printed photo book cover to matte finish too. The Premium Layflat Hardcover photo book option is only available to order as matte.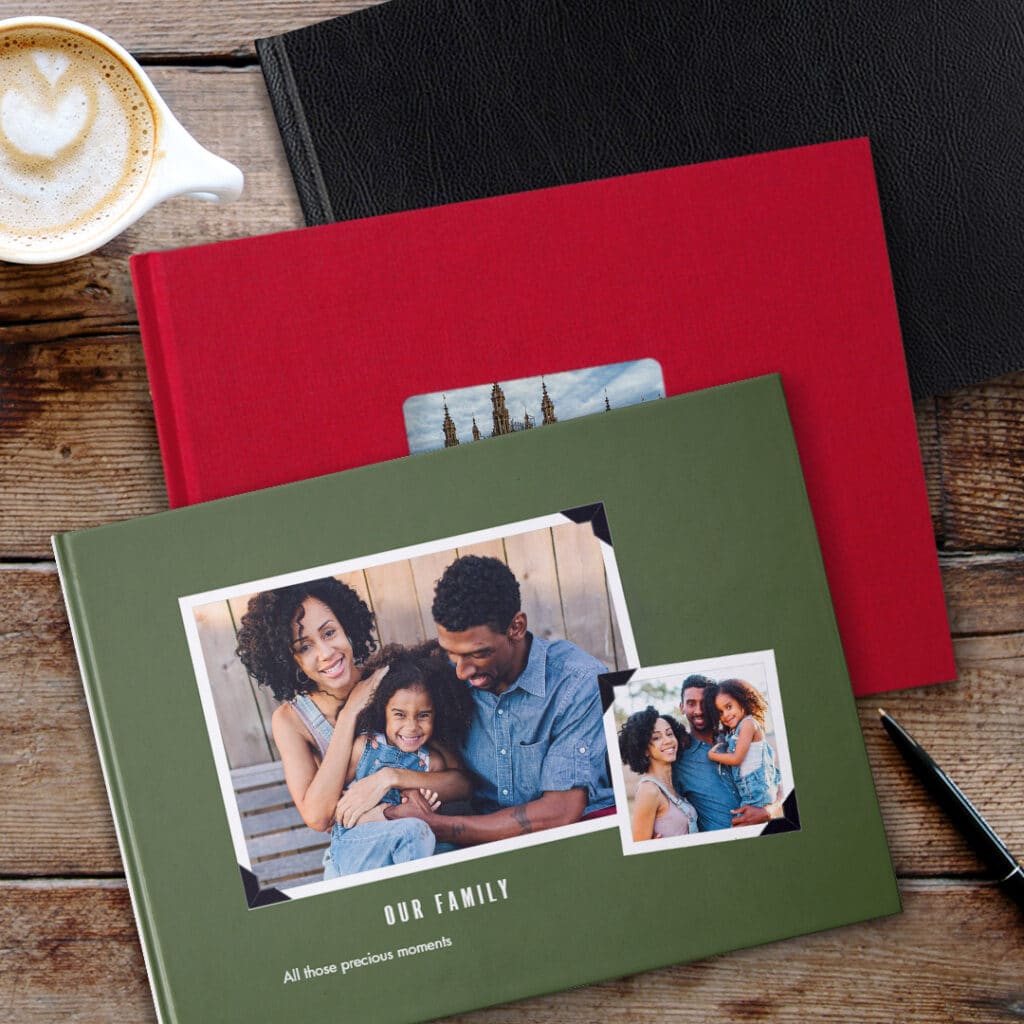 Lay it all out
Create a personalized photo book for every occasion – Snapfish has an option for all types of events. Explore our collection of wedding photo books and wedding guest book templates to get inspired by our wide variety of themes – from rustic to stylized, to modern designs of unparalleled quality. Preserve special family memories like the birth of a child or a milestone birthday with our baby and family themed books.
Make a travel photo book for your family trips and vacations, a Graduation Photo Book or School Year Book for all those elementary, middle school and high school memories, or a year-in-review photo books to document your life journey. For your special events and memories, Snapfish has an exclusive collection of photo book themes that are beautifully crafted. Or, if you are looking for a photo book theme that is uniquely your own, you can create your photo book from scratch, choosing backgrounds, photo layouts, adding text, and resizing or rotating the elements to fit. You have complete control to create your perfect design!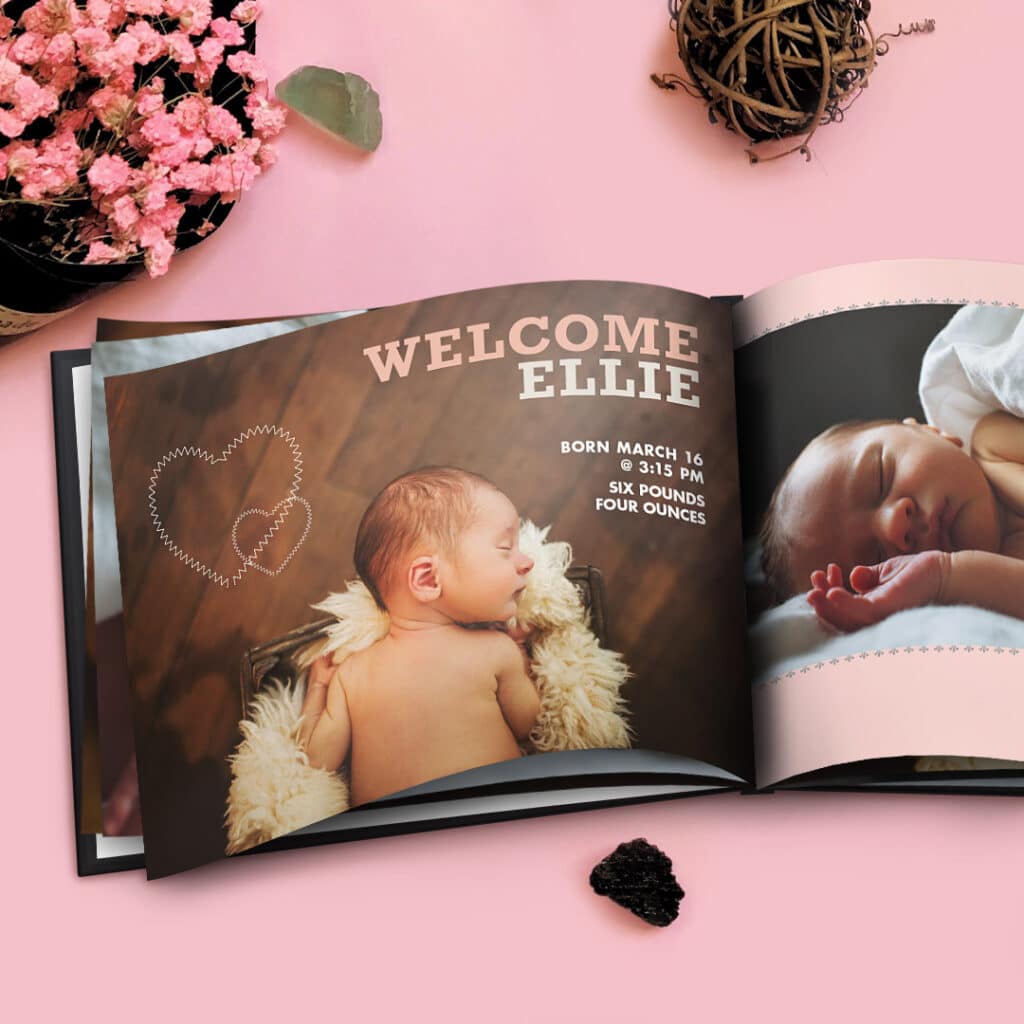 Photo Books are available in the following sizes and can be made with any number of pages between 20 and 150 printed pages showcasing your photos.
Square
8×8
12×12
Landscape
5×7
6×8
8×11
11×14
Portrait
7×5
Photo Books start from less than $15 and you can sign up to our regular promotional newsletter for the best photo book deals and discounts or visit our Deals Page for the most recent coupon code.
How do you make a photo book?
Choose the photobook format. When you create a Snapfish photobook, there are nine to choose from, in a range of different sizes and orientations:
Classic Photo Book Binding
Pocket 5×7: Our smallest photo book format is perfect as a little memento of a short trip or birthday party. It's our smallest landscape format and is perfect for showcasing those panoramic vistas.
Small 6×8 Landscape: Want to make a creative book but don't have tonnes of time to spare? Our small 6×8 format is fully customizable and the perfect size for a personalized stocking filler. This hardcover photo book is perfect for baby brag books or story books for children to practice reading with.
7×5 Portrait: Want to get even more creative with your project? A portrait book will give you plenty of room to creatively style and display your best photos. A great choice for yearbooks, cookbooks and creative portrait photography. Hard and softcover book binding options are available, and these photobooks are perfect for all your mobile phone photos – you can even create these books in the Snapfish App.
Standard 8×8 Square: Need to display both landscape and portrait photos in your book? Our square format gives you the versatility to do just that. Ideal for travel memory books, Instagram photo albums, and close-up baby & toddler photography. Available with layflat, premium layflat and hard and soft cover binding.
8×11 Landscape: Our customers' favorite choice – and it's easy to see why. Our best selling landscape format is perfect for creating a personalized photobook that can be treasured, year after year. Choose this option for travel photography, wedding albums and to show off your very best landscape shots. Available as Layflat option for maximum versatility, or you choose either a glossy or matt cover for the classic photo book format. Choose leather or linen for that old-school look.
Large 12×12 Square: A coffee table staple. This is the ideal choice if you're looking to create a professional custom photo book to really show off your work (and your best Instagram photos). Standard photo hardcover, leather hardcover and layflat binding options available.
Large 11×14 Landscape: Stunning landscape photos? Professional wildlife photography? Panoramic camera shots? If these are your thing, our large landscape format is the best way to bring your photos to life in stunning detail. Top tip: Choose layflat pages for stunning photo color and layout options.
Choose your paper type
Want to create a high quality custom photo book? The paper type you choose matters just as much as the size. Here's how to choose the right one for your project:
Classic Semi-Gloss Photo Book Paper: A versatile option that works for just about any project. Archive quality, semi-gloss paper is the standard for all Snapfish non-layflat Photo Books.
Satin Layflat Paper: This rich, archival quality satin finish will really bring out vibrant colors in your photos. It's also sturdy and easily cleaned. Choose for colorful photography and books for children. Available on our standard layflat hardcover square (8×8 & 12×12), 8×11 and 11×14 book formats only.
Premium Layflat Luster-Silk Paper: Only available on the Premium Layflat Hardcover square (8×8 & 12×12), 8×11 and 11×14 book formats, this extra thick luster-silk finish is perfect for artistic books, professional portfolios and black and white photography.

Top tip: Not all paper types are available for all book sizes and formats. Compare our full photo book range to check which size books are available with your preferred paper option.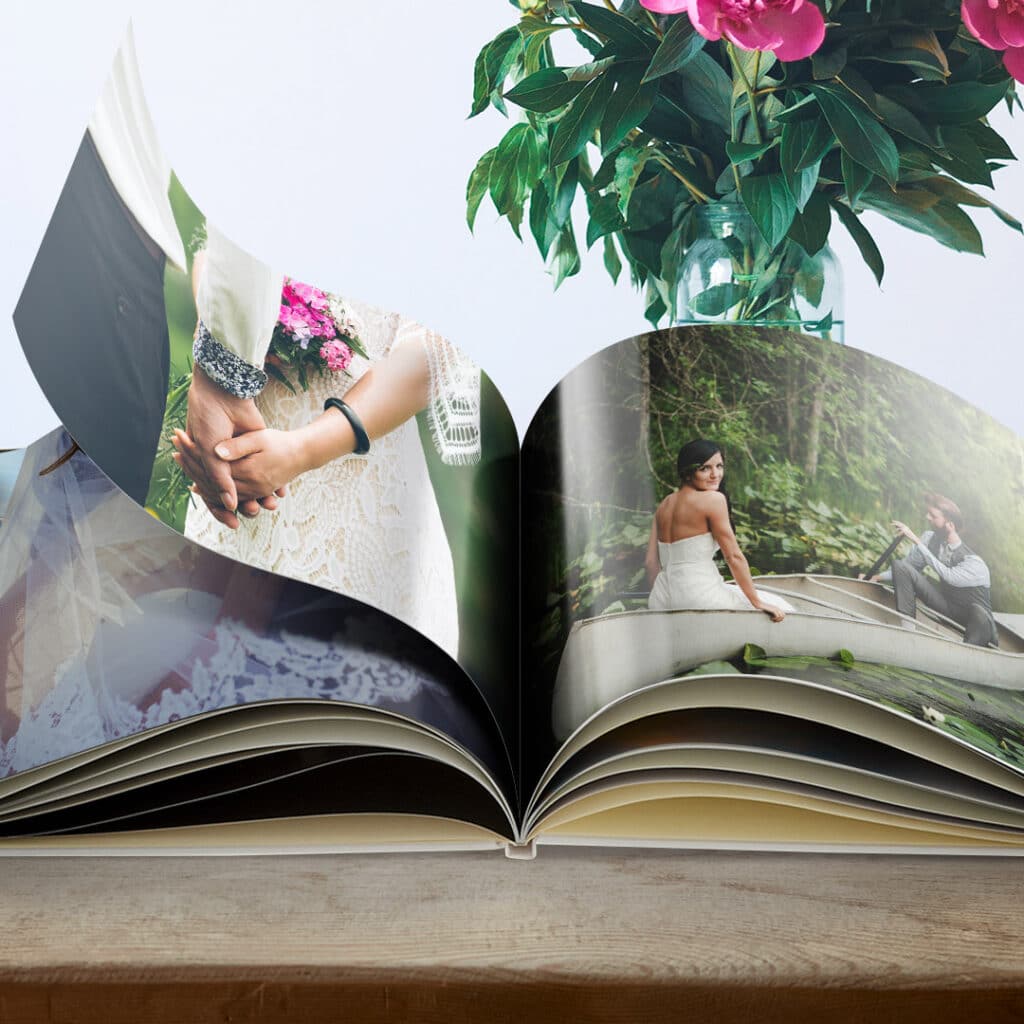 Choose your custom photo book cover
Once you've picked your book format and your paper type, it's time to start getting creative with covers. Here's what to keep in mind when choosing your cover option:

Soft Cover: Available on our smaller book formats, this lightweight, flexible option is fully customizable and durable enough to withstand wear and tear. Great for children's picture books or books you'll be carrying around to share with loved ones. Available as 5×7 and 8×8 options.
Standard Hard Cover: Our most popular cover type. A hardcover gives your project the look and feel of a real book. It's fully customizable with your own images, text and other design elements – and the only cover type available with our elegant embossing. Available in all book sizes.
Layflat Hard Cover: All the benefits of the standard hard cover. The seamless layflat binding allows you to print photos elegantly across two pages with a satin finish. Available in hardcover 8×8, 8×11, 12×12 and 11×14 formats.
Faux Leather & Linen: The perfect choice for recapturing the look and feel of a traditional leather-bound photo album. This is an excellent option for wedding albums and yearbooks and available in 8×11 landscape and 12×12 (leather only) options
Premium Layflat Hardcover: Printed onto archival paper, this premium quality matte cover photo book with extra-thick, luster-silk finish layflat pages, has a seamless binding which ideal for 2-page spreads. Available in hardcover 8×8, 8×11, 12×12 and 11×14 formats.
Choose a theme and layout
The best photo book projects start with choosing a theme. You want your book to tell a story and think of each photo book you create as becoming an integral part in a series — what will your collection look like as it grows? This might help you to land on a theme that you can add to down the road, such as an annual What Dad Saw photo book for Father's Day featuring his iPhone photos, or a Year In Review Photo Book series which is designed with your kids in mind, as a way of showcasing their childhood from their eyes.
Place your order and your custom digitally printed photo album will be delivered within days. Want to order a reprint? Your photobook projects are saved in your Snapfish Account so you can re-order your photo books whenever you want.
We use the latest printing technology and the the best paper and inks to make sure every photo book is exceptional. Our photo books are put together by people who are experts in photo printing and all our photo books are made here in the USA. We have created a team of photo experts at our labs nationwide, who are passionate about helping bring your photos to life in beautiful books and other photo gifts and cards.
Need more help and inspiration?
Watch our Three Step How To videos for more tips and tricks on creating professional looking photo books with Snapfish.
For more inspiration on how to create unique photo books, read the photo book blog articles below:
Photo Book Inspiration: https://www.snapfish.com/blog/inspiring-ideas-for-your-next-photo-book/
Baby Milestone Photo Books: https://www.snapfish.com/blog/a-photo-book-as-unique-as-your-baby/ | https://www.snapfish.com/blog/capture-all-your-babys-firsts/
Family History Books: https://www.snapfish.com/blog/document-your-family-history-in-a-photo-book/
Kids Art Photo Books: https://www.snapfish.com/blog/creating-kids-art-photo-books/ | https://www.snapfish.com/blog/transform-childhood-artwork-into-a-photo-book/
Kid's Story Photo Books: https://www.snapfish.com/blog/guest-blogger-create-your-own-story-photo-book/
Travel Photo Books: https://www.snapfish.com/blog/10-genius-tips-creating-travel-photo-books/ | https://www.snapfish.com/blog/transform-travel-ephemera-into-a-scrapbook-inspired-photo-book/
Wedding Photo Books: https://www.snapfish.com/blog/photo-book-wedding-surprises-lydi-loud/
Father's Day Photo Books: https://www.snapfish.com/blog/3-tips-for-perfect-fathers-day-photo-books/
Mother's Day Photo Books: https://www.snapfish.com/blog/create-the-best-mothers-day-photo-book-%e2%99%a5/
Pet Photo Books: https://www.snapfish.com/blog/5-tips-for-a-pawsitively-perfect-pet-photo-book/