Pencils down, caps on. Graduation is here! Parents, help your kids cross that stage in style with our one-stop shop for every pomp and circumstance. We have a few ideas up our gown sleeve, so start taking notes.
1. Shout about it with Grad Announcements!
Brag about your star student with grad announcements you can send to the whole family. From new color blocked designs to art deco-inspired layouts, the whole collection gets top marks from us. Did your grad strike a pose for a grad photo shoot this year? Check out our multi-photo layouts that will flawlessly highlight all your favorite shots. Shop Grad Cards.
New for spring 2017! Help your grad say, "Thanks for the gifts, Grandma!" with greeting cards that match your grad announcements, ensuring that your kids will look sharp and sound sharp well after school's out. Check out new matching card sets.
2. Shower with Grad Gifts
Send your grad into the real world with fun (and functional) mementos that celebrate academic achievements and extracurricular endeavors:
Table Top Panel: Perfect for showcasing college and high school highlights alike, the Metal Tabletop Panel always makes the grade. Include photos of all the pep rallies, community service projects, Greek Life events, inside jokes with BFFs, and everything in between. Make a Table Top Panel.
Place Pride Pillow: Send your high school grad off to college with a pillow featuring a whimsical silhouette of their home state, or gift your college grad one of the state they're moving to! Personalize with a heart to signify a favorite city or cherished hometown. Do your best to hold the tears, and start making your pillow.
Travel Mugs: Ideal for early lecture energy lifts or to ease new job jitters, our collection of travel mugs will cater to your grad's to-go caffeine fix. Shop coffee mugs.
3. Play "Remember When…"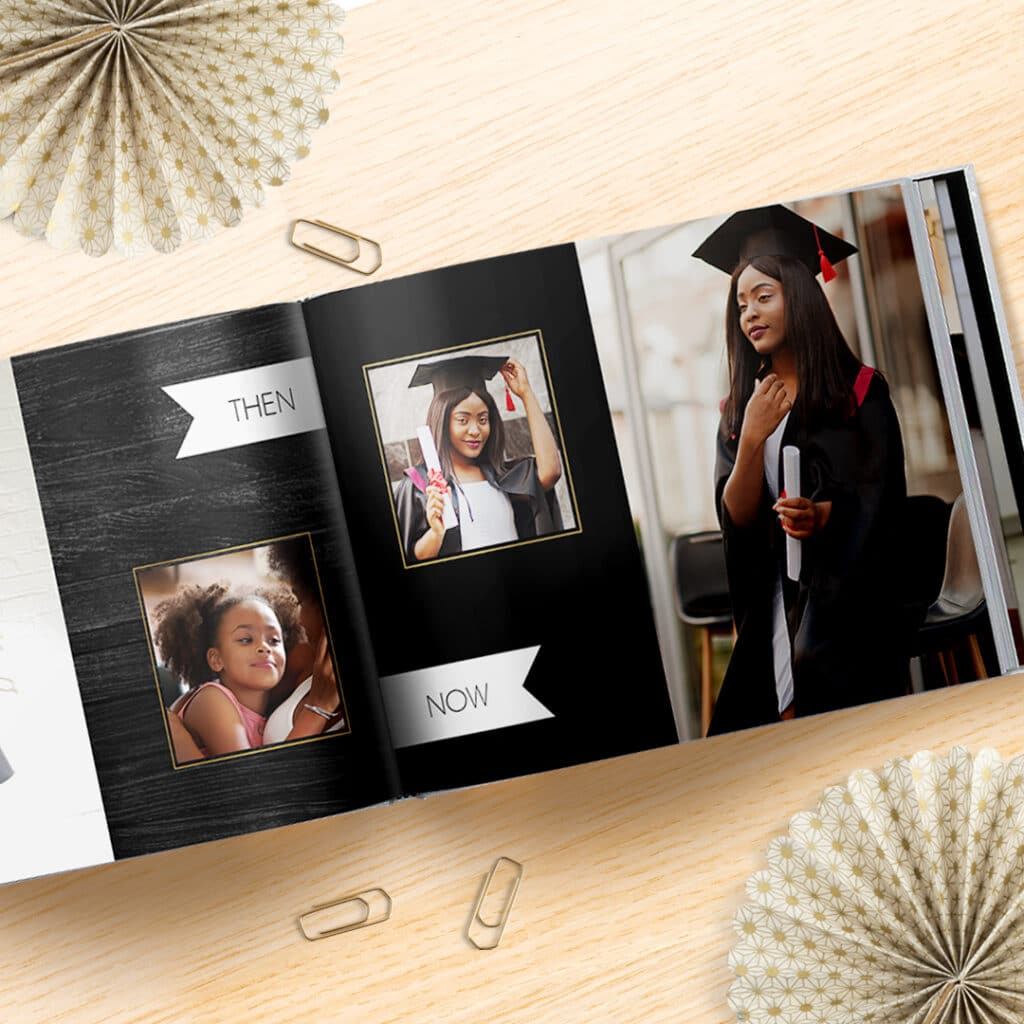 Grads and parents alike get a kick out of comparing throwback photos to current snaps. Put them side-by-side in an 8×11 photo book keepsake so everyone can share a laugh and wax nostalgia about how time flies. Perfect for grad parties, send-off gifts, or to keep on your coffee table.
Want more grad gift ideas? Check out Snapfish Superlatives: The Best In Graduation Photo Gifts.
Shop the full Graduation Collection.
We love seeing what you come up with! Please tag us @SnapfishUS and #snapfish on Facebook, Instagram & Pinterest. Check out the Snapfish site for even more custom gift ideas.