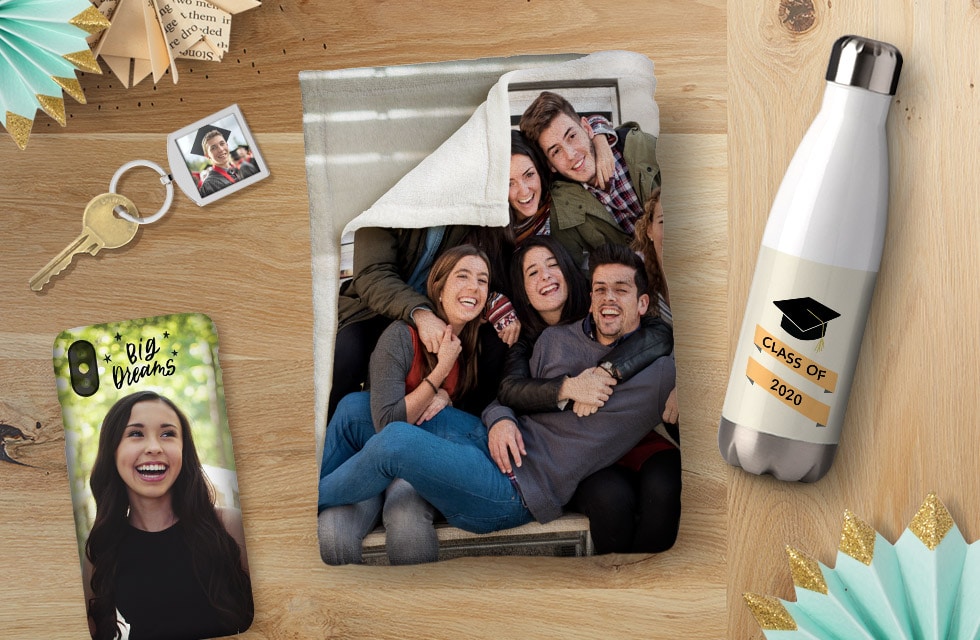 Graduation season is usually announced when the doormat is full of graduation announcements and graduation party invitations coming through the mail – usually in late April/ early May. These days, many of the graduate announcements are personalized and often form part of a series of matching card designs.
If you've received a graduation announcement, not a high school graduation party invitation or a college graduation party invitation, you are not usually expected to give a gift. Many families use announcements to simply share the exciting news with family, friends, and co-workers. Replying to the announcement with a congratulations card to the graduate to commemorate the day would be seen as a lovely gesture though. 
Of course, no matter what your relationship to the Graduate, a congratulations gift is always welcomed, especially if it is customized.
Consider the type of graduation you'll be celebrating and the degree achieved. Gifts will be more appropriate for a high school or college graduation rather than an elementary school or middle school graduation. What is your relationship with the graduate? What might they appreciate as a gift?  Is the new grad planning to go traveling? Are they about to start their first job?  
Graduation is a huge milestone in anyone's life. It can be difficult to come up with original present ideas. If you're out of ideas as to what you can give the young Grad who has their life before them, we've picked our favorite unique & personalized graduation gift ideas just for you. 
Popular Graduation Gift Ideas
Personalized items are popular gifting options for graduates; why not buck the trend on gifting traditional flowers or cash? Meaningful gifts are the perfect way to mark this life event, especially if you're unsure about giving cash or gift cards. Whether you are celebrating the trendy graduate who wants to show off style or the practical grad who has been saving up for life post college, you'll want your gift to be useful, sincere and heartfelt; something that will remind the graduate of their dreams and the adventures that lie ahead. Snapfish personalized gifts are heartfelt and always gratefully received, whatever stage of life the Grad is at:
Kindergarten graduates are still small, and a small personalized gift for the parents is always appreciated. Create custom photo books with memories of their early years, or a canvas print of their graduation photo for the wall.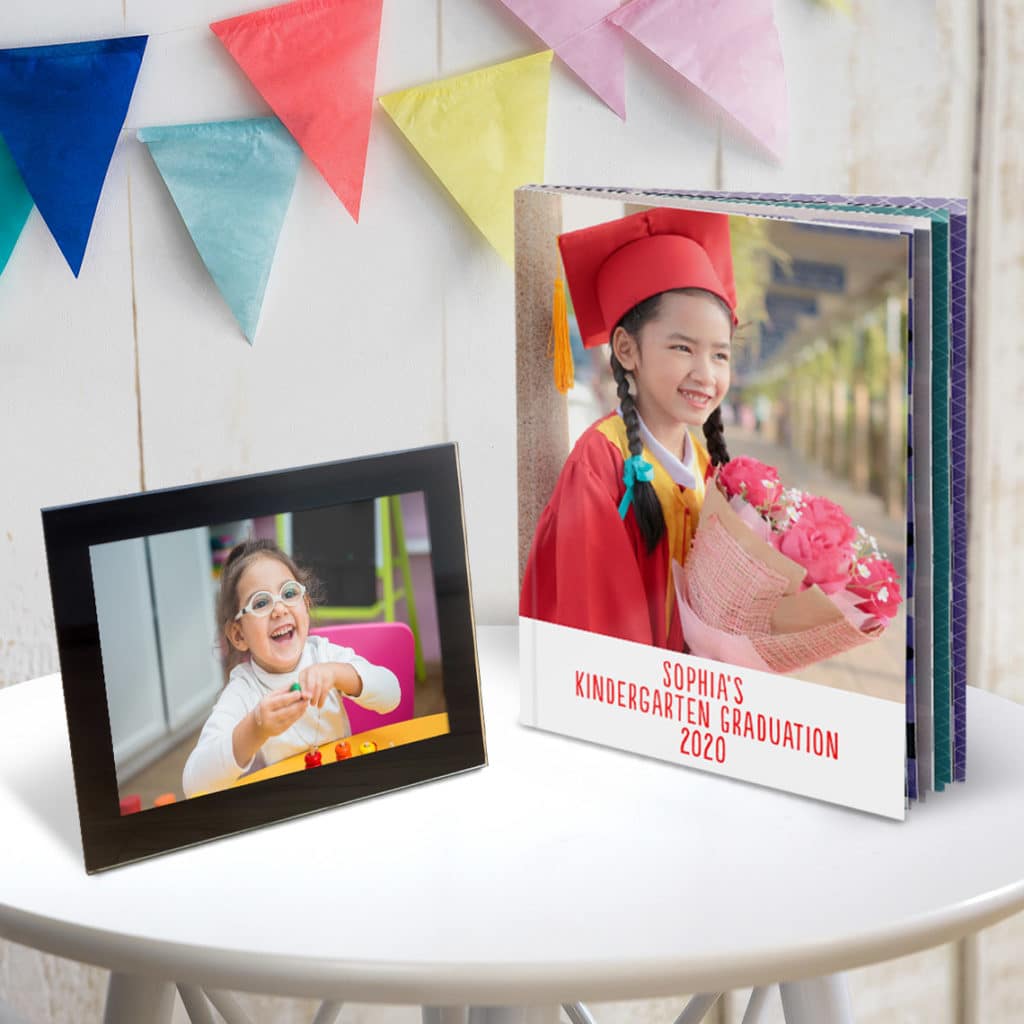 High school graduates are about to start college. They are looking forward to moving away from the parents and having their own space. Send them off with little reminders of home and personalized items to make their dorm feel just like home. Read our blog on how to decorate their dorm rooms to get you inspired.
College graduates may also appreciate small reminder of home as they start the next phase of their life. A personalized graduation gift is likely to cherished for many years. From photo canvas prints to custom desk sets and personalized photo books that chart their journey so far to custom water bottles that remind them of you every day. Your personalized grad gift will be the one that keeps on giving and brings a smile on even the dullest of days.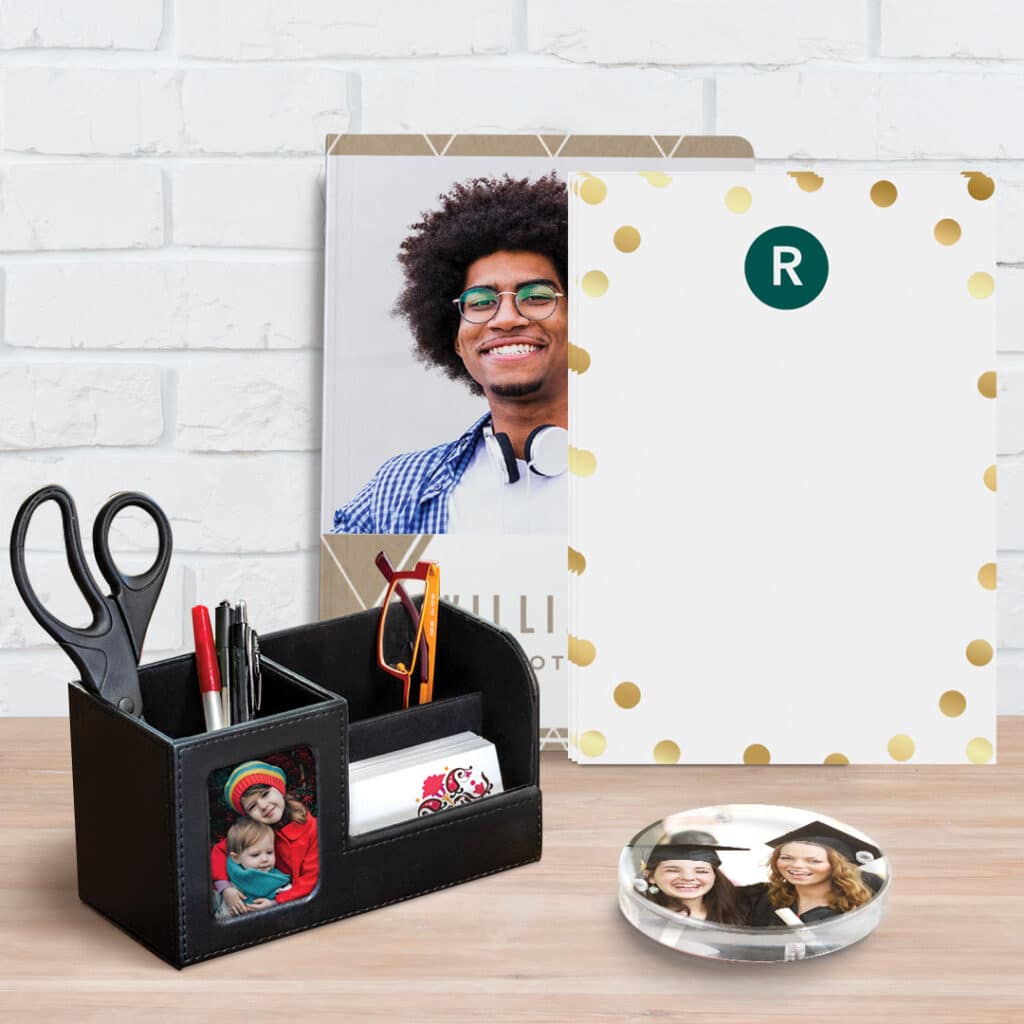 Other popular Graduate gifts are:
1. Celebrate the occasion with custom jewelry & accessories
Personalized bracelets & lockets
Jewelry is always welcome. Instead of buying something mass produced, create a personalized bracelet or locket. Every time your new grad is feeling homesick, they'll have your gift to remind them that they're loved. Choose from our silver locket necklace, our silverplate photo necklace or our leather photo charm bracelet and customize with a treasured photo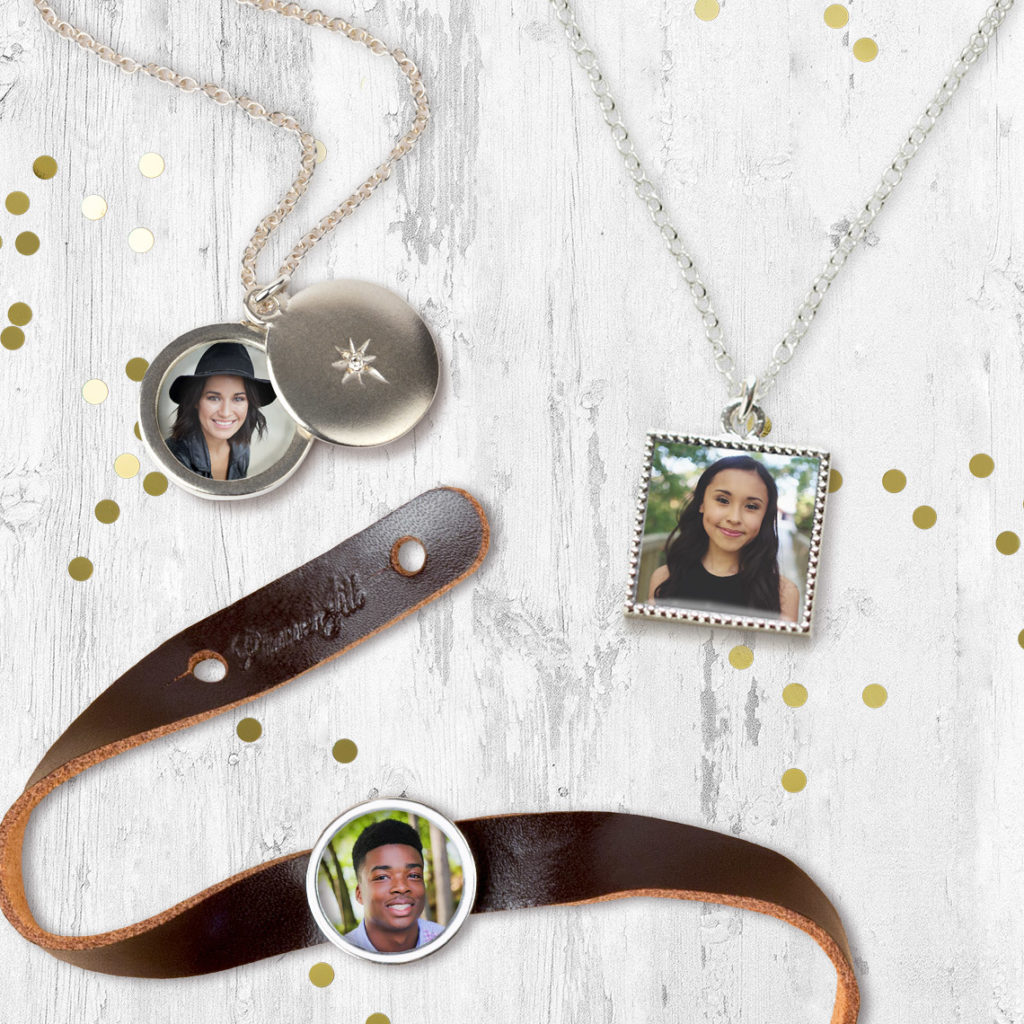 Keepsake boxes & leather valet trays
Every Grad needs a place to keep stuff – pocket change, keys, jewellery or even cuff links. These keepsake boxes and trays are perfect reminding they are loved and how far they have come. Customize with sage words of wisdom, or just a fun photo. They'll treasure it every time they see it on the side. They are perfect for keeping pocket change, keys or even necklaces & cufflinks safe when they move out.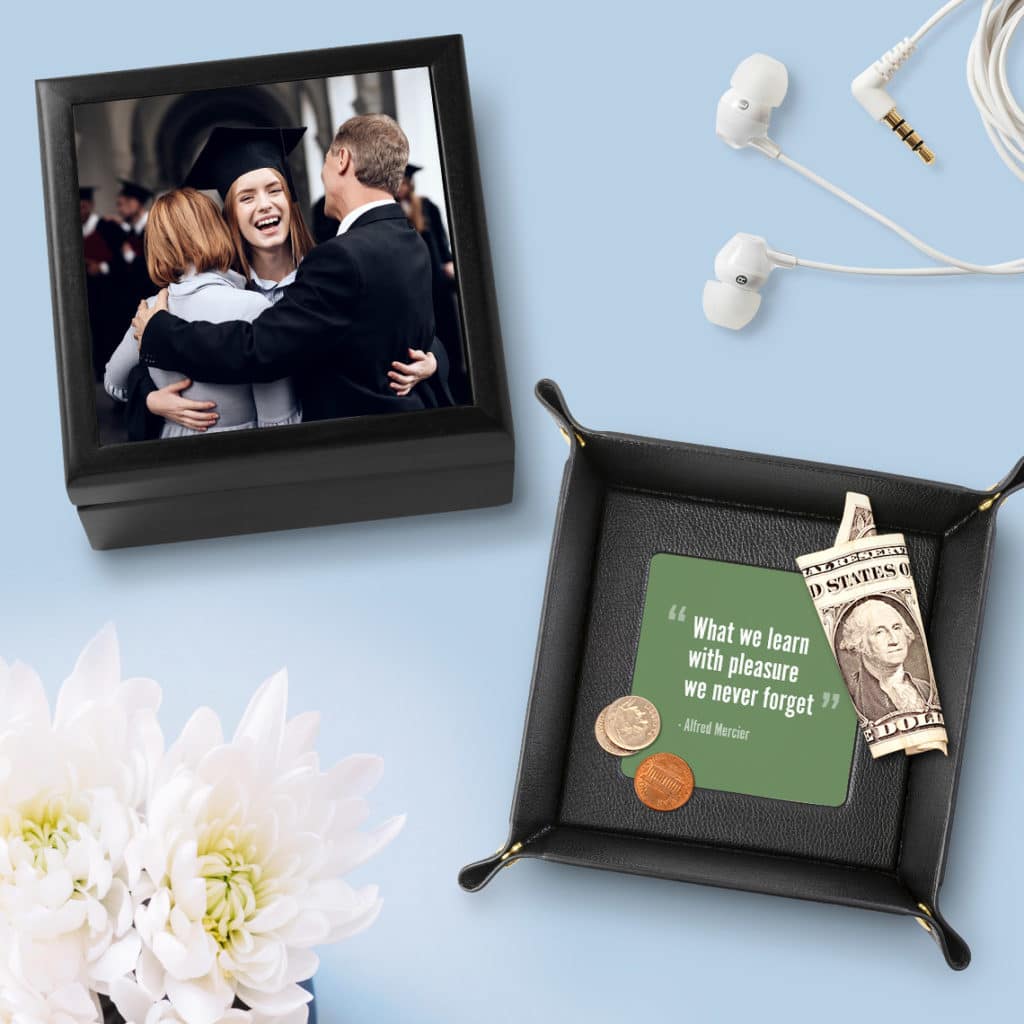 Custom keychains
Who doesn't love a customized keychain? Perfect for the new house (or dorm) keys, the office keys, the car keys (or even the parent's housed keys when they need a Mom-visit). Just add photos and the Grad has an instant reminder of home.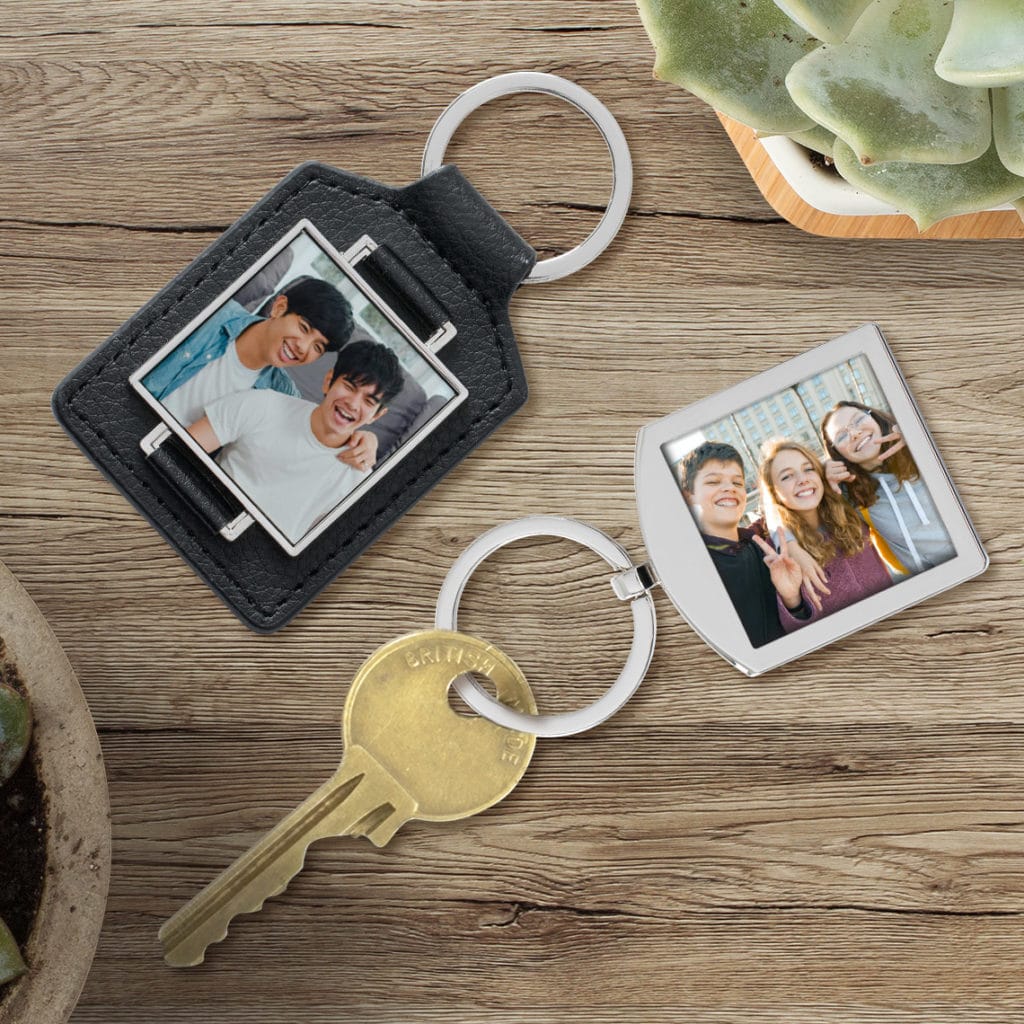 2. Create a personalized phone & laptop cover for your Grad
Customized phone cases and laptop covers
Every Grad has a phone, but does every Grad have a customized phone case? With covers for iPhones and Samsung Galaxy phones, you can create a personalized phone case with a photo or text in just minutes. Your Grad will think of you every time they look at their phone, and smile. If they have a laptop, create a unique custom laptop case or if they have an iPad, we also sell customizable tablet cases, so they can carry happy memories with them wherever they go, and their phones and laptops can be protected from clumsy accidents.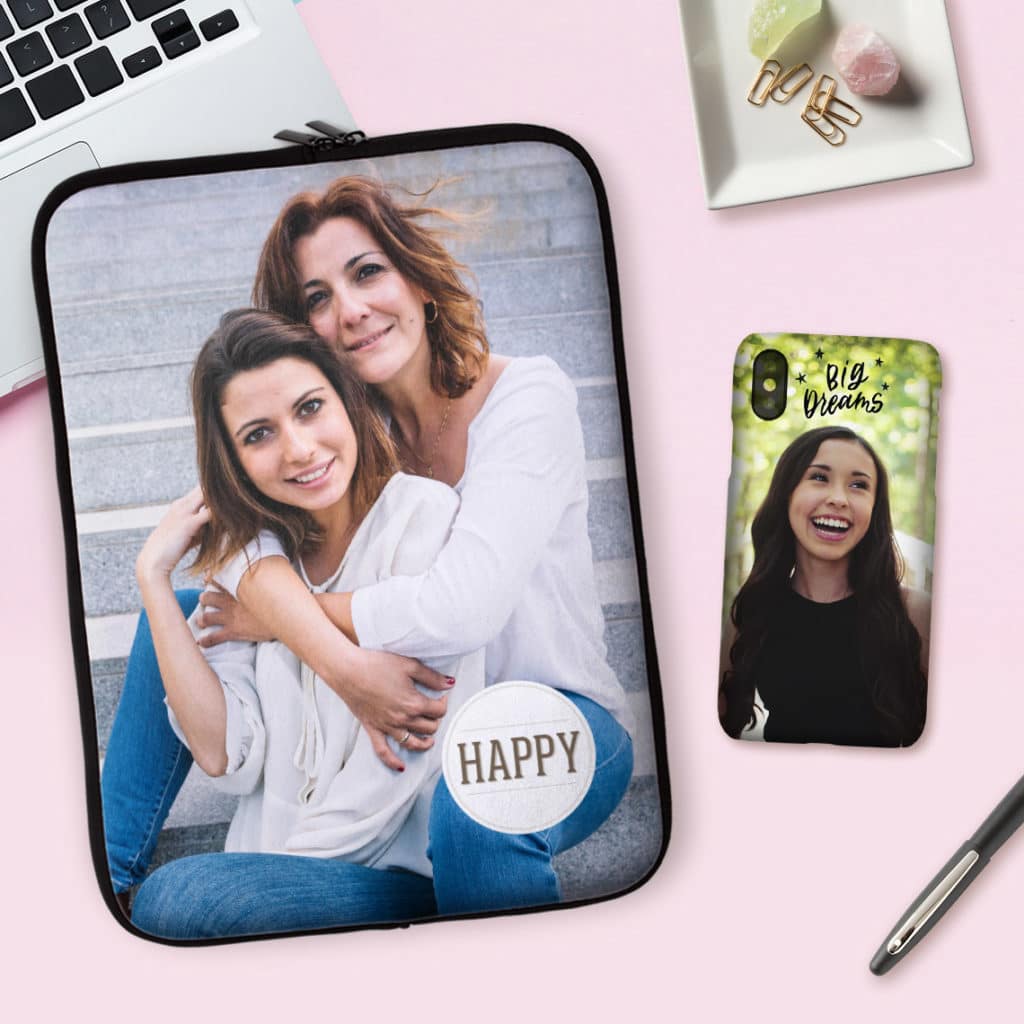 3. Your Grad will love these unique Grad Starter Pack ideas
Grad Desk Sets
What new Grad doesn't want personalized journals, custom letterhead and a unique photo paper weight to adorn their desk and make them feel all grown-up?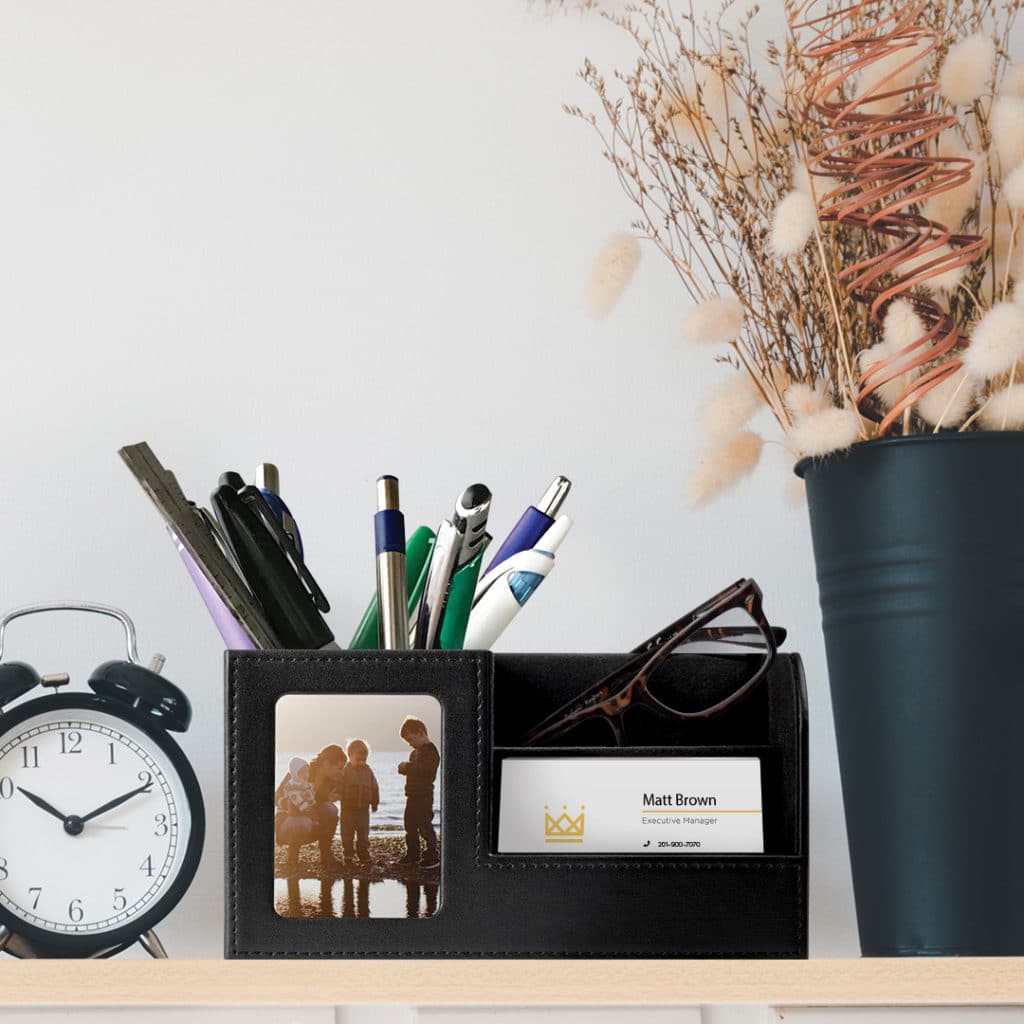 Or you could decorate their study area with this delightful leatherette desk set, business card holder (full of custom business cards) and a custom photo mousepad
Create a Graduate Care Pack using our unique custom totes
Every graduate needs essentials for their new living space. Personalized Graduate Care Packages could include anything from band-aids, snacks, movie passes to new blankets, personalized mugs and even things to keep their car on the road
DIY Graduate & Student Care Pack Tote
Create a collage survival kit packed with everything the Freshman (or woman) needs. Personalize a Snapfish Tote bag and fill with gift cards, candy; laundry / dish detergent, custom tea towels, personal grooming products and anything else they might need to make the transition to college that little bit less stressful.
Once emptied, the custom tote bag could be used for the weekly grocery shop; as a handy hold-all for all their bathroom essentials off the floor and helping to keep the dorm room tidy, or a handy gym bag.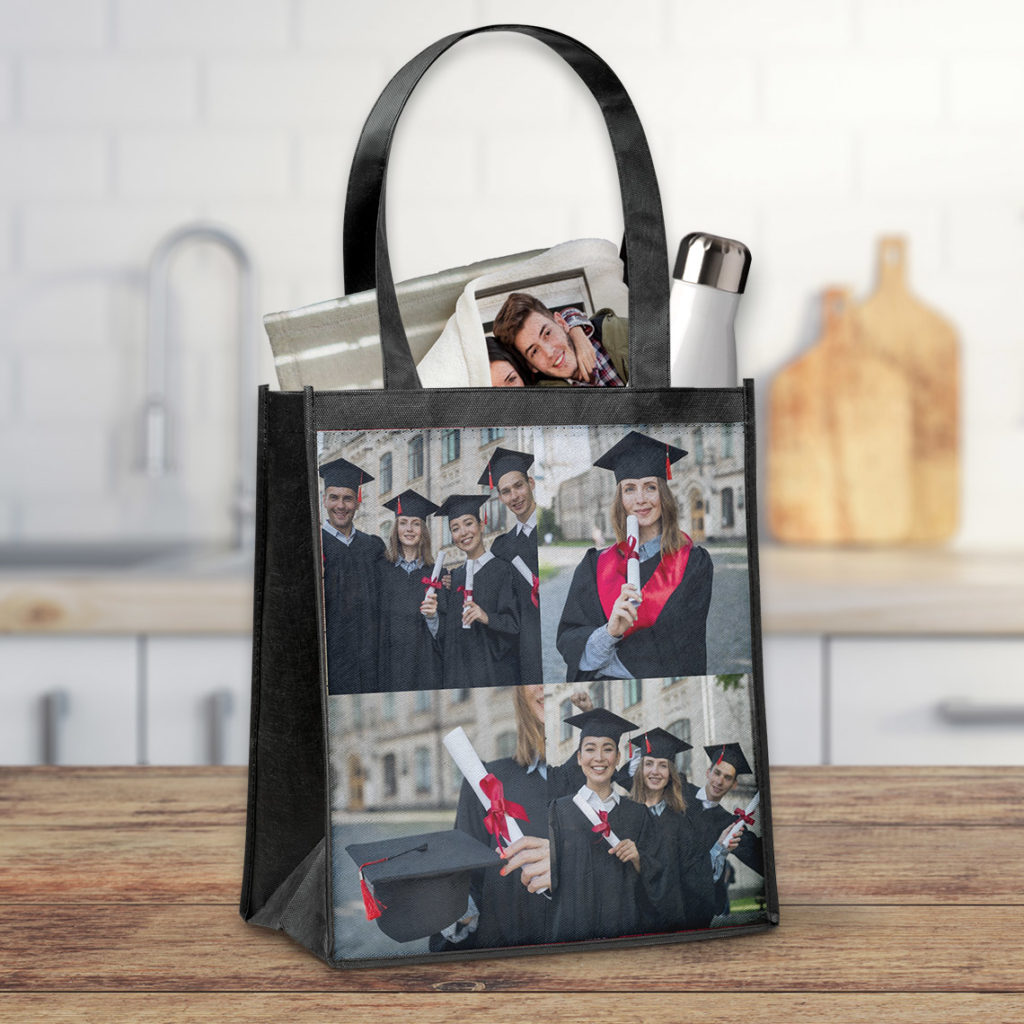 Emergency Car Kit Tote
If they own a car, they will appreciate any help with keeping it on the road. Personalize their custom car–survival canvas tote bag with booster cables in case the battery goes flat, an emergency blanket in case they break down in the cold, a flashlight, temporary flat tire sealer, a personalized water bottle for hydration and long-life snacks.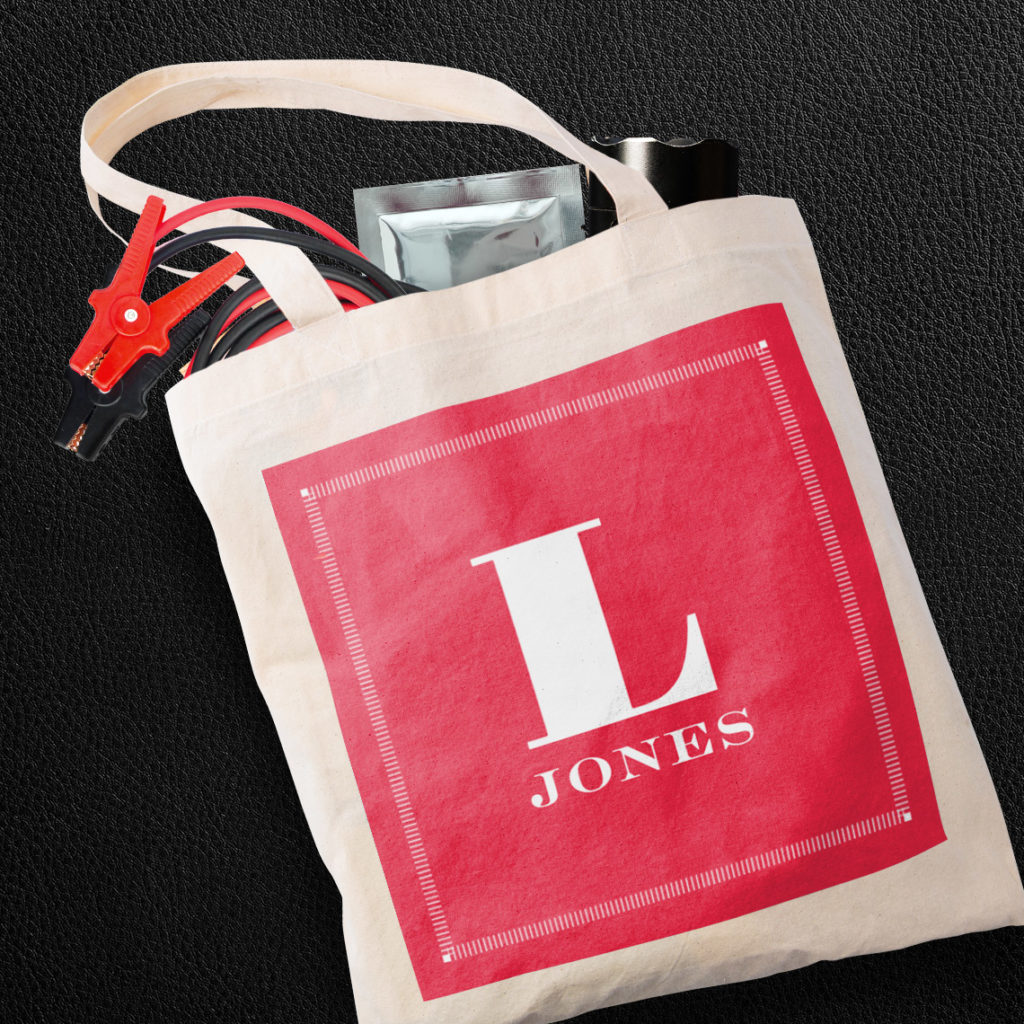 4. Immortalize the memory with framed prints and photo books
Create a unique framed graduate announcement & invite print
Frame the Graduate announcement & grad party invites you received, get the guests to sign the mount at the party and gift the grad the perfect keepsake of their milestone day.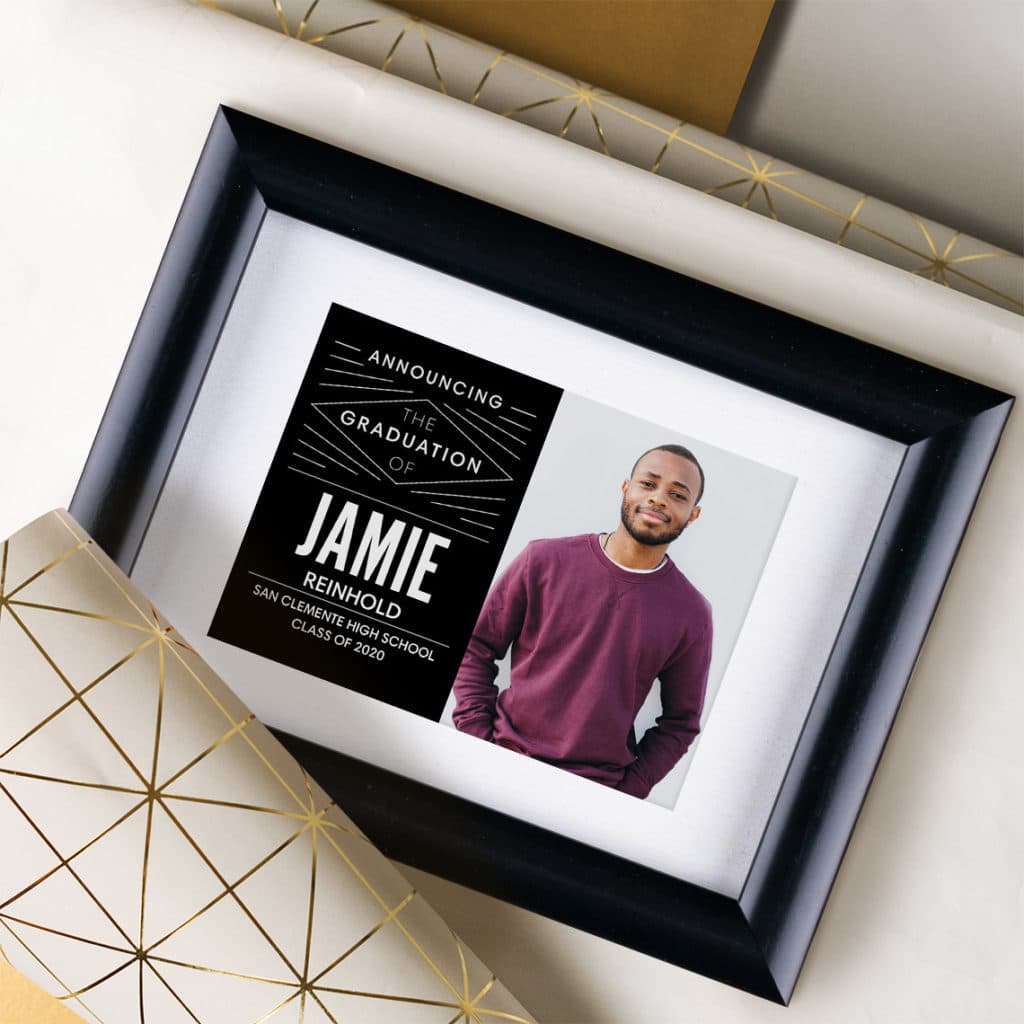 Create a Graduate Photo Book
Contact your graduate's friends and ask for any and all photographs that show the time that they spent together during their school career. Collect the photos and memories beforehand, and use them to create a professionally printed photo book on Snapfish.
5. Stock them up with living essentials
Help them relax, encourage hydration (and ensure they don't lose their mugs in the shared kitchen) as well as helping them reduce the impact on the environment when they order "coffee to go" and encourage regular exercise.
Blankets & Pillows to remind them of home.
Choose a few photos in your graduate's favorite colors, and create a simple collage blanket or pillow. This gift is perfect for both high school and college graduates. A high school graduate will love having the homey item in their dorm, and a college graduate will be able to proudly display the blanket in their home. What better thing to snuggle up into when you are feeling a little homesick?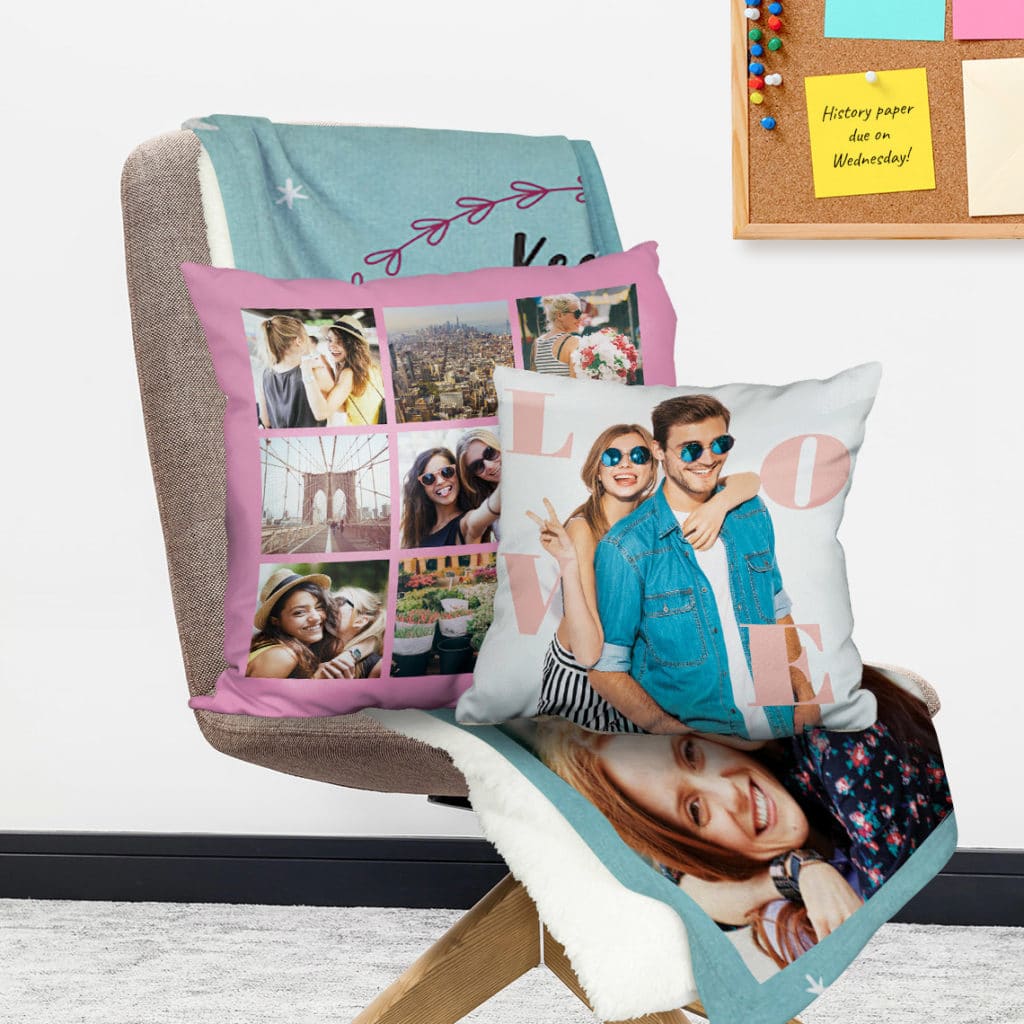 Create a muffin in a mug kit for the Grad.
All your graduate needs is a microwave—something that can be found in the even the most basic of college accommodation. Place the muffin in a mug ingredients in a mason jar (which they can re-use), and then write the recipe for the microwave cake on the jar. Tip: create a personalized mug with their name on it, or choose imagery from home to cheer them up every time they make a hot drink.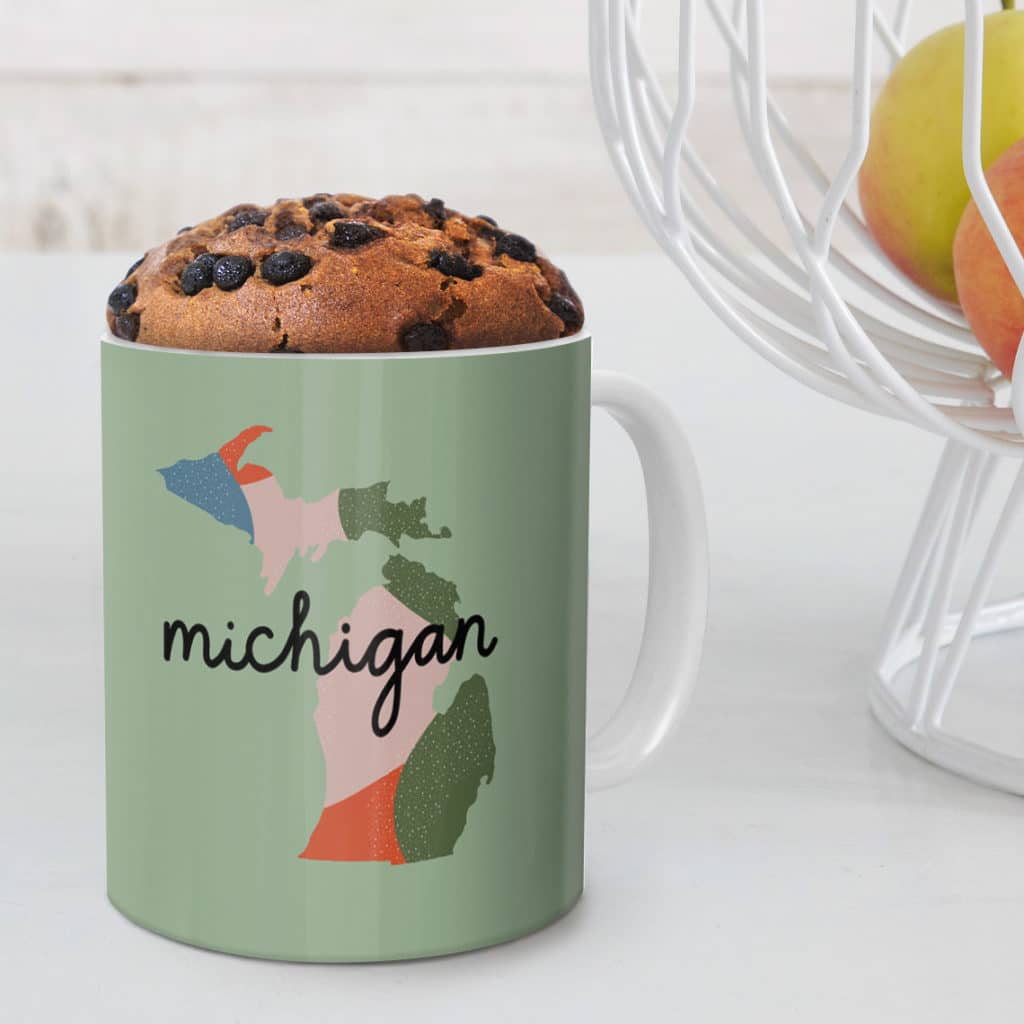 Gift a potted mini cactus in an enamel mug
These adorable potted cactuses in customized enamel campfire mugs are simple to create and make a sweet desk companion. Plus, if the Grad does forget to water the plant, they can still use your personalized enamel mug creation for coffee.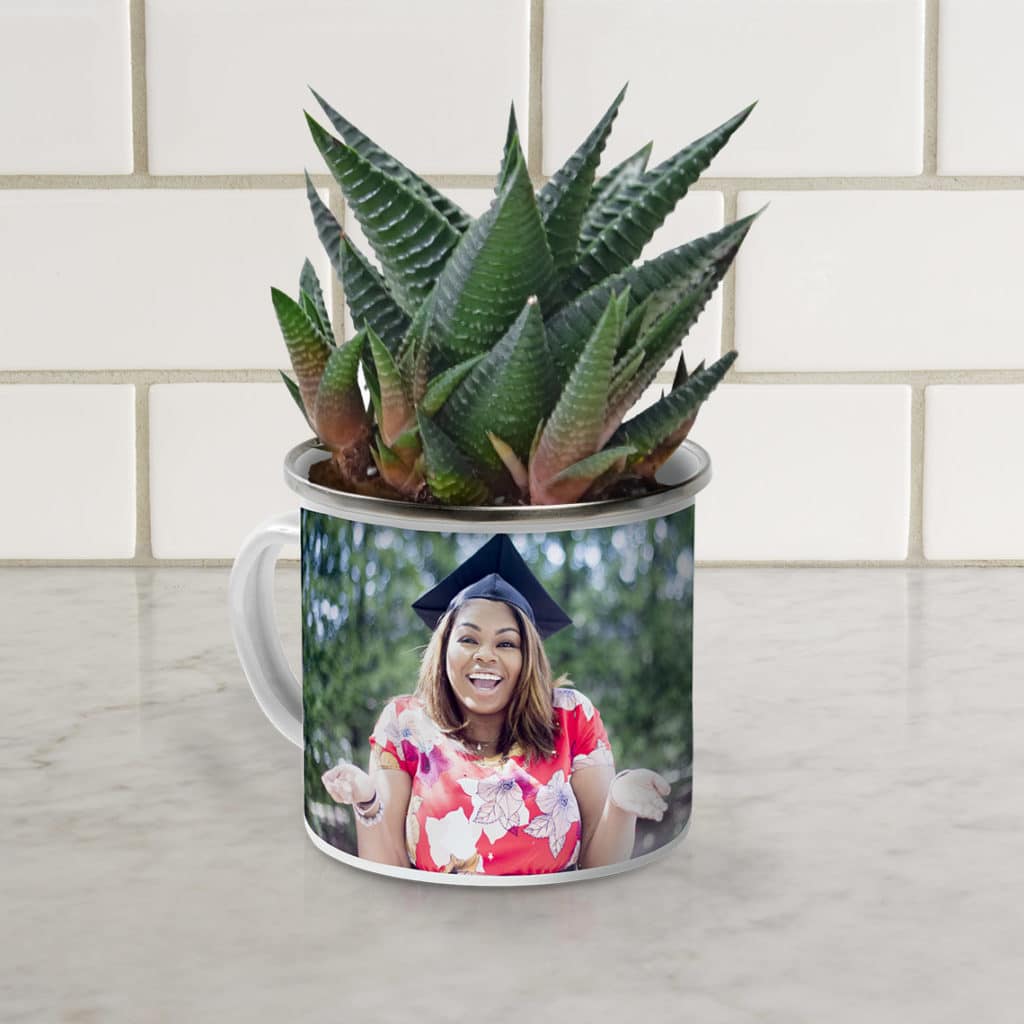 Create personalized Water Bottles & Insulated Tumblers
Your Grad will have no excuse for not drinking water, or letting that hot cup of coffee go cold again with these customizable drinkware products, and they can take their hot drinks with them to their lectures when they oversleep.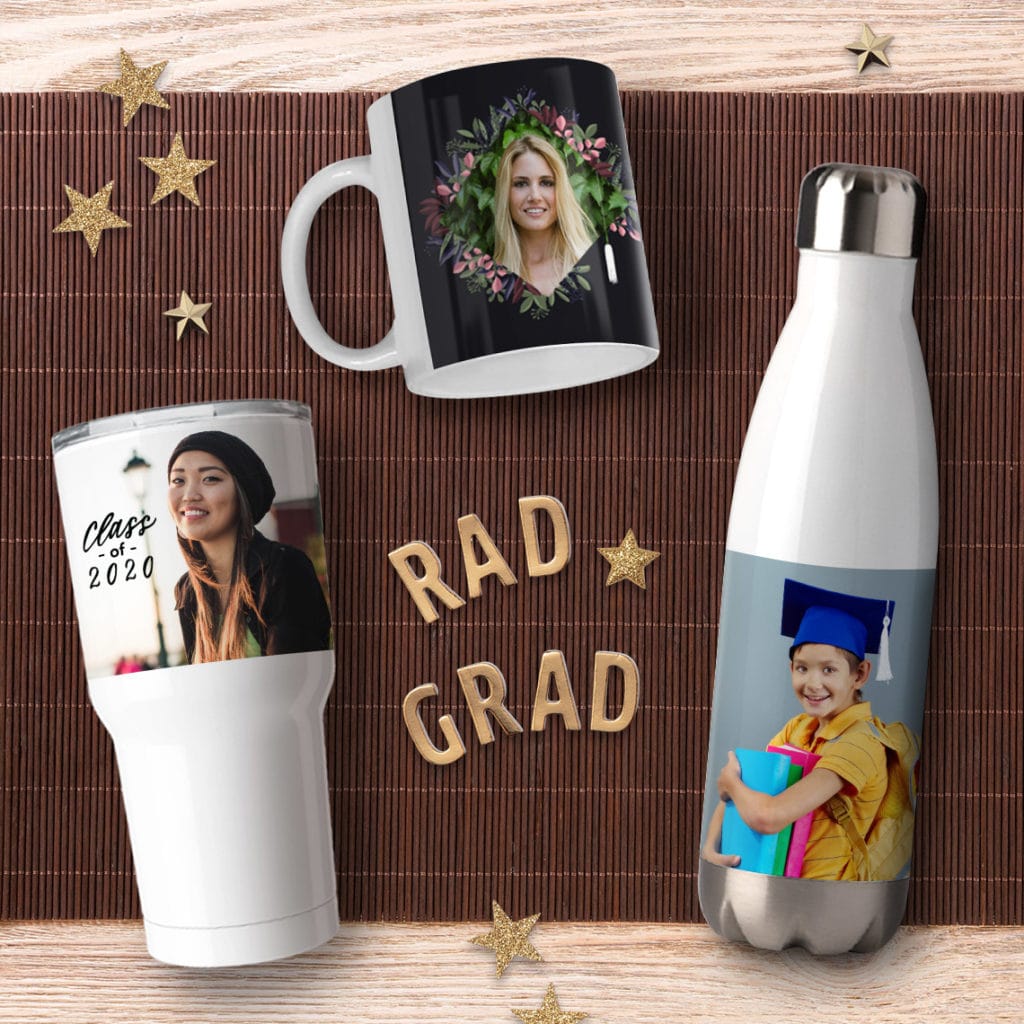 With more than 20 years' experience creating personalized Graduate presents right here in the USA, you can rely on us to create your gift. Plus, don't forget to use our free photo app, just search Snapfish on the Google Play or iTunes store to get 100 free 4×6 prints a month when you download the app)
We'd love to see the personalized Graduate gift creations you made! Please remember to tag us @snapfishus and #snapfish when you post your creations on Facebook, Instagram, Twitter and Pinterest.