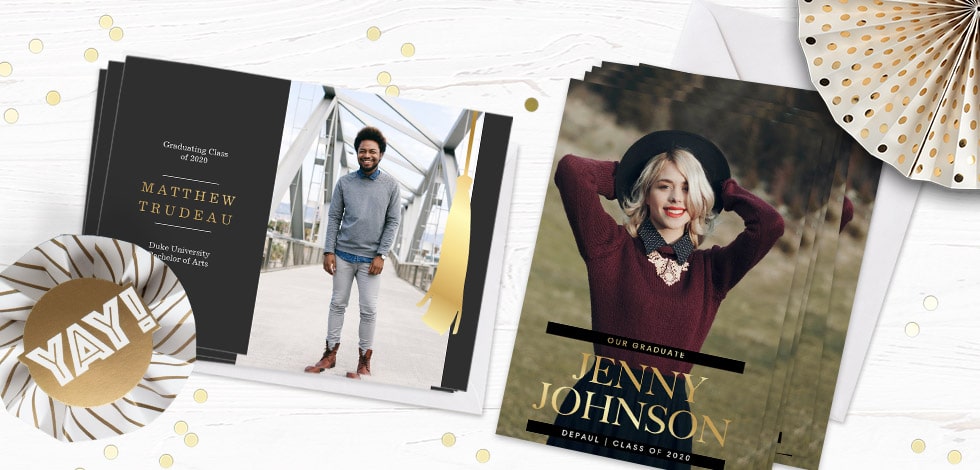 Graduation Announcements are cards used to announce you academic achievement and are different to Graduate Invites, which are the actual invitation to the actual ceremony, reception or party. Most graduations have limited seats at the actual ceremony, so a photo graduation announcement is a way of including people in your wider circle in your "Big Day".
Another big difference between graduation invites and announcements is how you word it, and ho it is addressed to. Snapfish has the online tools to help you create stunning grad announcements, graduate party invites and grad thank you cards and we will help guide you through what graduate announcement card designs best suit your personality; matching grad card designs and what to write on the Graduate invitation cards. Your announcement cards & invites should include the year of graduation, school name & emblem, degree or major earned, and your senior year photo.
College graduation announcements are typically more formal than high school graduation announcements. They also need to include additional information such as your major, degree, and other accomplishments. College grad announcements are also more likely to be used for networking, so you should take extra care in making them look professional in terms of design, photos used and copy.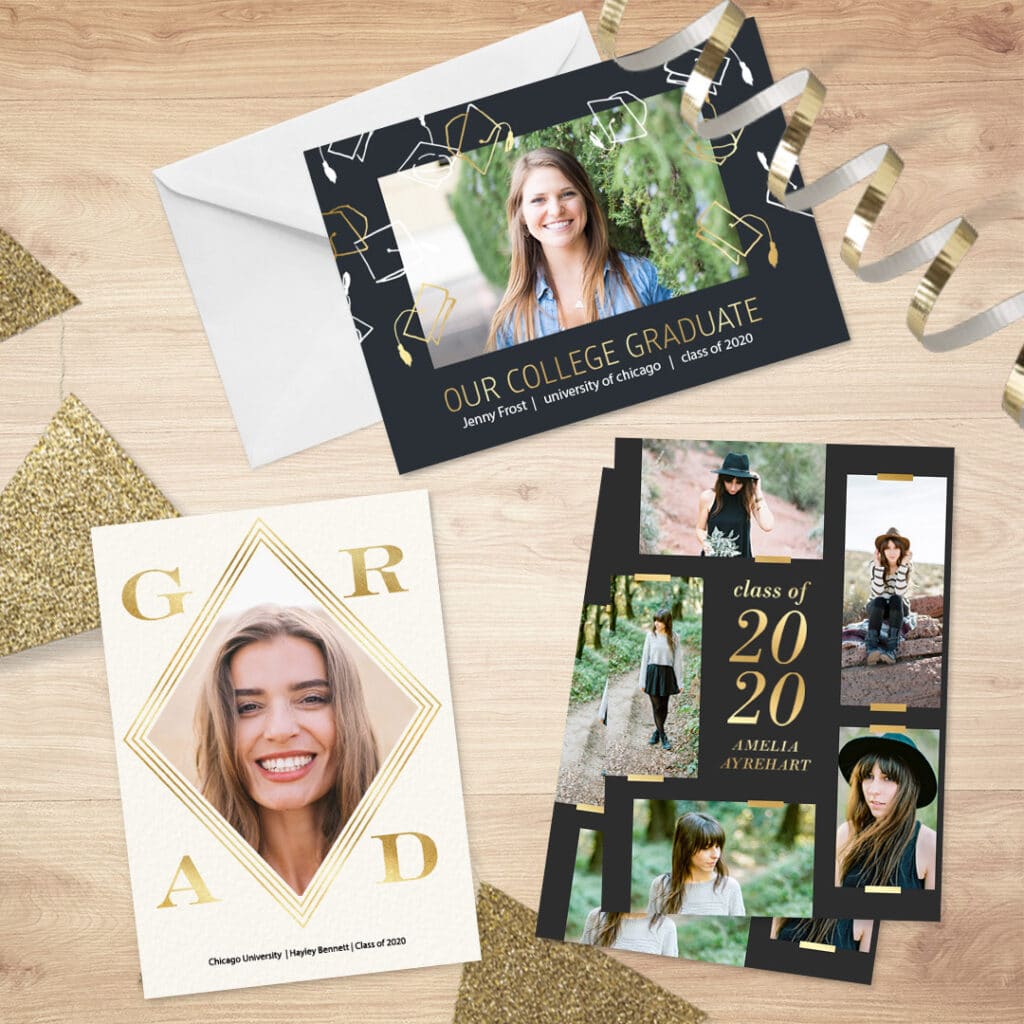 High School graduation announcements are typically  more casual than college graduation announcements. You still need to highlight key high school achievements and any plans for the future.
It's a time to be organised; at a time when you are overwhelmed with the end of school year activities. You have to plan a graduation party, come up with clever DIY graduation gifts for friends, as well as navigate the stress of finals.
A basic timeline for Graduate preparedness would be:
Four Months before: Take senior portraits. You can read our blog post on how to take the best Graduate Photos here
Three Months before: Design the layout and order your announcements. Consider sending out a "Save The Date" email or card
6 weeks before: Finalize your recipient list and prepare the announcements for mailing
2-3 weeks before: Mail your grad announcement cards. If you're hosting a post graduation ceremony party, consider inserting your graduate party invitation in with your announcement. Including a reply card with postage is also a great way to get quick RSVP's.
After the Ceremony & Party: Send out graduation thank you cards.
It is important to consider taking your graduation photos ahead of time so you have plenty of time to choose your favorite to feature in your graduate announcement. If you are a High School graduate, you can also consider including information on your future plans or college name, along with any high school honors gained on your announcement card.
Why send a graduate announcement?
Firstly, Mom & Dad are proud of your achievements and want to brag. Secondly, your friends and family genuinely want to know – especially those you are not closes to on a daily basis. Thirdly, if you are a College Grad, it is a great way to start networking; you can connect with your parent's friends and family members who may have positions in areas you are keen to work in. Graduate Announcements are tradition; they are the first in line of traditional updates of life's achievements, like save the dates, birth announcements, holiday cards and even funeral announcements. They are also a perfect way to say thank you to those you helped you get this far; anyone who has influenced your studies and help you on the path to your future career should be informed of the news.
Graduate Announcements are a keepsake for you and the family. They are perfect for including in a photo book or framing. Finding a copy of your graduation announcement years in the future will make you smile and will be a great window to look back through to remember this exciting time of your life with your future family.
Who do you send Graduate Announcement cards to?
A good rule of thumb is to send an announcement to anyone your family would send a Christmas or holiday card to. Graduation cards  signal that they're open for job opportunities and internships, and sometimes, might make a connection from a family friend who's hiring for their skillset.
Close Friends and Family:  No one loves bragging about your Graduate's accomplishments more than friends and family. They probably already know, but would love to show off a stylish announcement card on the fridge or mantel. 
Acquaintances: People on your Holiday card list would also appreciate receiving a grad announcement
Tutors, Teachers, Classmates: Celebrate the support from all the people who supported the Grad on the journey to greatness. Anyone involved in the grad's high school or college career would love to be included.
Remember to ask the Grad: Remember to ask them who they would (or wouldn't) want to send an announcement to.
What do you write in a Graduate Announcement?
The wording of your graduation announcement wording should reflect your own personality and style. Graduation announcements are the start of your formal announcements to friends and family and, if done correctly, will make a big impact. As well as the key information (like who, when and where), a graduation announcement can include an inspirational graduation quote, or words that outline the your future aspirations, or you choose a color scheme that reflects where you studied, or want to study, to set the overall tone for the ceremony and celebrations that follow.
What should you say on the card?
Aside from the obvious details, adding a quote to your announcement card helps you make your card your own and shows and how far you've come. The key information to include on your graduation announcements is:
Full Name
Graduation Year
Name of High School or College
Degree Earned and Major
Honors
Date of Graduation
What should a Grad Announcement look like?
Your graduation cards should reflect who you are. Make sure the recipients see you at your best. Get creative, go modern, or keep it traditional. 
Think about how you want your announcement to look. As well as the design and imagery, you also need to consider the card size, trim, format and paper type. Your trim can be classic square-edge for a traditional look or a rounded, elegant or scallop trim can create a more contemporary looking invite. You can choose standard flat card, foil card or seal and send formats. If you want a sleek, shinier finish, go for photo paper, or for an elegant print, use a matte card stock, and consider an upgrade from standard to premium matte card stock. Choose whether to include return address printing on the envelopes for easier RSVP.
Once you know how the graduate card should look, you need to consider the design layout. Do you want full-photo, multi-photo, text only, or create our own? Acquaintances and many family friends & relatives possibly haven't seen you in years. What better way to show your achievements than with an updated photo? You could even take your design a step further and use you your alma mater colors as the palette. If you had a professional photographer, you might find it hard to choose, so multi-photo layout grad announcements are a great option to showcase your style.
Snapfish has a wide range of Graduate Announcement Cards in a variety of formats from 5×7, 6×8 & 4×8 flat card sets of 20, to 7×10 seal and send cards, 5×7 foil card sets and even folded greeting cards & note card sets. To make it easier, we have hand selected some of our favorite designs and even have some matching card designs to enable you to set the design theme for the whole of your Graduation communications.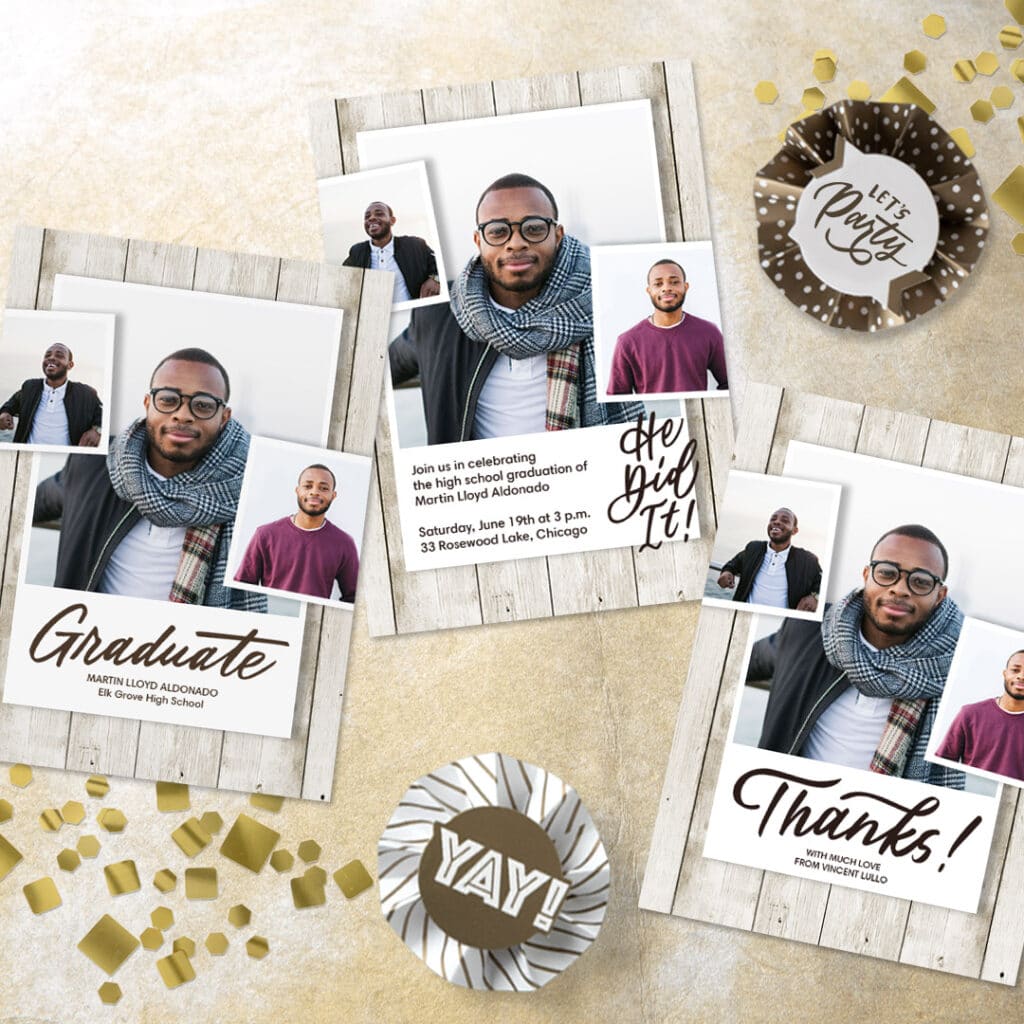 When do you send Graduate Announcements?
Opinion differs but standard practice suggests at least two weeks prior to the ceremony is a good time if you're including an invitation, and up two weeks following for standard college grad announcements.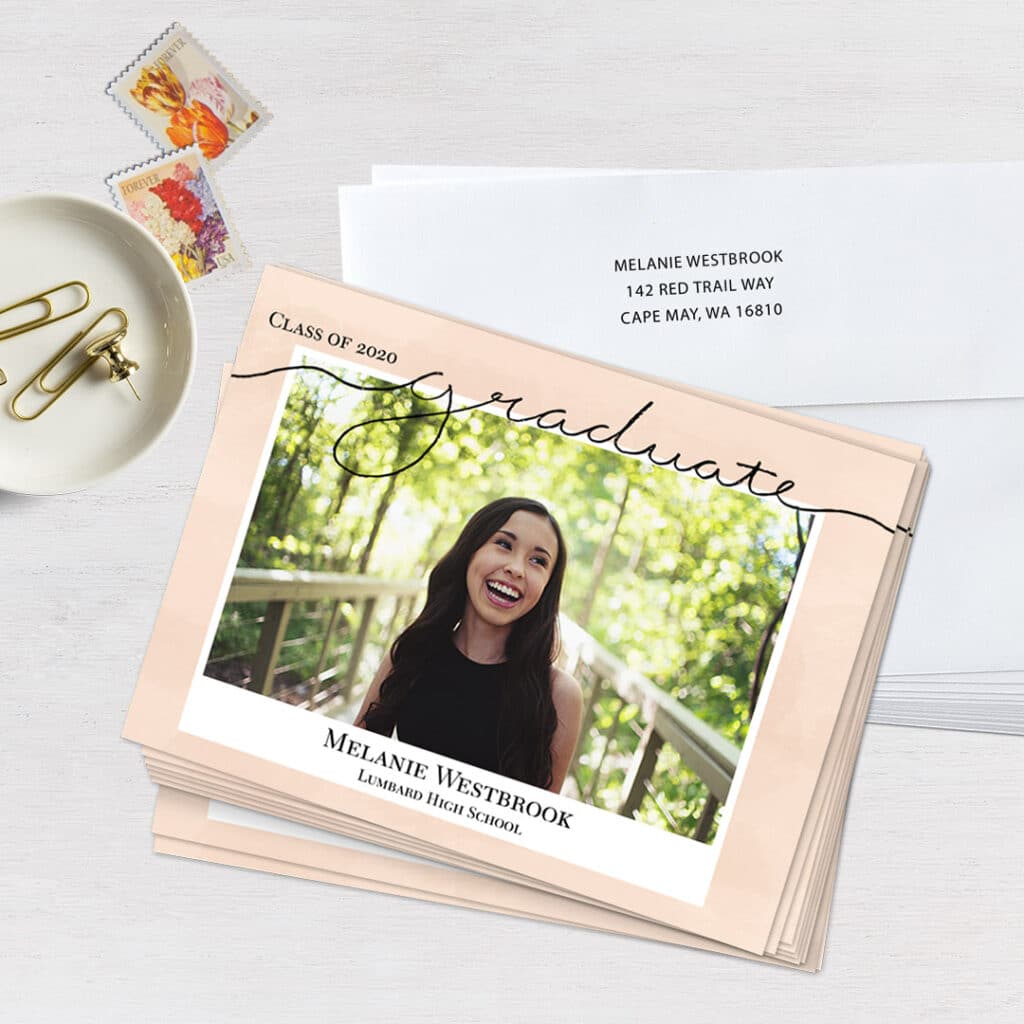 Read our blog for tips on what to write on Graduate cards, and don't forget to order your matching Graduate Thank You cards. Graduation thank you cards are almost just as important as the announcements themselves. Keep it short and sweet, but make sure to send a handwritten note to everyone who sent a gift to you. Write your thank you cards as soon as you can and send them out no later than a few weeks after the Graduation party.
We can't wait to see what you'll create for Graduation! Tag us with @snapfishUS and #snapfish when you share your Graduation card creations on Facebook, Instagram, Pinterest & Twitter