Nowadays, tea towels are found in homes worldwide and used for a variety of purposes, such as drying dishware, wiping down surfaces, adding a splash of color to the kitchen, acting as tray covers and placemats, and keeping your freshly baked goods nice and warm.
Snapfish has created an array of fun designs and templates for you to easily personalize a tea towel for yourself or the home of a loved one. Made out of soft cloth with an imprinted or woven design, these machine-washable tea towels make an eye-catching yet practical present any time of the year. (You could also pair them with a matching pot holder, or glass cutting board for extra cuteness.)
Creative uses for your tea towel:
The humble yet versatile tea towel offers an array of practical and beautiful uses both in and outside of your kitchen.
Good mornings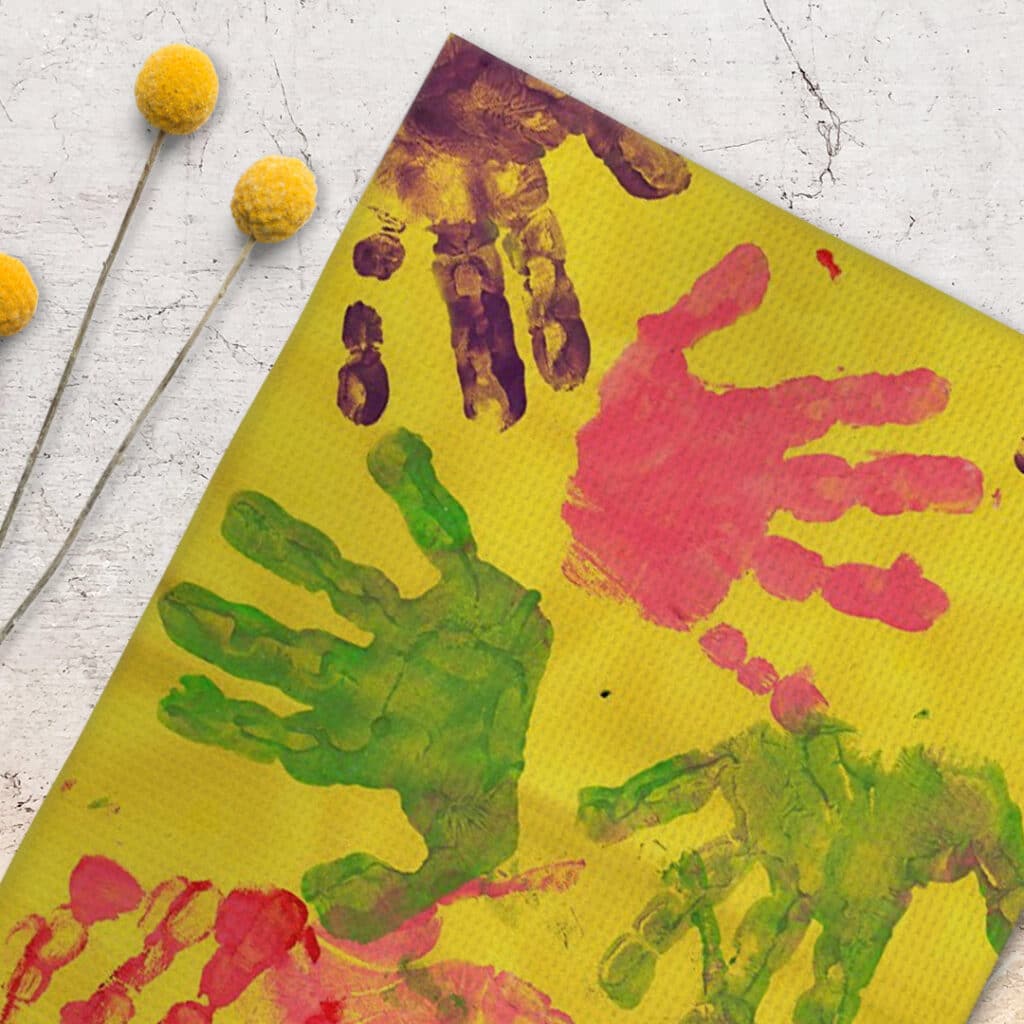 As a napkin or placemat, our custom tea towels make breakfast a little more special. They can not only coordinate with your custom mugs, they can also keep your table clean as a whistle.
Tea towels for everyone!
Perfect for a bridal, wedding or housewarming gift, a personalized tea towel carries both a meaningful and practical sentiment. School PTAs often create class tea towels to raise money for schools, and they are a great stand-by gift for grandparents and aunts during the holidays. We have many designs to choose from, both with or without photos. You can also have fun photographing handprints or children's artwork. Simply upload the photos into your Snapfish account and position on your tea towel for a truly unique and thoughtful gift.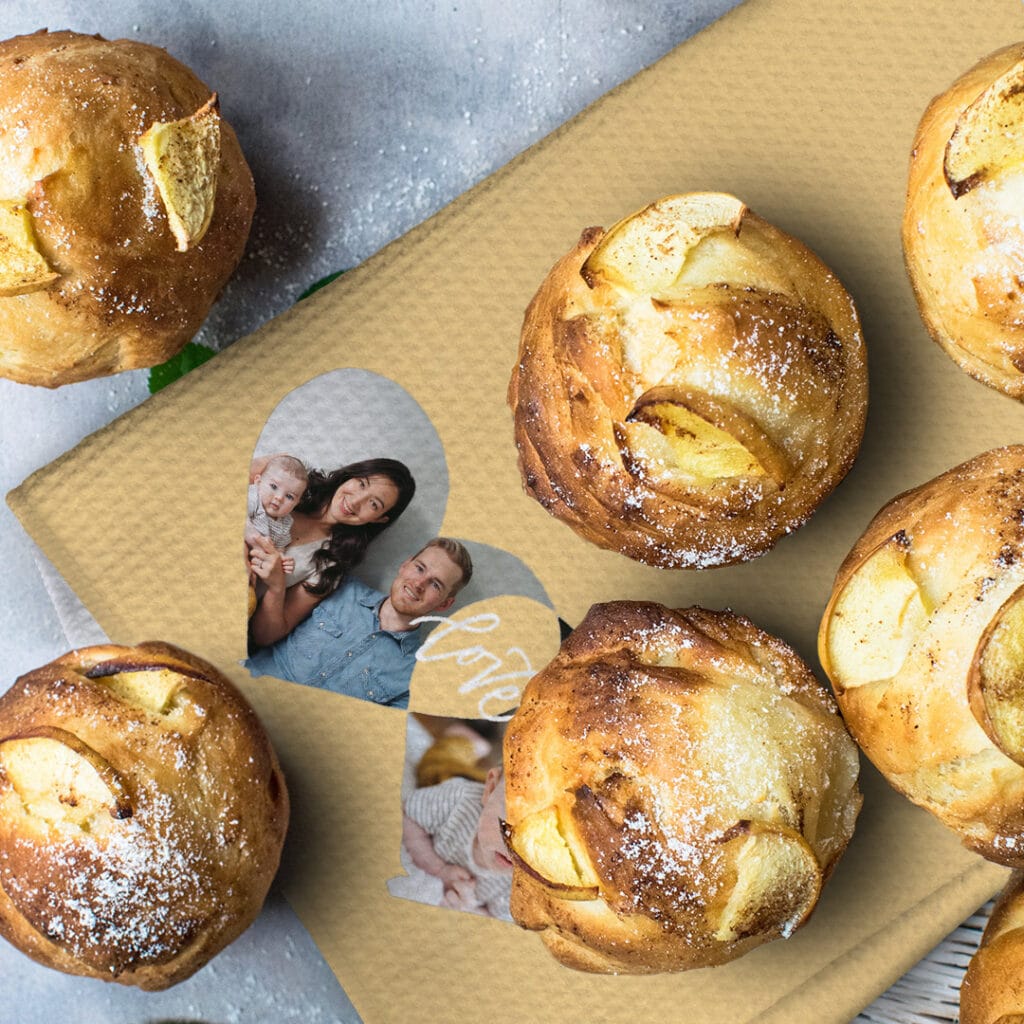 Keep out the cold
Keep all your morning rolls, muffins and bread warm when you place them on the table with a photo tea towel. Just think how festive your table would look at Thanksgiving or Christmas morning with tea towels featuring turkeys or Santa Claus! (Top Tip: check out of range of festive embellishments in the builder). Plus, if you have bread left over, you can give them to your guests as a gift, wrapped in your very own design and sustainable packaging.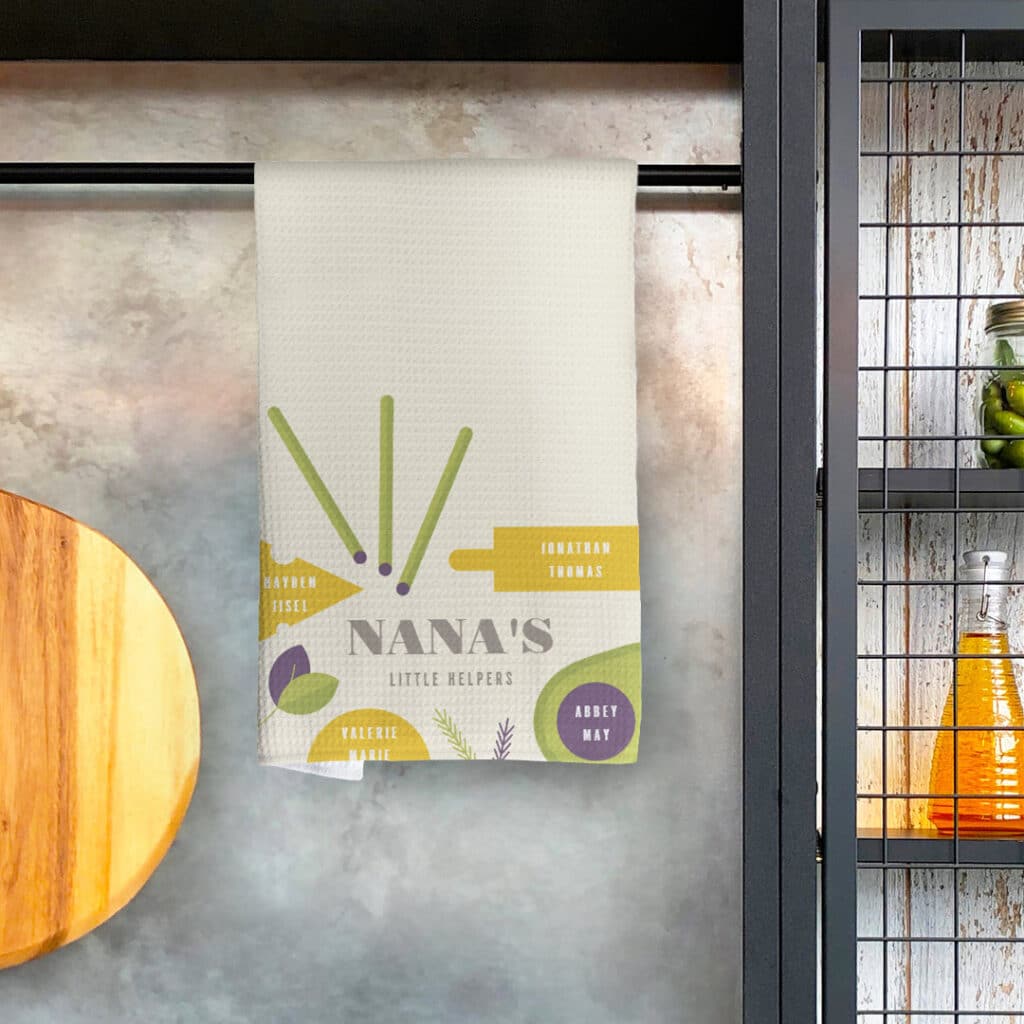 Kitchen cool
Hang tea towels in place of traditional hand towels to add a splash of style and decor to your kitchen. Pick a pattern or symbol that matches the general theme of your kitchen. We have fruits, monograms, collage photo layouts and everything in between. Don't forget to check out our many embellishments and font collections for that final touch.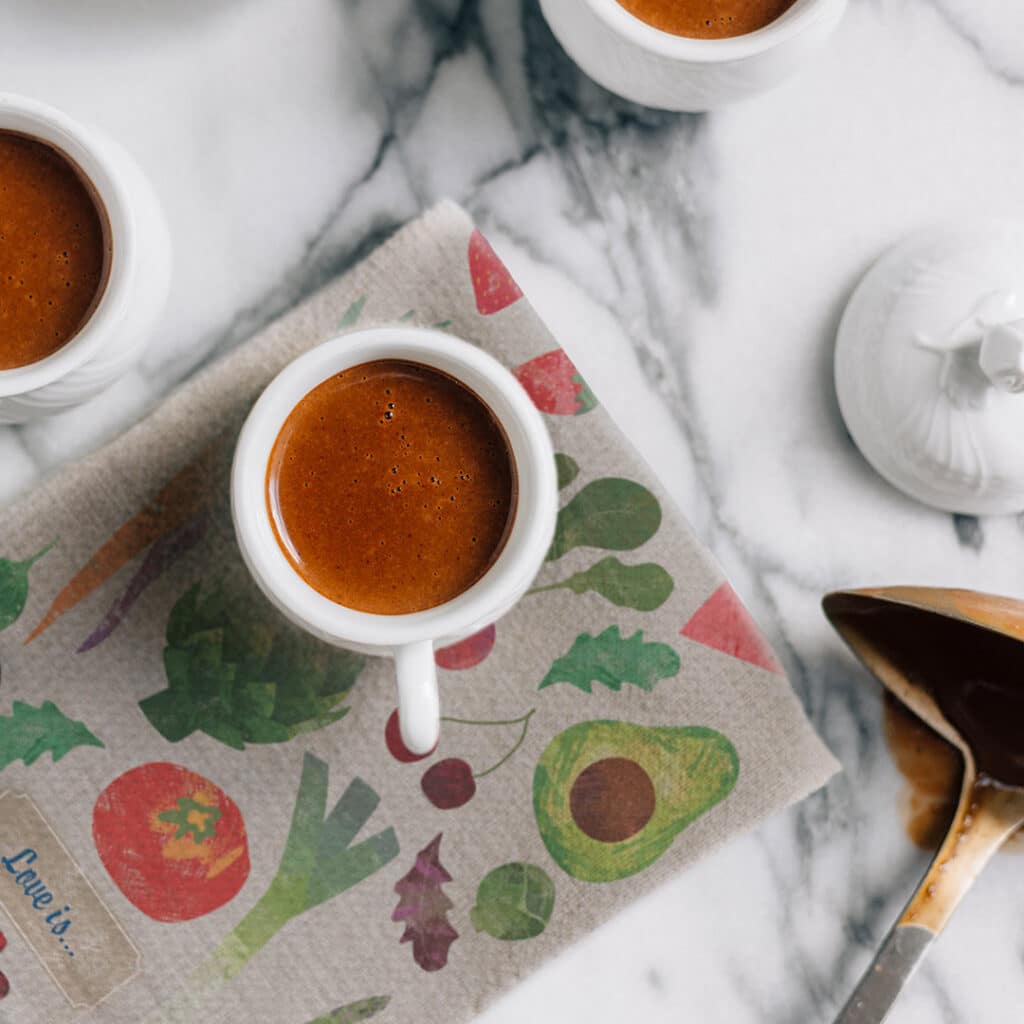 Protect that table
When folded, your tea towel acts as an effective placemat and table protector. Place your warm dishes or freshly baked goods on the tea towel to let it cool down and make your table look great.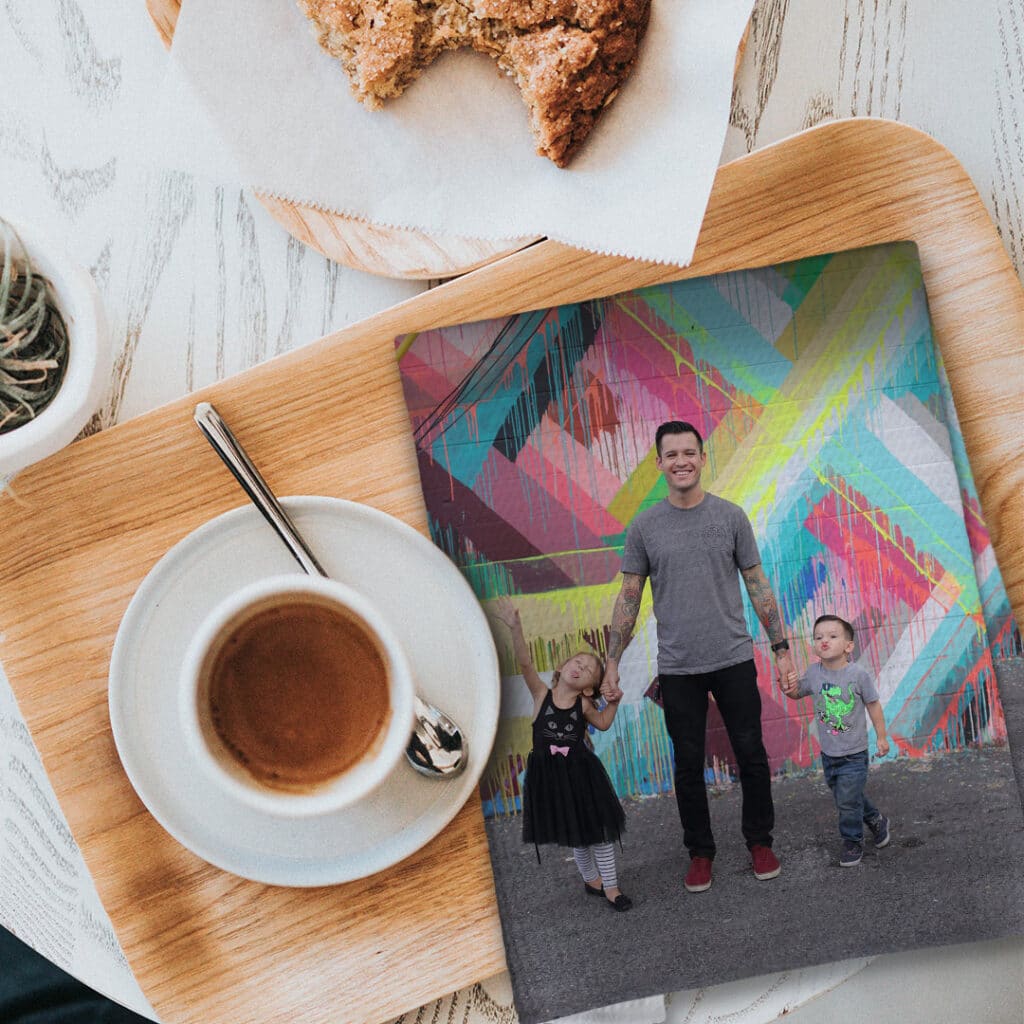 Pretty up your tea tray
Catch the inevitable drips and spills when you line your serving tray with a tea towel.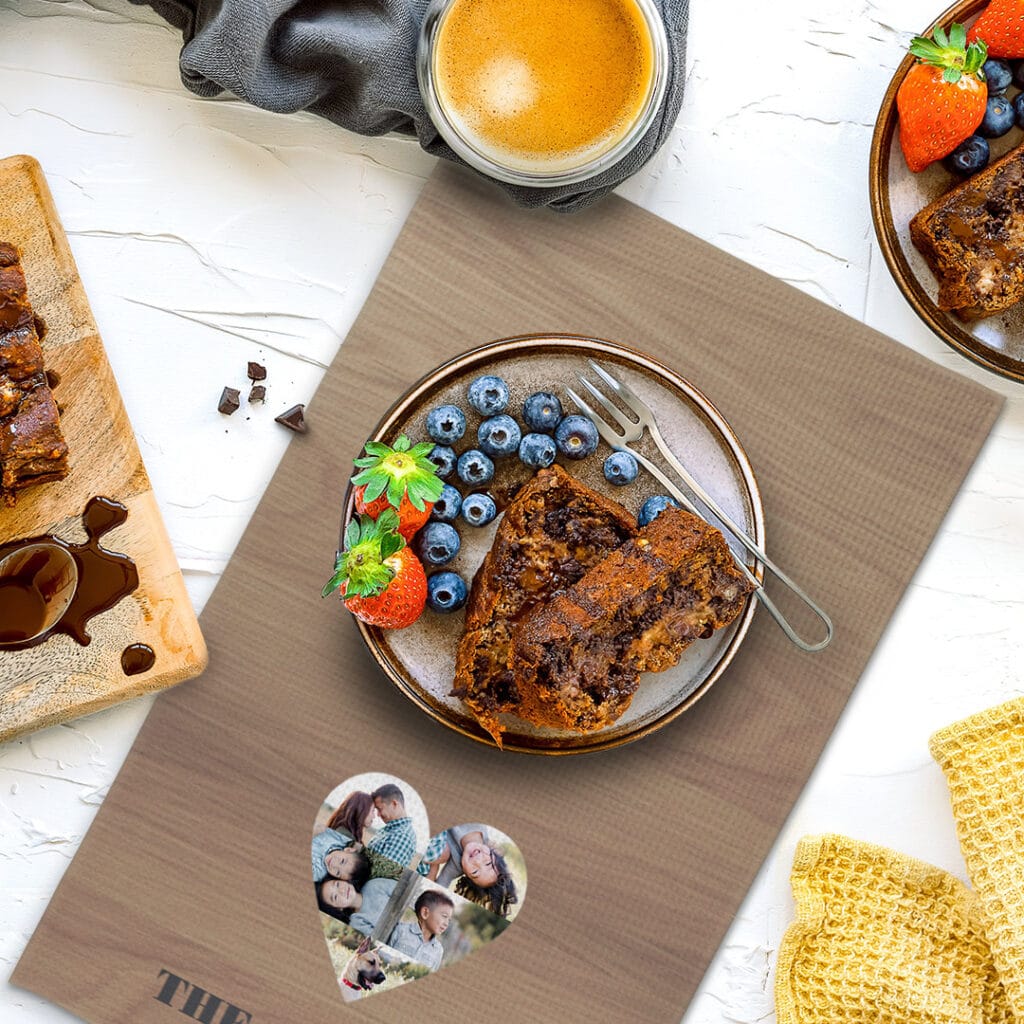 Think décor
Add a festive touch to your table by using your tea towel as a placemat or cloth napkin. Choose designs that bring that extra something to the dinner party. We have many festive embellishments to add a splash of fun to your towel.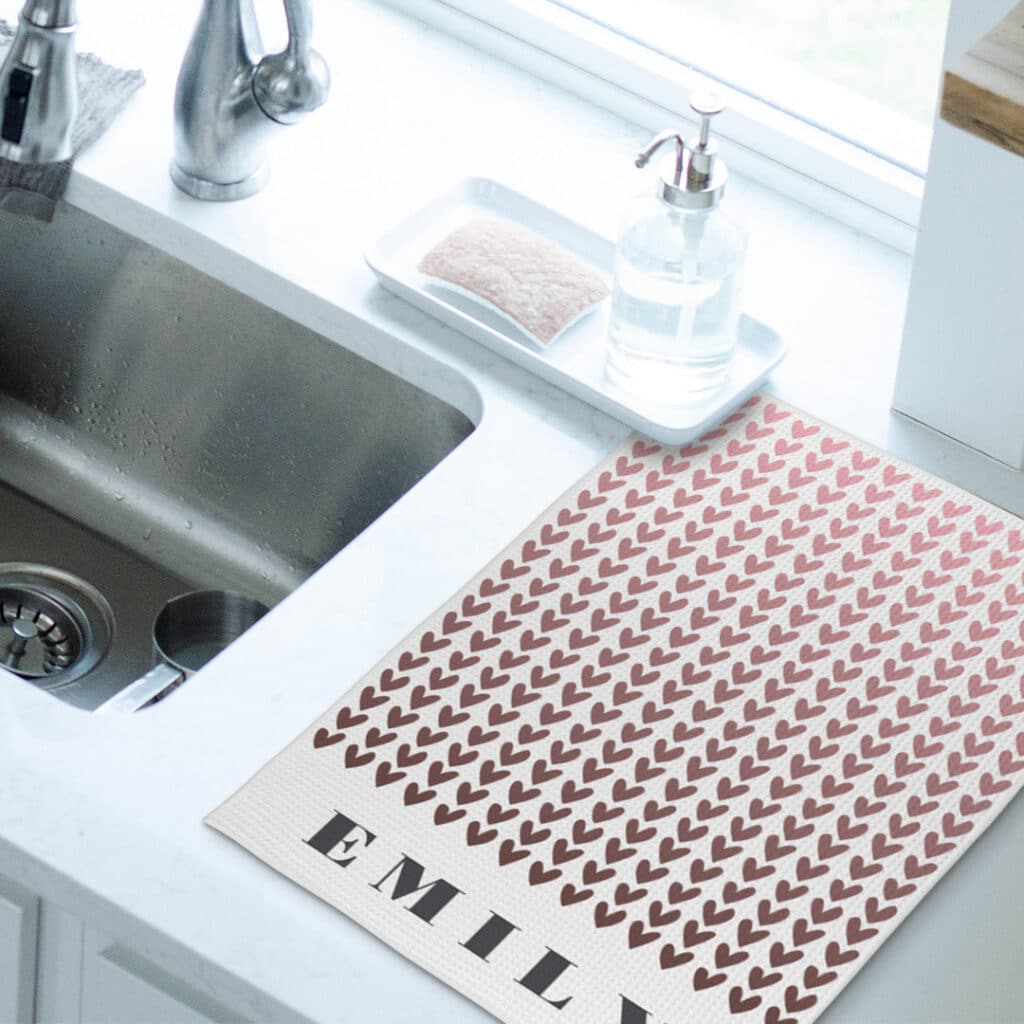 Stay dry
Swap your ugly dish drying rack for a chic tea towel. Lay it out by the sink for your clean dishes and utensils to dry upon.
Tis the season
Why go to all the trouble of adding lights to the front of the house, trimming the tree and putting Santa out in the yard, if your kitchen still looks the same? With our range of festive pot holders, cutting boards and tea towel designs, your kitchen will soon look ready for the holidays.
Tea towels make for beautiful additions to any kitchen. Customize a tea towel today to give your home and kitchen that finishing touch you've been looking for.
For more tea towel and kitchen customization tips:
https://www.snapfish.com/blog/serve-looks-with-these-12-cute-custom-kitchen-and-home-gifts-from-snapfish/
https://www.snapfish.com/blog/custom-holiday-photo-gifts/
https://www.snapfish.com/blog/spice-up-your-kitchen-get-inspired-with-these-perfect-placemat-ideas/
https://www.snapfish.com/blog/introducing-our-new-cutting-boards/
We love seeing what you come up with! Please tag us @SnapfishUS and #snapfish on Facebook, Instagram & Pinterest. Check out the Snapfish site for even more custom gift ideas.