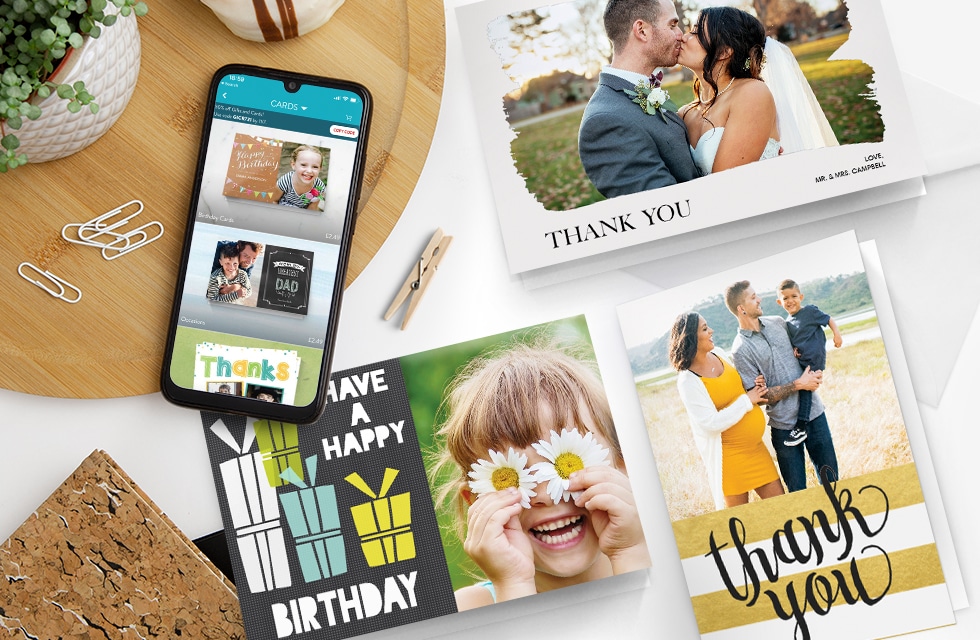 Making personalized greeting cards online is easier than you think. Learn how you can make beautiful custom folded greeting cards for any occasion with Snapfish and add your personal touch to birthday cards, thank you notes, Christmas cards, and more, effortlessly.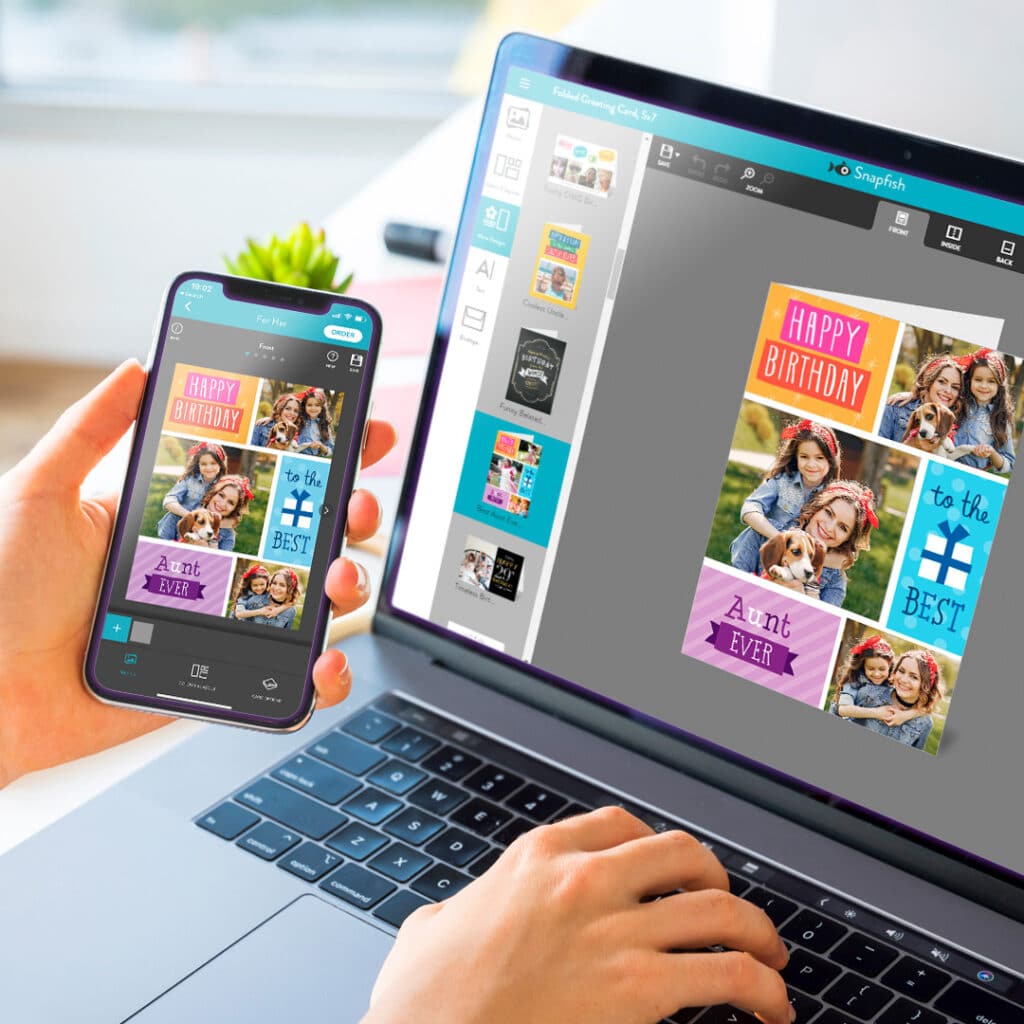 They say a picture says a thousand words, and when you design a personalized greeting card for that special occasion it can be more special than the accompanying gift. A custom greeting card is a awesome opportunity to share your feelings with loved ones, whether you're offering Christmas greetings, birthday wishes or sending a simple thank you note. 
With Snapfish, it's easy to make a card that looks beautiful in minutes. Plus, it doesn't take a professional to create a stunning personalized greeting card when you use our simple and intuitive card design tools and pre-made greeting card templates.
Create greeting cards, quickly and easily, using our intuitive website or app builder to make loved ones smile for Christmas, birthdays, anniversaries,  Mother's Day, Father's Day or any occasion where you need to show someone you "are there" for them.
How Do You Make Greeting Cards Online With Snapfish?
The Snapfish greeting card maker is easy to use, in both the app and web platforms, so you can create your greeting cards online in minutes. 
To design your custom card:
Choose the occasion that you are creating the card for. We have variety of unique designs for you to choose from, or you can always upload your own design using our "Design your Own" card feature.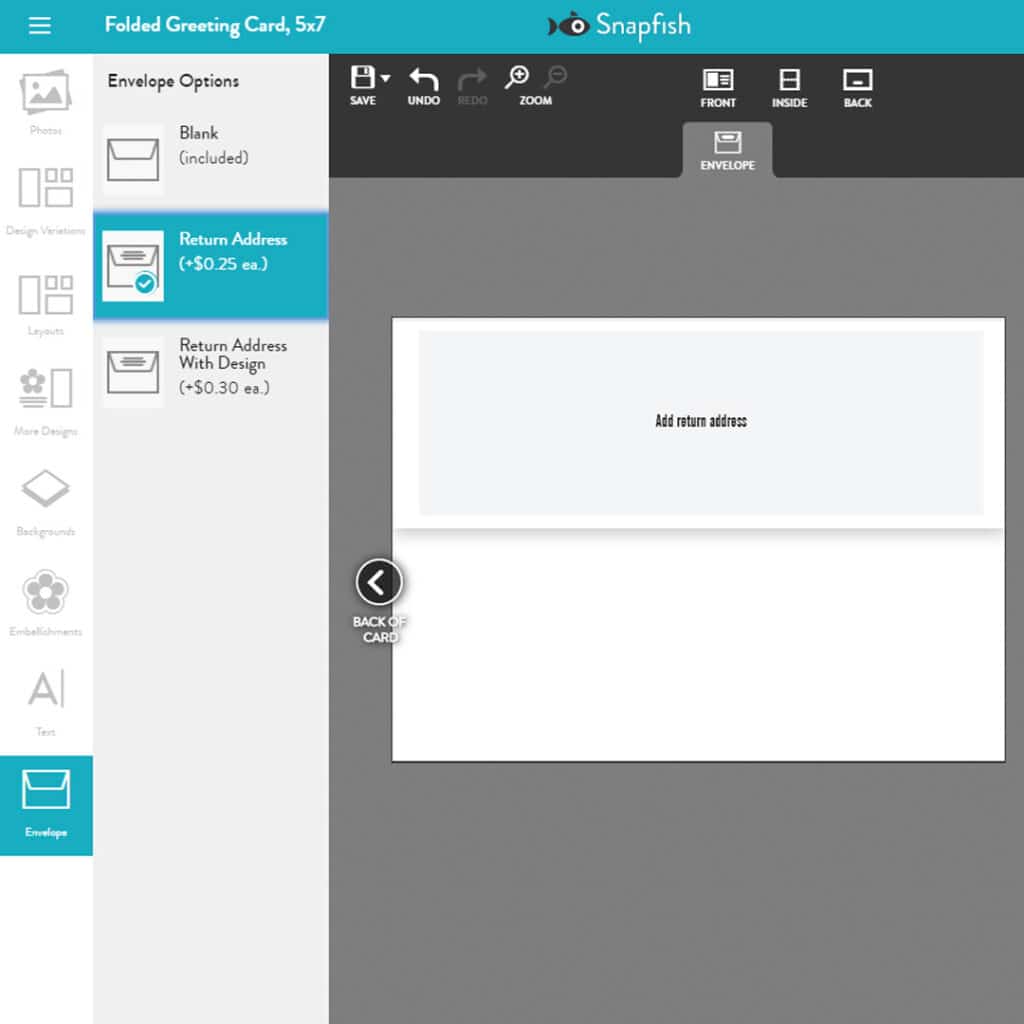 Once you've selected your greeting card style and theme, follow these easy steps:
Choose your card quantity and cardstock. With some designs, there can also be an option to select another color palette. Click "Create Now"
Upload your photos to the design in the card maker, or choose from your Snapfish Photo Albums
Click and drag photos into the greeting card builder
Update the default text and customize your card fonts, size and color
Review your finished card design. You will be shown an option to increase order quantity and add a return address to your envelope
Add to cart and select delivery options, including Priority Delivery! Your greeting cards will then be delivered straight to your door.
Making personalized greeting cards is easy, and it can take just a matter of minutes. The next time you have a family event or special occasion coming up, consider how you can use recent photos to create a greeting card online that's more special than a shop-bought option. While designing your own greeting cards online, you can have fun with personalized options and beautiful styles. Turn your cards into more than a to-do list – make them a lasting memory that your loved ones can keep up to enjoy year-round. 
Snapfish Offers Unique Greeting Card Ideas For Every Occasion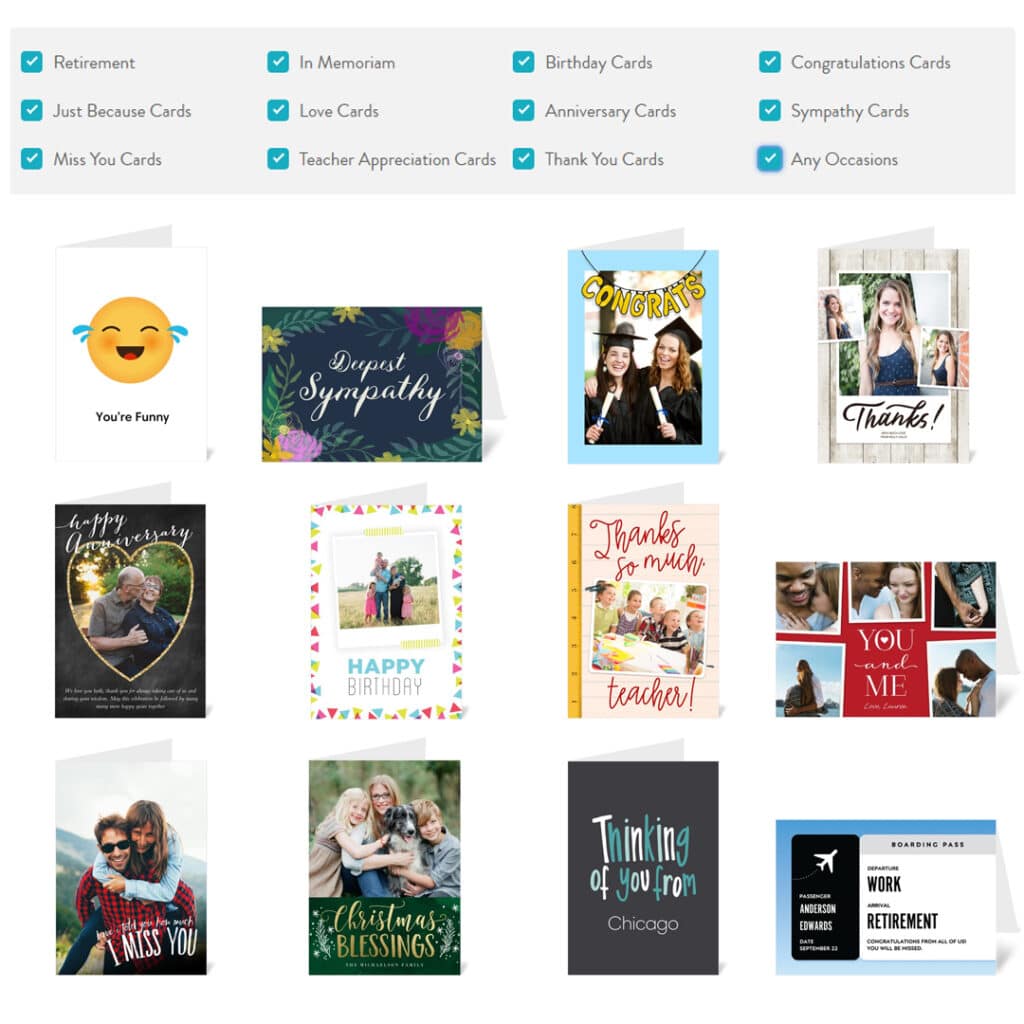 The professionally designed Snapfish greetings card templates allow you make your own cards that stand out from the typical, generic greeting cards you find in the shops. It's so easy to add personal photos, custom fonts and colors to create unique greeting cards they'll love. 
We have hundreds of greeting card designs that you can customize from Christmas greetings to Lunar New Year messages, Graduation, Congratulations, Sympathy and lots more. You can even create your greeting cards from scratch to more specifically meet your needs, perhaps using a simple non photo card design that you can customize with printed text, or a full photo or collage design that you make from your uploaded pictures. 
We also offer a custom set of smaller, notecard styled greeting cards, so you'll always be prepared to send well wishes or a thank you card to your friends and colleagues. 
It's Easy To Create Cards That Suit Any Occasion
Browse some of our greeting card ideas below to gain some inspiration to create that unique type of card you are looking for.
We also have a series of blog posts to help you convey the right message or card sentiment for the occasion, from birthdays to weddings, condolences to Valentines to help you convey the right message inside the personalized card you design.
You Can Make Birthday Cards Online In Minutes
Birthday greetings are most likely to be the most common greeting card you'll send. Everyone deserves to feel special on their big day, and a loving birthday card shows you're thinking of them no matter where you are. Instead of sending a shop bought birthday card, create a card that's memorable and focuses on the recipient. Some ideas for the Happy Birthday card designs you can make, include photos of you and the recipient, photos of them when they were younger (if you have them), or even photos of their favorite pets for a fun card that you can say is straight from Bonzo or Fluffy themselves!
Not sure what to write in a birthday card? Depending on your relationship with the recipient, you can make the card funny or more sentimental. 
If you want to make your friend laugh, funny birthday message ideas could be:
Knowing someone as amazing as me should be the only present you need. Happy Birthday!
Happy birthday to the person who has turned 21 more times than anybody else!
I believe you forgot my birthday gift last year. I'm returning the favor this year. I'm sorry but a Happy Birthday is all you're going to get.
Sentimental birthday wishes can always include thank-you's for your relationship and anything you appreciate from the birthday boy or girl such as the sentimental birthday message suggestions below:
Happy Birthday. Everything that matters in my life matters because of you. Have the best birthday. 
If I must choose just one friend in my lifetime, I would choose you, over and over again! I cannot put into words how important you are to me. Happy Birthday! 
When it's time for your birthday, remember to send out birthday thank you cards. Write a list of what everyone got you for your birthday and thank them for the gift. Use our birthday thank you message post to get you started. A quick thank you shows that you appreciate what they got for your birthday, and when you send them a personalized birthday thank you card with photo, you can show them how you're using the gift, especially if they don't live close enough to see you open the present in person.
You Can Even Design Christmas Cards Online Or Use Our App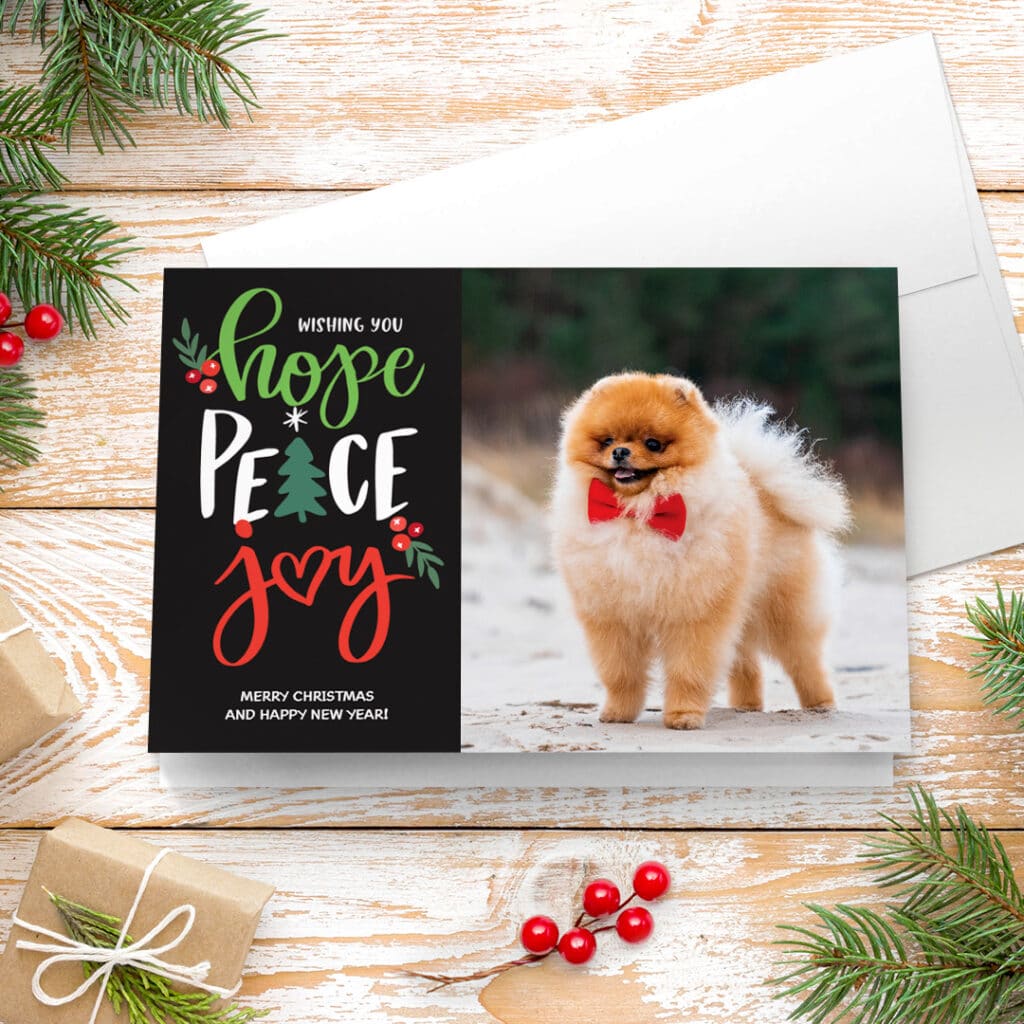 Sending a Merry Christmas or a Happy Holidays card is one of the best ways to celebrate the festive season with loved ones near and far. Some Christmas card ideas you could create include family photo cards, pet photo cards and even new baby Christmas cards. We have Christmas card designs for everyone, from traditional themes to funny styles to help you share your updates with family & friends. We also offer Hanukkah and other non Christmas festive card designs should this be more appropriate for your best wishes for the season.
If you're planning to send business Christmas cards, keep your styles more generic so you can share corporate well wishes while remaining professional with your co-workers and colleagues. 
It's So Easy To Send Best Wishes For The Christmas Season
One of the biggest dilemmas every year is what to write in your Christmas cards. If you don't naturally have a way with words, consider the following ideas for your greeting card or read our blog post of Christmas card sentiment ideas:
Merry Christmas and a Happy New Year!
Round Robin updates

Favorite moments throughout the year.
What you're looking forward to in the New Year.
Updates on your job, kids, and hobbies.
Reflect on time spent with the greeting card recipient.
Don't forget the proper sign-off from the family.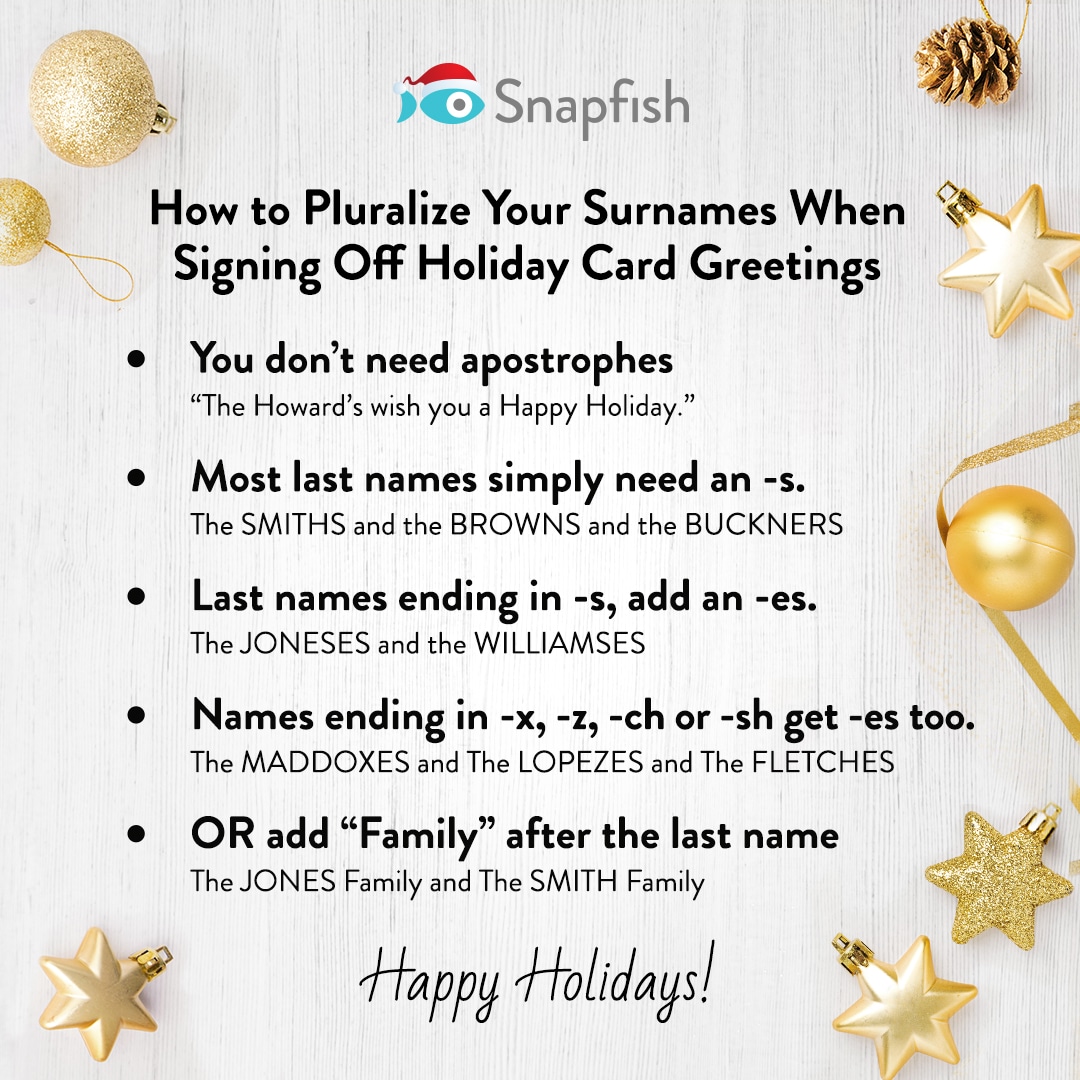 Personalized Happy New Year Cards In Minutes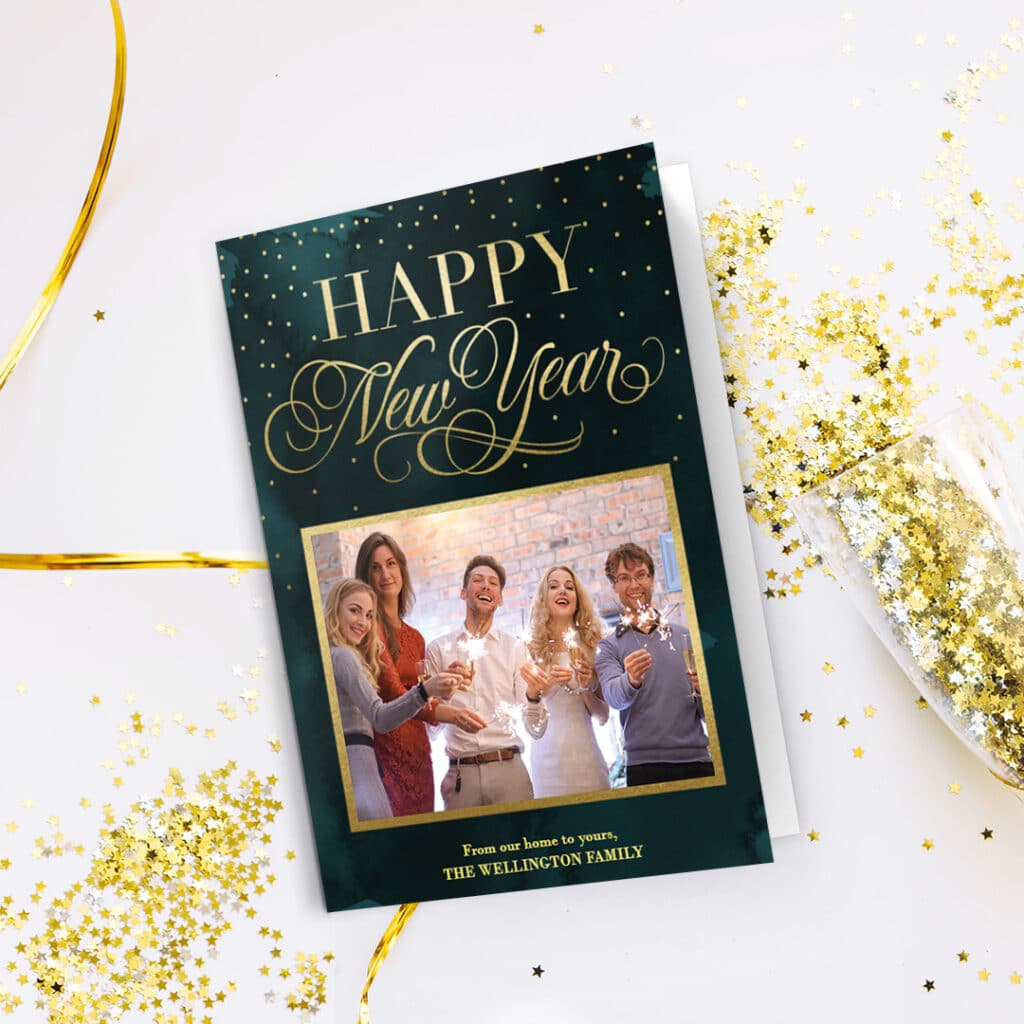 Show friends and family that you're still thinking of loved ones after the Christmas excitement has died down with a personalized New Year greetings card.
New Year's cards help you start the year off properly by sending loving greetings to the special people in your life, setting the tone for your year and helping you feel more positive about everything to come. 
While designing your New Year cards, choose a collage layout so you can include favorite family photos from the past year, such as weddings, graduations, birthdays, and anything else you'd like to celebrate! 
Make Valentine's Day Cards Online To Show What Is In Your Heart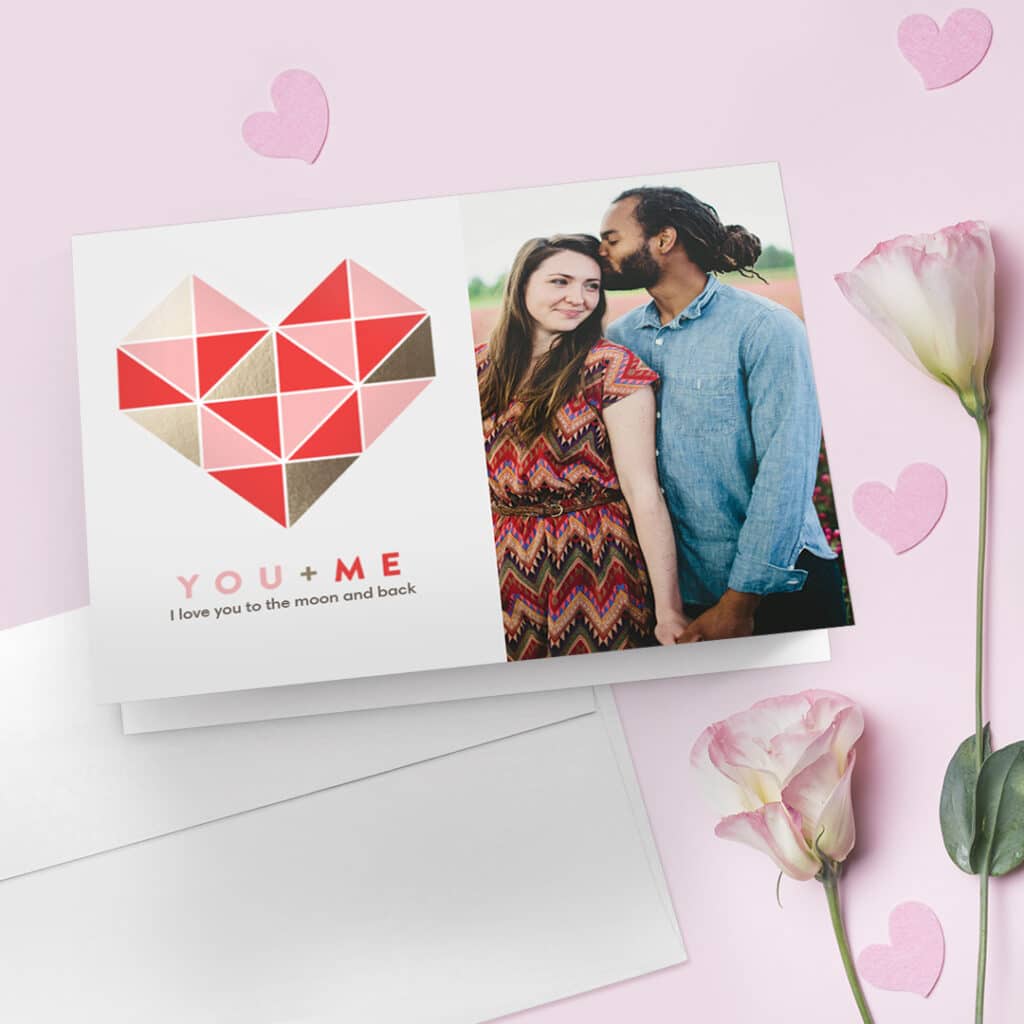 Although every day is special with your partner, Valentines is the day set aside time to celebrate what you are as a couple. Anyone can pick up chocolates, flowers and a generic Valentine's Day card from the local shop (or petrol station?), but if you create a personalized Valentines photo card you will gain extra brownie points that you can redeem later in the year.
When designing your Valentine's Day cards, you can choose to feature favorite pictures with your wife, husband, boyfriend, girlfriend or significant other. If you can't decide on just one photo, you can always choose a Valentines collage card design that has multiple photos of special moments. Don't forget to research our tips on writing the best Valentines Card messages.
Customize Mother's Day + Father's Day Cards Online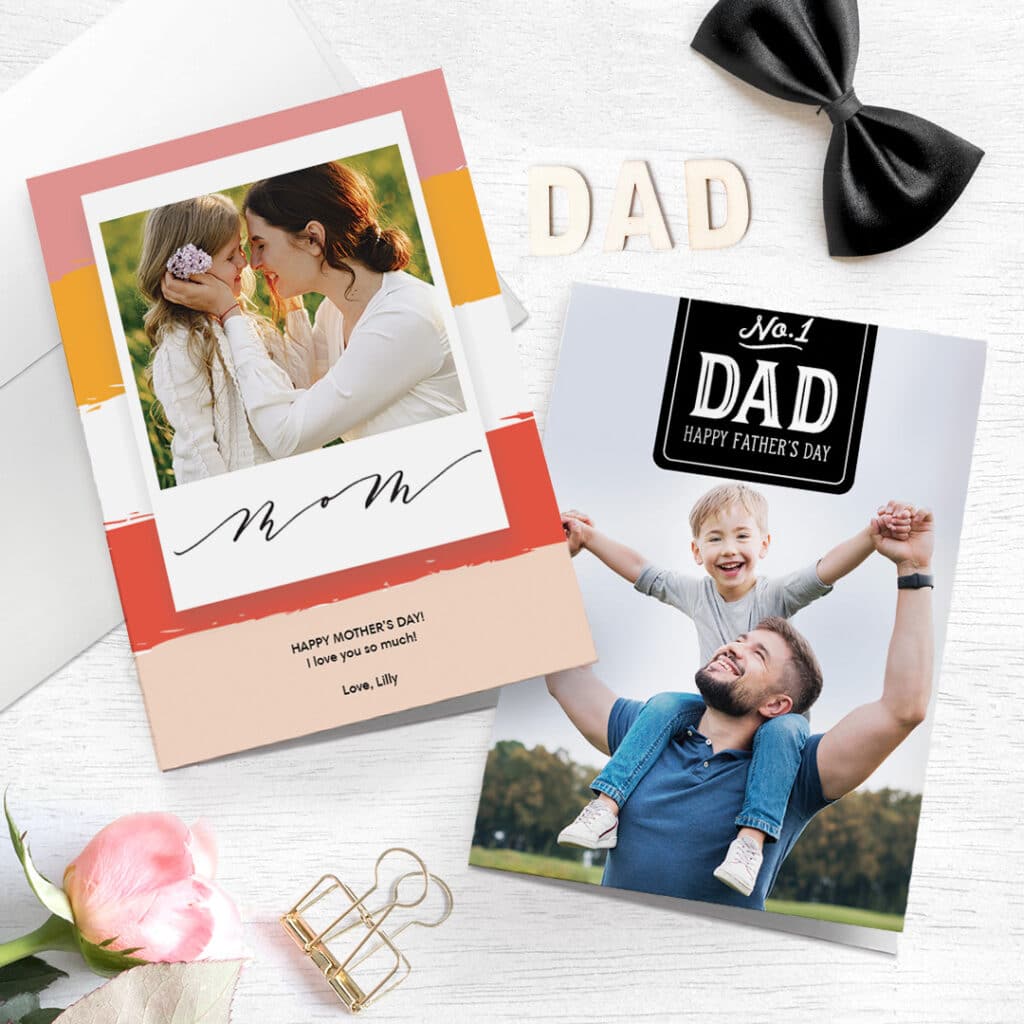 Mother's Day and Father's Day are one of the most memorable times in parents' and children's lives. Instead of just buying a generic card from the local card shop why not make your own card with photos of you with Mom and Dad that will have so much meaning to you all, and remind you of the special bond between parent and child.
We have a wide selection of Mother's Day card and Father's Day card designs suitable for new parents, pet parents, and even grandparents. All you have to do is upload the sentimental pictures of you with Mom and Dad!
Design Personalized Wedding Greeting Cards To Say Thank You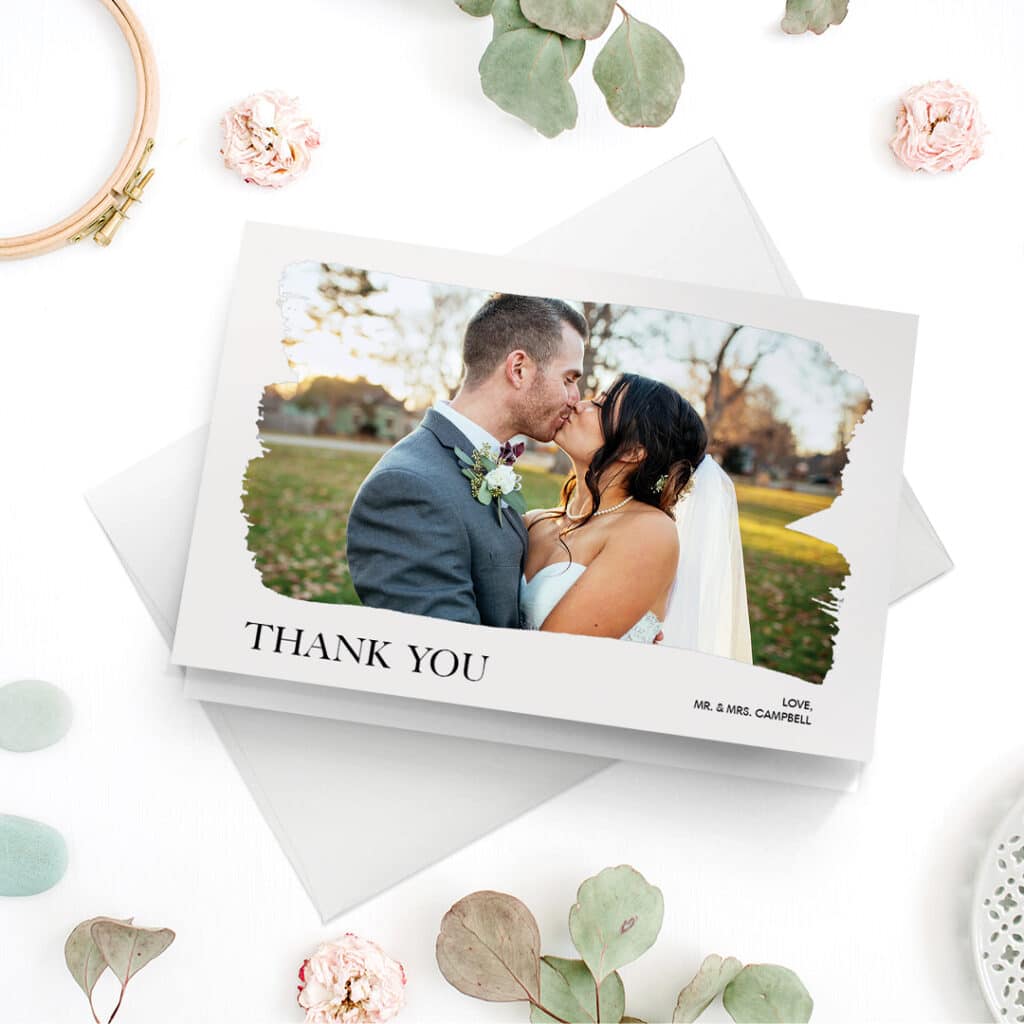 Some of the most important greeting cards people receive, are sent around their wedding. Many couples save their wedding greeting cards as a beautiful memory of their special day, which shows how important it is to make it special and uniquely yours. While designing your wedding cards online, remember to consider your recipients and their tastes, so you can design a wedding card that's simple and modern or elegant and timeless. All our greeting card designs are fully customizable so you can choose your fonts, photo layouts, card stock and envelope options. You can also add photos and text inside or on the reverse of the card to save you time once the printed card arrives.
Leading up to your wedding, you may also need a variety of other types of stationery and greeting cards, including save the dates and bridal shower cards. Design save the date cards that match your wedding theme and make it easy for your guests to mark down the date and location. Bridal shower thank you cards are a nice touch to send to your closest friends and family after they help you celebrate your engagement. 
It's Easy To Create All Your Thank You Cards Online When You Use Snapfish Card Maker Tools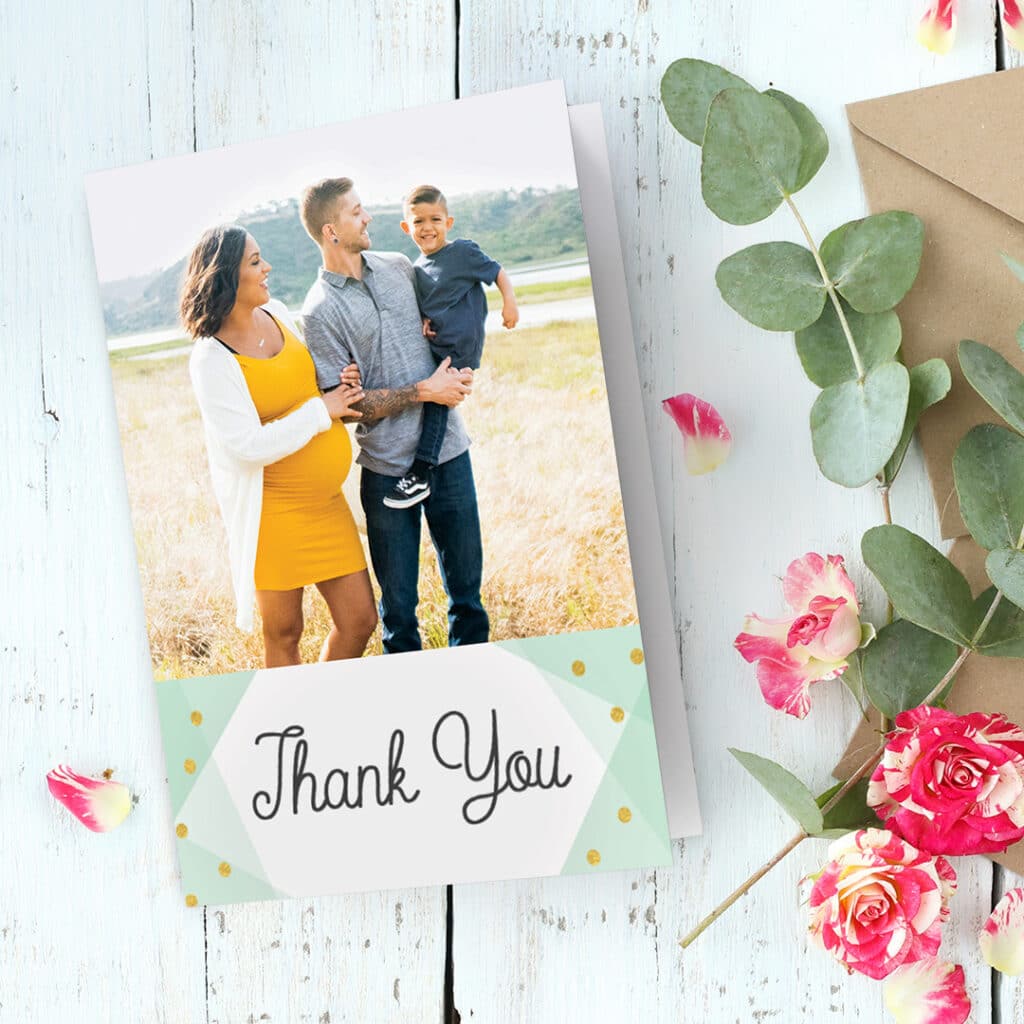 It's always helpful to have an appreciation card on hand, whether you want to send a simple note to someone or a thank you after an event.
Professional thank you cards always look better than generic cards, and they add a sweet touch to your message by showing you put a little more effort into it. If your thank you card design is personalized, you don't have to worry so much about the message inside. More often than not, your family and friends will enjoy the thoughtful touch of a beautiful thank you card design with a simple message. Browse our thank you card ideas to get a feel for the designs you like or don't like. From there, create your personal thank you cards by adding photos, text, embellishments, and more.
Print Custom Sympathy + Condolence Cards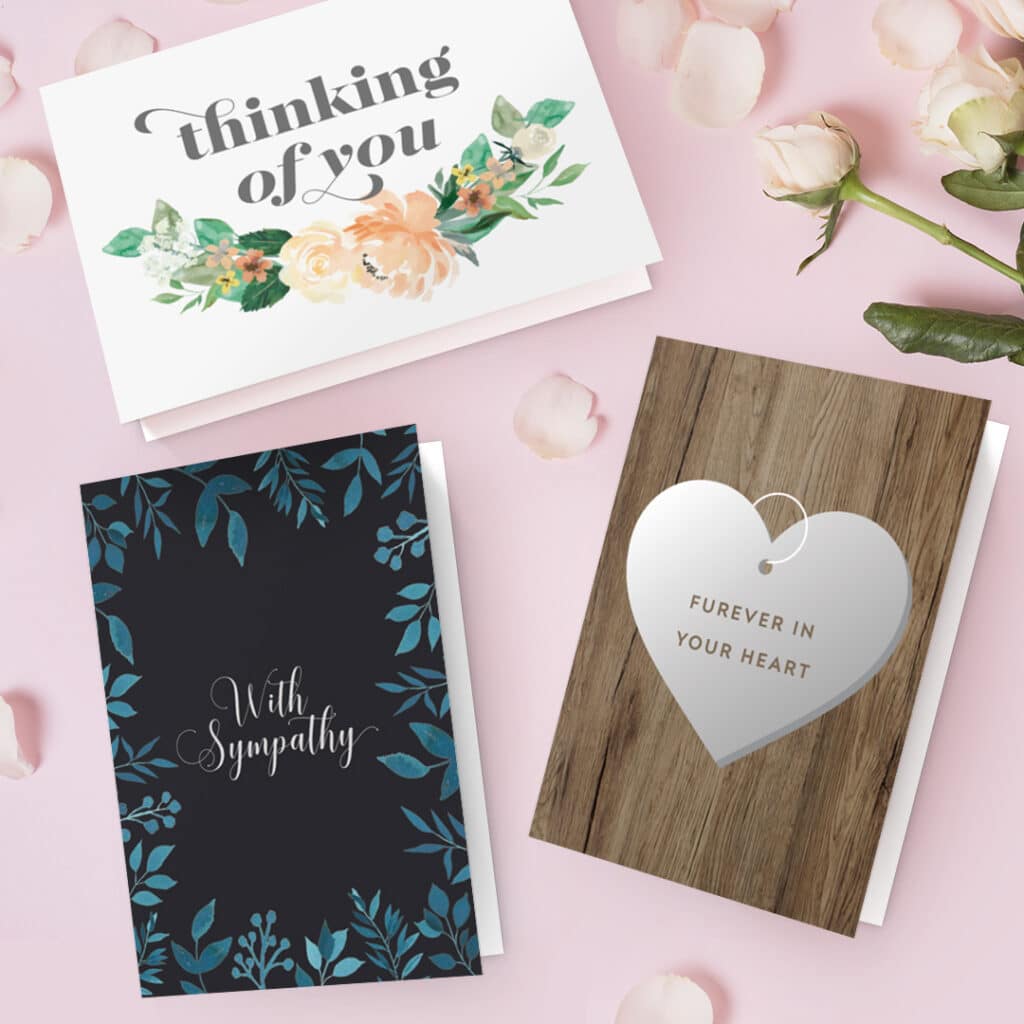 When there's a tragedy or death in your life, the best you can do is reach out and show you're there. Custom sympathy cards let you include photos of your loved ones. Not only are you reaching out to offer condolences but you're also helping to celebrate someone's life. Not sure what to write in your sympathy card? Make sure the recipient knows how to reach you if they want to talk. You can also include a simple anecdote about the loved one who's passed to help them smile in remembrance. Creating custom thinking of you cards for loss is a simple and easy way to offer someone a little bit of light when they're going through a hard time.
Fun Tips For Creating Custom Greeting Cards
While designing your own greeting cards online, all you need is a little bit of inspiration and creativity. Adding in your information is easy, but it's the fun part that includes designing your cards and making them stand out from the rest. If you need more help creating greeting cards, consider these tips as you're designing:
If all else, make sure the card is easy to read
Try to make each card specific to the recipient
When in doubt, include quotes or song lyrics that they'll love
Photo cards always make a beautiful and personalized design
Date your special greeting cards so recipients can keep them and look back on them
Always keep a pack of simple thank you cards for multiple occasions
What greeting cards did you create? Share it with us on social media! You can tag us with @snapfish in your photos on Instagram or Facebook or use the hashtag #snapfish. Follow us on YouTube, Twitter and Pinterest, too. Check out the Snapfish site for new greeting card designs that kids, babies and their parents will adore.